Synology sent us the DS720+ NAS for review. This is a part of their DiskStation series of network attached storage devices, made for offices and home storage enthusiasts.
The DiskStation DS720+ is a small dual-bay NAS with an Intel Celeron CPU and 2GB of DDR4 RAM inside. It is, like many other Synology devices, is loaded with tons of features. That includes support for scalability via an expander unit, an M.2 SSD caching, upgradable memory and the legendary Synology DSM (DiskStation Manager).
Disclosure: Synology sent the NAS free of charge for the purpose of this review. The company did not pay me to say anything particular about it. That said, all thoughts and opinions are of my own.
Edit: Synology NAS warranty is based on the country where the users buy NAS. So if users buy on Amazon, they need to send the unit to the United States when having problems. Both of the Official Stores above provide local warranty services in the Philippines.
Edit: Synology has a special offer with Seagate until the 30th June. Here is the link to the special offer: https://sy.to/bun9a
Technical Specifications
Processor
CPU
Intel Celeron J4125 2.7GHz
Core/Thread
4-Core
Encryption
AES-NI
Memory
Installed
2GB DDR4
Slot
1x SO-DIMM
Capacity
6GB
Storage
SATA
2x 3.5″ HDD
M.2
2x NVMe SSD (cache)
Capacity
32TB, 108TB (max with expansion unit)
Internal Volume
64 (max)
Interface
LAN
2x RJ-45 1GbE LAN Port
WLAN
—
USB
2x USB 3.2 Gen 1
Thunderbolt
—
eSATA
1x eSATA
Software
Operating System
Synology DSM
File System

Btrfs
EXT4
EXT3
FAT
NTFS
HFS+
exFAT, via purchase

Transcoding
DLNA-certified
Concurrent Connections
500, up to 1500 with 6GB RAM
Dimensions
Length
166mm
Width
106mm
Height
223mm
Weight
1.51kg
Packaging and Accessories
Synology had the DS720+ packed inside their usual environment friendly packaging.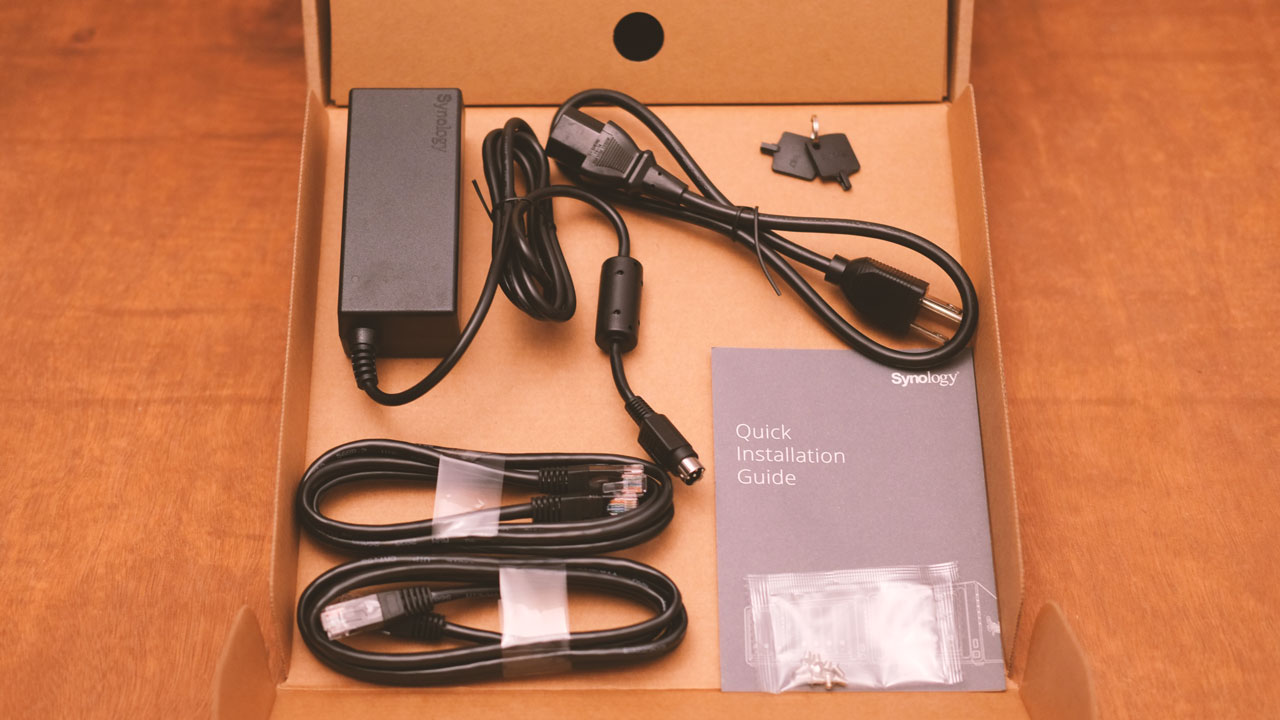 The product comes with the following items inside:
 Main Unit
Accessory Pack
AC Power Adapter
AC Power Cord
2x RJ-45 LAN Cable
Quick Installation Guide
What we got here are essentials. Nothing to complain about.
Design, Build and Connectivity
Since the DS720+ is a two bay NAS, it sports a really small footprint. Design is pretty simple for its price, along with a plastic laden outer shell build. This is also a rather light device even with the drives inside.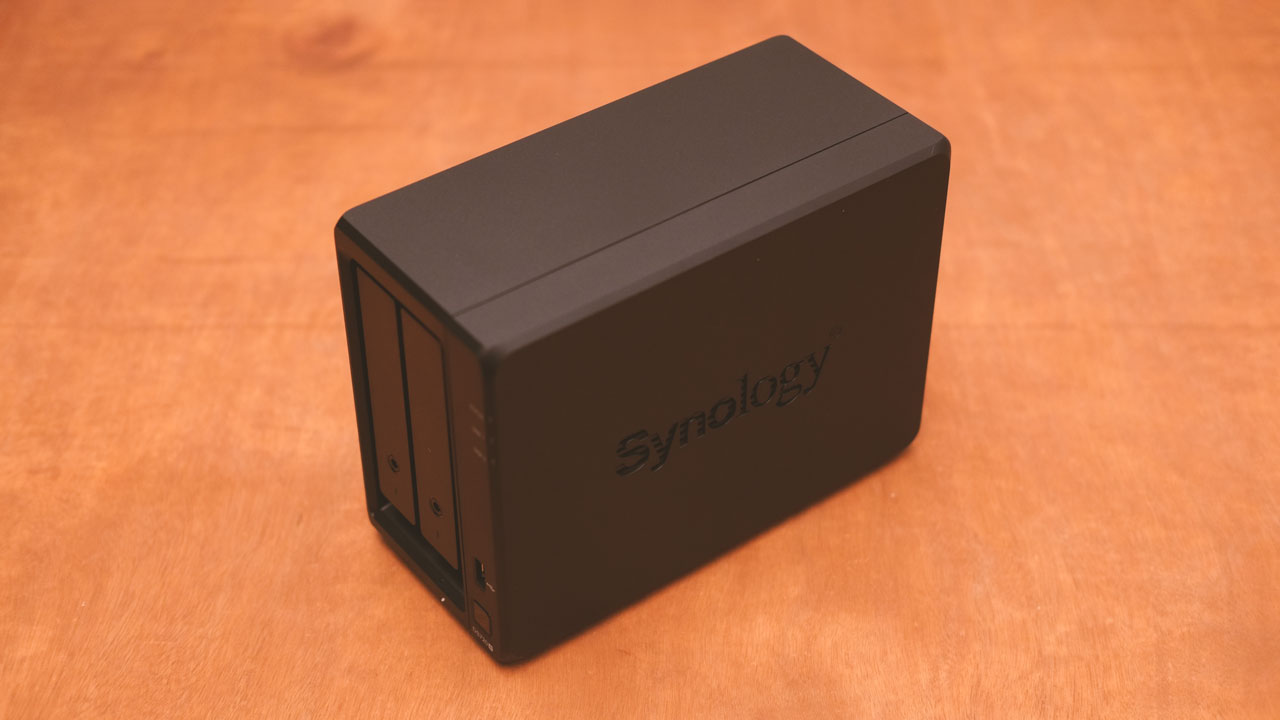 Up front are the status LEDs, the power button, a USB 3.0 port for external storage support and the lockable dual bay hatch. Really simple, just the way I like it.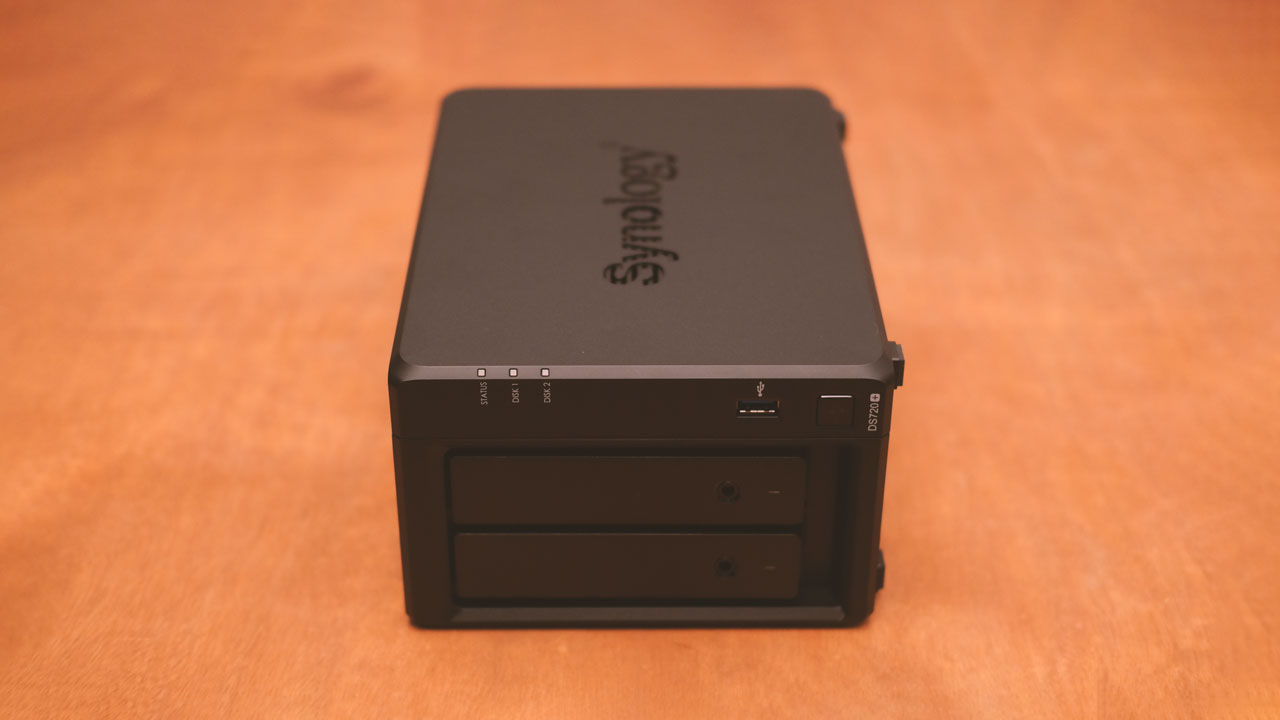 As for the drive bays, they are your usual zero-tool required ones with a rubber washer to dampen things down. They come with locks but with this size of a device, I suggest using the Kensington lock along with it for maximum security.
The DS720+ comes with 2GB of DDR4 memory but it is upgradable to 6GB with a provision for a SO-DIMM slot. This should in theory, provide a maximum concurrent user capacity of 1500.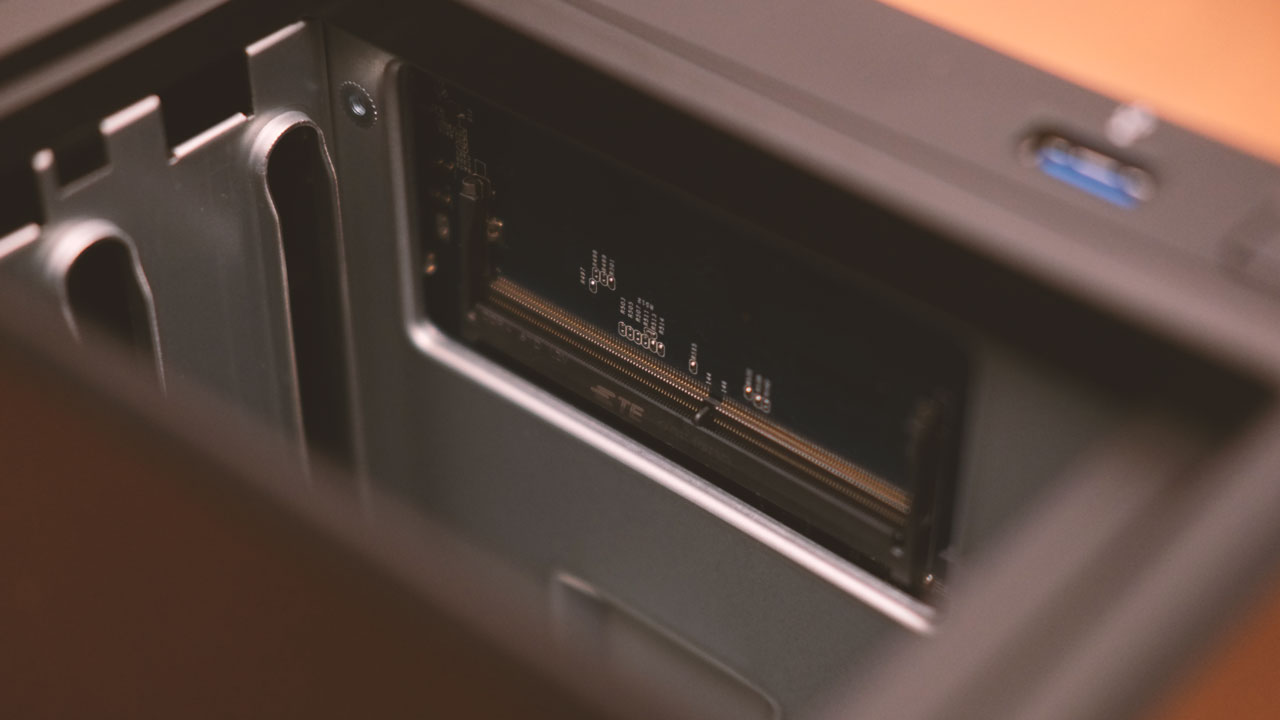 Below the drive are the dual M.2 drive bays for NVMe SSD assisted cache. While its use is debatable for this dual bay NAS under the usual household conditions, it could be proven useful with the DX517 attached or if you really need the extra performance for the most extreme IO requests.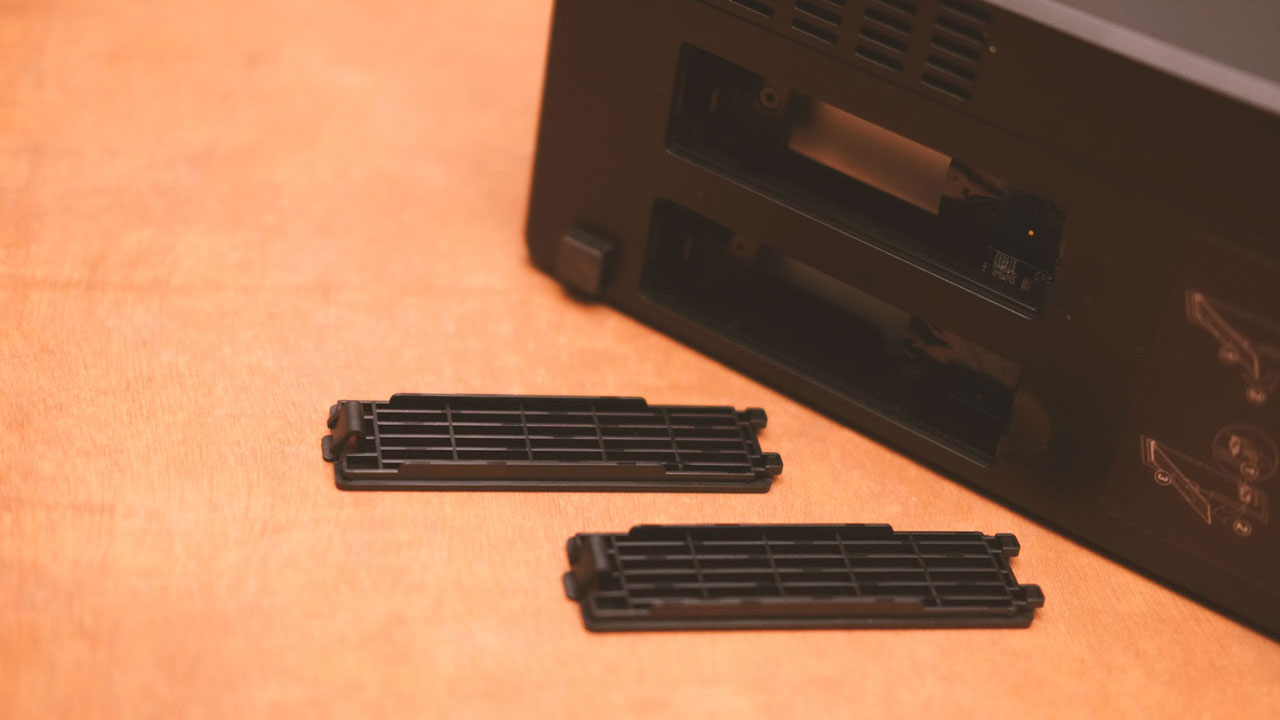 Now the back is as usual busier with the port for the external power adapter, another USB 3.0 port, the Kensington lock and the eSATA port for the expansion. Network connectivity on the other hand is a courtesy of the dual 1GbE LAN which is capable of link aggregation. I still prefer to see a 2.5GbE port here especially for the price.
Cooling is provided by a single 92mm fan that takes advantage of building up negative pressure to cool the storage bays. Overall build, connectivity and design are proper for the price – but it is not perfect like many other products. Again, I'd like to state the importance of 2.5GbE interfaces right now, especially with new motherboard and switches supporting the said interface. I'm still using a 1GbE home network like the many of us though.
Firmware Interface
Like many Synology devices, the DS720+ comes with the powerful DiskStation Manager. This is a highly configurable web-based OS. Practically anything from file sharing, backups, to security are covered here along with productivity and multimedia features in tow.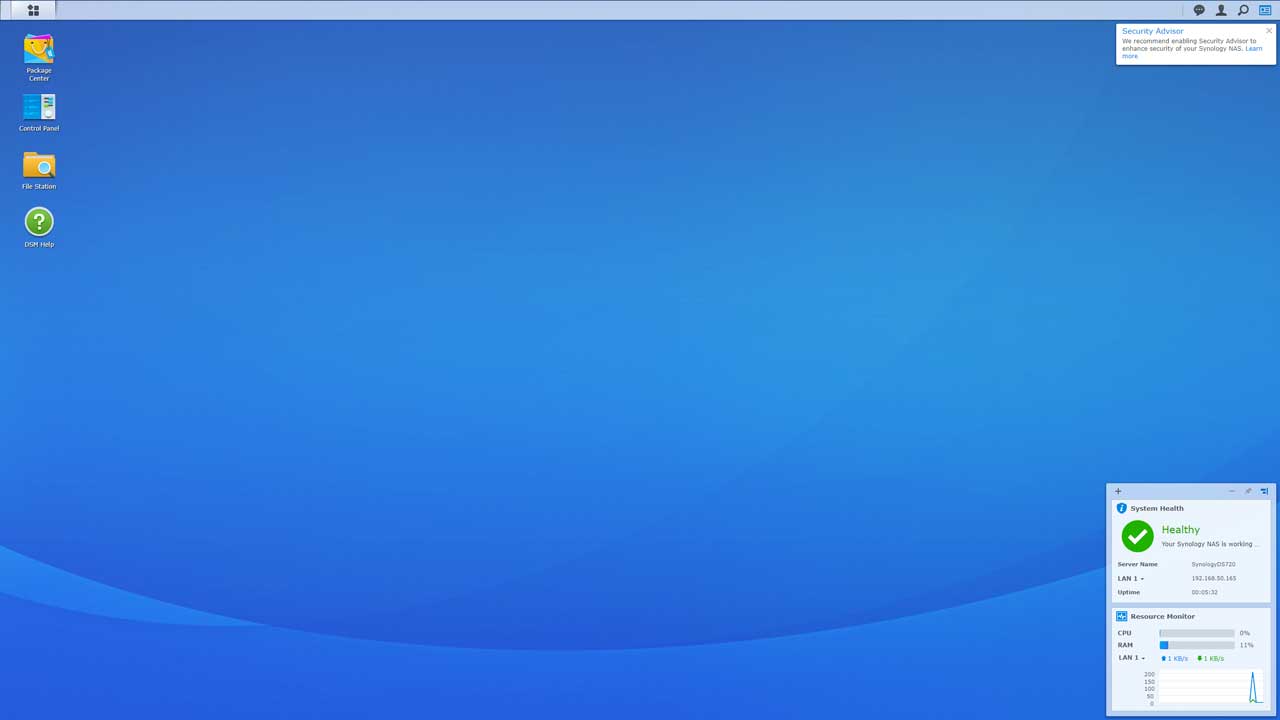 The DSM works like a desktop's OS within a browser and could be accessed easily via the device's IP address or via the Synology Web Assistant to name a few. It is important to note that you have to download Synology Assistance prior or be connected to the internet if you wish to automatically have the assistant do it for you.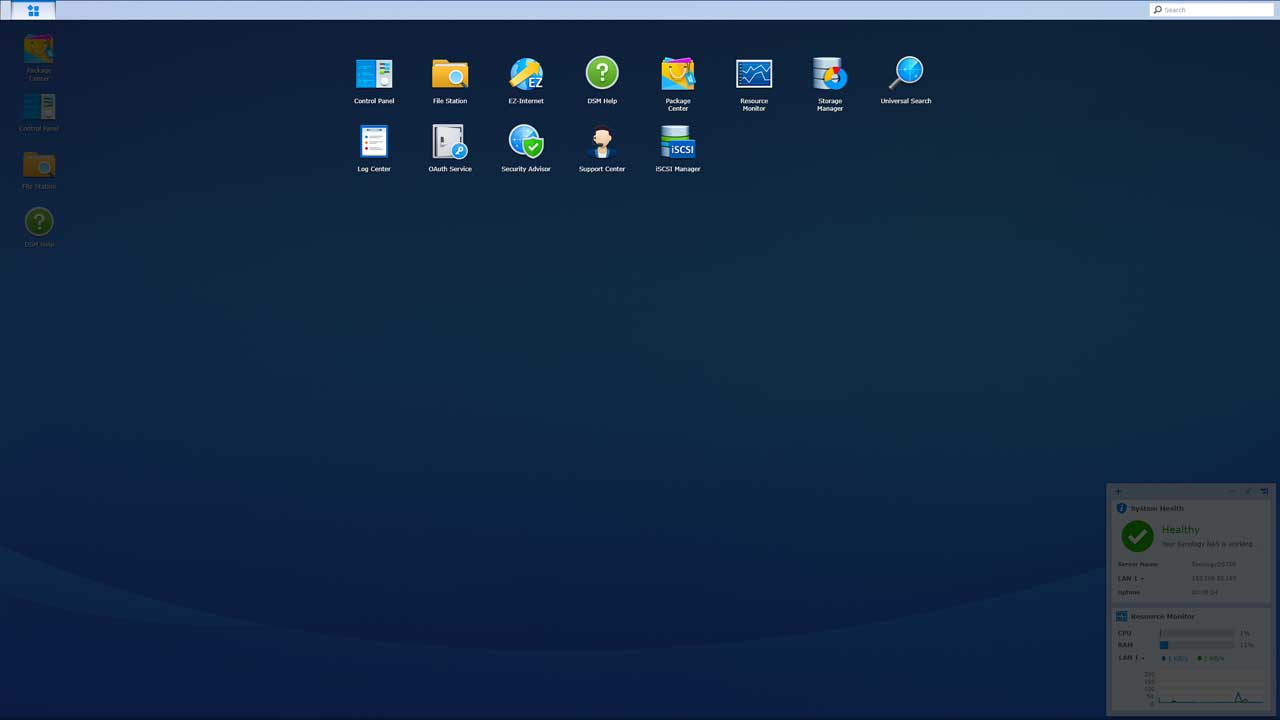 Creating volumes is easy with the DSM and we recommend using SHR or RAID1 for your first storage pool. We had our fair share of ups and downs with drive compatibility here so make sure to check out the compatible drives first. I went from a bunch of WD Red drives before settling to a pair of 2TB Seagate IronWolf drives.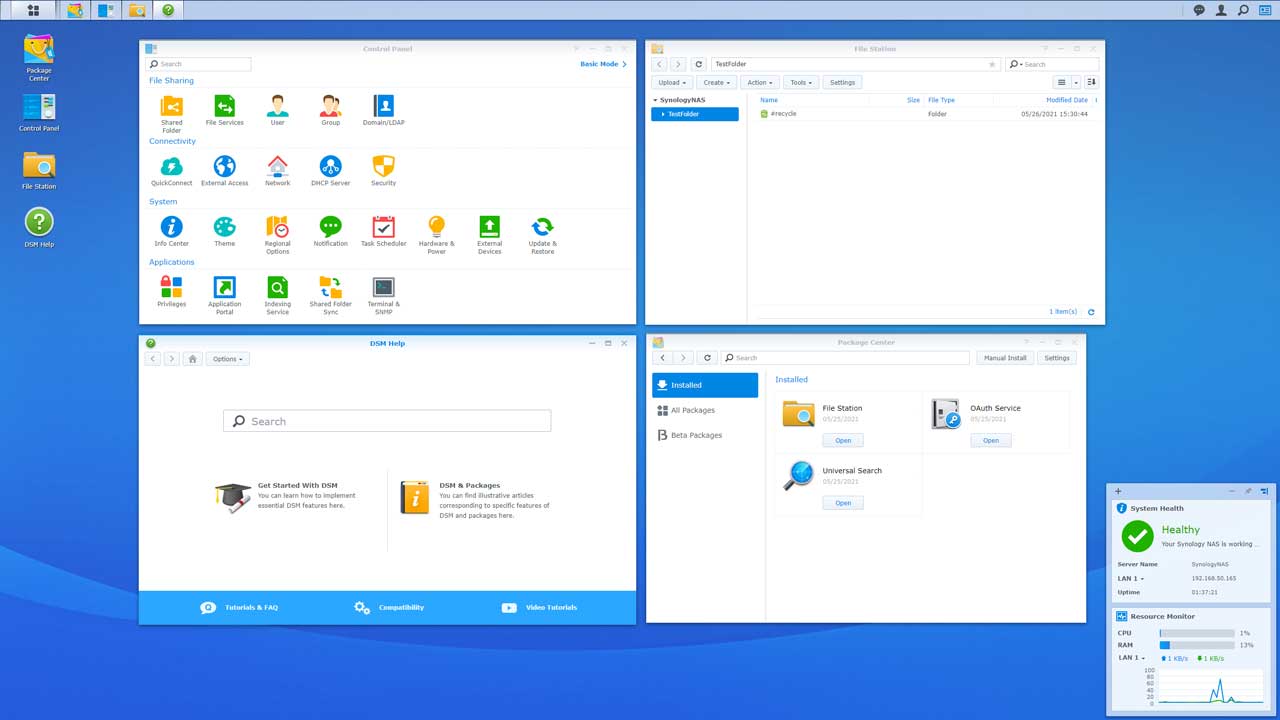 The DSM remains as the most important feature of Synology products and we could see why it is the case. It is in-depth yet easy to use with a respectable learning curve and services offered for the average and advanced users.
Test Setup and Methodology
Storage performance is evaluated by industry standard benchmark tools and real-world applications – if deemed necessary. It is important to note that we are testing the sample after burn-in, with at least 24-hours of uptime in the case of storage devices. This is done so to negate the physical FOB state performance of the unit, yielding better benchmarking consistency. The device is tested with the following configuration from our test system:
UEFI configuration: Default
Windows Power Plan: Balanced
Windows Game Mode: Disabled
Windows Game Bar: Disabled
Windows Security: Disabled
Outlined below is the test system specifications:
Test System Specifications
CPU
Intel Core i9-11900K
Motherboard
ASRock B560M Steel Legend
Cooler
Noctua NH-U12S Redux
Memory
ADATA Premier 2666MHz 16GB
GPU
ASUS Phoenix GTX 1660 SUPER 6GB
Storage
Plextor M9Pe PCIe 3.0 NVMe 512GB
Case
Mechanical Library JXK-K3
PSU
Thermaltake Toughpower GF1 650W
Display
LG UF680T
OS
Microsoft Windows 10 Pro 64-bit
NAS drives are dual 2TB Seagate IronWolf HDDs. I am supposed to use the WD Red models I got here along with the possibility of testing the NVMe cache but the DS720+ is just not compatible with my components.
Temperature
BlackMagic DST is used to check out how the NAS handles storage thermals. For this measurement, we loaded the BlackMagic DST for 15 minutes. Temperature readings are taken with the hardware's own thermal sensor under an ambient temperature of 27°C.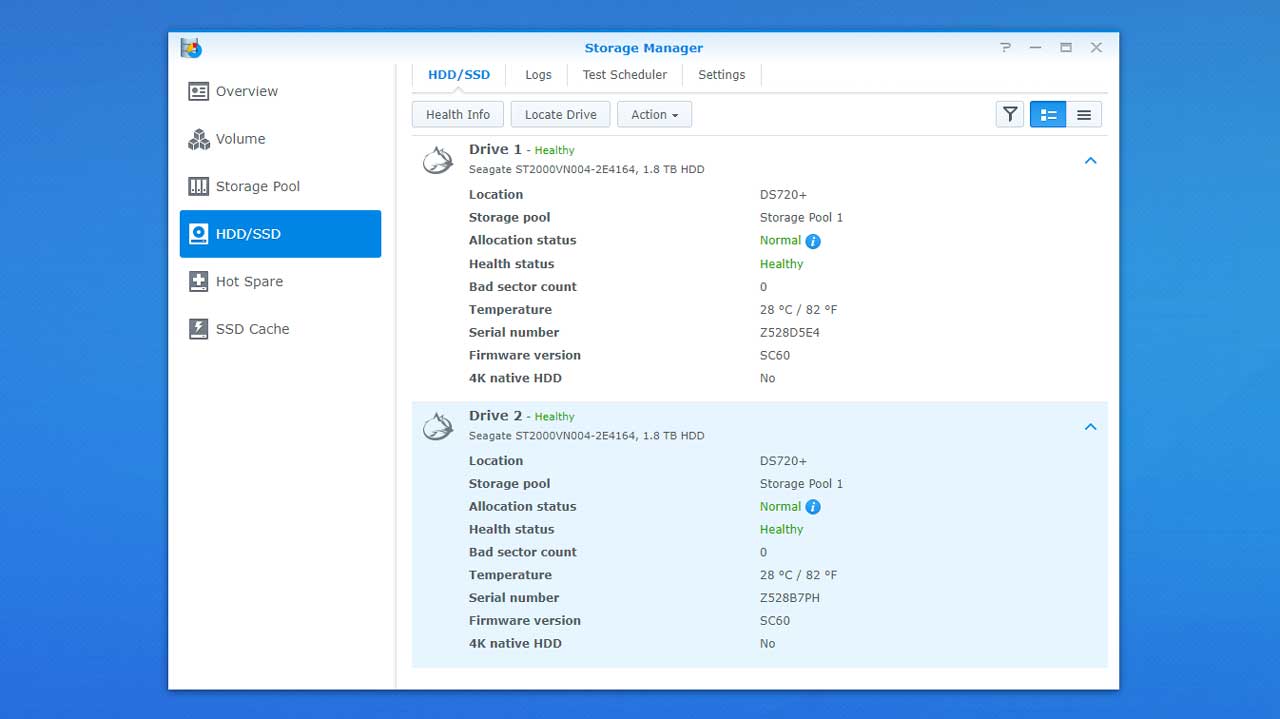 Right off the bat we hit a snag – but not necessarily the fault of the NAS. Basically, we cannot get a good indication of the drive's temperature at idle or at load. I tried this with my WD NAS and the same issue applies – both NAS could only take the first recorded temperature of the drive when it powers on. Next time, I'll make sure to stick in a thermocouple probe.
Power Consumption
Total system power is also checked out again with the BlackMagic DST. Power readings are then recorded with a watt-meter.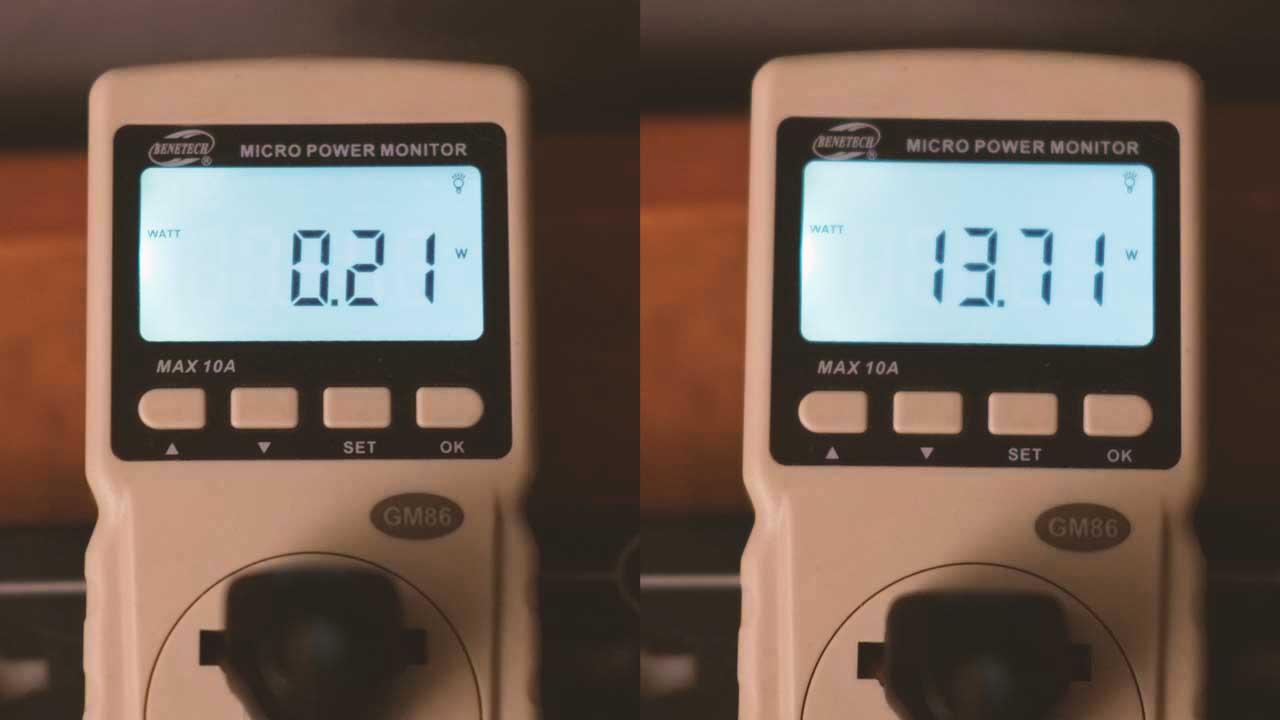 Power consumption is good once the drive goes into its operating state. With that I mean is, it peaks at around ~20W when starting up but goes around ~13-15W at its operating state.
Noise Level
Noise level is also taken into consideration. Decibel readings are taken with an industrial grade A-weighted sound-level meter situated approximately a foot away from the device. Ambient noise floor is ~30dB(A).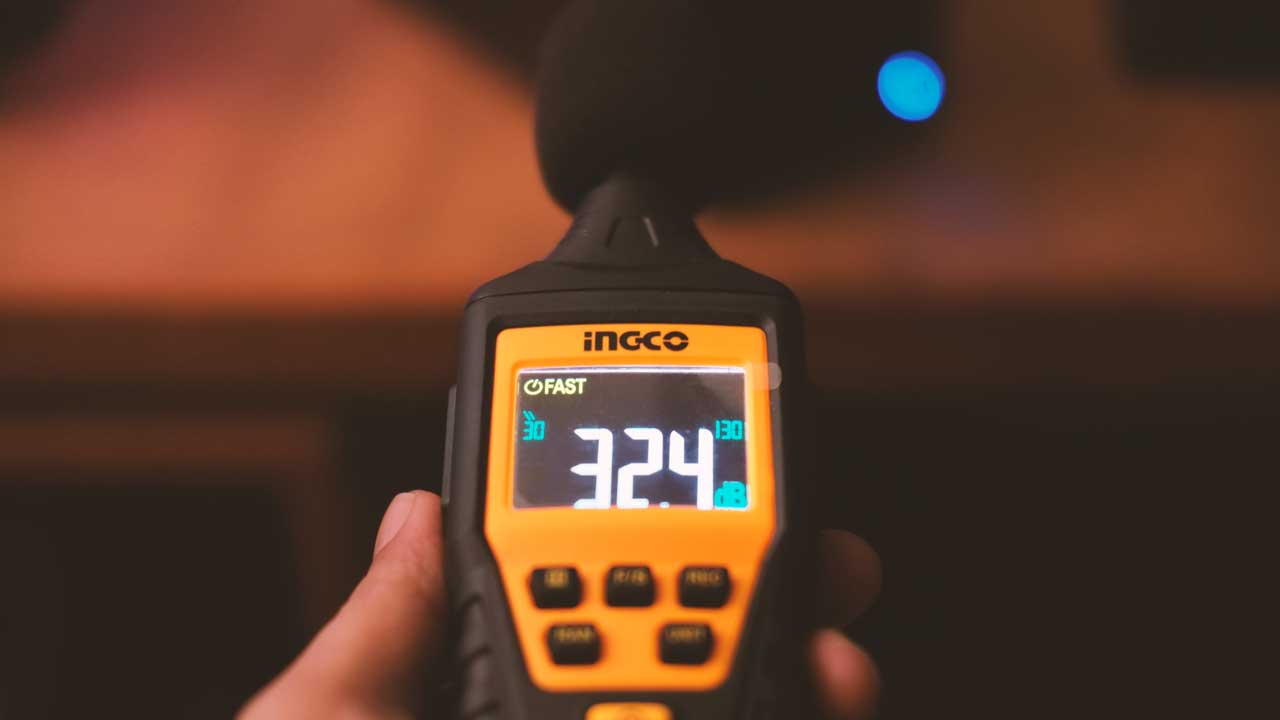 The DS720+ maxes out at 32.4dB(A). This is pretty silent and rather consistent even at load. Pretty nice result we got here. Whisper quiet.
Throughput
Throughput performance measured in MB/s is measured with CrystalDiskMark. First up on the test is the Sequential read and write performance, measured with a block size of 1MB and a 1GB transfer size at 8-Queue Depth. This test is more in line with large file transfers; similar to watching a movie.
Pretty good sequential performance we got here with the SHR configured 2TB Seagate IronWolf drives. Random 4K write performance could be a bit better though.
IOPS
Input/Output Operations per Second is measured with the same benchmark. This time though, we're checking out the Random 4K read and write. Performance is measured with a random block size of 4KB and a 1GB transfer size at 32-Queue Depth. This tests the storage medium's ability to use Native Command Queuing (NCQ) at higher Queue Depth. A Useful metric for server side applications.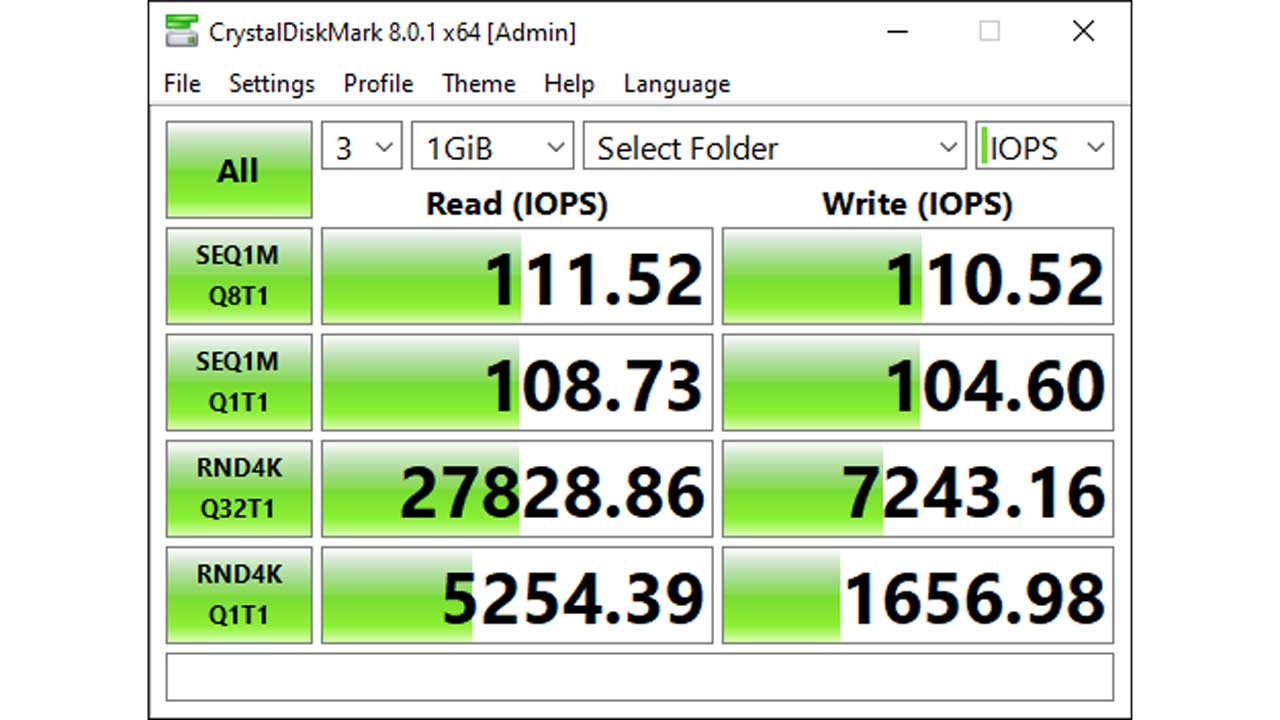 Random 4K performance in IOPS is just excellent. Can't say the same with the write though but to be fair, the performance output is still decent and is more than enough for most SOHO setups.
File Copy
Our file copy performance test consists of four file folders each containing 4GB worth of files simulating small, medium and large transfer sizes. The files are copied within the drive using TeraCopy to evaluate the storage performance. File copy performance is measured in seconds.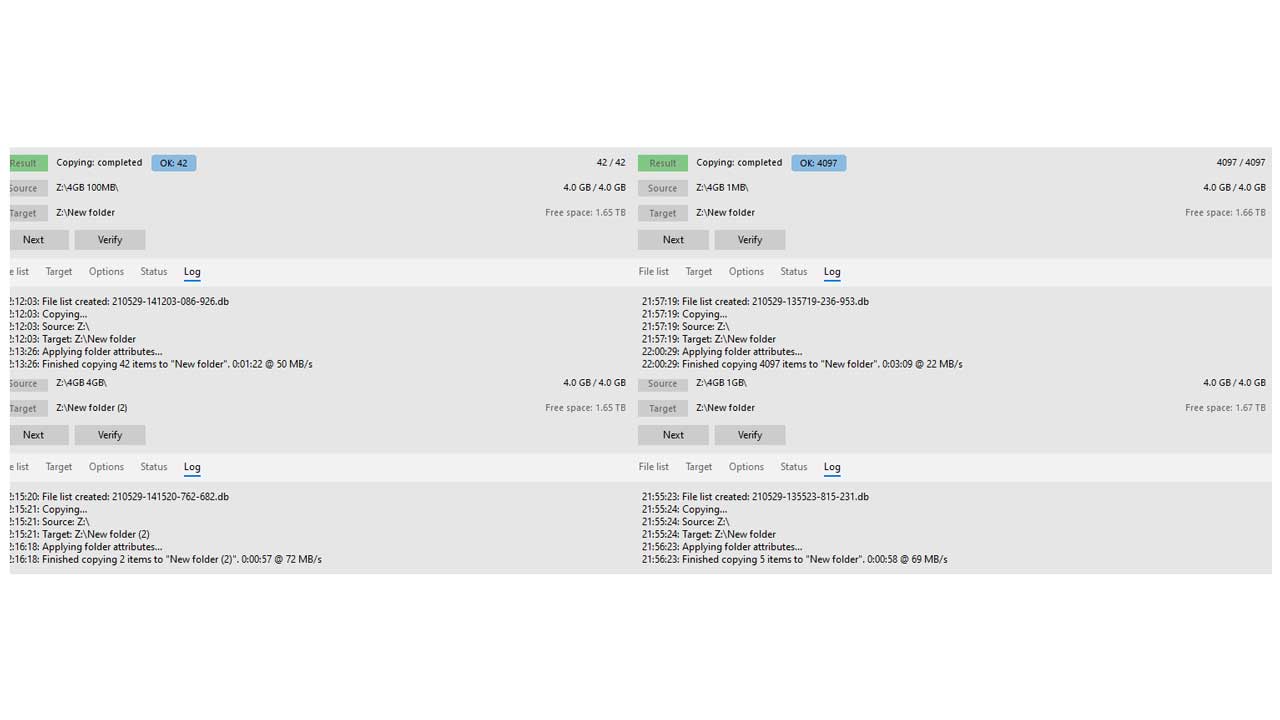 Nothing out of place here. Just an awesome display of the device's capability to handle read and write loads at varying file sizes with the same total capacity. I wager this could be faster with an SSD cache in place but I aint even complaining.
Software, Lighting and Special Features
There is a lot to discuss with the DiskStation's features and most of it are due to the DSM. No amount of words could describe how awesome it is so here's a video explaining what's new to the DSM 7.0. Just so yah guys know, I'm using this drive with the version 6.2 still.
Now if we're going to talk about my favorites, that would be the drive's readiness for expandability or scalability via the DX517 expansion unit. Synology made calculated steps to include a quad core CPU, an upgradable memory and SSD cache for good measure here – along with of course the dual LAN ports. A shame that both are not 2.5GbE ports but for the extra speed over 1GbE and redundancy it is proper.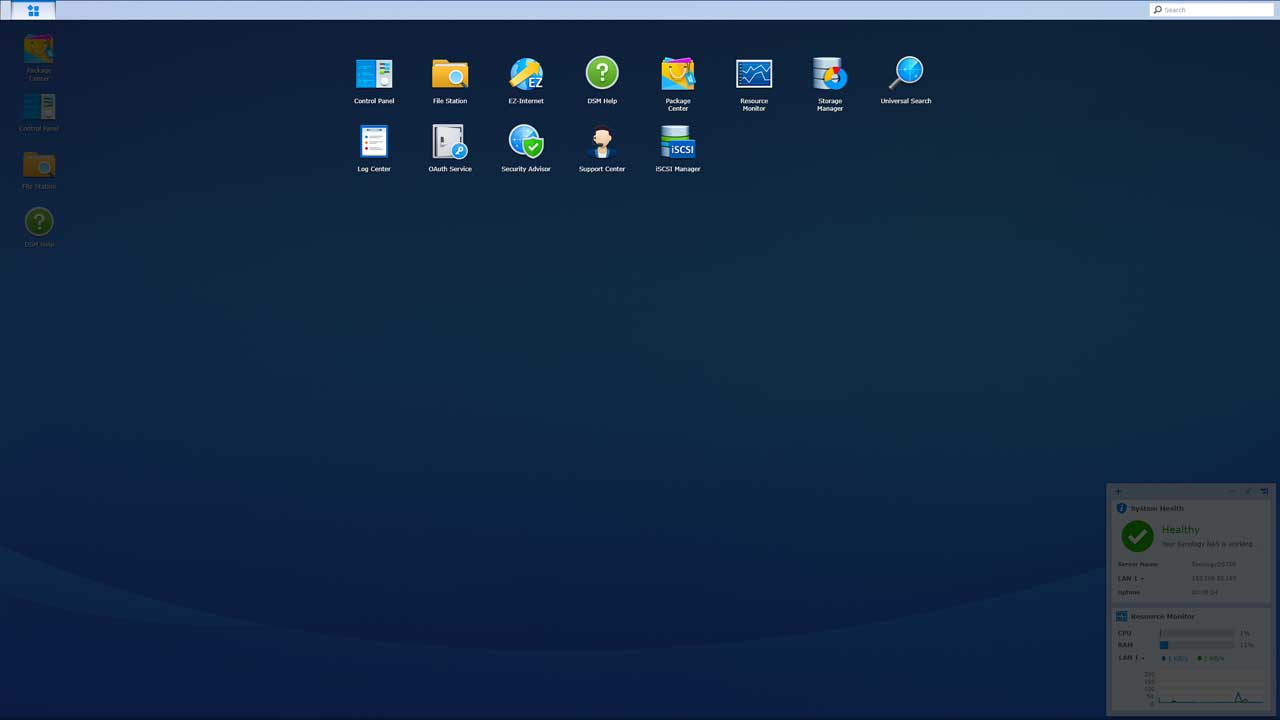 Now back to DSM. My first foray into DSM was with the MR2200AC. That thing blew my mind and the DS720+ did two fold with the extra set of features and available packages to download.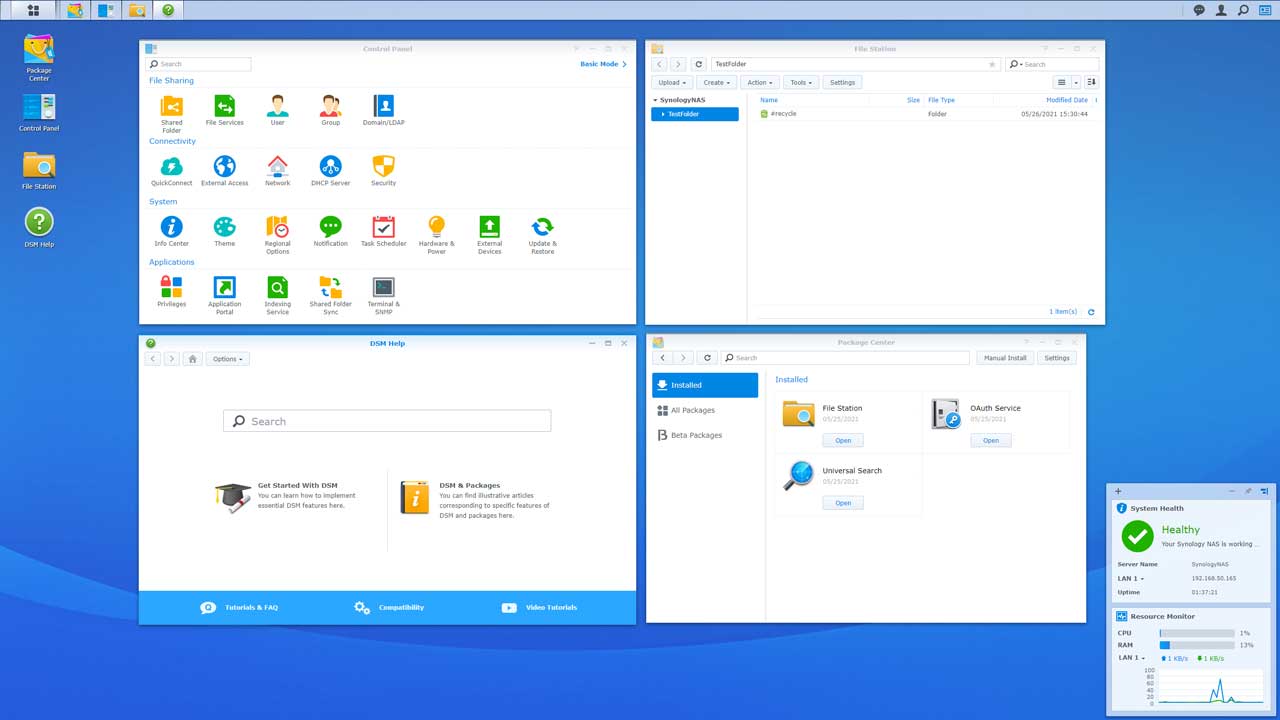 Simply put, with its easy to use yet in-depth interface packed with features, it is a hallmark of Web OS experience. I also like that the guide doesn't require internet connection at all as opposed to some devices – and it is extensive too.
Final Thoughts
The DS720+ packs a punch within its literally handy form factor. It is a top performing device capable of expandability with the already legendary DSM backing it up.
At its price point, I would love to see 2.5GbE connectivity but thinking about it deeper with all of the features in-tow, it's kinda easy to understand that where it stands now is perfectly fine for most users – that even includes me in all honesty. Still, a little more about future proofing here and there wont hurt.
For SOHO setups, this is one fine dual bay NAS that doesn't need a lot of work to get things done. Highly recommended especially if you're thinking about expanding your network storage setup further down the line.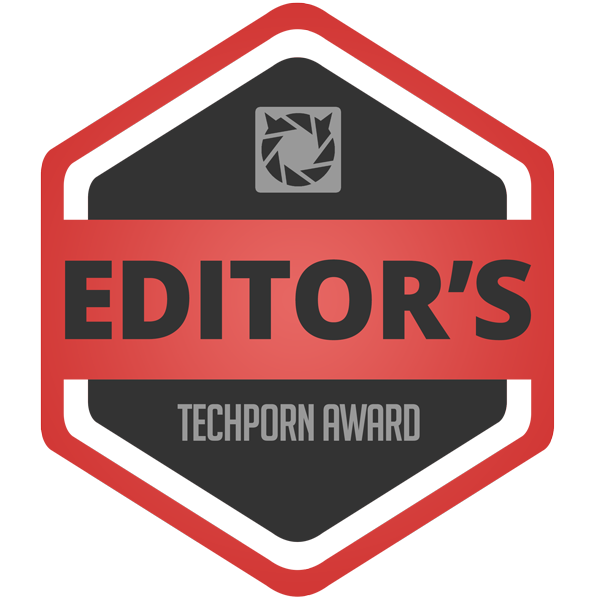 Synology DiskStation DS720+
Performance -

9/10

Build Quality -

9/10

Connectivity -

8/10

Firmware -

10/10

Features -

9/10
Summary
The Synology DS720+ is a mighty fine dual bay NAS which is slightly hindered by its dual 1GbE LAN approach. Still, for its price it is totally worth it for individuals looking for a powerful initial investment that could be turned into something even greater with its excellent support for scalability.