Ultra-compact ROCCAT Suora to hit shelves in July
Hamburg/Taipei 2016 – German peripheral manufacturer ROCCAT today announces a brand new mechanical keyboard design aimed at gaming purists. The Suora's frameless design channels its philosophy as a pure and efficient mechanical keyboard for no-frills gamers. Its robust, compact build with aluminum alloy housing provides a consistent, distraction-free platform. It features a unique build with an entirely frameless structure. No palm rest, no thick border, no thumb keys, and no unnecessary media keys – just high-quality, mechanical keys mounted on a durable plate. The key back-lighting in exclusive ROCCAT blue comes with a breathing effect and 11 brightness levels, with top notch lighting guaranteed.
The raw design lets you get closer in touch with the action, for lightning-fast and distraction-free gameplay. It isn't much good having an intuitively designed keyboard built for speed if the keys can't keep up with your hot action. The Suora features an advanced anti-ghosting matrix that ensures every key stroke will be registered, time and time again. With its 1000Hz (1ms) polling rate the Suora will be with you every key stroke of the way, each and every time. Its solid construction is complemented by tough mechanical keys with a staggering 50 million key stroke lifecycle.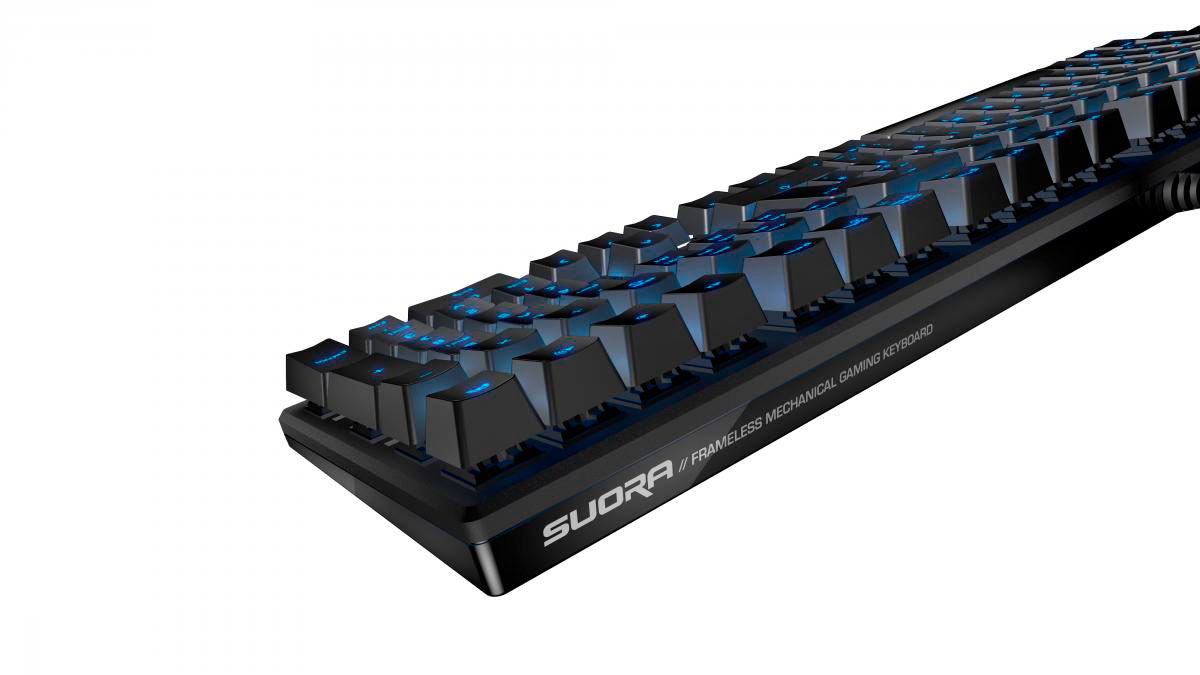 The Suora also comes complete with full ROCCAT Swarm support. Swarm is the software incarnation of ROCCAT's future ready philosophy. It'll cover you for all relevant gaming platforms and devices. It's the next-gen system that keeps on top of all games, apps and ROCCAT products in one place. It's a veritable gaming command HQ that'll keep you up to speed.
The ROCCAT Suora will be available early in July 2016. The MSRP is 99,99 Euro/USD.
Tech specs:
Advanced anti-ghosting with N-key rollover
1000Hz polling rate
50 million keystroke lifecycle (TTC switches)
Multimedia functions
6 programmable macro keys   
Dimensions/Weight:
Width 12.5 cm, Height 43.0 cm
About ROCCAT Studios:
Founded in 2007 in Hamburg, ROCCAT designs the best gaming products in the world. We combine detail-loving German innovation with a genuine passion for what we do. The result is a forward-looking product portfolio adaptable to the gaming trends of tomorrow. The industry-leading experiences we develop are born of a deep affinity with gaming community that we ourselves are very much a part of. We achieve this by having an outstandingly talented team comprised of gamers, visionaries and industry experts.
[button link="www.roccat.org/en-US/Products/Gaming-Keyboards/Suora/" color="red" newwindow="yes"] PRESS RELEASE[/button]