Team Group is known for their memory kits, especially here at the APAC Region, and did you know that they also have a wide range of portfolio for high capacity non-volatile memory category as well? Adding up to Team Group's growing inventory is the L7 EVO SSD – a budget oriented medium capacity SSD with a full SATA III / 6Gbps interface support.

The Team Group L7 EVO is available in 2 models, namely the 120GB and 240GB versions. The 120GB retails for about 35 USD or 1999 PHP, while the 240GB is at around 55 USD or at 2, 850 PHP locally. Both models features TRIM support for prolonged device longevity and extra performance. Along with it comes DevSLP mode support for an enhanced battery life should you use it on notebooks. And on the performance side Team Group claims a 530 MB/s read and 370 MB/s write maximum for the 240GB variant. Sounds nice isn't it?
FEATURES & SPECIFICATIONS:

CLICK HERE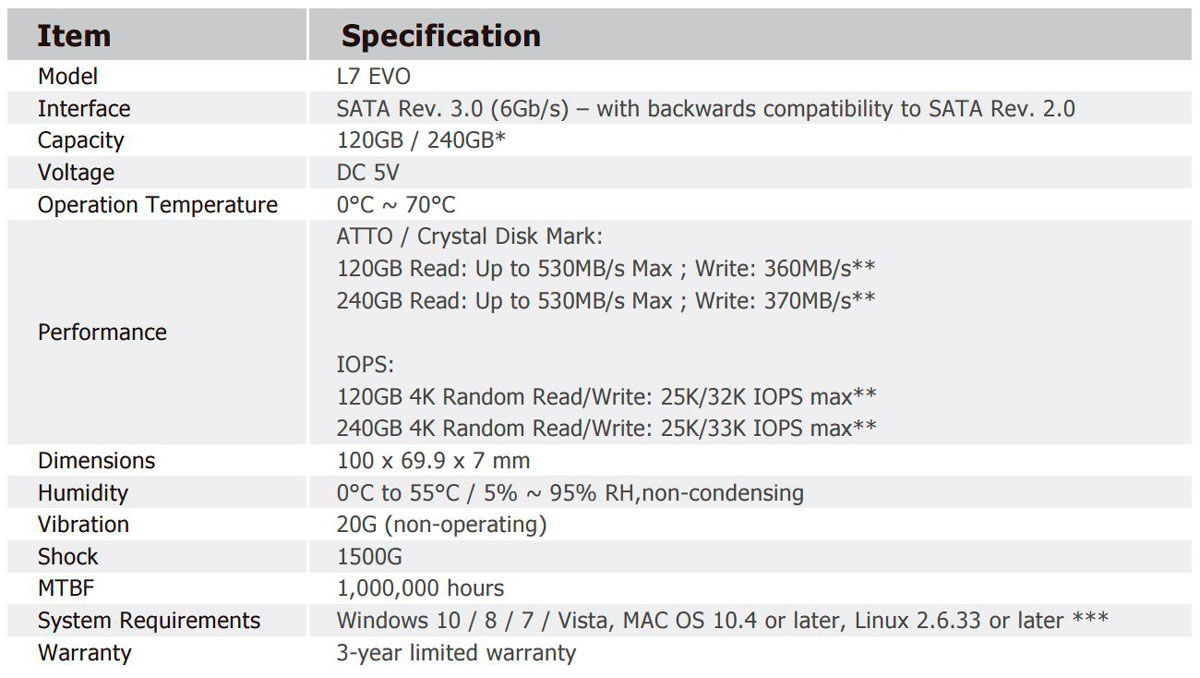 CLOSER LOOK AT THE TEAM GROUP L7 EVO:
The Team Group L7 EVO 240GB SSD comes in a simple clam shell packaging. It is far from being fancy, and we can see that Team Group decided to cut corners here to make way for the price. We are glad to see that this one comes with a full 3 year warranty though, which is certainly something that Team Group never intended to cut in the first place as far as budget goes.
The Team Group L7 EVO comes with no accessories, and as such requires you to find yourself a set of screws to install the drive. The back of the packaging features SSD's specifications, as well as a cutout so you can see the SSD's serials. No 2mm brackets here for 9mm z-height notebook bays. This one is light and DIY spacers are easy enough to make so you wont probably need it anyway.
Out of the packaging, the Team Group L7 EVO features a colorful print surrounded by a plastic shroud from the front and back. It is not detrimental to the SSD's performance, as its surface temperature is just below 40c based on our readings. The shroud works just fine as a case to keep the NAND flashes and the controller safe from elements.
At the back lies the L7 EVO SSD's serials, the warranty information, and a few warranty seals. The seals wants to peel themselves off so make sure to check your unit for such occurrence. The L7 EVO only features 3 screw holes so do note that if you wish to mount it on brackets that supports bottom mounted drives.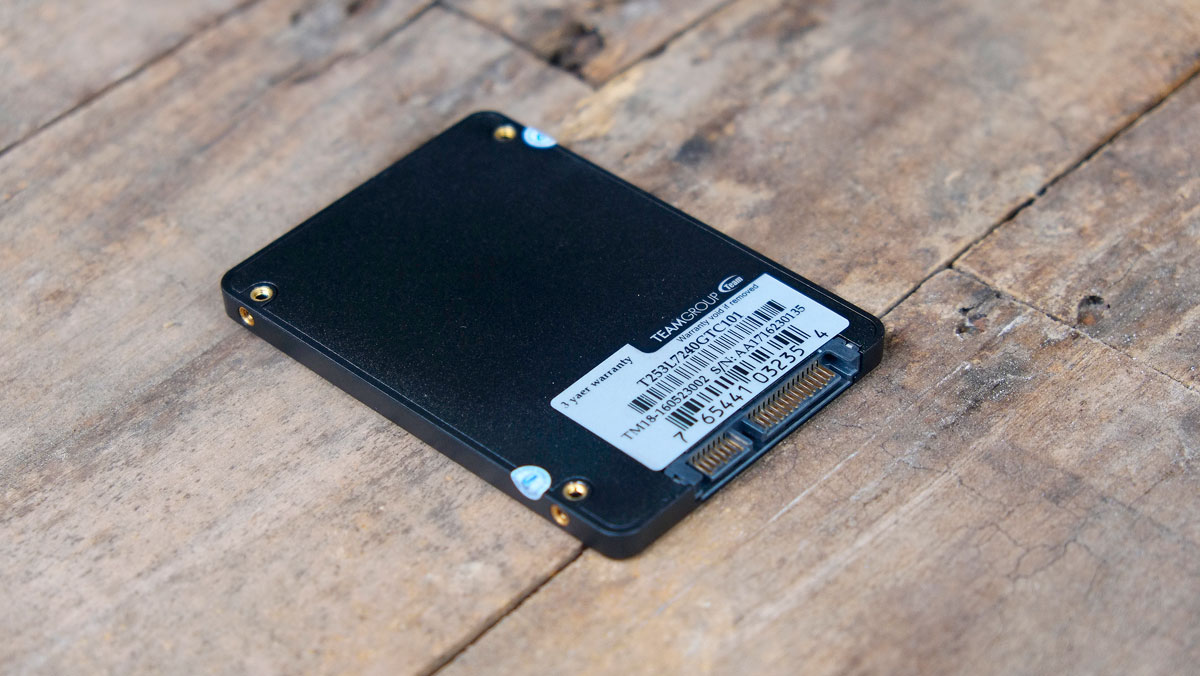 The Team Group L7 EVO 240GB is powered by a Marvell controller, with a 3bit MLC NAND flash. It is note worthy to add that there's no SATA logo present anywhere on the drive or on its packaging. Rest assured some brands do not actually print SATA certifications on their products. It is RoHS, and FCC certified though. A few more notes to take into account.
TEST SYSTEM & PROCEDURES:
Storage devices, unlike motherboards, revolves around the use of various storage benchmarking tools to test their performance. It is important to note that we have a pre-made Test OS on a 240 GB Kingston HyperX Fury SSD for consistency. In addition, we are always aiming to fill up the test drive to at least 50% of its capacity. To negate the FOB (Fresh Out the Box) performance, the currently in-review storage drive is used for a week. This is to ensure that we are testing the drive according to its real world usage. All tests should be done with the drive attached to the native ports found on our motherboard to ensure that the system is on its optimal storage testing state.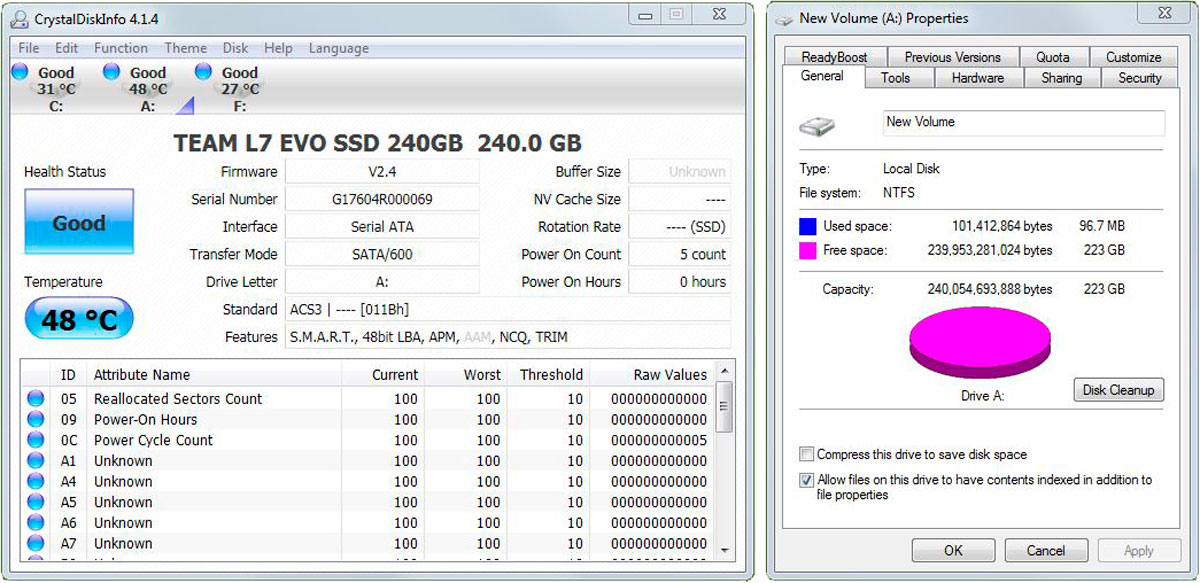 The Team Group L7 EVO 240GB comes with a 240 Billion Bytes of capacity, roughly translating to 223 GB of available space to play with. It supports DevSLP, APM, NCQ, TRIM, and SMART – supporting ATA Secure Erase, and ATA Self Test. The SSD has no DRAM cache so we are pretty excited to see how it will fair with DRAM touting SSDs on our tests.
TEST SYSTEM SPECIFICATIONS

CPU
INTEL CORE I5 4670K
MOTHERBOARD
ASUS Z97-PRO WIFI AC
CPU COOLER
COOLER MASTER SEIDON 120XL
MEMORY
CORSAIR VENGEANCE PRO @2133 MHZ 16GB
GRAPHICS CARD
ZOTAC GTX 980 TI AMP! EXTREME 6GB
INT. STORAGE
TEAM GROUP L7 EVO 240GB SSD
PSU
COOLER MASTER SILENT PRO HYBRID 1300W
DISPLAY
27″ DELL U2715H WQHD IPS PANEL
OS
MICROSOFT WINDOWS 7 ULTIMATE X64 SP1 (UPDATED)
SOUND CARD
REALTEK ALC1150
EXT. STORAGE
2TB WESTERN DIGITAL MY PASSPORT
SYNTHETIC STORAGE PERFORMANCE:
Crystal Disk Mark is a standard storage benchmarking software and is widely used through the industry. Test size is set to 1000 MB, with 3 Test Runs. Results from the Sequential and 4K Queue Depth 32 benchmarks will be taken for both Read and Write.
AS SSD is another well-regarded synthetic storage benchmarking tool in the industry, offering 4K Queue Depth 64 test, access time results, and even synthetic copy performance tests. Results below are from the Sequential and 4K Queue Depth 64 benchmarks for both Read & Write.
AS SSD's Copy Benchmark should provide us a quick look at how the SSD behaves with certain files (ISO) and applications. Basically, AS SSD will take Two 500 MB files and then copy it to another folder on the same drive, gauging both the storage medium's read and write speed at the same time.
REAL WORLD STORAGE PERFORMANCE:
Our first real world performance test is a courtesy of 24 GB uncompressed files consisting of images, PSDs, and other file formats within a single folder. To gauge a storage drive's performance, we will copy them inside the current in-review drive using TeraCopy and will take the results from the said software's log. Results are in seconds.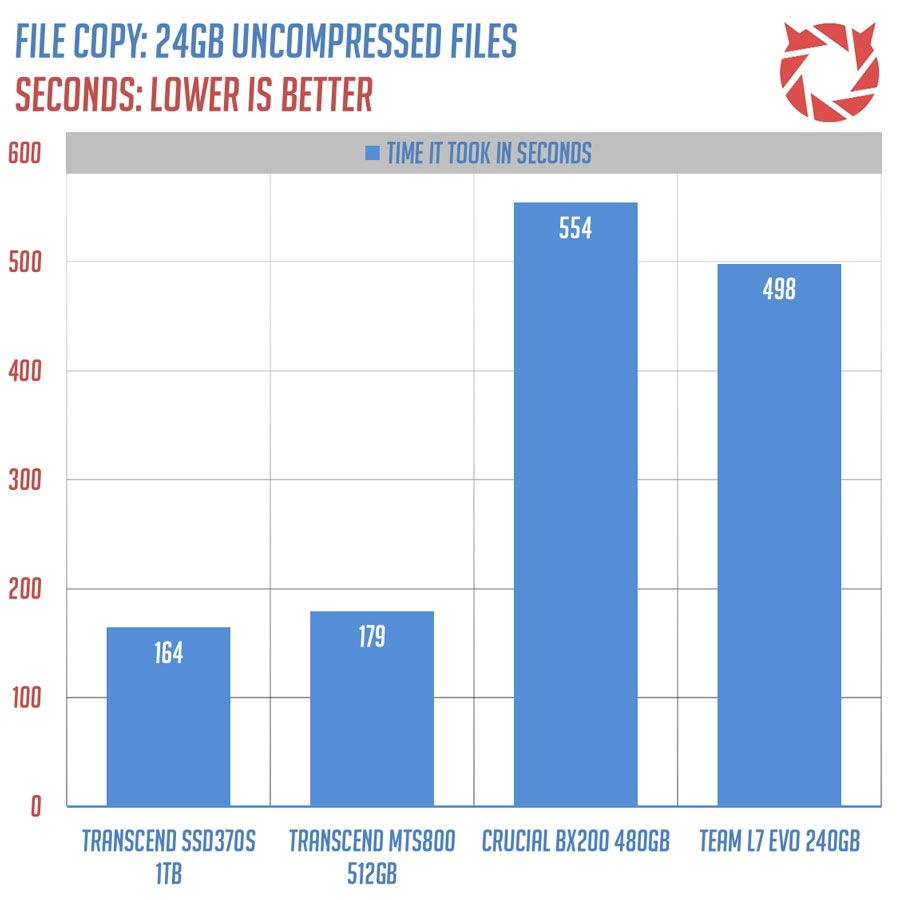 Our next benchmark is another file copy test, but this time, we are copying 12 GB of compressed files. Similar to the uncompressed file copy benchmark, we will copy the compressed files inside the current in-review drive with TeraCopy and will take the results from the said software's log. Results are in seconds and as always, the lower time it took, the better.
PERFORMANCE ANALYSIS & CONCLUSION:
Performance wise, the Team Group L7 EVO isn't the fastest SSD around the block falling behind most of the SSDs we tested. But, it doesn't mean the performance sucks. Raw synthetic speeds still conforms to the standards of today's SSDs, with a sequential write speed reaching well above the 370 MB/s mark. It's not bad considering the price. Looking at the drive's AS SSD Copy Benchmark, we can see that the L7 EVO offers an average range of 304 MB/s to 305 MB/s for both read and write combined – just a hairline slower than the M.2 SSD at the same test. The 4K QD32 and QD64 performance of the L7 EVO is nothing to be proud off. But, it isn't a major turn off though since real world queue depths are not even close to 32 nor 64 queue depths.
Now as for the real world performance, the Team Group L7 EVO is actually faster than the Crucial BX200 at our compressed and uncompressed file copy tests – shaving 23 to 56 seconds of valuable time. This in turn translates to a faster app installation, and a generally better file copy performance. As for access time, I would say that it is not far from other SSDs, so you should still expect a top notch performance for the price. This SSD has no DRAM cache so performance is actually good enough for the specifications. Boot times averages below 15 seconds under Windows 10, so it's all well and good as a boot drive.
The build quality of the 2.5″ casing is definitely not the best, nor the packaging is the flashiest but for the price, it's nothing to laugh at. Price per GB is at around  0.22 USD/GB. That's almost half of the 120GB Samsung 850 EVO's 0.39 USD/GB. This in turn grants the Team Group L7 EVO SSD a good placement to the non-volatile storage market. Combining a decent amount of speed and features with a sweet price point to match. This is by no means an SSD for the speedsters but it performed well through our tests. Available now at various retailers, the L7 EVO SSD is easy enough to find.
Team Group L7 EVO 240GB
PERFORMANCE -

7/10

BUILD QUALITY -

6/10

AESTHETICS -

8/10

VALUE -

9/10
Summary
The Team Group L7 EVO is an interesting budget oriented SSD. Available in 120GB and 240GB models, this nifty 55 bucks storage product has the speed of a decent SSD, without blowing your wallet to pieces.