TEAMGROUP sent the T-Force Cardea Z44L in for a review. This is one of the very first budget oriented PCIe 4.0 SSDs equipped with a graphene sheet. For your reference, the last storage product reviewed here also comes with this material but at a much higher $425 USD MSRP. Granted, that's a 2TB model with higher end components and performance but you get the point.
The T-Force Cardea Z44L comes with a PCIe 4.0 x4 interface and is rated with a 3300 MB/s read and 2400 MB/s write speed – for the 500GB model. This also comes with a full 5 year manufacturer warranty for the extra peace of mind.
Disclosure: TEAMGROUP sent the T-Force Cardea Z44L for the purpose of this review. The company did not ask me to say anything particular about it. That said, all thoughts and opinions are of my own.
Technical Specifications
Storage
Capacity
500GB (1TB model available)
Flash Memory
3D TLC
Form Factor
M.2 2280
Interface
PCIe 4.0 x4
Sequential Read
3300 MB/s
Sequential Write
2400 MB/s
Random Read IOPS
142,000 IOPS
Random Write IOPS
357,000 IOPS
Endurance
300TBW
Dimensions
Length
80mm
Width
22mm
Height
3.5mm
Weight
9.7g
Packaging and Accessories
The T-Force Cardea Z44L comes inside a simple boxed packaging.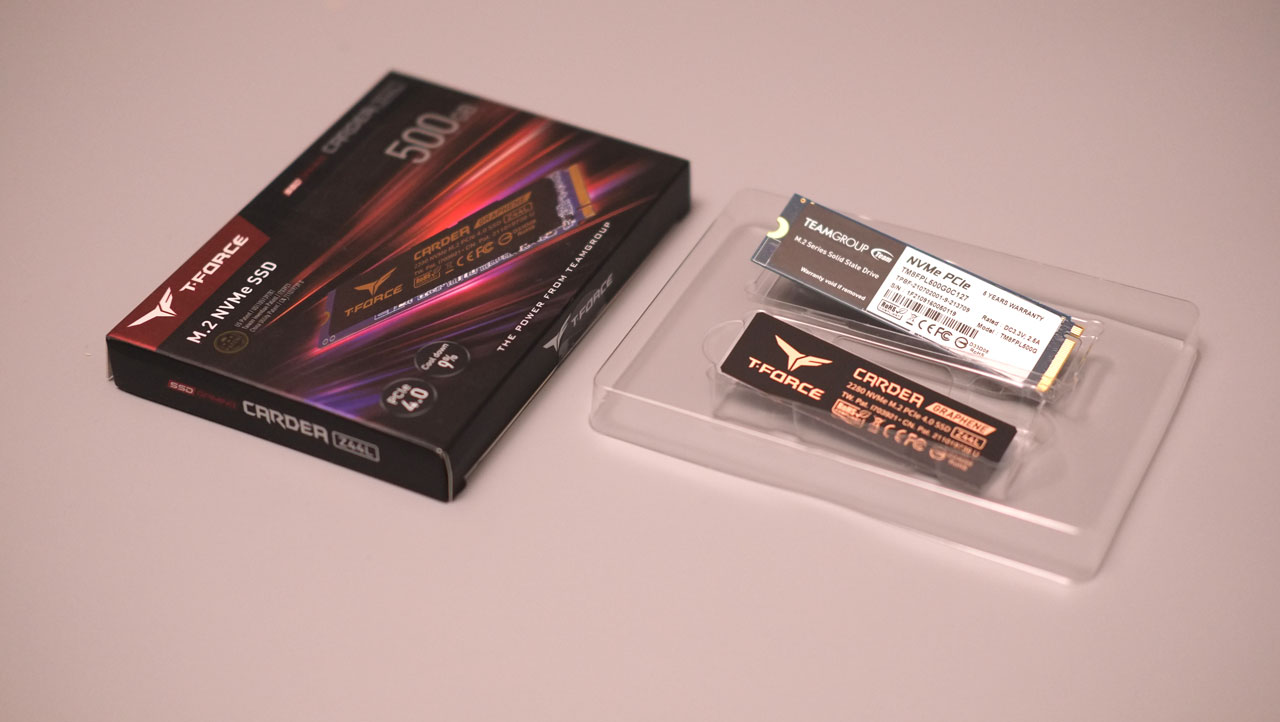 The packaging comes with the following items inside:
TEAMGROUP T-Force Cardea Z44L
Graphene sheet
TEAMGROUP decided to have the graphene sheet separated from the drive. Not sure why but they gave us the opportunity to have the drive tested without it.
Design, Build and Connectivity
The T-Force Cardea Z44L, like many M.2 2280 storage drives out there looks typical for its interface. Up front, you could see Phison controller and the two NAND chips that makes up its 500GB capacity. This is the side where you could, or rather should put the graphene sheet.
The back is devoted for the information sheet. There are also traces here for another set of NAND chips – most likely for the 1TB variant.
The graphene sheet is almost as long as our drive. No reason for it to be this long unless the size could actually contribute to better head dissipation. Attaching the sheet it is pretty straight forward. You just have to remove the protective tape and carefully put the graphene in place via its pre-applied thermally conductive adhesive coating.
Test Setup and Methodology
Our test setup relies on the measurements taken from industry standard benchmark tools and real-world applications. It is important to note that we are testing the review sample after burn-in, with at least 24-hours of uptime. This is done so to negate the FOTB (fresh out the box) state of the DUT (device under test), yielding better benchmarking consistency.
Test System Specifications
CPU
AMD Ryzen 5 3600
Motherboard
BIOSTAR B550M-SILVER
Cooler
Noctua NH-U12S Redux
Memory
ADATA Premier 2666MHz 16GB
GPU
GALAX RTX 2060 EX White 6GB
Storage
TEAMGROUP T-Force Cardea Z44L PCIe 4.0 SSD
Case
Mechanical Library JXK-K3
PSU
Thermaltake Toughpower GF1 650W
Display
LG UF680T
OS
Microsoft Windows 10 Pro 64-bit
ATTO Disk Benchmark
ATTO Disk Benchmark is an industry standard freeware benchmark tool developed by ATTO. It measures storage performance with the option to set custom file sizes, I/O sizes and queue depth. For this benchmark, we decided to go with the default test setup.
The Cardea Z44L reached near peak performance at ATTO's 64 KB I/O size benchmark run. The graphene equipped (right) setup is faster, especially when the drive starts to sustain the benchmark load.
CrystalDiskMark
CrystalDiskMark is an open-source benchmark tool developed by CrystalMark. It measures storage performance based on two sequential and random benchmarks with the option to set custom file sizes, number of runs per benchmark, profiles and the ability to toggle between default and NVMe mode. For this benchmark, we decided to go with the default profile and NVMe mode.
Both the naked and graphene equipped Cardea Z44L traded blows at Crystal Disk Mark. Still, the graphene equipped sample is faster overall everything considered. Both test setups easily breached the specified ratings on paper.
AS SSD Benchmark
AS SSD is a freeware benchmark tool developed by Alex Intelligent Software. It measures storage performance similar to CrystalDiskMark but with the ability to measure incompressible files.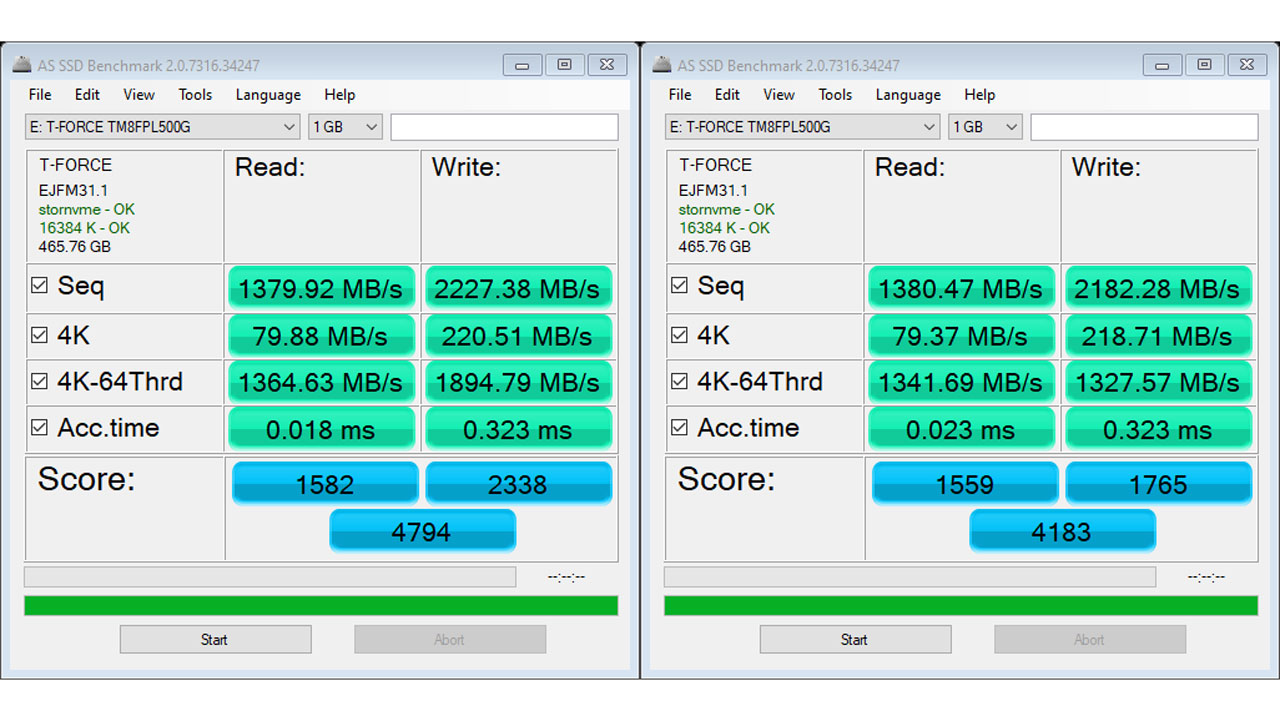 AS SSD is also capable of measuring theoretical file copy and compression performance with its supplemental benchmarks.
Pretty decent output overall for the heavier AS SSD benchmark. The graphene equipped drive also won in general here.
Final Fantasy XIV: Endwalker Load Time
Final Fantasy XIV: Endwalker is an MMORPG developed by Square Enix. Instead of focusing on the score and frame rate, the total loading time is our concern here.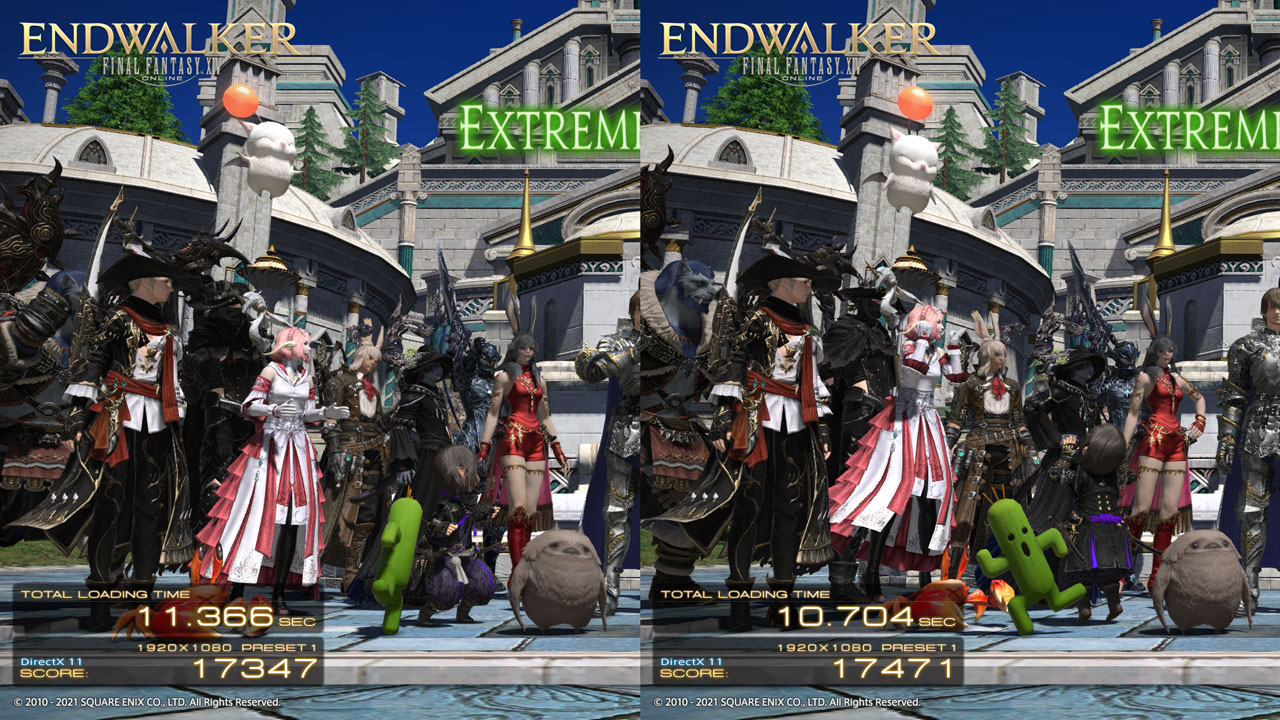 Total loading time is excellent at just under 10.7 seconds for the graphene equipped setup.
TeraCopy
TeraCopy is a freemium file transfer utility developed by Code Sector. For this particular application, we copied folders with varying file sizes and a transfer size of 4 GB each.
Excellent real world performance we got here from the drive. No huge difference between the setups.
Software, Lighting and Special Features
TEAMGROUP has a downloadable S.M.A.R.T. software for their storage devices. This is not a requirement but it's cool to see minute information about this drive along with its supported features.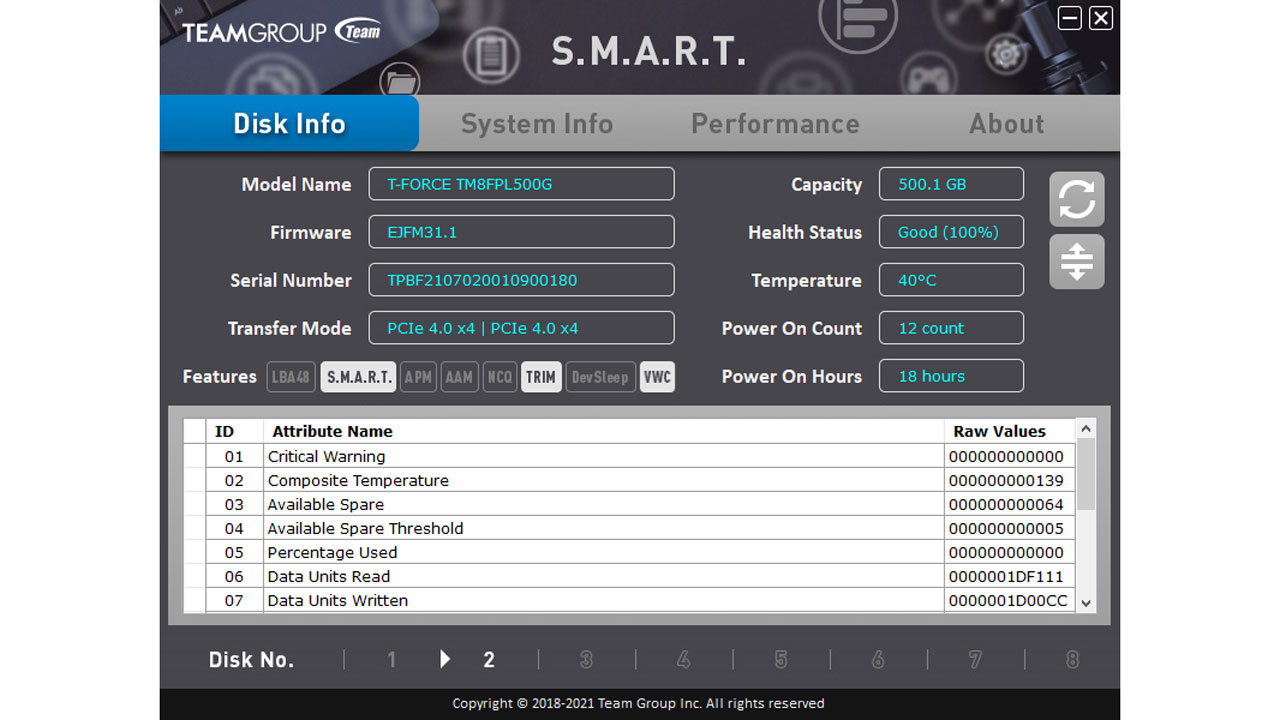 This software also got an onboard benchmark. It's similar to Crystal Disk Mark but I am not entirely sure if it is just a skinned version.
Last but not the least, we get to see the difference between the naked and the graphene sheet equipped sample. Temperature difference is not that huge but this still factored in with the benchmarks we ran so the graphene actually helped even by a bit.
Final Thoughts
The T-Force Cardea Z44L in its 500GB variant is a proper PCIe 4.0 x4 interface storage device. While performance is far from TOTL devices, what it brought to the table is the combination of its performance and capacity for under $75 USD. This is actually a nice upgrade path for those who are looking for a slim M.2 2280 drive for their desktop or mobile systems.
That considered, what I also like about this drive is its thermal performance with or without the graphene. That sheet definitely helped even by a bit but regardless it is just a warm drive at full load. Compared to other graphene equipped models I've tested, this one doesn't need extra cooling at all – but will certainly scale well with it like most electronics.
In closing, the T-Force Cardea Z44L is a sub $75 USD NVMe drive that everyone should consider. It is fast enough, has good thermals and best of all, comes with a 5 year warranty attached.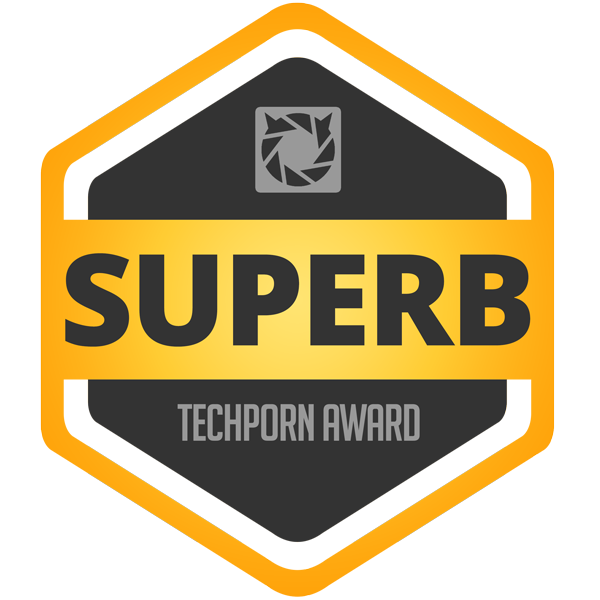 TEAMGROUP T-Force Cardea Z44L
Summary
TEAMGROUP's sub $75 USD T-Force Cardea Z44L is no trail blazer but it is a dependable drive with good capacity and a decent endurance. A perfect budget oriented storage drive for the desktop and even mobile.