Easy memory slot lighting solution
Thermaltake releases Pacific R1 Plus DDR4 Memory Lighting Kit to offer an easy solution for coloring up memory modules.
The RGB memory cover for DDR4 memory module that supports motherboards with 4 DIMM channels features 36 addressable LEDs with 16.8 million colors can be controlled with Patented TT RGB PLUS software and synchronizes with ASUS, GIGABYTE, MSI, AsRock 5V motherboard RGB software. With user-friendly engineered design, R1 can be easily clipped on to the DIMM channel bracket, therefore, users do not need to have all four RAM sticks installed to place R1 and enjoy the RGB effects.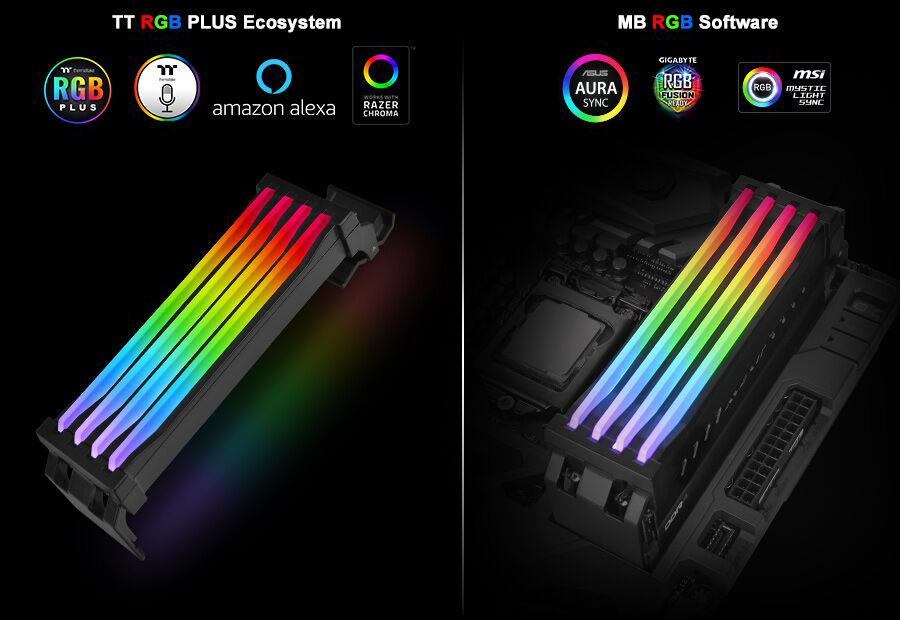 It is also compatible with most generations of memory modules on the market, including DDR4, DDR3, and DDR2. The wide range of compatibility benefits most PC DIY users. Pacific R1 Plus DDR4 Memory Lighting Kit offers an easy way for your memory module to outshine the rest!
Thermaltake TT RGB PLUS Ecosystem
TT RGB PLUS Ecosystem is the intelligent lighting system for PCs that combines the most advanced addressable LED lighting with Thermaltake's patented TT RGB PLUS Software, Razor Chroma, and Amazon Alexa Voice Service.
The TT RGB PLUS ecosystem provides nearly unlimited possibilities for playing with colors, synchronizing lights to games, music, CPU temperatures, Razer Chroma supported gaming peripherals or other TT RGB PLUS products, including case fans, CPU/VGA waterblocks, AIO CPU coolers, PSUs, LED strips, gaming keyboards, headsets, mice and mouse pads. The patented TT RGB PLUS software allows users to change the light modes, colors, speeds, brightness, fan speeds via TT AI Voice Control and Amazon Alexa Voice Service.
For more details on the Thermaltake Pacific R1 Plus DDR4 Memory Lighting Kit, please visit here.
PRESS RELEASE