Video content has undoubtedly emerged as a champion in recent times. There has been an enormous flow of videos throughout social media channels due to their interactivity and their self-explanatory nature.
This massive surge in video publishing has been facilitated by easy to use video editing tools that have simplified the entire video creation workflow and making it extremely easy for video creators to send out high-quality videos for their promotional requirements.
There are numerous tools available on the web that facilitate easy video creation. However, this is not the scenario of 'one size fits all,' and each platform has its own special set of features.
If you are looking to start video marketing and looking for easy to use and highly efficient platforms for video creation, this post will help you out. We will look at the top 10 video creation platforms that are feature-rich and meet all your video creation requirements.
Top 10 Video Editing Tools For Beginners
If you are looking for the best video creator, here are the brief reviews of the top 10 video editing tools available today that perfectly compliment the skill set of beginners.
1. Apple iMovie
Apple's iMovie is one of the easiest video editing platforms out there, and its non-intrusive and essential feature set perfectly suits a beginner's skill set.
It has all the features that you would expect from an entry-level video editor such as quality filters, 4K resolution support, studio-style titles, in-built sound effects, and voice-over recording.
iMovie comes completely free of cost for mac owners and helps you in creating watermark-free videos without putting in much effort.
You also get the ability to share any frame from the video as a standalone image or directly publish the video on YouTube.
2. CyberLink PowerDirector
CyberLink's PowerDirector ups the ante with its collection of unlimited plug-ins, customizable design tools, motion tracking, 360-degree video stabilization, clip segmentation, and a host of customizable design tools.
The UI and UX of the tool perfectly suit beginners, and every option is placed where beginner video creators expect it to be.
Although the tools provide numerous features for video creators, it is relatively very easy to master, and even beginner creators won't find it difficult to leverage the full functionality of the platform.
VideoCreek
The beauty of the VideoCreek video creation platform lies with the fact that it is a completely online video editor that does not require any software installation.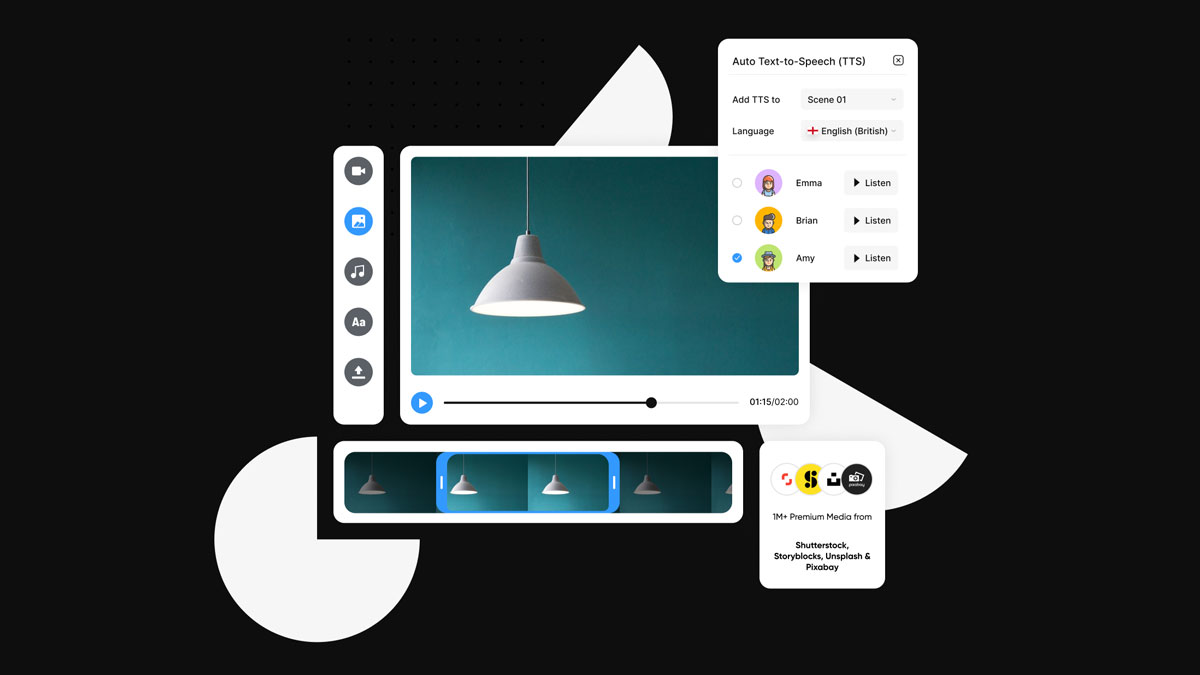 The entire tool is accessible on a browser and provides several advanced features to simplify your video creation journey.
VideoCreek provides advanced video creation features complete with pre-existing templates, hundreds of special effects, and the ability to create stunning intro videos that are perfect for posting on YouTube.
It's text to speech feature can help you in putting your video creation in autopilot mode and create a stunning animated video within minutes.
4. Nero Video
Nero Video provides more than 1000 special effects to deploy in videos along with the ability to add audio, animations, or images to any video creation project.
It enables beginner video creators the ability to edit videos like professionals.
The tool also has an expansive feature set and plenty of audio and video processing features.
Moreover, for the selected group that still uses DVD's, you will be pleased to know that the platform has an integrated DVD and Blue-ray burner feature.
5. Blender
Blender is one of the few video editing tools available that is free and provides advanced 3D rendering capabilities.
The tool provides 3D rendering services along with some of the best options that you can use to work with movable objects, animations, shadings, modeling, etc.
It has all the features that you would expect from a professional video creator.
However, although Blender is highly feature-rich, it has a less than intuitive UI that might deter beginner users from leveraging the entire feature set of the platform.
6. Final Cut Pro X
Final Cut Pro X is an Apple-designed video editing platform that only comes for the macOS.
It comes with advanced features such as the magnetic timelines, enhanced timeline index, and a well laid out UI that even beginner video creators will find highly intuitive to use.
It has extensive feature support that includes ProsRes, RED, XAVC, H.264, etc. If you are a beginner and looking for a video creator with a professional edge, Final Cut Pro X might just fit the bill.
7. HitFilm 4 Express
HitFilm 4 Express provides more than 410 effects and pre-set options that enable beginner video creators to create well-edited and highly creative videos effortlessly.
The tool is cross-platform and comes free of cost for starter video creators.
The tool provides expansive audio & video import and export options and comes with an expansive feature set such as layering, media, and effect insertion.
Moreover, the tutorials provided by HitFilm can help beginners in getting started with their video creation aspirations.
8. Lumen5
Lumen5 enables you to convert blog posts or any text for that matter into animated videos within minutes.
If you are looking for a video editor that covers the basic functionality without a seemingly overwhelming user-interface, Lumen5 can prove to be one of the best choices that you can make.
Creating text-to-video is easy using the Lumen5 platform. All you have to do is copy the text and paste it into the text dialogue box, and the platform will start creating an animated video within seconds.
You can also add branding such as logos and custom music to your videos.
9. Adobe Premiere CC
Not exactly a beginner's video creation platform, but Adobe Premiere CC provides you with almost every feature that you can expect from a professional video editing platform.
Although there is a slight learning curve to the UI, the advanced video editing features and the intuitive interface more than makes it up for you.
The tool can meet the requirements of beginners and professionals alike, and it streamlines the entire video journey.
It also comes with a long list of supported codecs to choose from, which makes exporting any video format a breeze for video creators.
10. QuickStories
The QuickStories video creation platform is developed by GoPro and is primarily aimed at GoPro camera owners, but can also be used by beginner video creators.
The platform enables seamless connectivity to the GoPro's camera and automatically sorts the best images and videos.
It comes with advanced machine learning algorithms and chooses the best videos and images for editing automatically.
Moreover, the integrated AI helps QuickStories in achieving perfect white balance, color matching, and gradient matching in all of the videos.
Parting Thoughts
Video editing is usually a problem area for a lot of people and/or organizations. However, using the aforementioned tools, you can make video editing a breeze and sail through the process.