Learn to use a FREE VPN Now For Science!
VPN or Virtual Private Networks existed way back even before the internet became a world wide necessity. Initially deployed for government and business sectors, VPN is their go to network solution to keep themselves secure on the net. To keep it simple, VPN works by connecting you to a secure private network, allowing your data to go in-and-out through an encrypted tunnel of information hi-way via the VPN's servers. With that said, VPN will allow you to:
Browse The Web Anonymously
Access Geographically Blocked Contents
Enhance Your Privacy & Security
Those are just the basics of what a VPN could do, and trust me there's a lot of things to learn about VPN as a whole. If you wish to learn more about it, you can always check out Wikipedia, and other resources online.

A Word About Free VPN Services:
Free isn't always what it seems to be. There are caveats, and usually – providing a free service comes with a consequence to the end user. Some Free VPN providers could sell your data, and their service reliability aren't always topnotch. There are restrictions and or limitations on features too so keep in mind. We are talking about Free VPN services after all so we are sticking with solution providers who are reliable enough to be used without major blow-backs to the end users. With that said, let us check out my personal list of Free VPN services.
TUNNELBEAR FREE:
TunnelBear is a fun, and excellent Premium VPN service straight from our Canadian friends. You can use the service for free on Windows, Mac, iOS, and Android devices so you've got covered 100%. Its 500 MB monthly allowance is a little small, but you can extend the free capacity up to a 1 GB*** via their promotions – such as tweeting about TunnelBear.
Tunnel Bear also allows you to use the service via browser extensions for the Google Chrome and the Opera Browser, although it's only your browsing data that gets encrypted. You can even select which server you wanted to be connected with 20+ servers located around the globe (One is paid). TunnelBear does not log any activities of their customers connected so data privacy is top notch. It is a serious VPN service, masked by a cute facade.
EASY TO USE – GREAT FOR BEGINNERS
MULTI-PLATFORM – WORKS WITH MOST DEVICES
BROWSER EXTENSION IS A PLUS
20+ SERVERS WORLDWIDE
GREAT PRIVACY
5 SIMULTANEOUS CONNECTIONS

HIDE.ME FREE:
HideMe is another Premium VPN service with a free subscription. It is also multi-platform, but with a decent starting bandwidth cap at 2 GB per month. HideMe on its free subscription form is already great, but you are limited to 3 servers so keep that in mind.
HideMe features an excellent privacy and security model and it is just as easy to use as TunnelBear. HideMe also offers a free proxy service which is always a plus.
EASY TO USE – GOOD FOR BEGINNERS
MULTI-PLATFORM – WORKS WITH MOST DEVICES
2 GB MONTHLY CAP IS DECENT
+1 FOR FREE PROXY SERVICE
EXCELLENT PRIVACY
PREMIUM CUSTOMER SUPPORT FOR FREE

30+ SERVERS BUT LIMITED TO 3 FOR FREE SUBSCRIPTION
SINGLE CONNECTION PER ACCOUNT
CYBERGHOST FREE:
CyberGhost is yet another Premium VPN service with a free subscription. It has tons of servers located world wide but restrictions applies. That includes a time based connection where you will be disconnected every 3 hours, but the service gets reconnected whenever there is an available slot for you. That said, CyberGhost requires its free users to queue in. Ads are also served every 120 minutes offering an upgrade offer. It isn't limited to any capping though so there's that for your consideration.
CyberGhost is also a multi-platform service, with a  free proxy as an extra, and with a built-in AES 256-BIT Encryption for your peace of mind.
EASY TO USE – SMALL FOOTPRINT
MULTI-PLATFORM – WORKS WITH MOST DEVICES
NO CAPPING YAY!
+1 FOR FREE PROXY SERVICE
GREAT PRIVACY

TONS OF SERVERS BUT LIMITED SELECTION FOR FREE SUBSCRIPTION
SINGLE CONNECTION PER ACCOUNT
TIME BASED – WILL LOG YOU OUT EVERY 3 HOURS
REQUIRES YOU TO QUEUE
OPERA BROWSER VPN via SurfEasy:
The OPERA Browser is a pretty nifty piece of browser on its own featuring tons of value added extras inside in one package. Last year, they've added a Free VPN feature and it just made OPERA an indispensable multi-platform browser. Setting it up is easy too, basically you just have to push a button and that's just it.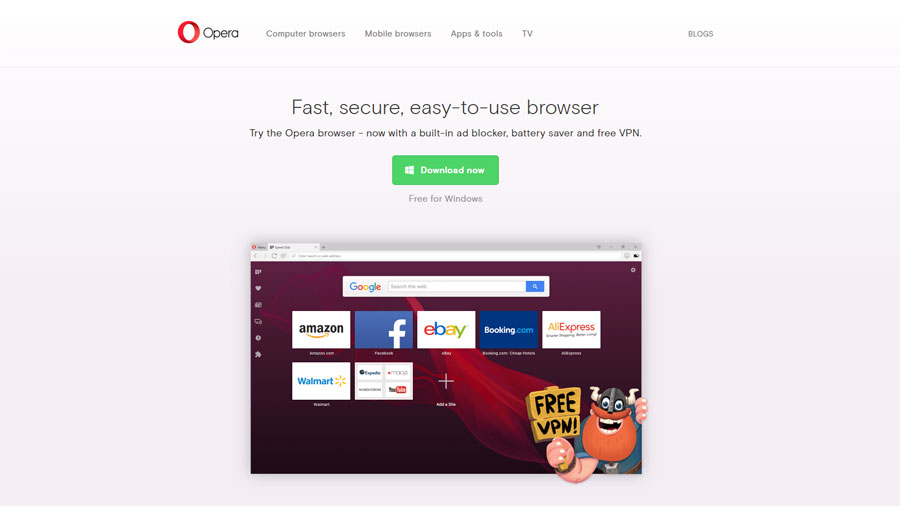 The built-in VPN is powered by SurfEasy which is an OPERA company. They do not log any of your browsing data so that's a plus. Connections are provided by their Canada, Germany, Netherlands, Singapore and US servers with no speed restrictions.
EASY TO USE – BROWSER BUILT IN
MULTI-PLATFORM – OPERA WORKS WITH MOST DEVICES
VIRTUALLY NO CAPPING
GREAT PRIVACY
NO SPEED LIMITATIONS
THE TOR Project:
While the TOR Project isn't a browser that actually works like OPERA and its built-in VPN – it is a powerful browser on its own thanks to its routing technique that serves anonymous communication over a computer network. Basically, when you fire up TOR, every data that passes through it is encrypted in layers and layers of encryption via nodes.
You anonymously browse as a node with TOR, and that alone provides secrecy to your data and identity. Do note though that TOR doesn't advise you to open up any downloaded documents while browsing. These may contain resources that could potentially reveal your IP and identity. You can safely use the PDF viewer built into the TOR Project though.
EASY TO USE – BROSER BUILT IN PROTECTION
MULTI-PLATFORM – TOR WORKS WITH MOST DEVICES
VIRTUALLY NO CAPPING
GOOD PRIVACY – AS LONG AS YOU KNOW WHAT YOU ARE DOING

NOT REALLY A VPN SOLUTION
PLUGINS SUCH AS FLASH PLAYERS WONT WORK
RATHER SLOW – AT LEAST ON MY END
IN CLOSING:
Browsing anonymously is an indispensable protection against online threats. With a VPN service, you can confidently connect to a public hot-spot, without worrying about your information leaking through. Your device carries a lot of data, sensitive data that when stolen – could potentially bring an end to your career – online or even offline.
I initially had the idea of posting this article based on a recent local news, but in all seriousness – consider subscribing to a VPN provider. I don't care if you're watching p*rn, and stuff inside a coffee shop but you'll never really know when a misfortune hits you online. For a more comprehensive list of VPN services that you could try, consider checking out Cloudwards.