On this review, we are taking a look at the Transcend TS-CM80S M.2 SSD Enclosure. It's a product designed for those wanting to take advantage of the speed and portability the M.2 form factor has to offer. Being an external enclosure, this device should be able to withstand punishments from the elements. 
Dimensions
CM42: 81.41mm x 33.6mm x 7.5mm (3.21″ x 1.32″ x 0.30″)
CM80: 120.16mm x 33.6mm x 7.5mm (4.73″ x 1.32″ x 0.30″)
Weight
CM42: 29g (1.02 oz)
CM80: 41g (1.45 oz)
SATA Interface
SATA III 6Gb/s
Connector Interface
USB 3.1 Gen 1
Operating Voltage
DC 5V
Operating Temperature
0°C (32°F) to 70°C (158°F)
Storage Temperature
-40°C (-40°F) to 85°C (185°F)
Certificates
CE, FCC, BSMI
Warranty
Two-year Limited Warranty
Note
The M.2 SSD Enclosure Kit is not compatible with PCI-Express M.2 SSDs.
PACKAGING AND BUNDLED ACCESSORIES:
The Transcend TS-CM80S comes in a slim packaging. Internal protection is courtesy of a plastic shell which is enough to keep everything inside safe.
The enclosure comes with the necessary tools required to get you started. Pamphlets are also included and yes, that's a magnetic screw driver.
THE TRANSCEND TS-CM80S:
The Transcend TS-CM80S is a simple and slim enclosure. It's just around 7.5 mm thick and is 120 mm long. It is made out of aluminum and feels really solid.
Connectivity is provided by a USB Type-C port. It is USB 3.1 compliant so expect better performance over the usual USB 3.0 enclosures.
Inside, you will find the control and adapter for M.2 devices. The TS-CM80S is compatible with Type 2242, 2260 and 2280 M.2 devices.
TRANSCEND TS-CM08S INSTALLATION:
Installation is pretty simple and Transcend made sure that you'll never get into trouble with the included tools. There are no spares though.
Perhaps the most important thing is to check your M.2 device's interface. I had the impression that the TS-CM80S is compatible with M.2 PCI-E SSDs and I thought wrong.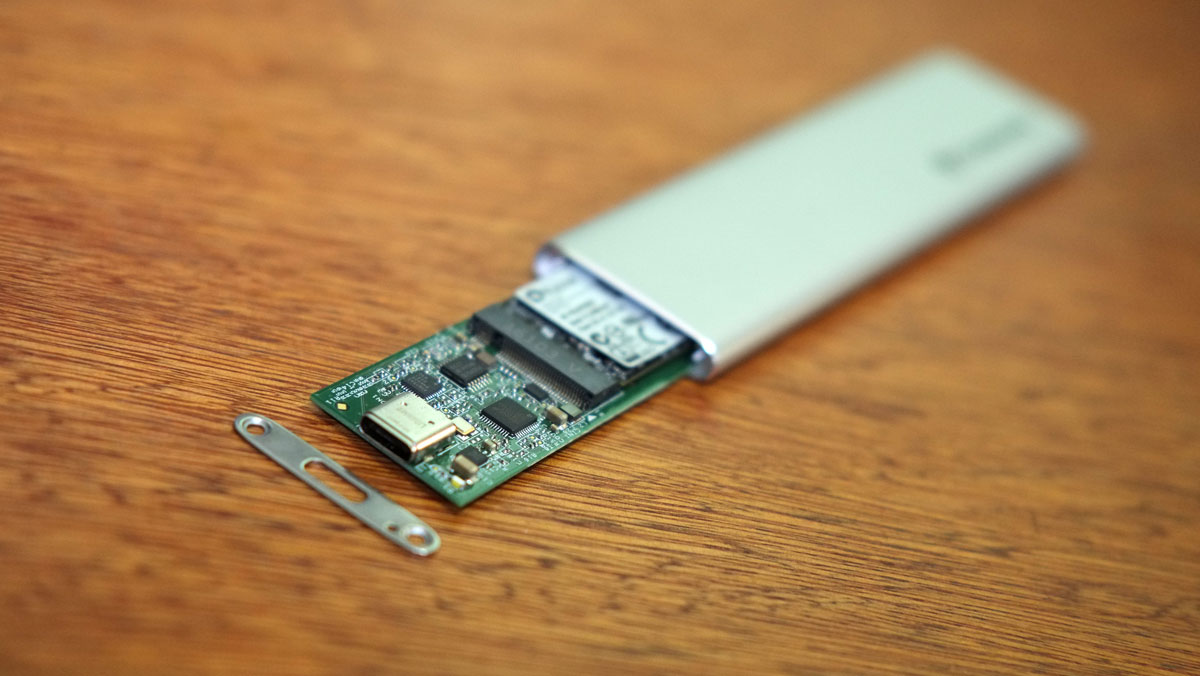 STORAGE TEST SETUP AND METHODOLOGY:
Our storage device reviews revolves around the use of various storage benchmark tools and real world benchmarks. Our setup fills up the test drive to at least 50% of its capacity. This is done so to negate the FOB (Fresh Out the Box) performance of the drive – ensuring that we are testing the drive according to its real world usage. All tests should be done with the drive attached to the native ports found on our motherboard ensuring that the system is on its optimal storage testing state.
TEST SYSTEM SPECIFICATIONS
PROCESSOR
Intel Core i5 6600K
MOTHERBOARD
ASUS Z170-A
CPU COOLER
Cryorig C1 Top Flow
MEMORY KIT
Crucial Ballistix Tactical @ 2666MHz 4x4GB Kit
GRAPHICS CARD
ASUS GTX 1060 STRIX OC 6GB
INTERNAL STORAGE 
Crucial MX200 250GB
POWER SUPPLY
CORSAIR RM850X 850W
DISPLAY
27″ DELL U2715H
OPERATING SYSTEM
Microsoft Windows 10 Pro
For this test, we used the Plextor M7V M.2 SSD. It features a 560 MB/s read and a 500 MB/s write speed.
SYNTHETIC STORAGE PERFORMANCE:
The ATTO Disk Benchmark is an industry standard storage benchmark tool aimed to measure the maximum theoretical speed of a drive. It is usually the driving metric where storage companies base their drive's specified performance.
Crystal Disk Mark is a storage benchmark software widely used through the industry. It features four synthetic tests for both read and write.
AS SSD is a well-known synthetic storage benchmarking tool in the industry, offering 6 synthetic tests and 3 copy performance benchmarks.
AS SSD's copy test should provide us a quick look at how the storage behaves with certain files and applications. These benchmarks will test both the read and write performance of the drive simultaneously.
REAL WORLD STORAGE PERFORMANCE:
Our real world performance test is courtesy of 24 GB uncompressed files consisting of images, PSDs and various file formats. Accompanying it is another file copy test consisting of 12 GB compressed files. The last one is a mixture of both, pushing the drive to its limits. The files are copied within the drive and performance is measured by TeraCopy.
THE VERDICT:
The Transcend TS-CM80S is a nice little enclosure that does what it is intended to do. It is simple to use with hardly any issues at all and installation is as simple as 1-2-3. While it doesn't support PCI-E M.2 SSDs, it is a proper SATA interface enclosure.
Performance is great together with the Plextor M7V M.2 SSD. It even bested most of our SATA SSDs on the file copy department which means that it is no slouch. USB 3.1 is the best interface to use this and I'm glad Transcend included a proper cable. I kinda wished they included another one with a Type-C to Type-C interface.
The Transcend TS-CM80S is available now at 47 USD while the lowest price we could see prior to this review is 33 USD. It's a good price for something that offers excellent performance with a small form factor to boot.
USB 3.1 INTERFACE
SLIM AND BEAUTIFUL DESIGN
HASSLE FREE INSTALLATION
COMPATIBLE WITH MOST M.2 MOUNT TYPES

USB TYPE-C TO A CABLE ONLY
INCOMPATIBLE WITH M.2 PCI-E DEVICES
Transcend TS-CM80S
PERFORMANCE -

8/10

BUILD QUALITY -

8/10

FEATURES -

7/10

AESTHETICS -

8/10

VALUE -

8/10
Summary
The Transcend TS-CM80S is available now at $47 USD while the lowest price we could see prior to this review is $33 USD. It's a good price for something that offers excellent performance with a small form factor to boot.