WD is a house hold name, and whenever you find both of those letters you're going to think and think about hard drives. They have been around for darn years, you'd wonder why they haven't started manufacturing SSDs. That is until SanDisk came under WDC's banner and the rest became history. Ladies and gents, we now have a proper WD SSD in the form of the WD Green SSD 240GB.
Now this SSD as stated, comes with a 240GB capacity on a 2.5 Inch form factor under a 7mm z-height. The WD Green SSD comes in a 2 varieties of models and form factors. There's a 240GB version, as well as a 120GB variant for both the 2.5″ and M.2 form factor. The technical specification shows that this maxes out the read at 540 MB/s with a write speed rated at 465 MB/s. This SSD has an MSRP of 4, 500 PHP with a current rated local price of 3, 900 PHP. Learn more here.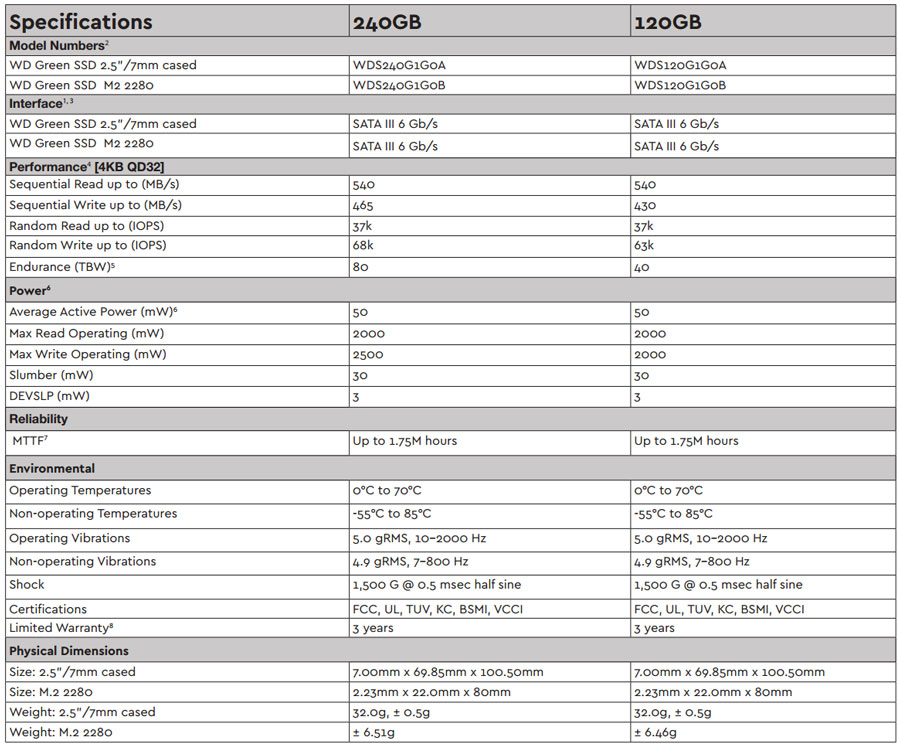 PACKAGING AND BUNDLED ACCESSORIES:
There isn't much when it comes to the packaging of the WD Green SSD. I mean come on, it's just like your typical budget oriented SSD, at least packaging wise.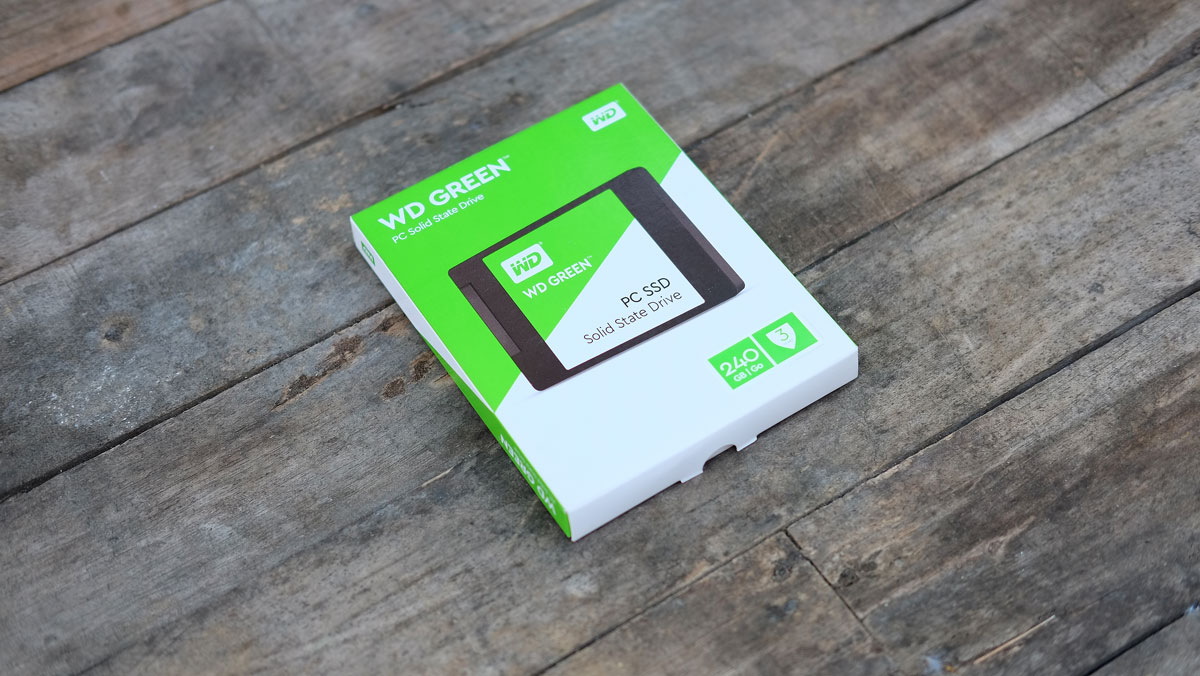 Accessories are basic. Well, basically nothing at all. You wouldn't get a SATAIII cable, nor a spacer here so it's kinda disappointing.
DESIGN, LAYOUT AND BUILD QUALITY:
The WD Green is not the flashiest SSD out there, with a plastic shroud from front and back. This is good if you're looking for a light 2.5″ drive to go with your notebook.
Underneath the WD Green SSD lies its certifications, and serials for documentation. There are also four screw holes located on this area should you wish to mount the SSD on any chassis supporting such mounting holes.
There's basically nothing else to discuss here. We aren't allowed to remove the shroud so there's that.
TEST SETUP AND METHODOLOGY:
Our storage device reviews revolves around the use of various storage benchmark tools and real world benchmarks. Our setup fills up the test drive to at least 50% of its capacity. This is done so to negate the FOB (Fresh Out the Box) performance of the drive – ensuring that we are testing the drive according to its real world usage. All tests should be done with the drive attached to the native ports found on our motherboard ensuring that the system is on its optimal storage testing state.
| | |
| --- | --- |
| PROCESSOR | INTEL CORE I5 6600K |
| MOTHERBOARD | ASUS Z170-A |
| CPU COOLER | CRYORIG C1 TOP FLOW |
| MEMORY | CRUCIAL BALLISTIX TACTICAL 16GB |
| GRAPHICS CARD | ASUS GTX 1060 STRIX OC 6GB |
| BOOT DRIVE | CRUCIAL MX100 256GB |
| POWER SUPPLY | CORSAIR RM850X 850W |
| DISPLAY | 27″ DELL U2715H WQHD IPS PANEL |
| OPERATING SYSTEM | MICROSOFT WINDOWS 10 PRO |
The WD Green SSD comes with approximately 240 Billion Bytes of usable capacity, roughly translating to 223 GB of available space to play with.
SYNTHETIC STORAGE PERFORMANCE:
The ATTO Disk Benchmark is an industry standard storage benchmark tool aimed to measure the maximum theoretical speed of a drive. It is usually the driving metric where storage companies base their drive's specified performance.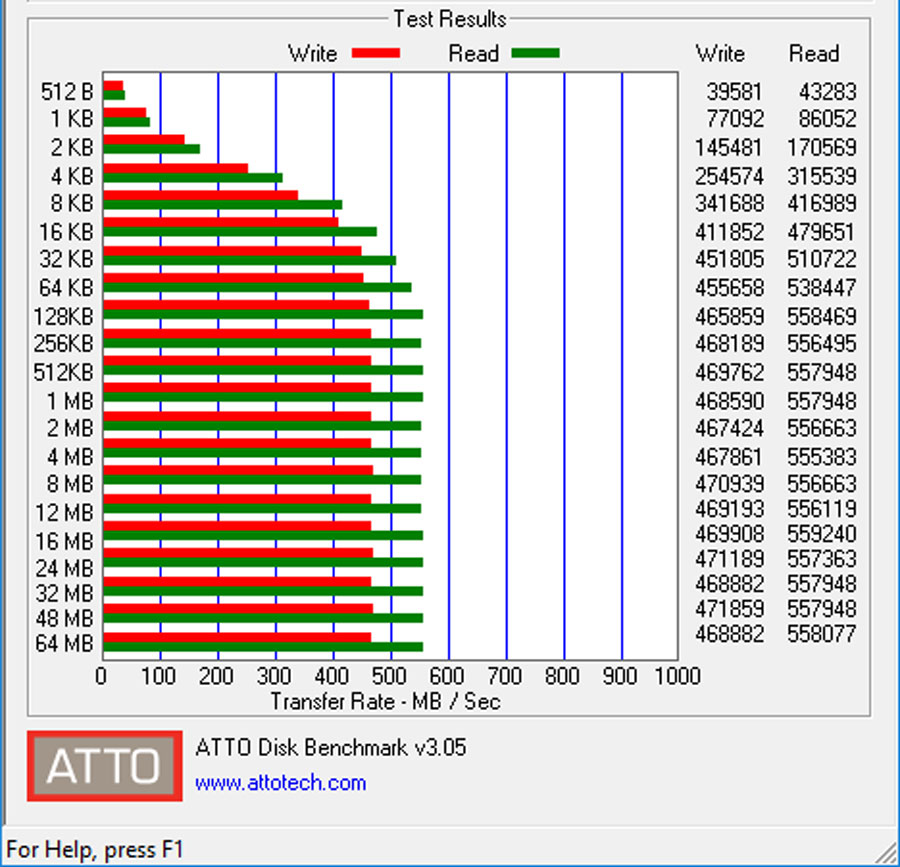 Crystal Disk Mark is a storage benchmarking software widely used through the industry. It features four synthetic tests for both read and write.
AS SSD is a well-known synthetic storage benchmarking tool in the industry, offering 6 synthetic tests, and 3 copy performance benchmarks.
AS SSD's copy test should provide us a quick look at how the SSD behaves with certain files and applications. These benchmarks will test both the read and write performance of the drive simultaneously.
FILE COPY PERFORMANCE:
Our real world performance test is courtesy of 24 GB uncompressed files consisting of images, PSDs, and various file formats within a single folder. Accompanying it is another file copy test consisting of 12 GB compressed files. The last one will be a mixture of both, pushing the drive to its limits. The files are copied within the drive, and performance is measured by TeraCopy.
SOFTWARE, LIGHTING AND SPECIAL FEATURES:
The WD SSD Dashboard is a downloadable tool for your WD SSD to check its status, performance, and other extras. You need this software to enable the TRIM support from the SSD. Normally, this should be enabled if you installed the drive as the primary boot drive of your system.
FINAL THOUGHTS:
The WD Green SSD is one of the company's first take into the solid state market, with a good price point to start with. But, will its performance enable WD to get a grip within the market? Short answer is… a yes. Now at synthetic benchmarks, the WD Green SSD features a maximum of 558 MB/s read, combined with a 471 MB/s write performance (ATTO). At Crystal Disk Mark, it manages to beat our Biostar G300 SSD overall, and with that said, performance is truly in-line with proposals from the other vendors.
Now real world is where it struggled a little bit, with a lower performance rating at our copy benchmark. On our real world 32GB mixed test files for example, the drive came  in last at a 775 seconds which is 5% slower than the G300. It's not a huge difference, but we can see that its buffer  can't hold data as good as the other drives. Access times averages around 0.055ms, which is on par with most SSDs nowadays.
MSRP is set a tad higher 4, 500 PHP but you can get this drive at 3, 900 PHP which is equivalent to the WD Blue 250GB outside the Philippines. Still, it is priced accordingly inside the country, with a few and older 240GB SSDs situated below its actual market price. This makes the WD Green SSD a good proposal, especially with an option to get the M.2 variant at the exact same price. That, together with the positive reputation of WD, should make this SSD a worthy purchase.
GOOD WELL ROUNDED READ & WRITE PERFORMANCE
GOOD REAL WORLD PERFORMANCE
WD SSD DASHBOARD IS A PLUS
PROVEN WD REPUTATION
GREAT VALUE FOR MONEY

LACKS ACCESSORIES
2.5″ SHROUD IS KINDA CHEAP
WD Green 240GB SSD
PERFORMANCE -

7/10

BUILD QUALITY -

7/10

AESTHETICS -

7/10

VALUE -

9/10
Summary
The WD Green SSD is a good storage proposal with an option to get the M.2 variant at the exact same price. That, together with the positive reputation of WD, should make this SSD a worthy purchase at 3, 900 PHP.