If you have ever encountered a Japanese online casino, you have probably noticed a specific gaming software that seems to be related to all popular games – Golden Hero Games. It is almost impossible to miss their hit titles such as Imperial Colours, Jewel Race, and Hawaiian Dream that will introduce you to a whole new genre of games. And while casino players all over the world love good old classics like poker, roulette, and blackjack, there is nothing wrong with becoming familiar with games that come from other parts of the world.
What are the Golden Hero Games?
Golden Hero Games is a subsidiary of Solid Gaming, one of the biggest gaming software providers in the Asian market. The specialty of Golden Hero Games is mobile gambling games that are becoming increasingly popular as more and more players like to access their games on the go. Their vast and long history in the mobile industry, combined with exciting graphics and features made them popular amongst Japanese who prefer reliable mobile gambling solutions. Their games are based on HTML5 and optimized for flexible and easily accessible mobile games on both iOS and Android devices.
But, it's not all about the technology, as the type of games Golden Hero offers is somewhat unusual. Their specialty is pachinko games that are one of the most popular gambling types in Japan.
What are the Pachinko Games?
Pachinko games are special machines or online games that are in many ways similar to video slots and slot machines. The machine that features the game is called a pachislot. In 2018, in Japan, there were 9 794 pachinko parlors with pachislots and other games. They are usually located next to train stations and other frequent places and resemble western casinos. On average, the Japanese spend $200 billion on pachislots each year.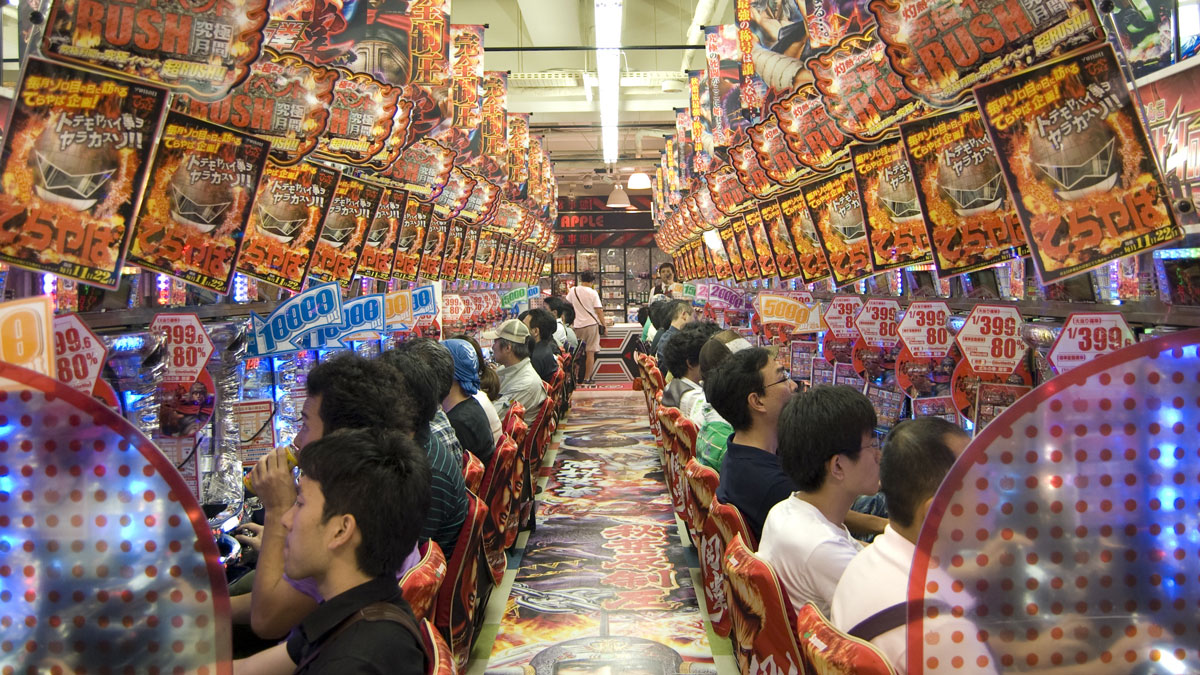 The traditional pachinko game was similar to the pinball machine and was played with steel balls (11 mm diameter) that the player would rent from the owner of the parlor. The ball was both the bet and the prize. In order to play, a player would simply put one or more balls into the machine and push special buttons with springs to keep the momentum. Once the ball loses momentum, the game is over. The playing field has different bumpers, boosters, and cups so players can trigger payouts. The payout, no matter how big or small, is always in the form of a ball. The balls are then exchanged for special tokens. As pachinko parlors operate in the legal loophole, no direct money exchange is allowed, so the player has to exchange the token for cash on a special, outside kiosk, usually owned by the same company as the parlor.
Modern pachislots look rather different and are based on digital technologies. They look like western slot machines, with their big screens and colorful graphics. Such slots are referred to as deji-pachi. The main difference between slots and pachislot is that pachislots feature only 3 reels and never more. It is impossible to find a pachislot with 5 or 7 reels. There are some online pachinko games, also developed by Golden Hero Games, that take great inspiration from original pachinko games played with the ball, and instead of coins, players collect balls, turn cards, connect jewels, spin the wheel along with the reels, etc.
Golden Hero Games and Pachinko – Perfect Combination
Pachislots and pachinko games are still a rare sight in most online casinos like Casino-X, and even in land-based establishments outside Japan. Still, as the world literally becomes a global village, these fun and exciting types of gambling have found their way to modern consumers all across the world.
For now, only a few software companies, including the Golden Hero Games, have understood the real potential pachislots have. Golden Hero Games offers only 15 titles, but they are all highly attractive and interesting. Pachislots are the breath of fresh air the casino industry needed. Pachislots are also known to be the games of patience. Even though spinning reels and jumping balls may fool you, the wins are rarely big, so most players rely on accumulating wins over the entire period of playing.
Conclusion
Golden Hero Games is one of the very few software providers that offer games created for Japanese customers. More and more Japanese users want to rely on mobile gaming, instead of having to visit the pachinko venue every time they want to play a game. Mobile gaming provides them much more flexibility and accessibility. Whether they are driving the train or waiting for a friend – they can simply play a few rounds, without much hassle. Considering how niche markets, such as crypto and pachinko games, are the next big thing in the casino industry, no wonder Golden Hero Games is one of the most popular gaming providers in Japan.