A Simple Survival Guide to ESGS 20XX
ESGS is simply an event for gamers from different platforms and walks of life: Be it a PC gamer, a console or even a mobile gaming aficionado – the event simply got everything for you. On this guide, we will show you important tips and details you should know to survive ESGS. This should ring the bell, especially if you're new to the scene. 
We're representing the PCMR crowd but that doesn't mean this guide applies to PC gamers alone. Before we get down on our guide to everything ESGS, read a little more about its history.
ESGS 101:
ESGS stands for Electronic Sports and Gaming Summit. It made its first mark in the industry since its inception back in 2014 and has been an annual blockbuster ever since. ESGS is everything about multi-platform gaming. Again, it is for PC, console and mobile gamers. Heck, even tabletop games and good old fashion gaming. ESGS just got everything if you know where to look.
Gariath Concepts is also one of the main reasons why we get to visit Taiwan for COMPUTEX on an annual basis. We really appreciate the man's effort not only for gaming but for the technology industry as well. Paving roads to bridge both on his own.
ESGS through the years in a nutshell:
2014: ESGS debuts as a 2 day gaming event. Highlighting tournaments, cosplays and other gaming related activities. (SMX became its exclusive playground)
2015: ESGS is still a 2 day gaming event. One of the most anticipated and biggest e-sports competition / gaming convention of the year. (Gariath Concepts was born)
2016: ESGS became a 3 day gaming event. Brought the big names in the industry from all over the world. The most exciting gaming convention of the year. (Visited by Senator Bam Aquino)
2017: ESGS is still a 3 day gaming event. A huge under taking with more sponsors and a number of big names in the industry. (International visitors and brands)
2018: ESGS is still a 3 day gaming event. The largest of them all floor area wise, spanning four SMX halls. (Kojima Productions entered the playing field)
ESGS is still a 3 day gaming event annually held on the last week of October at the SMX Convention Center. While ticket prices varies annually, day 1 tickets are usually the cheapest. This year, ESGS will start by October 26 and will end by October 28th. Event time is 10:00 AM to 8:00 PM but it could go as far as 11:00 PM due to the usual delays from stage activities and technical difficulties. This should not impede your experience.
Where to buy ESGS Tickets?
You may buy ESGS tickets on any SM Ticket outlets and or SM Cinemas. Tickets are also available at the SMX Convention Center as well. Best practice here is to buy tickets as early as possible to avoid the lines.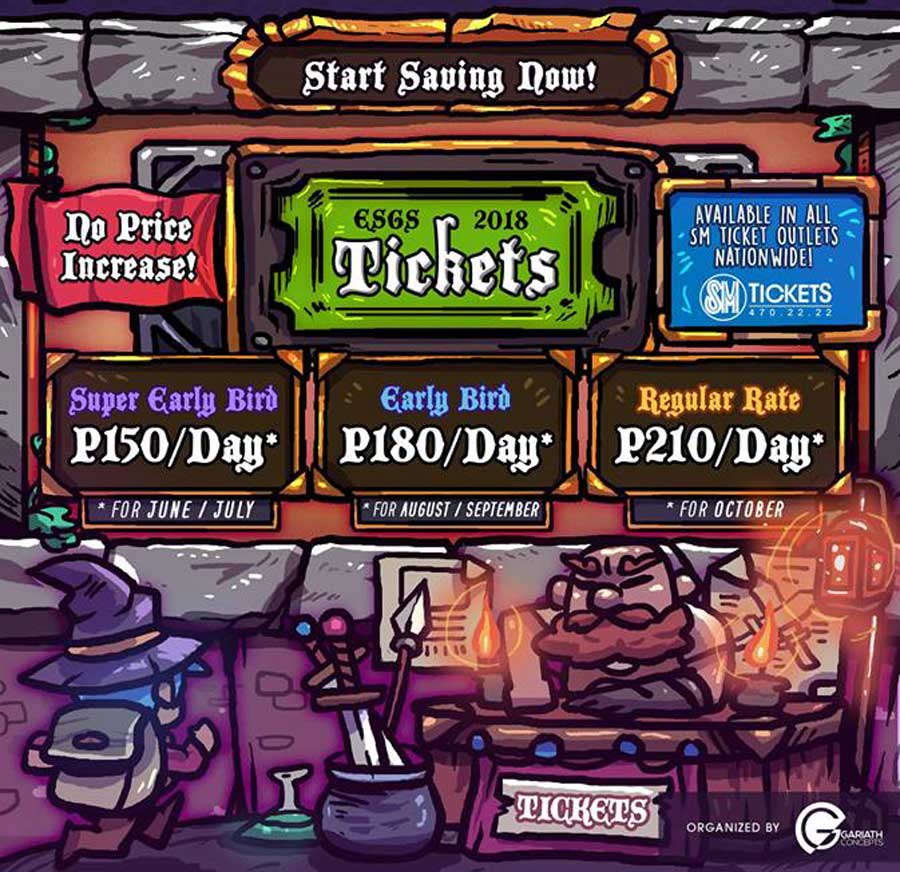 The SMX Convention Center is just a 5 minute walk from the SM Mall of Asia and a minute from the MOA Arena.
If you're familiar with any of the establishments mentioned, then you don't have to worry about getting lost. You can get there via:
Bus: Plenty of buses from north and south. Any signboards with MOA will do.
Cab: Just tell the driver where you're going. Beware of overcharging cab drivers.
Ride sharing: Best if you don't want to deal with cab drivers charging for an extra.
Train: MRT and LRT going to Taft Station. Take a jeep going to MOA once you made it to the Taft Station.
Jeep: There are jeepneys waiting at the Taft Station and surrounding areas.
What you should expect inside ESGS:
Tons of exclusive booths, demos, promotions, gaming products, and everything within the realm of  gaming in general from the major and minor exhibitors.
ESGS is an event for gamers at heart but it doesn't simply stop there. There are food stalls, artists and general merchandises as well. Promos and deals are expected of course!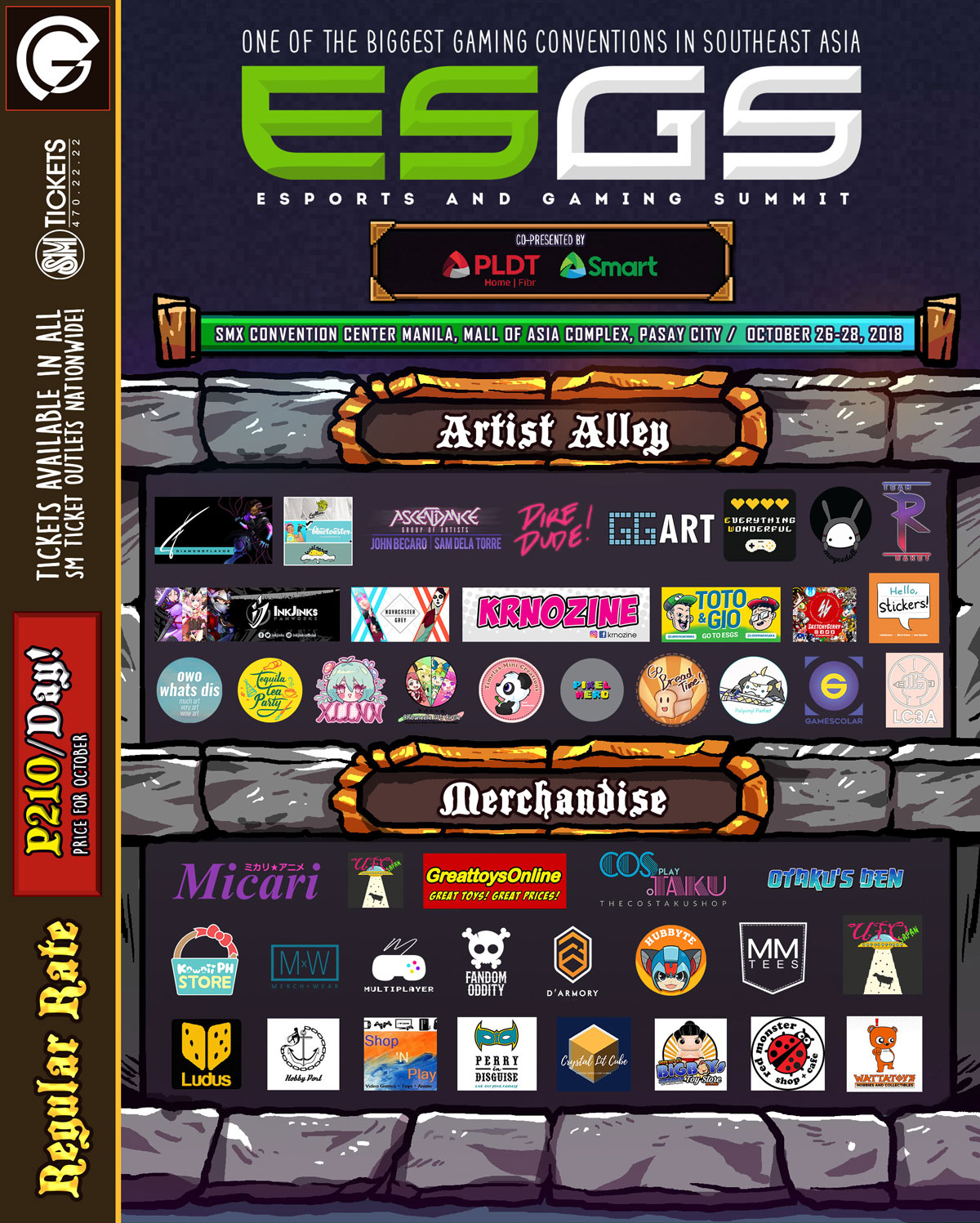 Each major or minor booths and brands also got their own activities, deals and promos as well. That's on top of the stage activities and major competitions. Basically, ESGS is an adventure on its own and you decide where to start it.
Tons of games to be showcased at ESGS at any given time of the day.
Gaming competitions for pros and amateurs – if you are willing to participate.
Special prizes to ticket holders who are willing to participate at the stage and floor activities.
Check out the brands and developers who are moving the technology and gaming industry.
Get deals and promos on toys, gaming gears and collectibles from a wide range of exhibitors.
The ESGS Map is your best friend:
SMX is not the largest hall but it gets easily crowded so visiting each booth without a map on hand is suicide. That's especially true since we got another hall to explore this year. Attached here is the floor plan of this year's ESGS for your convenience.
ESGS Time Schedule:
Keeping track of the ESGS stage schedule is not really mandatory but it helps if you are eager to participate on the stage events. Prize and raffle winners are also announced on the stage.
ESGS Checklist to follow:
I'm a proud alumni of ESGS and while it doesn't mean I know everything, I have a small checklist for you to follow. These are based on my experience so you may or may not need to do what's written below.
Be an early bird. Maybe at least 1 hour early, or even earlier if you haven't bought any tickets yet.
Print / take a photo of the ESGS floor plan. This is important folks. We are adventurers, not scavengers.
Print / take a photo of the daily schedule / activities of ESGS. This is available inside SMX and is usually at the entrance next to the map.
Bring a set of fresh clothes and handkerchiefs. A body spray wont hurt either. Gamers should smell good.
Travel light and bring only the essentials. You will walk miles and or kilometers for us metric folks.
Do not lose your ticket. It is your only gateway to ESGS. You cannot contest your lost ticket easily.
Keep an eye out on your belongings. Thieves are unfortunately still relevant on this day and age.
Vitamins and water will keep you up for a day. Don't forget to eat too!
Top up your mobile data. There's no free WiFi.
Last but not the least, if you saw something online that you'd like to buy within ESGS, plan your purchase beforehand. Absolutely bring the amount of money required alone. This should stop you from spending so much. Keep this in mind especially if you are visiting ESGS for the whole 3 days.
Follow The Rules:
ESGS has its own set of rules to follow for the good of its exhibitors, investors and the general public. Basically, just be nice to each other. We are here to have fun after all.
Be polite and avoid rude behavior at all times within the grounds. There are also places where you are not allowed to enter. That includes dressing rooms, the stage itself the media lounge and VIP areas. You should also take note that certain individuals with an ID could cut the line for a gaming demo.
You may bring a camera to take pictures and videos but ask politely.
Do not harass the booths for extra freebies. Do not become a special snowflake.
Merchandisers and or exhibitor products could be negotiated, but avoid low-balling. Bargaining works best on the last day.
Do not wear slippers, shorts or even a sando. ESGS is technically an international event.
Bringing your own beverage is allowed. Foods are however not allowed. You may buy both inside.
Do not litter and never even attempt to vandalize or destroy anything inside the event.
There's no free WiFi so don't even ask the organizers about it.
If there's a line, do not break the line. ID holders are exempted.
Just be nice. It's free to be nice!
What to do inside ESGS:
Do anything you like basically – within reason and without being an ass of course. Just remember to ask politely and be nice to others.
Explore the whole area. Again, the map is your best friend.
Make new friends and connect with older friends as well.
Check out the games. You don't have to pay anything!
Experience the gaming gears. Again, you don't have to pay anything!
Join promotions and giveaways. Luck doesn't discriminate.
Buy merchandises within reason.
Just have a blast!
This ends our small survival guide for ESGS. Check out the official ESGS Philippines facebook page to learn more. See you there!