LUXA2 is already becoming a well known figure for creating magnificent wireless audio solutions, and they are starting to hasten the pace by introducing a new series in the market before the year ends with the Lavi Series of headphones.
The LUXA2 Lavi Family currently has 3 headsets to choose from, all of which are designed specifically for one's needs while at the same time, conforms to the Bluetooth wireless standards. The Lavi S for example, is an over-ear wireless headset capable of delivering speaking like sound output, while the Lavi D over-ear variant will feature a closed backed audio experience.
None of the aforementioned Lavi products above has something to do with this review, as what we have here is the Lavi L wireless headset – The smallest of the bunch with an on-ear design that is perfect for travel and casual listening experience. They said good things comes in small packages. Is it the same with the Lavi L? Let us find out!
FEATURES & SPECIFICATIONS:
Product Name
Lavi L on-ear wireless headphones
P/N
AD-HDP-PCLLBK-00
Bluetooth
Bluetooth 4.0 (CSR8635A04U)
Wireless range
360°, <=10m
Impedance
32Ω
Playing time
Up to 8 hours
Input
DC 5V/500mA, Mini USB
Charging time
1 hour
LED indicator
Low power: Red (flashing)
Charging: Red (solid), Power full: Blue (solid)
Pairing: Blue & Red (flashing)
Bluetooth connected: Blue (slow flash)
Bluetooth unpaired: Blue (rapid flash)
Others
Profile: A2DP, AVRCP, HSP, HFP
Frequency: 2402MHz-2480MHz
Speaker driver: Φ40mm
Frequency response: 20Hz~20KHz
Sound press level: 110dB±3dB
Microphone: Φ4.0*1.5mm, -42±3dB
Power Source: 250mAh/3.7V (Li-polymer)
Battery dimension: 30*30*3mm
Weight
118g
PRESENTATION & BUNDLED ACCESSORIES:
Right down to the packaging, LUXA2 never wasted time and effort to remind us that this headset is made for travelling with its compact and slim profile packaging. Well there is no better way to display a product's feature other than this, right?
The back of the packaging notes the headset's features as well as laying down its specifications and what's inside the box.
Other than the Lavi L, we've got a quick start pamphlet, and a mini-USB to USB port for charging. I wish that LUXA2 go micro-USB on this one for maximum compatibility but that's alright.
DESIGN & COMFORT:
Out of the box, one could easily tell that the LUXA2 Lavi L seriously defines slim and portability. Design is rather simple yet it speaks of elegance with a closed back piano finish for the cups. At 118 Grams at most, this headset is one of the lightest I have used so far.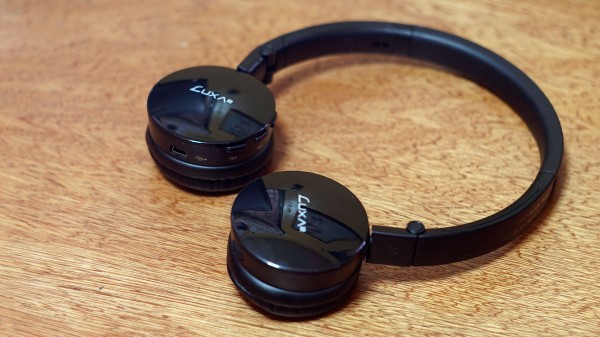 There is a considerable amount of folding action that you could do with the Lavi L, but it could never fully fold-in due to the restrictions provided by the band.
Talk about the band, it appears that it is reinforced with aluminum for rigidity while still maintaining flexibility. It does feature a small amount of rubberized padding but since it is light, you don't actually need any lush materials. The band is also adjustable to suit most heads and there is a noticeable click for every step.
There is a good amount of swivel angle for each cup, enabling you to position them flat for easy storage. With that z-width, it's almost comparable to a small novel that you could easily stack inside a bag.
The cups are made out of synthetic leather pads in two layers. They are not ultra soft, yet they function like a memory foams. The on ear easy access buttons located at the back side of each cups are surprisingly tactile, yet easy to distinguish from each other so you'll get use to them in no time. The Power Button duplicates as an on/off switch & device pairing switch.
Since this is a headset, the the Lavi L features a built-in microphone on the right head cup. The charging port is located on the other side which probably contains the 250 mAh battery.
As one of the lightest headsets I have used so far, the Lavi L is as comfortable as it looks. You'll barely notice it after hours of use and it simply wont budge due to its modest clamping force. – Albeit the pressure is actually on the top side of the pads.
TEST SYSTEM & PROCEDURES:
Audio stuffs such as speakers, headsets, headphones, earphones, IEMs, and pretty much whatever they are as long as they produce audio output, are very subjective to be tested. That is true, in a sense that no pair of ears are the same, and there is a lot happening between you, and the headset for example. That said, your experience will most likely differ from ours.
We start the testing after we burn-in or wear-in the drivers. Usually, 48-72 Hours of continuous burn-in will do for most. This is to ensure that the audio solution is already delivering what an end user would actually experience in the long run. Wireless setup is a courtesy of our ASUS Z97-PRO WiFi AC motherboard with a buit-in Bluetooth connectivity. As for the wired audio setup, we are going to use the on-board solution found on the said Z97 motherboard. It is an amplified Realtek® ALC1150, far from the ideal solution we wish we had but it is capable nonetheless. Rest assured, there's no equalizing done, so everything is tested as flat as possible. Sampling Rate is maintained at 24-bit, 48000Hz.  Below is the test system's specifications.
| | |
| --- | --- |
| CPU | Intel Core i5 4670K |
| MOTHERBOARD | ASUS Z97-PRO WiFi AC |
| CPU COOLER | Cooler Master Seidon 120XL |
| MEMORY | Kingston HyperX Savage @2400MHz 16GB |
| GRAPHICS CARD | GIGABYTE GTX 750 OC 2GB |
| INT. STORAGE | Kingston HyperX 120GB & SSDNow V+200 120GB |
| PSU | Cooler Master Silent PRO Hybrid 1300W |
| DISPLAY | LG S2340L AH-IPS |
| OS | Microsoft Windows 7 Ultimate x64 SP1 (Updated) |
| SOUND CARD | On-board Amplified (Realtek ALC1150) |
| EXT. STORAGE | 2TB Western Digital My Passport |
SOUND QUALITY: MUSIC PLAYBACK
First and foremost, we'd like to note to our readers that we are refraining from testing wireless headsets using mobile phones. This is to ensure that the headsets will perform as best as possible, eliminating the use of lower quality audio playback via the use of older Bluetooth protocols. In addition, battery performance tests seems to be erratic and erroneous with smartphones and Bluetooth headsets combined especially with the A2DP protocol around.
LOWS: Given the size, we thought bass is a goner with the Lavi L. But we were oh so wrong so to speak, since there is a good amount of bass quantity here. It kinda reminds me of the pricier SteelSeries Flux I got here but with lesser quantity if compared side by side. Nothing to complain here.
MIDS: Decent is the word to better describe the Lavi L in this area as it somewhat displayed a closed-in signature, particularly rolled off but is still good to listen vocals with. The Lavi-L if compared to say, a monitor headphone, is not that articulated in this area but for casual listening this headset will do with all honesty.
HIGHS: Similar to the midranges, the higher frequencies sounds a bit rolled off, could be better for my liking but it's good enough for those who are looking for a set of wireless cans to tune in.
Perhaps the best trait of the Lavi L is the distortion free audio playback even at the loudest volume level. I think LUXA2 tuned the 40mm drivers for this purpose alone so it wont stress nor irritate you while you're listening to your favorite tracks from Spotify & or other services if that's your thing. Stereo Imaging seems to be alright too, which is something to be thankful for.
SOUND QUALITY: MIC INPUT
Bluetooth headsets tends to focus more on the sound output rather than balancing or investing in mic input too, so we're particularly impressed with the Lavi L's performance when we tested its microphone. Perhaps I underestimated its hideous looking mic, but truth is, it's actually on par with some mics from gaming headsets that I tested as far as quality goes.
BATTERY LIFE:
We had this particular headset for weeks, and initial testing went pretty smooth. We let it sit with our smartphone for hours while playing a continuous loop of playlist. For a headset with 250 mAh of battery capacity, we thought that 10 hours of battery playback is exemplary. But, we were informed by LUXA 2 that it should only top at 3 hours at full blast so we decided to check what's wrong on our test. – Only finding out that there is a problem playing back music from our phone as it stands by for a couple of hours; only resuming playback when it goes out of standby mode. Since then, we test wireless headsets with our Z97 test system.
In reality, the Lavi L withh get you 3 Hours and 40 + Minutes at full volume continuously, while it should give you 6 and a half Hour of play time at modest levels which is good considering the capacity of its battery pack. Now when it comes to charging, LUXA2 is proud that this headphone will be up in no time with a short charging period at 1 hour. It's actually faster than that when the pack is empty at 45 minutes using our USB 3.0 port without using any fast charging softwares found on most motherboards.
VALUE & CONCLUSION:
So where should we put the Lavi L? on our heads or on our necks? Certainly, it will look good on both, but it is undoubtedly better on the cranium. While there is nothing extra special with its sonic performance, it shines the most in the portability side of things knowing the fact that it has a considerable amount of output to produce for its size. Build quality seems to be good with a lot of tactile feedback from the buttons when pressed.
We never had the chance to talk about the wireless range earlier, but we're happy to report that it is well within the range of the stated range from LUXA's website which is actually at around 7 Meters. That's 3 Meters less but that's realistic enough in a room or location with lots of interference from all sorts of devices. Anyway, I do not recommended it to exceed 5 Meters, as you'll notice the audio to drop every now and then.
Perhaps what matters most with the Lavi L isn't an excellent audio performance but instead a good balance between the features. I particularly like its fast charging feature, and the slim profile that never gets on my way. I tell you I could simply sit down, lay my head back on the couch, and drink coffee without worrying about it.
THE VERDICT
PROS:
DECENT AUDIO PERFORMANCE
RELATIVELY EASY TO USE
LIGHT & COMPACT
CHARGES REALLY FAST
CONS:
Luxa2 Lavi L On-Ear Wireless Headset
PERFORMANCE -

7/10

BUILD QUALITY -

8/10

FEATURES -

7/10

AESTHETICS -

8/10

VALUE -

8/10
Summary
The Luxa2 Lavi L On-Ear Wireless Headset retail for around 39.99 USD and is backed by a full 1 year manufacturer warranty.