1TB SEAGATE SSHD with 32GB of NAND Cache Reviewed
Solid State Hybrid Drives or SSHDs for short, never really took off smoothly when they were first announced and received by the general public years ago. It's a hard time for those drives, and there are actually a variety of reasons behind such slow adoption, and one main ingredient back then is the lack of a good NAND flash to support the feature, plus the price of NAND flash themselves for the time period. Remember back then, the SSD cache of the hybrid drives sits at around 256 MB to 8 GB of capacity, which is really not all that compelling together with the current pace of  the NAND's technology for that period.
Now all this talk brings us up to Seagate's latest SSHD – the 1TB ST1000LX001 Hybrid Drive with 32GB of NAND Flash cache inside. This hybrid features Seagate's Adaptive Memory Technology which in layman's term – tracks the user's data usage and prioritizes those data to be accessed on the NAND. With 32GB of available NAND space – which is 4x better in capacity than the older SSHDs that Seagate used to offer, games and other related apps should load faster without overwriting each other's data as long as they are within the capacity limits. This is the latest notebook oriented SSHD that Seagate has to offer so far, sitting in at 115 USD at the time of this writing, with a 5 year warranty.
FEATURES & SPECIFICATIONS: CLICK HERE
ST1000LX001

ST1000LX000

ST1000LM014

32GB NAND

16GB NAND

8GB NAND

1TB 5400 RPM HDD

64MB FRAME BUFFER

NATIVE COMMAND QUEUING COMPLIANT

100 USD
A QUICK LOOK AT THE SEAGATE SSHD:
The Seagate ST1000LX001 Laptop SSHD features a standard 2.5″ HDD appearance with an aluminum plate at the top, protecting the platters and the head inside. There isn't really much going on around this area, except for the serials and a few power rating specifications plus, a few precautionary statements. The drive sits at a tenth of a kilogram, so it's quite light and wont hamper your notebook's weight.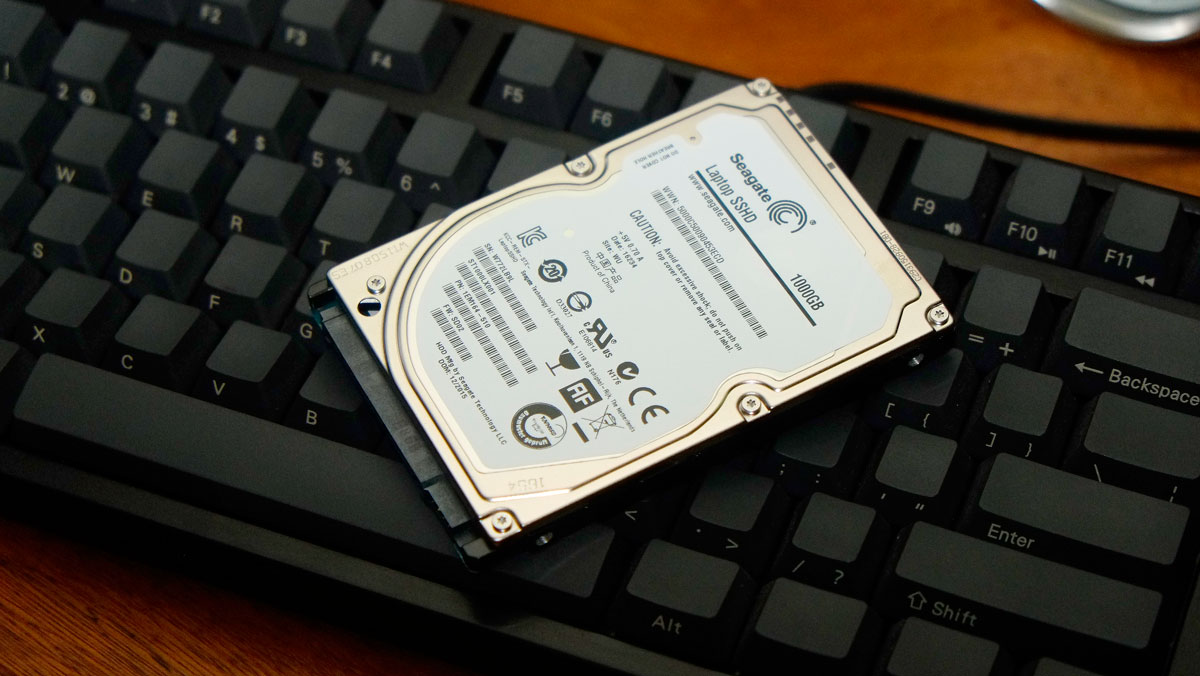 Now the under belly of the SSHD is what differentiates itself over the other drives – with a larger PCB area compared to the norm. This is to accommodate not only the SATA III controller, but to also make room for the additional NAND flashes making up the bulk of the onboard SSD cache's 32GB capacity. The NAND flashes and the controller are sandwiched here, enabling the metal case of the HDD to dissipate heat effectively. The SSD components are also well protected from external bumps and bruises on this configuration.
We weren't told how the Seagate Adaptive Memory Technology system works, but according to the company, the data caching prioritizes what's regularly being read on the mechanical drive and puts it on the NAND flash should that data becomes accessed on a regular basis – prioritizing it over any data on the drive. This means that your OS will be automatically be prioritized should you require the SSHD to be an OS drive. The learning process of the SSHD requires no help from any software drivers, so the learning or prioritization is all within the drive itself. Meaning, that you could practically use this drive with any systems that supports a normal 2.5″ drive – even Sony's PlayStation systems.
TEST SYSTEM & PROCEDURES:
Storage devices, unlike motherboards, revolves around the use of various storage benchmarking tools to test their performance. It is important to note that we have a pre-made Test OS on a 256 GB Kingston HyperX Fury SSD for consistency purposes if the drive being tested is going to be used as a secondary non-OS drive. In addition, we are always aiming to fill up the test drive to at least 50% of its capacity, as well as to negate the FOB (Fresh Out the Box) performance by using the currently in-review storage drive for a week. This is to ensure that we are testing the drive according to its real world usage. All tests should be done with the drive attached to the native ports found on our motherboard to ensure that the system is on its optimal storage testing state.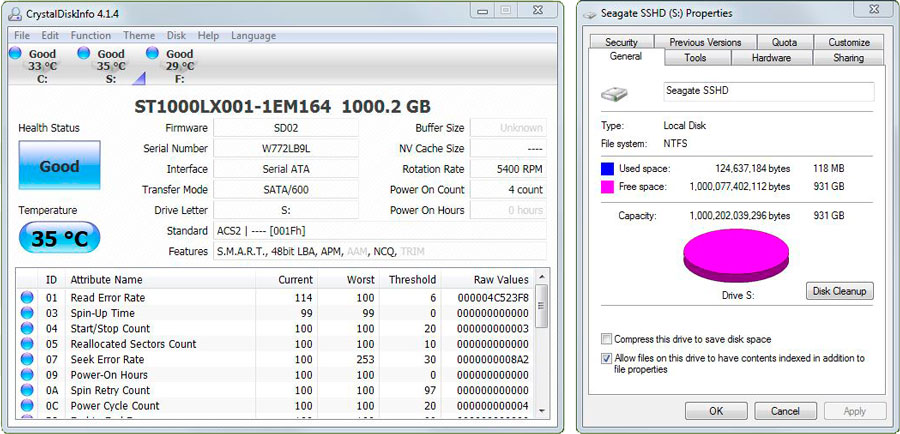 The Seagate ST1000LX001 comes with a 1 Trillion Bytes of capacity, roughly translating to 931 GB of available space to play with. The test system's specifications are as follows:
TEST SYSTEM SPECIFICATIONS

CPU

INTEL CORE I5 4670K

MOTHERBOARD

ASUS Z97-PRO WIFI AC

CPU COOLER

COOLER MASTER SEIDON 120XL

MEMORY

CORSAIR VENGEANCE PRO @2133 MHZ 16GB

GRAPHICS CARD

ZOTAC GTX 980 TI AMP! EXTREME 6GB

INT. STORAGE

SEAGATE 1TB ST1000LX001  SSHD 

PSU

COOLER MASTER SILENT PRO HYBRID 1300W

DISPLAY

27″ DELL U2715H WQHD IPS PANEL

OS

MICROSOFT WINDOWS 7 ULTIMATE X64 SP1 (UPDATED)

SOUND CARD

REALTEK ALC1150

EXT. STORAGE

2TB WESTERN DIGITAL MY PASSPORT
SYNTHETIC STORAGE PERFORMANCE:
Crystal Disk Mark is a standard storage benchmarking software and is widely used through the industry. Test size is set to 1000 MB, with 3 Test Runs. Results from the Sequential and 4K Queue Depth 32 benchmarks will be taken for both Read and Write.
AS SSD is another well-regarded synthetic storage benchmarking tool in the industry, offering 4K Queue Depth 64 test, access time results, and even synthetic copy performance tests. Results below are from the Sequential and 4K Queue Depth 64 benchmarks for both Read & Write.
AS SSD's Copy Benchmark should provide us a quick look at how the SSD behaves with certain files (ISO) and applications. Basically, AS SSD will take Two 500 MB files and then copy it to another folder on the same drive, gauging both the storage medium's read and write speed at the same time.
REAL WORLD STORAGE PERFORMANCE:
Our first real world performance test is a courtesy of 24 GB uncompressed files consisting of images, PSDs, and other work related file formats within a single folder. To gauge a storage drive's performance, we will copy them inside the current in-review drive using TeraCopy and will take the results from the said software's log. Results are in seconds.
Our next benchmark is another file copy test, but this time, we are copying 12 GB of compressed files. Similar to the uncompressed file copy benchmark, we will copy the compressed files inside the current in-review drive with TeraCopy and will take the results from the said software's log. Results are in seconds and as always, the lower time it took, the better.
PERFORMANCE ANALYSIS & CONCLUSION:
Alright, let us start off with the features of the SSHD. First and foremost, the Seagate ST1000LX001 is a unique drive, featuring an SSD and an HDD in one small form factor which is fit for notebooks with 2.5″ bay and 9.5mm internal z-height clearance. For those who needs the performance and capacity without an extra 2.5″ space available then the Seagate ST1000LX001 is a perfect fit for your needs. It's easy to install, and requires zero software drivers for it to work its magic – a fully plug and play drive just the way it should be.
Speaking of its magic, the SSHD requires a good amount of time to work, and as seen on most of our synthetic benchmarks – we never really fully unleashed its performance. It has to be the case, since synthetic benchmarks like the Crystal Disk Mark, and AS SSD uses temporary files to gauge a storage drive so the Seagate ST1000LX001 never really had the chance to prioritize the files made, and used by those benchmarks. Still, we can already see small differences as we test the drive over and over for a period of time with an all time high 119 MB/s read result from Crystal Disk Mark, and a 110 MB/s read result from AS SSD. The sequential write performance is around 117 MB/s for both benchmarks. It is also note worthy to add that we saw differences in the AS SSD Copy Benchmark, with an average of a 2 second lead if we are to compare the first and the last instances of the tests. These are more of a variance, rather than gains. So far, the SSHD is behaving like a top end 7200 RPM drive on these synthetics.
Now as for the real world performance, we can see a total of 30% increase in performance if we are to compare the 1st instance of our 24GB file copy test to the 6th one, while an 11% increase can be had from the compressed 12GB folder. Suffice to say, that the gains are there, and the more you use the drive, the more performance you can get until you reached the peak of what the SSD cache can do. The same thing can be said for the applications, where this drive shines the most especially when a game can load as much as 10-15 seconds faster (DOTA 2, & Battlefield 4) compared to the drive's initial state of performance. The OS automatically benefits from this too by delivering a faster boot speed and with each time of use, the SSHD's performance gets nearer and nearer to what a current generation SSD could offer.
The Seagate ST1000LX001 SSHD with 1TB of capacity is truly a self learning hybrid drive, requiring itself to learn what needs to be accelerated according to its owner's usage. At 115 USD, or at 5, 300 Pesos it seems rather pricey, but since it's geared towards notebooks – it makes itself pleasing towards that crowd, especially if the mobile device only features a single drive bay but requires the speed and capacity altogether without spending cash over a much pricier high capacity SSD approach.
THE 1TB SEAGATE ST1000LX001 SSHD RETAILS FOR AROUND 115 USD / 5, 300 PESOS WITH A 5 YEAR MANUFACTURER WARRANTY.
THE VERDICT
PROS:
NEAR SSD APPLICATION LOAD TIMES 

OS BOOT TIME BENEFITS THE MOST 

9.5MM Z-HEIGHT CLEARANCE

CAPACITY AND SPEED COMBINED
CONS:
PRIORITIZATION REQUIRES TIME

PRICING COULD BE A LITTLE BETTER