AMD at a not so recent press briefing announces their Ryzen 7040HS series of processors for the high-end laptops and notebooks featuring the Ryzen AI.
These mobility processors are poised to deliver the ultimate mobile performance according to AMD. The flagship Ryzen 9 7940HS for example, comes with 8-cores/16-threads, a maximum of 5.2 GHz boost clock, a Radeon 700M graphics and the Ryzen AI engine. All possible within a 35-45 W TDP package. This is the same CPU found on the recently released 2023 ASUS ROG Zephyrus G14 gaming notebook.
IPC Improvements
The new Zen4 mobile processors are on average 13% faster (IPC) compared to Zen3. This is due to a multitude of architecture related improvements including a better branch prediction, a larger Op Cache, larger IRQ and a whole lot more improvements over the Zen3 architecture.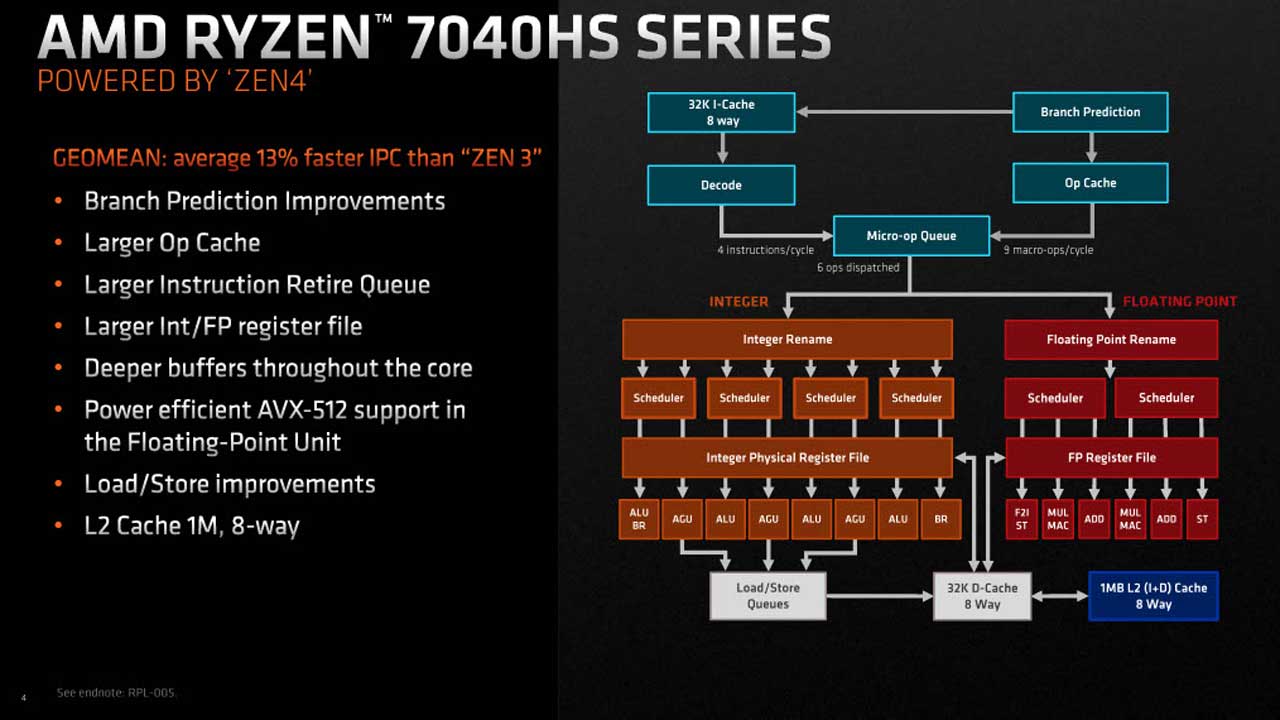 Performance
Compared to the Intel Core i9-13900H for example, the Ryzen 9 7940HS comes with 106-141% application performance improvements. Notable here is the Lame MP3 result which is I believe an OpenCL based downscaling benchmark from PCMark 10.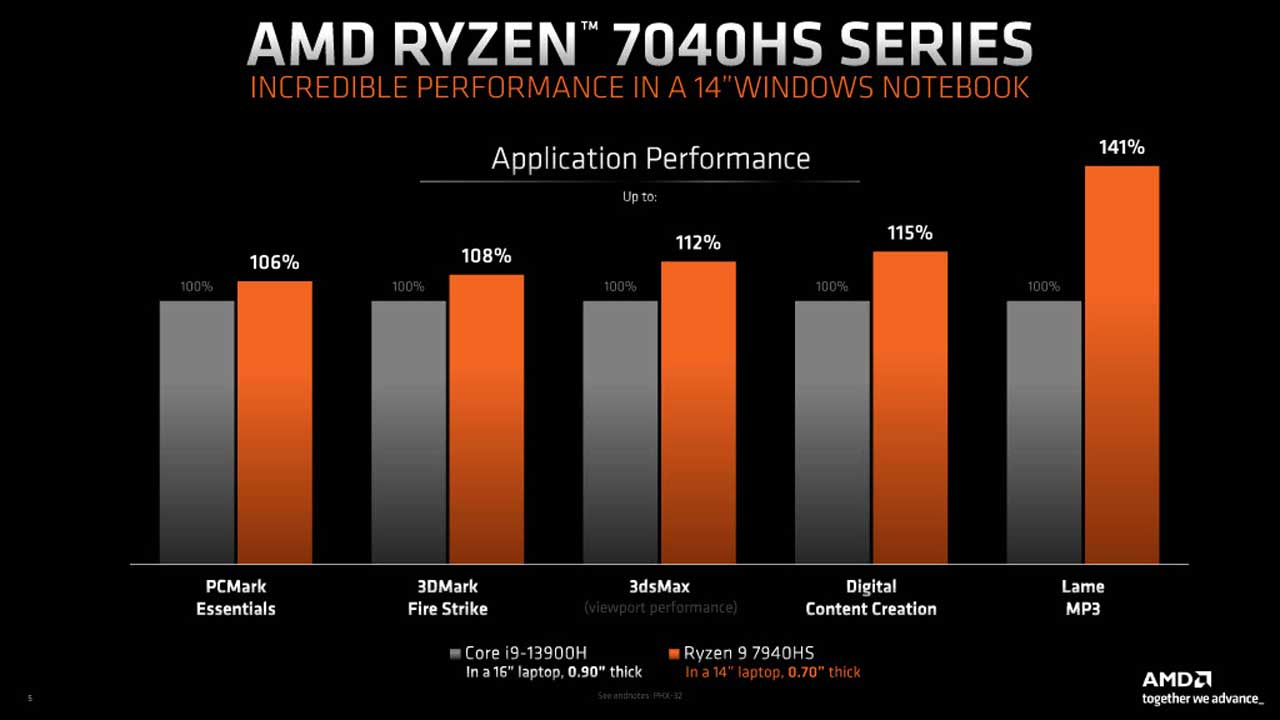 Gaming also saw major improvements with up to 113% performance gains – both using the GeForce RTX 4070 Laptop GPU.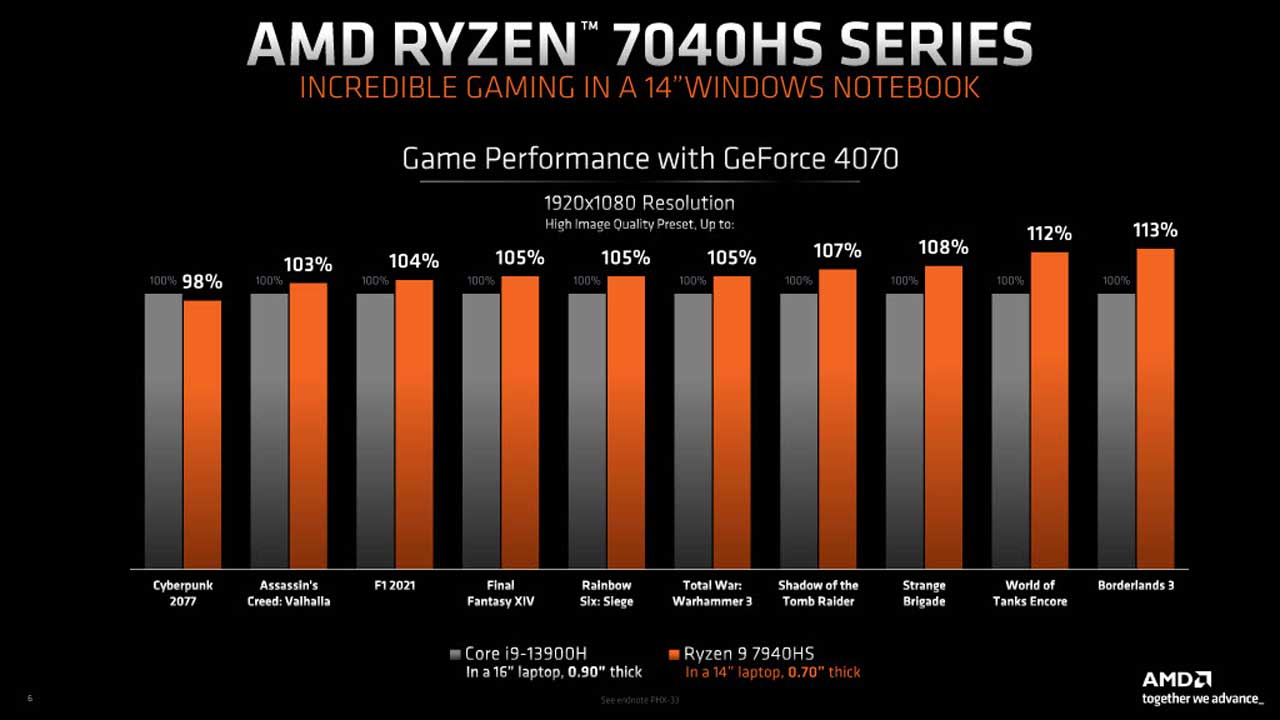 Now compared to the latest Apple M2 Pro microprocessor, the Ryzen 9 7940HS comes with 101-111% application performance improvements.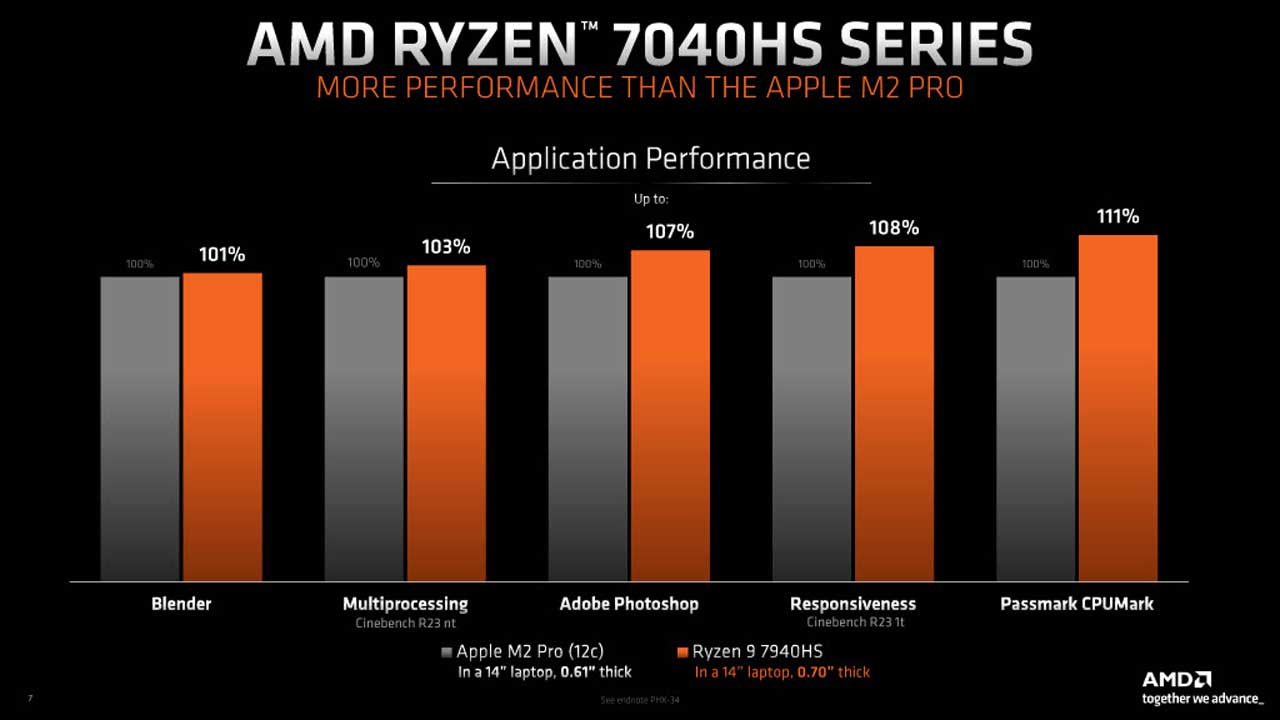 Take these curated benchmarks with a grain of salt.
AMD Radeon 700M Series
The Ryzen 7040HS series also comes with the Radeon 700M family of integrated GPUs. This is built upon a 4nm architecture, featuring 768 shading units, 48 texture mapping units and 32 ROPs – on top of its 12 raytracing acceleration cores. This is a 15 W unit and should be on par with the RX 580 (laptop) in terms of overall performance.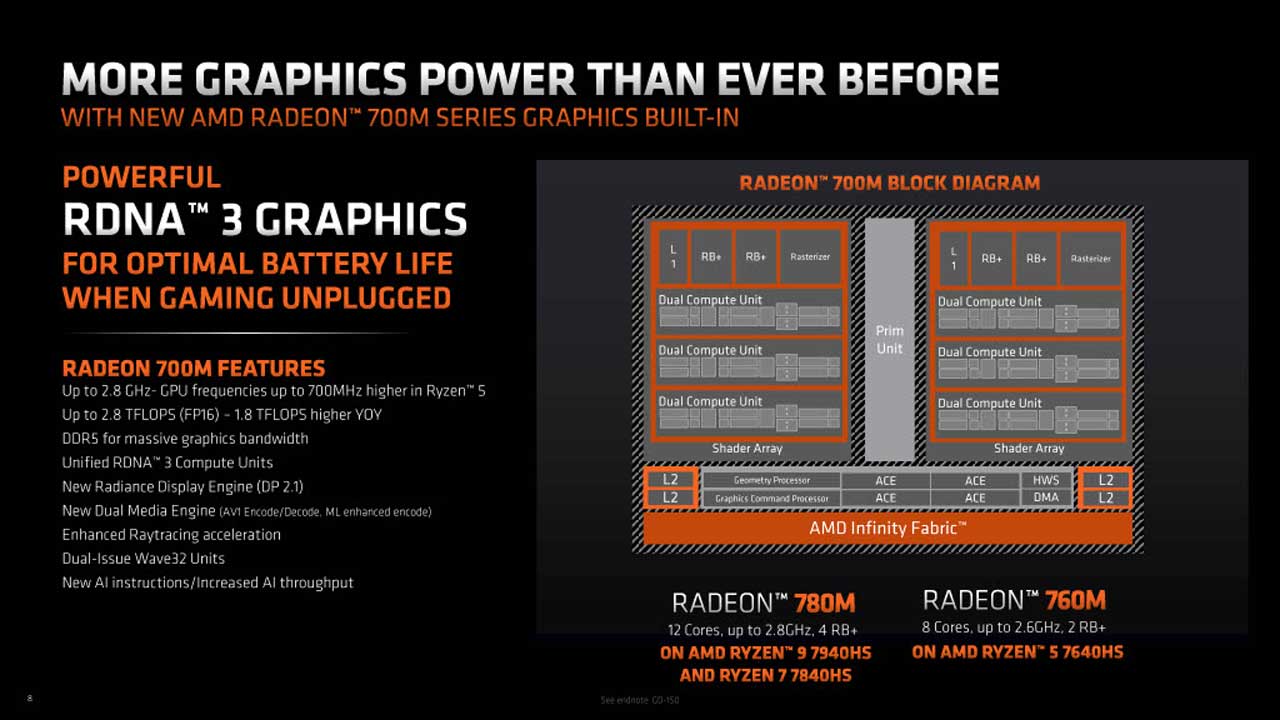 On that note, AMD also shared some slides featuring its gaming performance. It actually is a competent iGPU based on the provided 1080P gaming benchmarks. Granted these are on the low presets but still impressive results to say at least.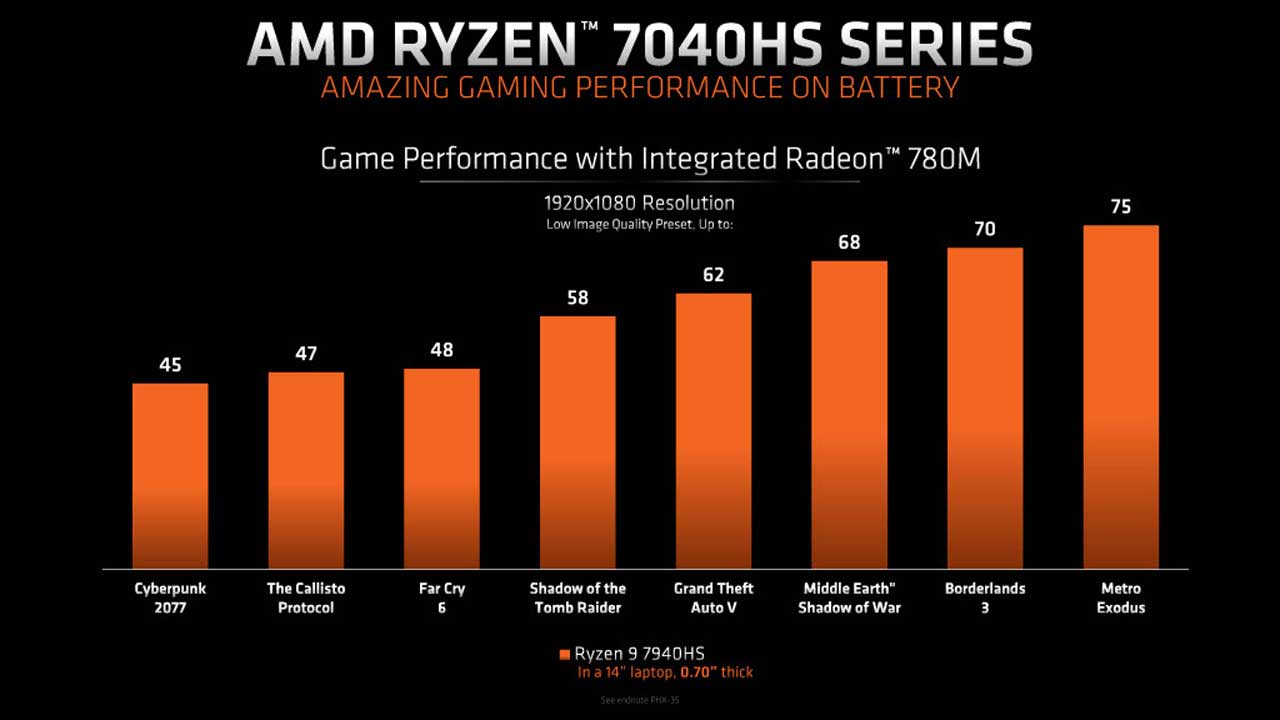 Ryzen AI
Now another major announcement at the press briefing is the AMD XDNA which is basically the engine behind the Ryzen AI. This is an adaptive AI architecture made specifically for AI inference and is baked right into the Zen4 die.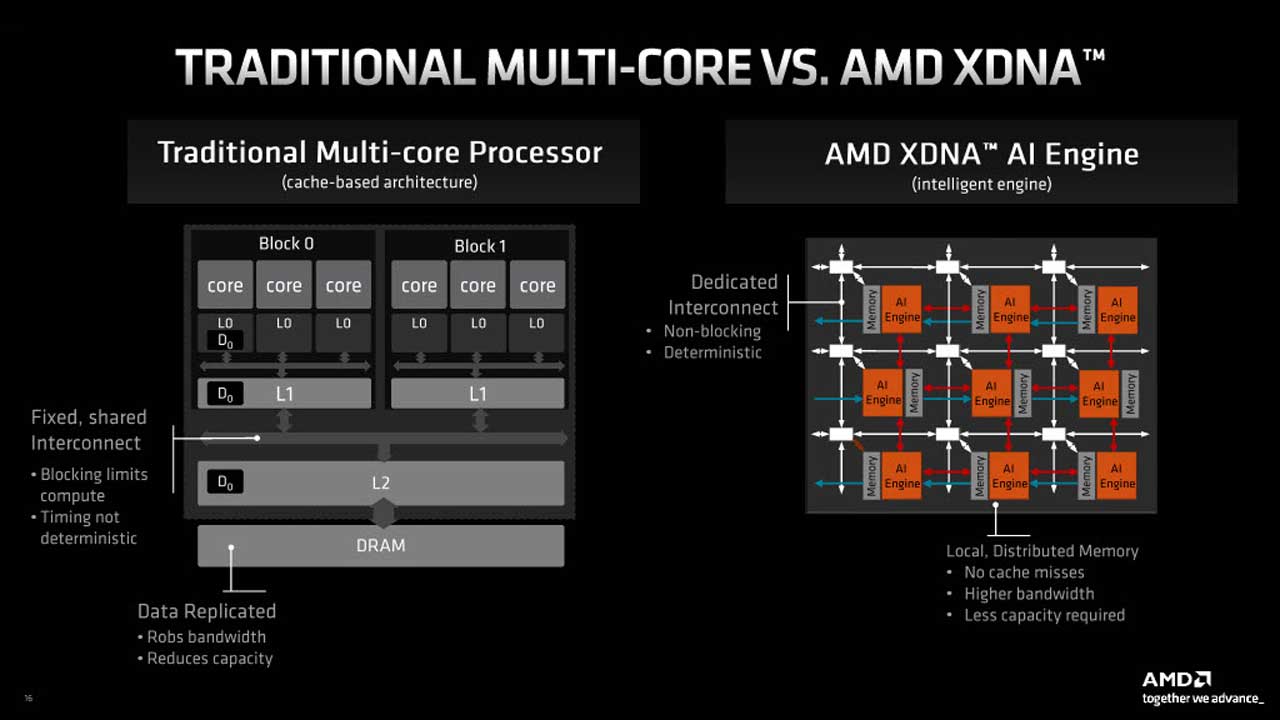 We've seen some simple demos – including automatic framing, eye contact and some background effects for conferencing. We've also seen an AI based image categorizer that searches and sorts images automatically based on the subject or its contents.
AMD promises to scale or rather expand the Ryzen AI support throughout their product range. That said, I am quite interested to see the future of this on-die AI engine.