AMD announces Ryzen variants for the professionals
Following the global excitement generated by the launch of its new EPYC family of server processors, AMD today added another tier to its enterprise CPU portfolio with the introduction of AMD Ryzen PRO desktop processors. Designed to meet the demands of today's compute-intensive workplace, Ryzen PRO desktop processors will bring reliability, security, and performance to enterprise desktops worldwide.
"Today marks another important step in our journey to bring innovation and excitement back to the PC industry: the launch of our Ryzen PRO desktop CPUs that will bring disruptive levels of performance to the premium commercial market," said Jim Anderson, senior vice president and general manager, Computing and Graphics Group, AMD. "Offering a significant leap in generational performance, leadership multi-threaded performance, and the first-ever 8-core,16-thread CPU for commercial-grade PCs, Ryzen PRO provides a portfolio of technology choices that meet the evolving needs of businesses today and tomorrow."
Ryzen PRO Lineup
Delivering breakthrough responsiveness for the most demanding enterprise-class applications and multi-tasking workflows, the 'Zen' core in every Ryzen PRO processor provides up to 52 percent improvement in compute capability over the previous generation, and the Ryzen 7 PRO 1700 offers up to 62 percent more multi-threaded performance than select competing solutions.
Security
Targeted for enterprise and public sector implementations, Ryzen PRO processors offer state-of-the-art silicon-level security, providing hardware-based cryptographic and security technologies to help protect against an ever-growing number of threats. Security standards like secure boot, fTPM (firmware Trust Platform Module), AES, and Windows® 10 Enterprise security features are fully supported across the entire Ryzen PRO processor family.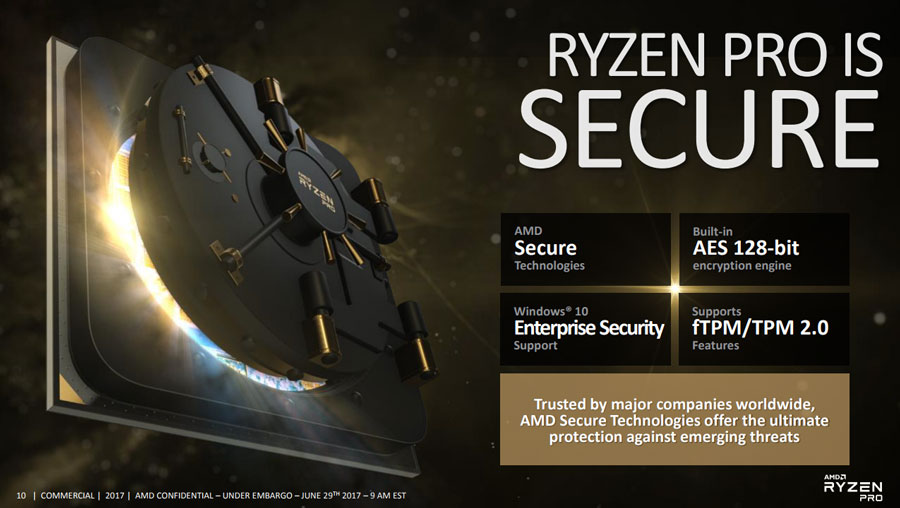 Dependability
Built upon exceptional AMD product dependability and sourced from wafers with the highest yields, Ryzen PRO processors provide commercial-grade quality and reliability to help ensure platform longevity for future-ready computing. Industry-leading, open-standard DASH manageability allows for CPU-agnostic administration and helps ensure businesses avoid getting locked into proprietary solutions.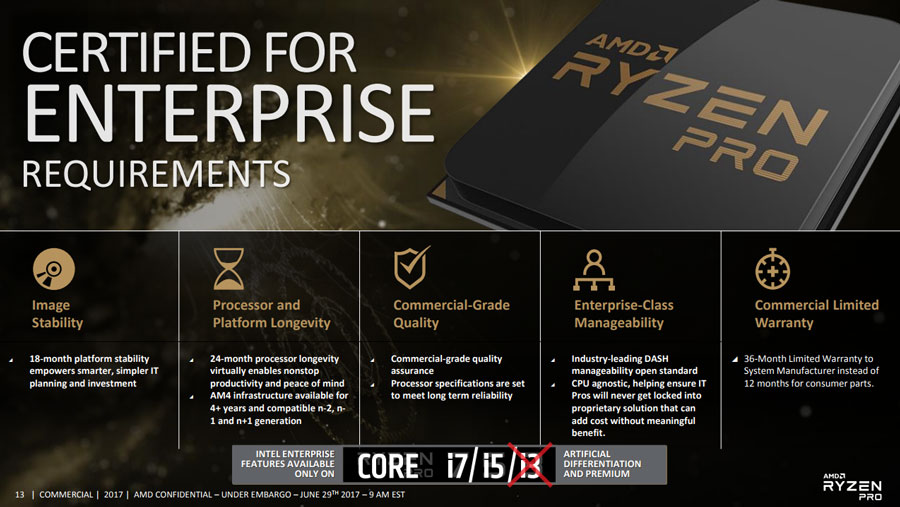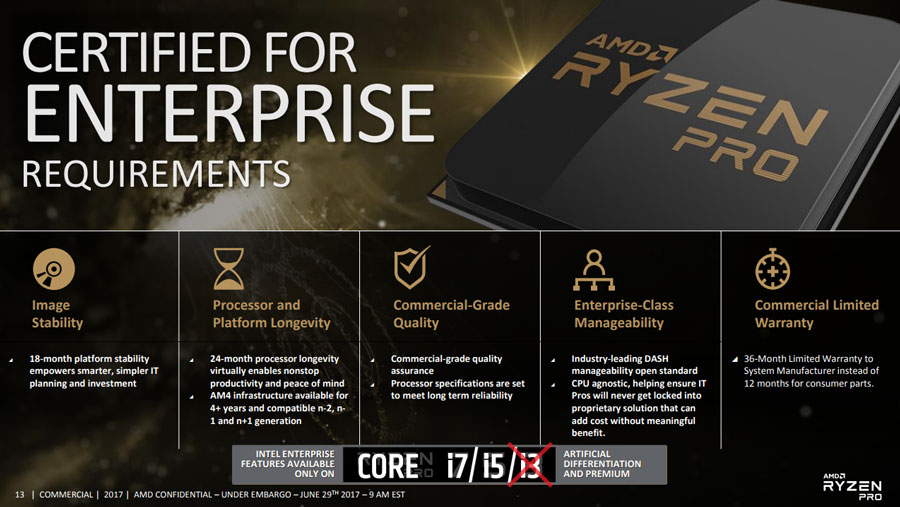 Availability
The world's largest suppliers of commercial client desktops are expected to provide Ryzen PRO-based PCs to businesses worldwide in the second half of 2017. Ryzen PRO mobile is scheduled for the first half of 2018.
PRESS RELEASE