ASUS exhibited the full ASUS experience in a fantastic display of the latest ASUS personal, business and gaming hardware at the highly interactive and exciting ASUS and Republic of Gamers (ROG) booths at Computex 2019. The ASUS and ROG booths are the largest at Computex, which is itself one of the world's largest technology expos with a total of 1,685 vendors.
The ASUS and ROG booths are located on the 4th floor of the Nangang Exhibition Center. There, visitors will find the latest offerings for a wide array of consumer needs, including notebooks, smartphones, smartwatches, displays, projectors, networking devices, robotics, motherboards, graphics cards and accessories.
"Our displays here today celebrate our 30th anniversary and exemplify our dedication to being on the leading edge of the tech revolution."
ASUS booth
The ASUS booth at Computex 2019 features a complete lineup of the latest ASUS innovations, including special Edition 30 devices to celebrate the 30th anniversary of ASUS. The massive, 450-square-meter booth design draws inspiration from the body of an airplane, emblematic of the spirit of aiming for the skies and a continued drive to move forward.
Furthermore, the booth's tasteful wooden furniture and unpretentious design and layout gives the booth an air of warmth and humanity that is reflected in all ASUS products. One corner of the ASUS booth features an elevated platform built to serve as a dedicated video shooting room.
ASUS Edition 30
The center of the ASUS booth showcases the special ASUS Edition 30 lineup, consisting of the ZenFone 6 Edition 30 smartphone, ZenBook Edition 30 laptop and Prime X299 Edition 30 motherboard, all featuring a special stylized "A" monogram signifying ASUS values and history created by ASUS Design Center to celebrate the anniversary. Their unique designs embody the ASUS focus on refined aesthetics, outstanding performance and delivering exceptional user experiences.
Prime motherboards
ASUS Prime series motherboards trace their origins back to 1989 with the launch of ISA-386C, the first ASUS motherboard and a defining product for the company. Prime series motherboards provide a wealth of features and accessible tuning options designed to make building a cutting-edge system within everyone's reach.
The ASUS booth prominently features the latest motherboards in the series, including the Prime Utopia concept motherboard, Prime X299 DELUXE II and Prime X570-Pro.
ZenFone 6
The highly anticipated ZenFone 6 is featured in a dedicated area in the ASUS booth. With extreme performance supplied by the Qualcomm® Snapdragon™ 855 Mobile Platform, the flagship ZenFone 6 defies ordinary with its groundbreaking features including an all-screen NanoEdge display, the unique Flip Camera — a combined front and rear flip-up camera module that offers users unprecedented flexibility for capturing high-quality images in any situation, and which heralds a new era of mobile photography — with a monster 5000mAh battery for up to two days non-stop use.
ZenBook Pro Duo with ScreenPad Plus
The most noticeable display of the ASUS booth is the interactive oversized ZenBook Pro Duo (UX581). ZenBook Pro Duo is a groundbreaking 15.6-inch ultraportable laptop featuring the new ASUS ScreenPad™ Plus, a revolutionary full-width secondary touchscreen that expands and enhances the interactive capabilities of the original ScreenPad, offering endless creative possibilities for content creators, productivity-enhancing workflows and easy multitasking.
ZenBook Pro Duo delivers extreme performance for effortless creativity with up to 9th Generation Intel® Core™ processors, up to 32GB RAM, an NVIDIA® GeForce RTX™ 2060, ultrafast storage with an up to 1TB PCIe® 3.0 x4 SSD, and seamless connectivity with Intel® Wi-Fi 6 with Gig+ (802.11ax) and Thunderbolt 3.
ZenBook and VivoBook laptops
Located beside the giant ZenBook display lies the newest lineup of ASUS laptops. Here, visitors can find the ZenBook 13/14/15 and VivoBook S14 and S15 laptops, all of which now come standard with the revolutionary ASUS ScreenPad™ 2.0. This interactive secondary screen upgrades the traditional laptop experience, enhancing productivity for endless possibilities. Its intuitive new smartphone-like interface enables easy task management and allows the creation of seamless multitasking workflows.
In addition to ScreenPad 2.0, the latest ZenBook 13 (UX334), ZenBook 14 (UX434) and ZenBook 15 (UX534) laptops feature a full complement of high-performance components including up to 8th Generation Intel® Core™ i7 quad-core CPUs, up to NVIDIA® GeForce® GTX 1650 Max-Q graphics, 16GB RAM, ultrafast PCIe® SSDs and gigabit-class Wi-Fi 5.
VivoBook S14 and S15 are a pair of ultraportable laptops featuring five unconventional color blocking finishes that add a dash of personality to mobile computing to appeal to a younger audience. The sleek metal chassis features unique design touches and includes the ErgoLift hinge design for comfortable typing. These laptops incorporate the new frameless four-sided NanoEdge display design for more compact dimensions and an immersive viewing with an up to 88% screen to body ratio.
The display area also showcases ZenBook Flip 15 (UX562), a high-performance 2-in-1 convertible 15.6-inch laptop and the most powerful ZenBook Flip model ever. Featuring an 8th Generation Intel® Core™ i7 processor and gaming-grade NVIDIA® GeForce® GTX 1050 graphics, ZenBook Flip 15 delivers unprecedented desktop-level processing and graphics performance.
ZenScreen Touch
Visitors in the vicinity of the ZenBook and VivoBook display will also be able to see the new ZenScreen Touch MB16AMT, a 15.6-inch Full HD portable monitor that weighs just 900 grams, is 9mm thin and features a large 7800 mAh battery that lasts up to four hours, taking mobile productivity to new heights. Its responsive 10-point touch screen supports swipe, scroll, drag and pinch gestures for effortless and intuitive interactivity to help users get tasks done more efficiently. The IPS display also supports the innovative ZenScreen Touch app, which enables the display and control of apps from Android phones for a large-screen productivity boost.
Content creation devices
The content creation area of the ASUS Booth features the latest ASUS devices perfect for the creative spark in everyone, including the new ProArt™ PA32UCX and PA27UCX displays, ASUS StudioBook W700G3T and StudioBook W500, and the Pro E800 G4 workstation.
ASUS ProArt PA32UCX and PA27UCX are the world's first 4K HDR monitors with mini-LED backlighting.  Mini LED and local-dimming control with increased brightness granularity enable reproduction of the brightest whites and the deepest blacks with sharper and more detailed visuals. ProArt PA32UCX also supports Dolby Vision which allows content creators to bring new depth to their content. It delivers more accurate, lifelike color than standard dynamic range. With Dolby Vision, the colorist is further empowered to create trims for each shot to control how the content maps to the consumer devices. This provides confidence to content creators that their images are represented on all devices with ultimate consistency.
The latest NVIDIA® Quadro RTX™ GPUs and GeForce RTX utilize NVIDIA Turing™ architecture and are the first to support real time ray tracing, capable of rendering beautiful scenes with more accurate light effects, shadows and reflections. The latest ASUS laptops, including ZenBook Pro Duo, StudioBook W700G3T and StudioBook W500, take advantage of this, catering to the needs of content creators and meeting the stringent requirements of the NVIDIA RTX Studio program. RTX Studio laptops are precision crafted to deliver dramatic improvements in productivity and performance across everyday creative apps. StudioBook W700G3T is powered by up to a 9th Generation Intel® Core™ i7 or Xeon® processor with NVIDIA Quadro RTX 3000 graphics, while StudioBook W500 is powered by an Intel Core i7 9750H CPU and NVIDIA Quadro RTX 5000 GPU.
Pro E800 G4 is a high-performance workstation powered by the upcoming Intel® Xeon® W-3200 processor, up to four NVIDIA® or AMD® GPUs, up to 1536GB of ECC memory and dual 10G LAN ports for higher speed networking, better productivity and faster file-transfer efficiency. Pro E800 G4 is engineered for the most intensive applications, such as real-time rendering, simulation and visualization scenarios. ASUS works in close partnership with numerous independent software vendors (ISVs), including industry leaders like Adobe, Autodesk and VRAY, to test and verify compatibility with Pro E800 G4.
Networking
A dedicated networking area showcases ultrafast Wi-Fi 6 (802.11ax) home networking with the AiMesh AX6600 Mesh Wi-Fi system (RT-AX95Q) and a complete home solution featuring the RT-AX58U router, StudioBook W700G3T laptop and Mini PC PN61.
The AiMesh AX6600 Mesh Wi-Fi system and RT-AX58U router support 160MHz bandwidth and 1024-QAM to provide ultrafast Wi-Fi speeds that are up to 2.5x faster than those supported by the previous Wi-Fi standard.
A combination of OFDMA and MU-MIMO technology provides up to 4X better network efficiency and capacity. With OFDMA, the data channel is separated into smaller sub channels, so data from different devices can be bundled together to ensure no bandwidth is wasted. This means that one channel can transmit data to several devices at the same time, improving efficiency and reducing latency. These smaller sub channels also enable the routers to provide up to 80% greater coverage than those of the previous generation.
The Wi-Fi 6 standard also helps to improve battery life of connected devices. A new technology called Target Wake Time (TWT) allows transmissions to be scheduled, so connected devices can sleep for longer periods, delivering up to 7X better battery life.
TUF Gaming
The TUF Gaming hardware area features several exciting, recently unveiled products as well as some that fans have been waiting in anticipation for in recent months. New products include the TUF gaming GT301 ATX gaming case with a 240mm radiator in the front, up to five 120mm fans, and a 160mm CPU cooler; the silent and powerful TUF Gaming TF120A1 ARGB PWM all-purpose chassis fan with an incredible 400,000-hour lifespan; the durable TUF Gaming X570-Plus (Wi-Fi) motherboard with comprehensive cooling and support for next-gen connectivity; the TUF Gaming H3 headset; and the TUF Gaming M3 mouse.
Also making an appearance are the TUF Gaming VG32VQ, VG27A and VG27B displays — all of which feature Extreme Low Motion Blur Sync (ELMB-SYNC). This next-gen tech enables the use of both ELMB and variable refresh rates (VRR) in tandem, ensuring animations are smooth and free of the judder introduced by Vsync, and the entire picture is crisp and blur-free.
ROG booth
The Republic of Gamers (ROG) booth is located adjacent to the ASUS booth and showcases the latest and greatest ROG gaming hardware. The booth exudes an atmosphere of futurism, symbolizing the ROG drive to be a leader in gaming innovation. Visitors to the ROG booth will be greeted by an array of large, dynamic screens surrounding the booth to produce a feeling of being immersed in a futuristic world.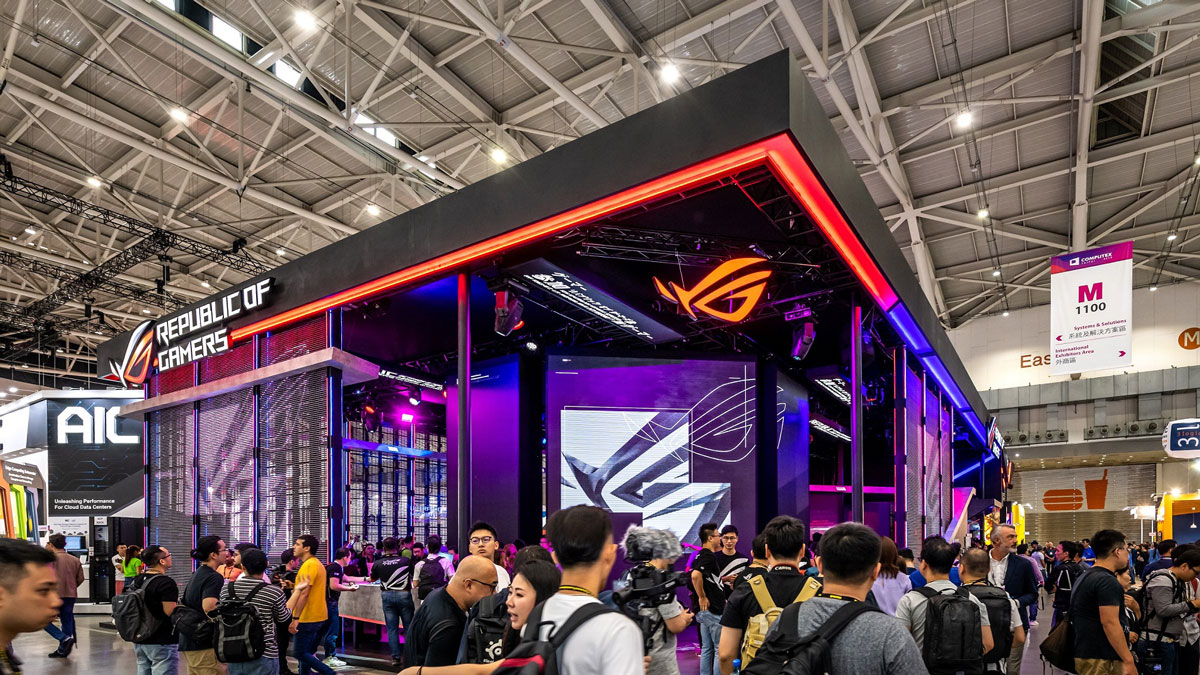 The central area of the ROG booth presents gaming hardware and peripherals in the form of thermal, portable and panel solutions. Venturing further outward from this central area, visitors will see the latest lineup of laptops, including the ROG Zephyrus series, the ROG Strix series and an area for gaming machines tailor-made for pros and enthusiasts.
Thermal solutions
The Thermal Solutions area features ROG Crosshair VIII Formula, the highly anticipated ROG Mothership GZ700 and an ROG concept gaming chassis. The ROG Crosshair VIII Formula presents incredible cooling performance and gamer-oriented features, making it the perfect foundation for any high-performance gaming rig. The ROG Mothership GZ700 is an upright design, which can serve as a powerful gaming battle station, anywhere. It also comes with liquid-metal cooling, which can reduce CPU temperatures by up to 13°C. The block that sits on the CPU also has a special internal fence that prevents liquid metal from leaking out over time.
The ROG concept gaming chassis is a full tower case that supports a motherboard up to EATX (12" x 13") in size at the same time as a mini-ITX build. An innovative hinge-frame design simplifies cable routing and tempered-glass side panels infused with addressable RGB lighting and Aura Sync technology make the case perfect for showcase builds. Optional extras include a hot-swappable drive cage for video editing and workstation applications.
Portable Gaming solutions
The Portable Solutions area features the new ROG Strix XG17 portable gaming display. Designed for competitive gamers that wish to hone their skills while on the move, ROG Strix XG17 boasts a 17.3-inch IPS Full HD panel delivering a blistering 240Hz refresh rate and 3ms response time, making it the fastest portable display in the world. It weighs a mere 1000 grams and has a built-in battery that supports up to 3 hours of 240Hz operation off a single charge. Thanks to its fast-charging system, a one-hour charge will power the system for 2.7 hours. Other salient features include adaptive-sync which operates between 48–240Hz, making it easier to derive smooth gameplay from modest GPUs. There's also a built-in speaker, providing the flexibility to game without a headset.
Panel solutions
The Panel Solutions area features the finest gaming displays available on the market, including the stunning ROG Swift PG27UQX monitor, featuring Mini-LED backlighting with 576 independent LED zones and a peak brightness of 1,000 nits, conforming to DisplayHDR 1000 standards.
The area also showcases the ROG Strix SCAR III G731, ROG Strix Hero III G731, Zephyrus S GX502 and Zephyrus S GX701 gaming laptops. ROG Strix SCAR III G731 and ROG Strix Hero III G731 are the first gaming laptops to bring 240Hz/3ms displays to more expansive 17-inch screens. With up to NVIDIA® GeForce® RTX 2070 graphics that can push into factory overclocked territory thanks to ROG Boost, they have enough horsepower to generate triple-digit frame rates for sublimely smooth gameplay in fast-paced titles and competitive esports.
ROG Strix
The ROG Strix area presents visitors with a variety of gaming innovations and shows off the brand-new Glacier Blue laptop color. Products on display in this area include the ROG Face Off concept laptop, ROG Strix Scar III, ROG Strix Hero III, ROG Strix G gaming laptops and the ROG Strix Arion.
ROG Face Off is a collaboration between ROG and BMW Designworks Group that imagines the future of gaming laptops. The design mockup reflects the fact that gamers have different personalities and often work as hard as they play.
ROG Strix SCAR III G731, ROG Strix Hero III G731 and ROG Strix G laptops feature the stunning new Glacier Blue color. With a wintery look at first glance that becomes surprisingly saturated upon closer inspection, Glacier Blue has a slightly silvery sheen in the light, making it appear paler and more polished from a distance. Bolder blue tones jump out when up close or in darker environments, providing a shot of color along with more contrast for RGB lighting.
Pros and enthusiasts
The area dedicated for pros and enthusiasts features the perfect gaming hardware for power users, including the ROG Crosshair VIII Impact and ROG Crosshair Hero (Wi-Fi) motherboards, and the newly revealed ROG ITX Case, which supports high-end graphics cards by rotating the internal tray by 11° into the path of airflow, providing for better cooling.
In this area visitors will also find the ROG Strix Arion, a pocket-sized SSD case that carries an M.2 drive with an up to 2280 (22 x 80mm) form factor and uses the USB 3.1 GEN 2 interface to deliver transfer speeds up to 1 Gbps, providing gamers incredible convenience.
Zephyrus
The Zephyrus area features the most recent thin and light gaming laptops, including the ultra-slim GX502, GU502, GA502 and GX531.The latest Zephyrus S GX502, Zephyrus M GU502 also feature the stunning new Glacier Blue color.
Gaming Lifestyle Accessories
Some of the other stylish and functional accessories on display in the ROG Booth include the ROG Theta 7.1 surround gaming headset, ROG Theta Electret hi-fi gaming headset, ROG Strix Impact II mouse, ROG Gladius II Core mouse, ROG Strix Ultra-fast & Thin mousepad, and some innovative lifestyle products, including the ROG Chariot gaming chair, ROG Ranger BP3703 and ROG Lifestyle backpacks, ROG Asymmetry windbreaker and ROG Lamp.
The ROG Chariot gaming chair comes with pre-set Aura RGB lighting effects that can be controlled by the built in remote. It is built with easy-decontamination PU fabric, high-resilience cold foam and all-steel frame to resist damage from water, scratches and high temperatures. Memory foam in the upper headrest and lower lumbar rest improve comfort and posture to reduce stress and back pain.
The ROG Ranger BP3703 is a modular backpack comes with AURA RGB for seven lighting effects in eight colors. Inside the backpack there are internal white light strips. The brightness can be changed according to the environment lighting. Users can use the built-in controller on the strap to adjust lighting effects and settings as well as turn lighting off. A version without lighting is also available.
The ROG lifestyle backpack is a lightweight gaming backpack that's perfect for students and suitable for everyday use. It features durable water-repellent exterior, customizable loop area, padded fleece-lined laptop compartment that fits an up to 15-inch laptop. It also comes with padded shoulder straps to carry heavy loads in comfort.
ROG Asymmetry is a stylish, ultra-lightweight windbreaker with a 100% nylon weave that provides an extra layer against the elements while expressing the wearer's gaming affiliation. With a highly portable design, the windbreaker can be neatly tucked into its own pocket for storage and kept in a bag so it's always available whenever its needed. Windproof and water-repellent, ROG Asymmetry blocks chilling wind and protects against light rain, and its elastic cuffs trap warm air to retain body heat. It breathable and moisture-wicking fabric quickly draws heat and perspiration away from the body, while keeping rain out.
ROG Lamp is a smart lamp with ASUS AURA sync designed to enhance the immersion for gamers and people who are looking for the perfect lighting atmosphere. Users can choose specific areas of their PC screen and sync the color with ROG Lamp. The lamp connects via Wi-Fi and can be controlled from a PC, mobile device and via a physical touch wheel on ROG Lamp. ROG Lamp also includes a customizable OLED panel to show VoIP notifications, GIFs and the time. With one USB dongle, users can connect to up to 10 ROG Lamp devices for a fully immersive lighting display.
PRESS RELEASE