ASUS Republic of Gamers Philippines is forging the battlefield once more, brandishing its weapons and pulling all the stops at this year's Electronic Sports and Gaming Summit (ESGS) 2019.
ESGS 2019, to be held on October 25-27, 2019 at the SMX Convention Center, Pasay City is the biggest and most exciting gaming event in the Philippines and is considered one of the most important and gaming events in Southeast Asia. This year ROG Philippines will definitely be the talk of the town once again, by bringing in the greatest gaming technology yet!
ROG would like to thank its loyal customers and followers for making it the reigning premium gaming laptop brand in the Philippines with over 60% market share in the segment1. To highlight ROG's commitment to the gaming community, the brand is bringing you an even bigger, louder, and grander experience at ESGS 2019 with more activities, more giveaways, and the best gaming hardware that fans can try.
COMPUTEX 2019 REIMAGINED
Fans can experience a world-class exhibit in the ROG booth, recreated in the likeness of our Computex showcase area. The gaming cave showcases what a dream room is like filled with ROG. It features the latest gaming desktops, peripherals, and the biggest and fastest ROG Swift gaming monitors in the country. Attendees can also try out the best ROG notebooks, desktops, and DIY setups in the main section of the booth – as well as the ROG Phone 2!
For those looking for competitive edge, ROG will also hold community DOTA 2 tournaments throughout the weekend. Teams will get the chance to battle for and win premium ROG items.
AIN'T NO PARTY LIKE AN ROG PARTY
Fans of gaming celebrities Ann Mateo, Gloco, Dexie Diaz, and Josette: here's a treat! They will be participating in several activities with us. In addition, guest DJ's will also be present for epic live music performances – Dj  Keo and Therese Garcia!
EXCLUSIVE PROMOTIONS + SECRET GRAND PRIZES!
For those looking to add ROG hardware to their setup, the No.1 Gaming Brand is offering several deals and bundle promos for its gaming components, notebooks, and peripherals.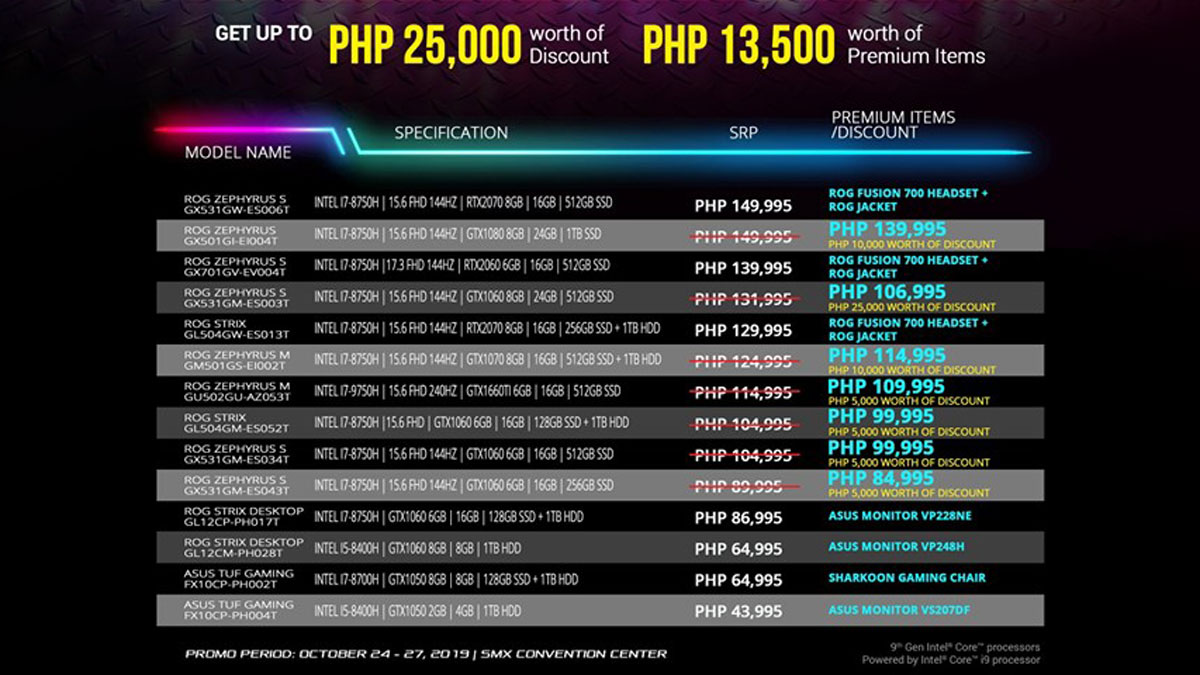 ROG is also going overdrive with giveaways, featuring merchandise that can range from keycaps, to apparel, and to other limited edition swag. Fans and event-goers can expect jaw-dropping raffle prizes at the end of the event!