When Intel dropped their 13th generation processors, the Intel 700 series chipset followed suit – and that's exactly what we are checking out in this review; more specifically, the ROG Strix B760-F Gaming Wi-Fi motherboard.
With a price point of ₱17,420 PHP, this is definitely not a cheap motherboard considering where its chipset sits at the rest of the stack. What it has though are slew of features usually found on flagship motherboards. That includes a robust power solution, high-speed connectivity options, PCIe 5.0 support, memory overclocking, Wi-Fi 6E and a whole lot more.
Disclosure: ASUS sent the ROG Strix B760-F Gaming Wi-Fi along with the Intel Core i5-13600 for the purpose of this review. The brand did not ask me to say anything particular about it.
Technical Specifications
Processor
CPU Support
Intel 13th Gen: Core, Pentium Gold and Celeron; 12th Gen: Core, Pentium Gold and Celeron
Chipset
Intel B760
Socket
LGA 1700
Memory
SDRAM
DDR5 (Non-ECC, On-Die ECC)
Slot
4x LO-DIMM
Channel
Dual Channel
Speed
7800 MT/s (max)
Capacity
128 GB (max)
Graphics
GPU
—
Multi-GPU
—
Expansion
PCI Express
CPU: PCIe 5.0 x16; Chipset: PCIe 3.0 x16, 2x PCIe 3.0 x1
Bifurcation
—
Storage
SATA
4x SATA III
M.2
CPU: PCIe 4.0 x4; 2x PCIe 4.0 x4
RAID
RAID 0/1/5/10 (SATA)
Networking
LAN
Realtek 2.5 GbE
WLAN
Intel Wi-Fi 6E
Bluetooth
Bluetooth v5.3
Audio
DAC
Realtek ALC4080
ADC
Realtek ALC4080
Amplifier
Savitech SV3H712
Channel
7.1
Rear IO
USB
USB 3.2 Gen 2×2, USB 3.2 Gen 2, 6x USB 3.2 Gen 1
LAN
RJ-45
Audio
5x 3.5 mm, S/PDIF
Display
DisplayPort, HDMI
Front IO / Internal
USB
USB 3.2 Gen 2, USB 3.2 Gen 1, 2x USB 2.0
Audio
AAFP
Fan
4-pin CPU Fan, 4-pin CPU OPT, 4-pin AIO Pump, 4x 4-pin Chassis Fan
LED
3x Addressable Gen 2, Aura RGB
Dimensions
Length
305 mm
Width
244 mm
Height
45 mm
Weight
 —
Packaging and Accessories
ASUS had the Strix B760-F Gaming Wi-Fi packed inside a ROG'esque packaging.
Scope of delivery are as follows:
ASUS ROG Strix B760-F Gaming Wi-Fi
2x SATA 6Gb/s cables
Thermal pad for M.2
ASUS Wi-Fi moving antennas
Cable ties package
M.2 Q-Latch package
2x M.2 Rubber Package
ROG key chain
ROG Strix stickers
ROG Strix thank you card
Documentation
User guide
That's a lot of stuff included. Kinda makes sense for the price of the whole thing but then again, I prefer more utility over stickers, paper work and cable ties.
Design, Build and Connectivity
The B760-F Gaming Wi-Fi is a standard ATX motherboard with a lot of metal – particularly the two CNC milled chunks to cool the 16+1 phase VRM. I do not see any major faults with the layout too unless we go really nitpicky with it. This model by the way also comes with the LGA 1700 and 1200 hybrid mounting kit which is nice to see.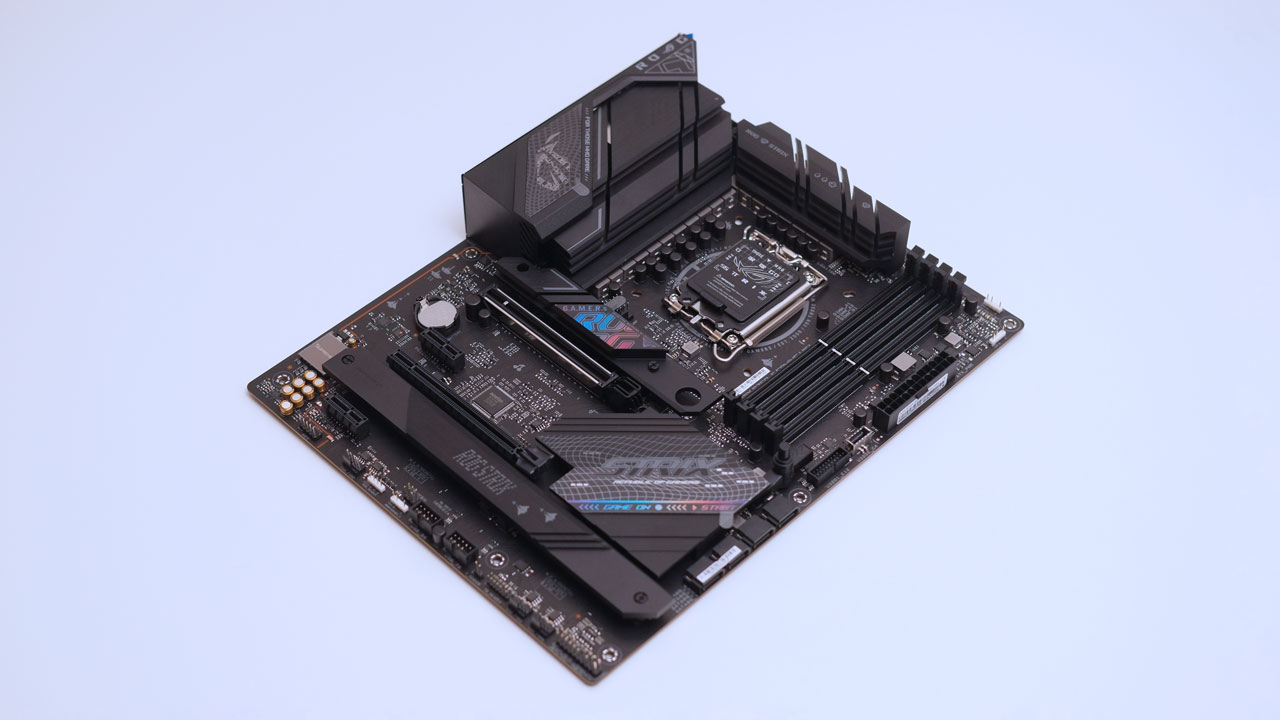 Like many ASUS motherboards out there, the back of the B760-F Gaming Wi-Fi looks clean. What I noticed though is the surface mounted PCIe 5.0 x16 slot. This is usually seen on their higher-end motherboards but then again, this motherboard is expensive so there's that for a reason.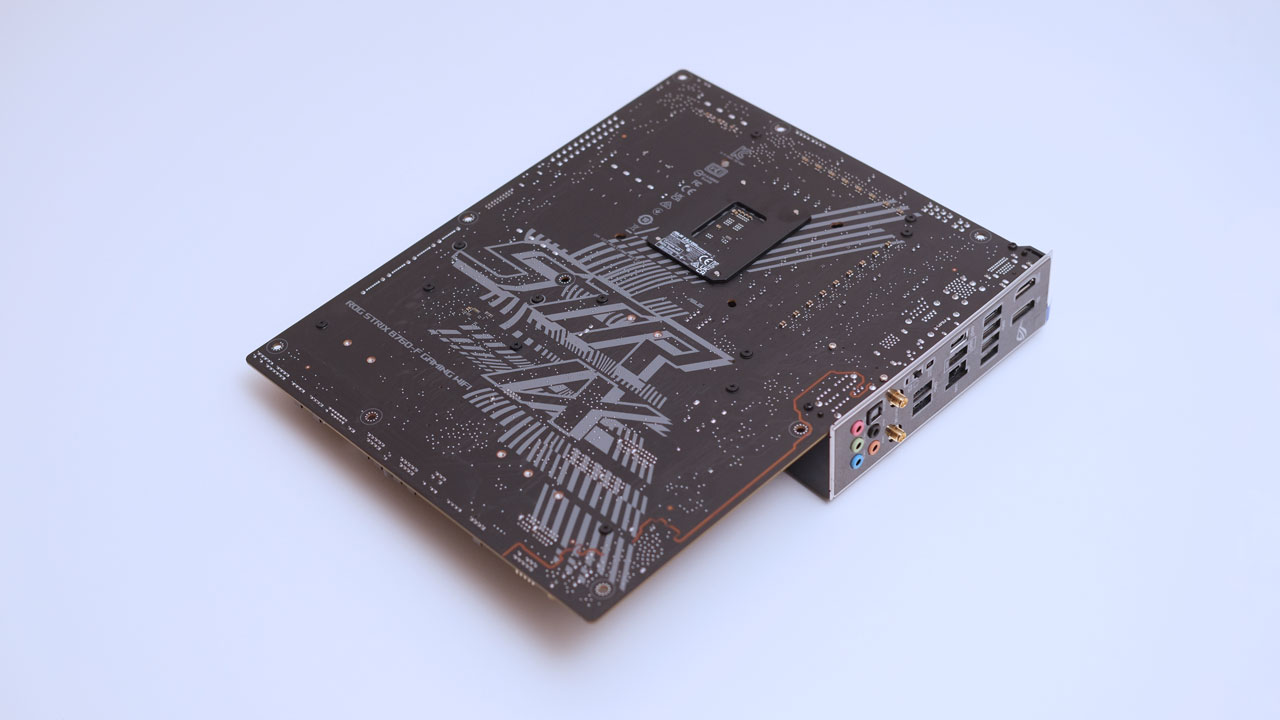 Up top are a combination of 4 and 8-pin CPU power connectors, 2x 4-pin PWM fan headers for the CPU fans and 2x 3-pin LED headers. On a closer inspection, the distance between the CPU socket and memory slots is similar to that of ITX motherboards. This shouldn't pose an issue with the majority of coolers but best be vigilant.
The 4x SATA 6Gbps headers, USB 3.2 Gen 1 header and USB 3.2 Gen 2 headers are located at the optimal areas of the motherboard. The quick release mechanism for the PCIe 4.0 x16 slot is also located in this area.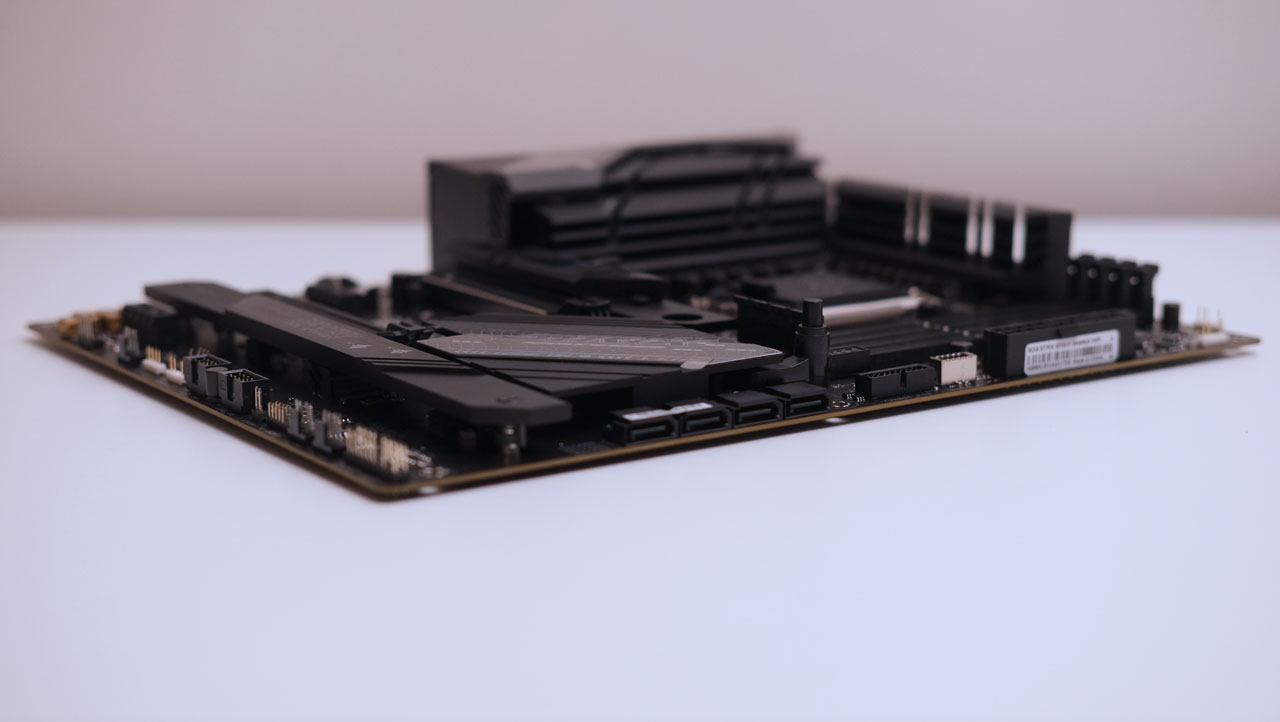 We have the usual assortment of headers at the bottom of the motherboard but with the addition of a T_Sensor (external temperature sensor) and a Thunderbolt header.
Rear I/O port selection is well executed. We have 6x USB 3.2 Gen 1 ports here, a single USB 3.2 Gen 2 port and a USB 3.2 Gen 2×2 port but in Type-C. I'm glad this one also comes with an optical port along with the usual stuff. As for ROG specifics, this motherboard has Clear CMOS and BIOS Fallback buttons.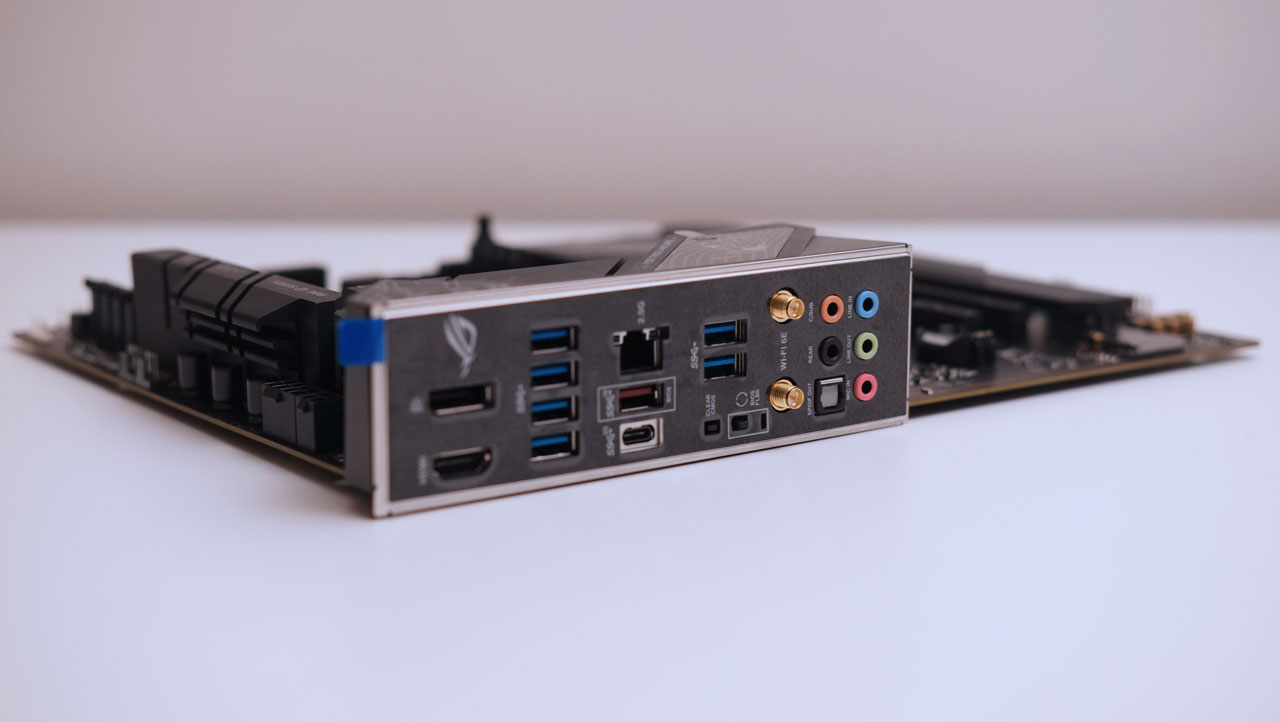 Build and layout are overall quite nice. This is an ROG Strix motherboard alright and it shows.
Firmware Interface
ASUS had the ROG Strix B760-F Gaming Wi-Fi configured with their tried and tested UEFI BIOS Utility. It comes with EZ Mode and Advanced Mode like most motherboards from various vendors nowadays. The EZ Mode basically allows you to switch between the most common settings.
Ai Tweaker is where you could play with the CPU and memory settings. Like the other vendors, ASUS also had their own power limit option here to toggle between Intel and their own. Only memory overlocking is possible here since this is a B760 chipset based motherboard but you could still adjust power related settings for both the CPU and memory.
Advanced is where the chipset options could be configured.
Monitor comes with the usual thermal and voltage sensors. However, it is quite odd that the main voltage rail and VRM sensors were undetected by popular Windows based monitoring programs such as HWiNFO.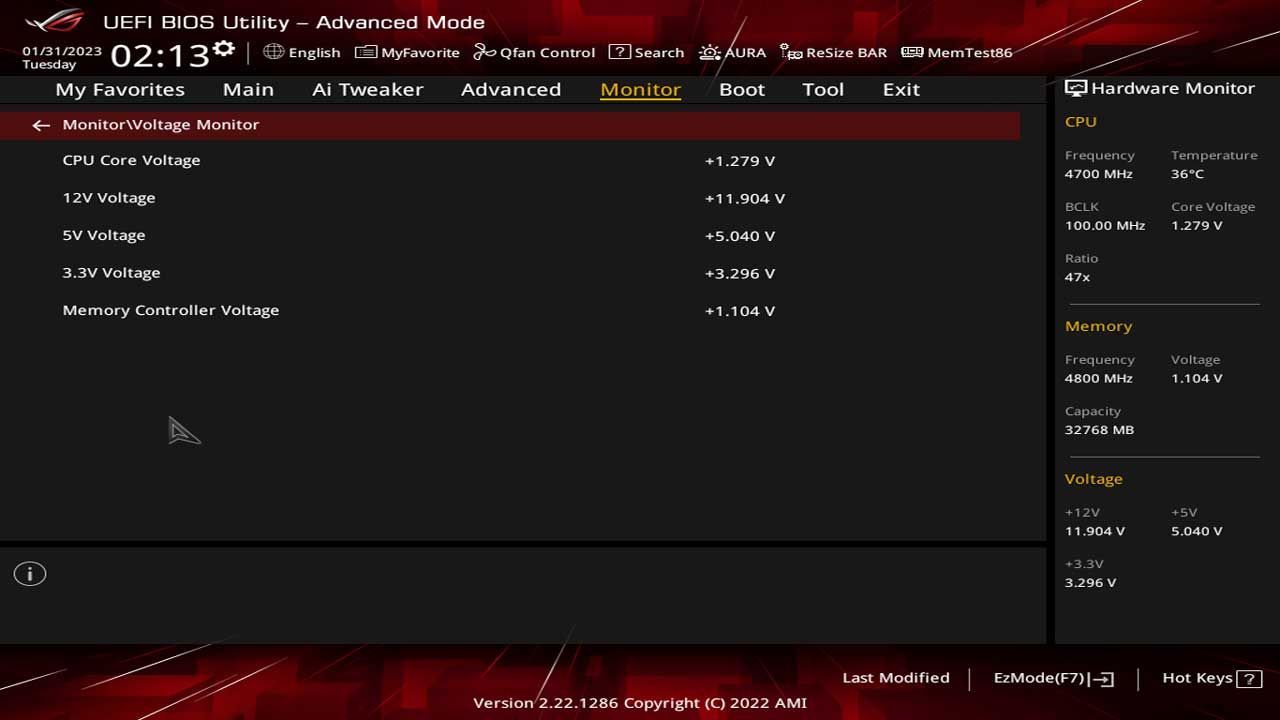 Tool is where you could securely erase the contents of your storage devices and flash your BIOS. Handy features to setup your system for a clean installation. There is also a copy of MemTest86 here for your perusal.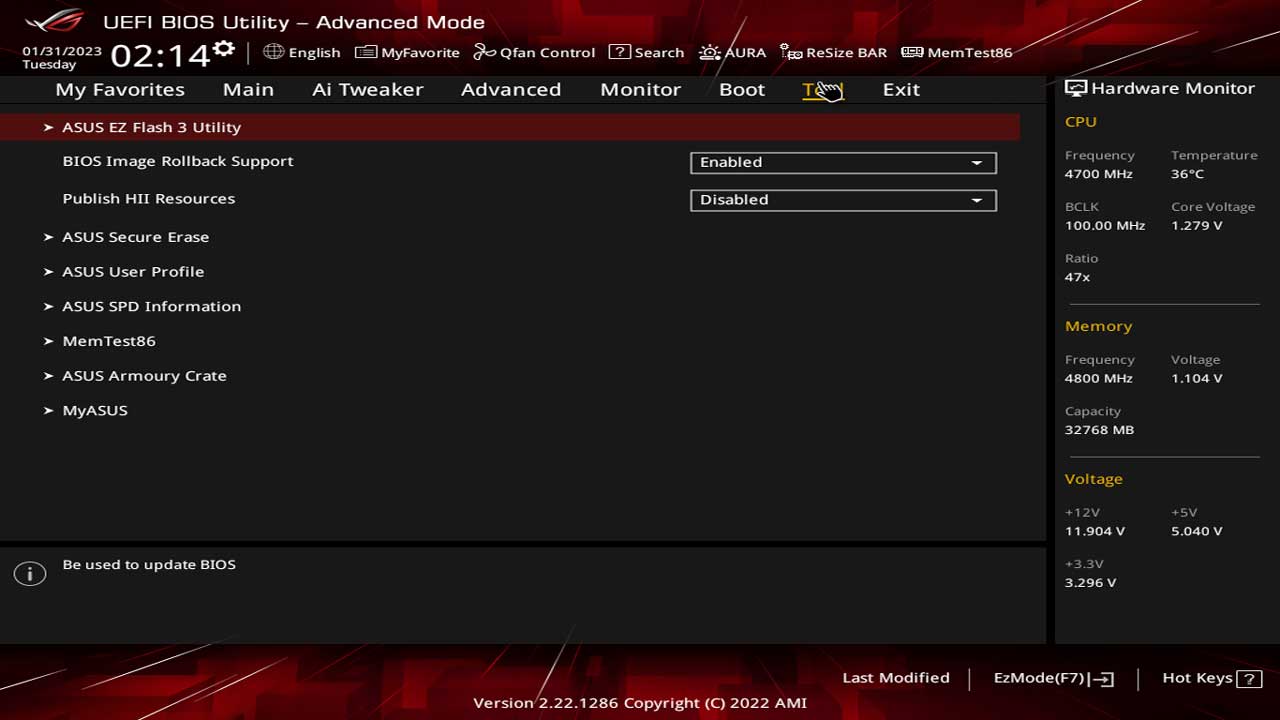 Last but not the least we have a screenshot of the Q-Fan Control. Six fans could be configured here each on their own in five steppings. Sadly, we cannot manually setup the maximum fan speed at less than 100%. Can't quite get that absolute control over the RPMs but I'll let it slide.
Nothing to complain here. ASUS also fixed a common issue with the Armoury Crate pop-up when it is disabled in the BIOS. Good stuff.
Test Setup and Methodology
Our test setup relies on the measurements taken from industry standard benchmark tools and real-world applications. It is important to note that we are testing the review sample after burn-in, with at least 24-hours of uptime. This is done so to negate the FOTB (fresh out the box) state of the DUT (device under test), yielding better benchmarking consistency.
Test System Specifications
CPU
Intel Core i5-13600
Motherboard
ASUS ROG Strix B760-F Gaming Wi-Fi
Cooler
Noctua NH-U12A chromax.black
Memory
TEAMGROUP T-FORCE Vulcan α DDR5-5600 32 GB
GPU
GALAX RTX 2060 EX White 6 GB
Storage
Kingston FURY Renegade 2 TB
Case
Mechanical Library JXK-K2
PSU
Thermaltake Toughpower PF1 850 W
Display
LG UF680T
OS
Microsoft Windows 10 Pro 64-bit
The DUT is tested with the following configuration from our test system:
UEFI configuration: Default
Windows Power Plan: Balanced
CPU
Roots calculation speed is measured in Seconds (s). This is done via WPrime 2.10.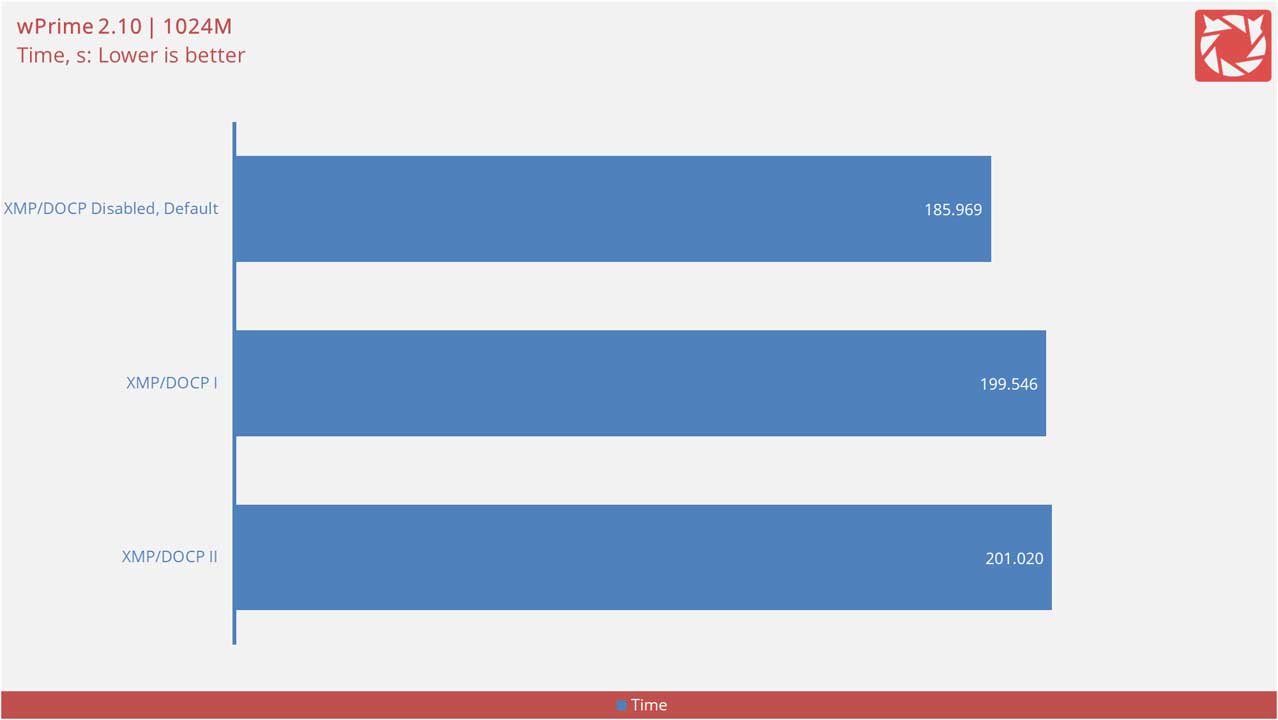 wPrime is one of those hit and miss benchmarks when you mess with the memory profiles and it shows.
Memory
Memory latency is measured in Nanoseconds (ns). This is done via the AIDA64 Extreme Cache and Memory Benchmark.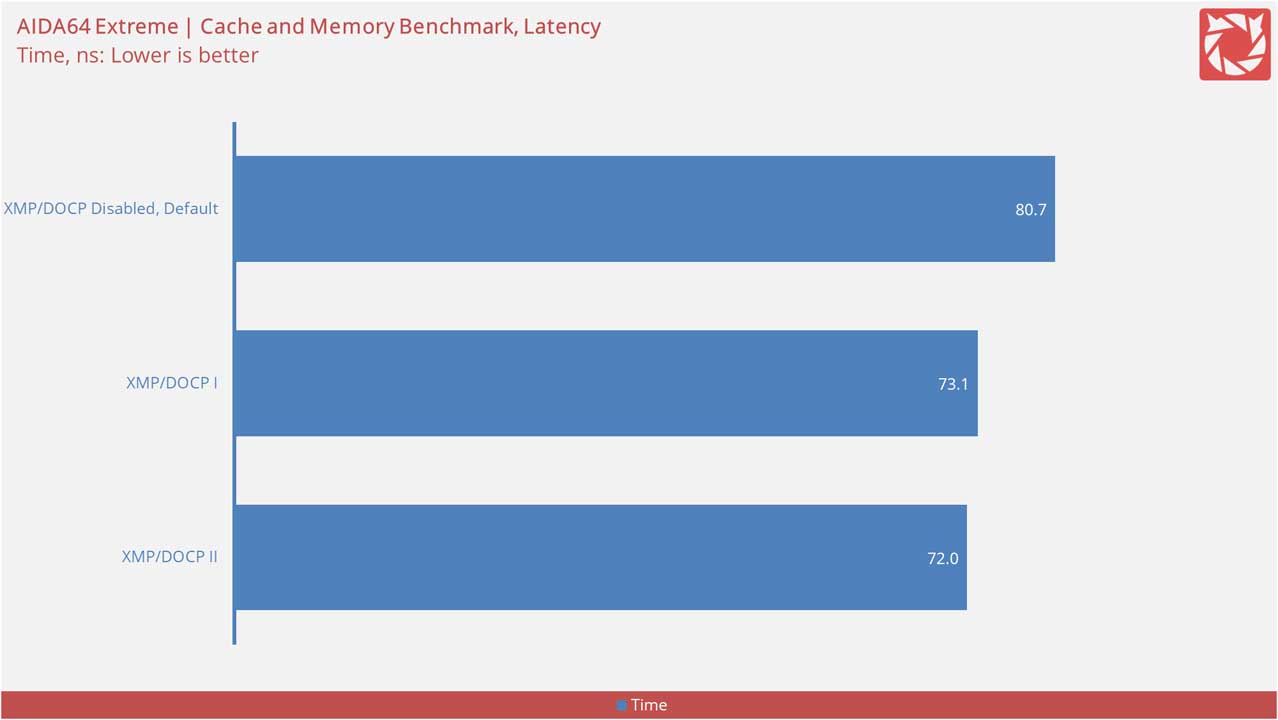 Memory latency improved with the XMP or rather the DOCP profiles. Read, write and copy performance improved as well. This should be substantial for (de)compression and (de)encryption applications.
Storage
Storage throughput is measured in Megabytes per second (MB/s). This is done via CrystalDiskMark.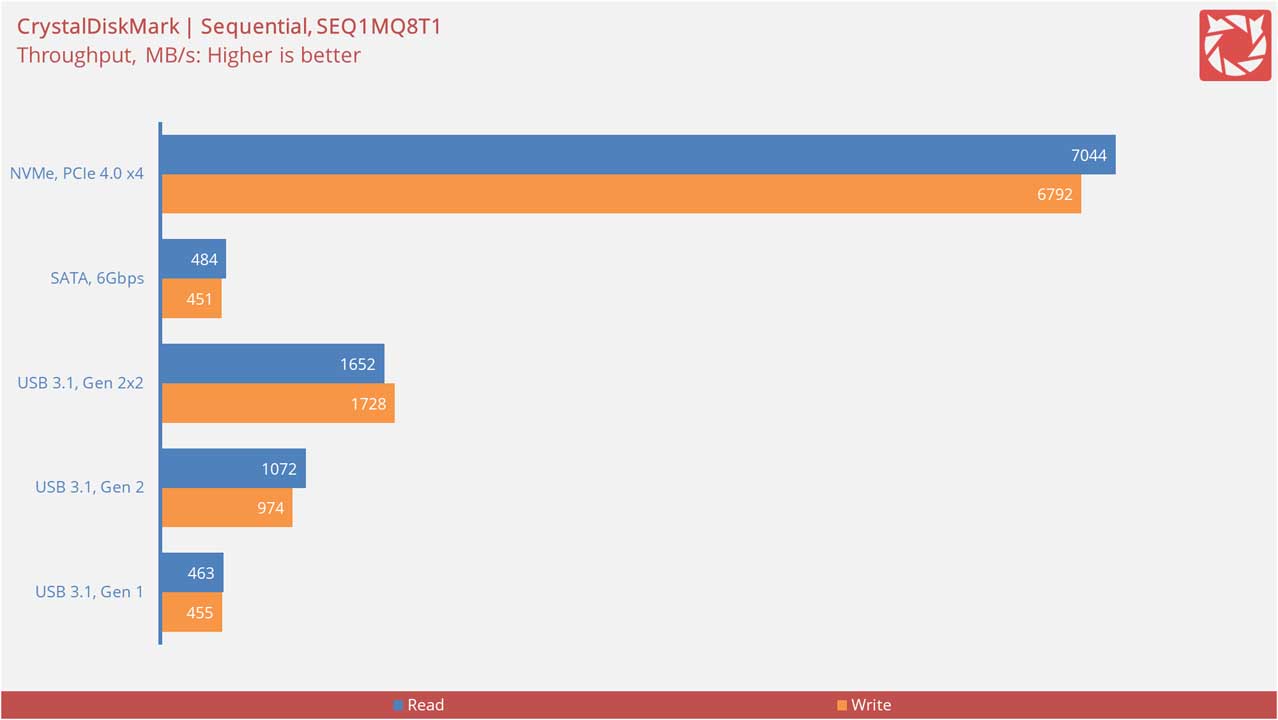 Now storage performance is appropriate for the interfaces tested. We did not test the front panel headers though so that means these results reflects the rear I/O, NVMe and SATA alone. As for NVMe thermals, I am happy to report that the heatsinks for both the main and secondary M.2 slots are more than enough to keep the Kingston Fury Renegade's temperature at bay.
Audio
THD + Noise is measured in Decibels (dBA). This is done via the RightMark Audio Analyzer.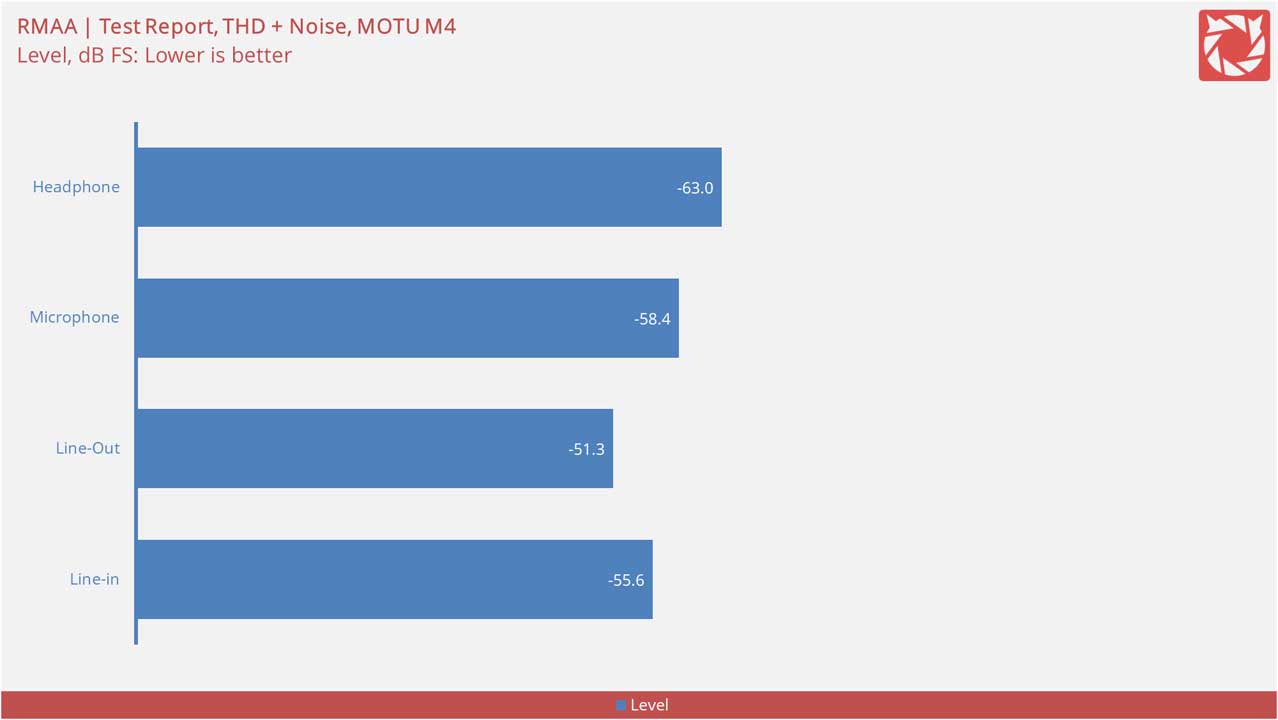 Audio performance for the most part is decent for an onboard solution but we'd like to see better from ASUS. Oddly enough, the Line-out performed severely compared to the other ports including a not so flat frequency response with a -3 dB roll-off from 100 Hz to 30 Hz. That said, I wouldn't seriously use this audio solution for critical audio related tasks. Best invest in a capable interface.
Network
Network throughput is measured in Megabits per second (Mbps). This is done via the Totusoft LAN Speed Test.
My gaming router is clearly not up to the task to maximize the throughput of the network interfaces of this motherboard. I ordered a new router to improve this particular benchmark so this is one test suite that we'll have to update in the future.
POST
Time to finish POST is measured in Seconds (s). This is done via Windows Task Manager.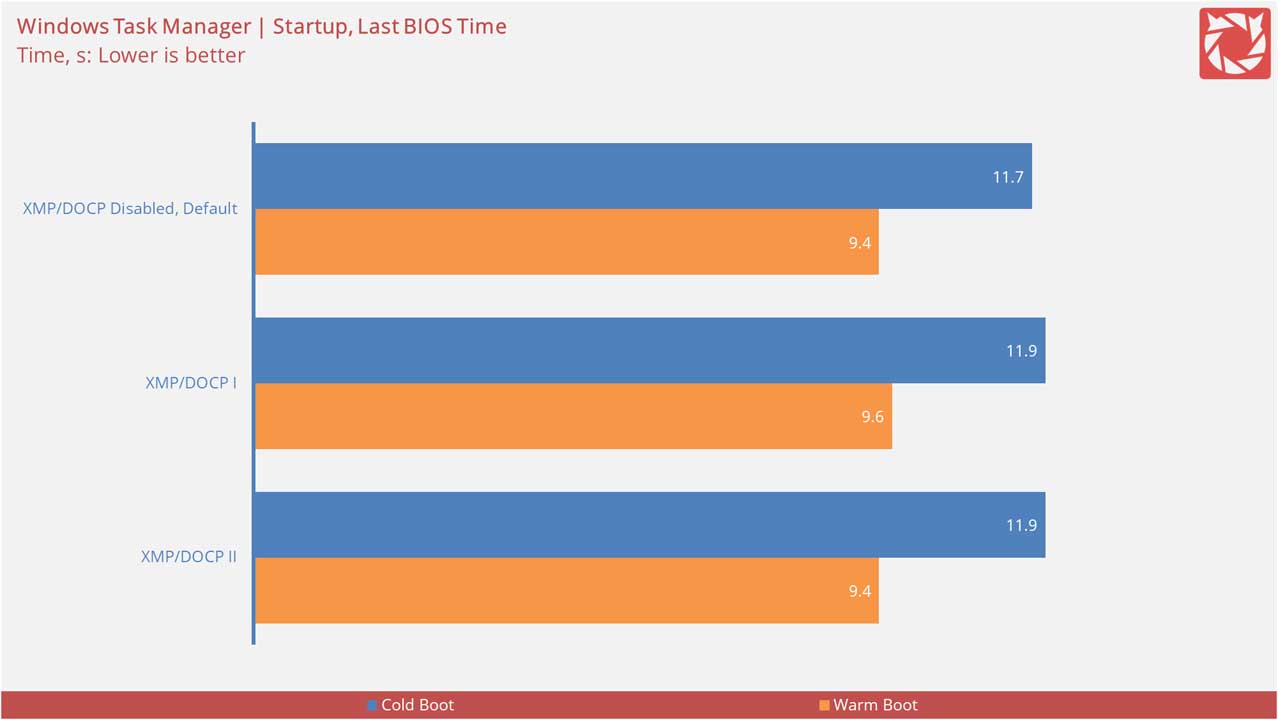 Benchmark results posted here are almost identical. I even tested the power saving mode in the UEFI to check if the settings enabled or disabled using that mode has any significant effect but there is none. There will be if you decided to disable most of the PCH related stuff. I wouldn't do it anyway since this is fast enough.
DPC Latency
Kernel timer latency is measured in Microseconds (μs). This is done via LatencyMon.
Overclocking the memory seems to affect DPC latency. This usually happens when something is throttling within the system or if a power saving feature is interfering with the calls made by the OS. I actually tested this with the power saving mode within the UEFI and it does affect DPC.
Temperature
VRM temperature is measured in degree Celcius (ºC). This is done via the AIDA64 Extreme System Stability Test.
VRM temperature is excellent. This is due to the power phase design, its cooling solution and the CPU tested – which is not really stressing the motherboard's VRM.
Power
System power consumption is measured in Watts (W). This is done via the AIDA64 Extreme System Stability Test.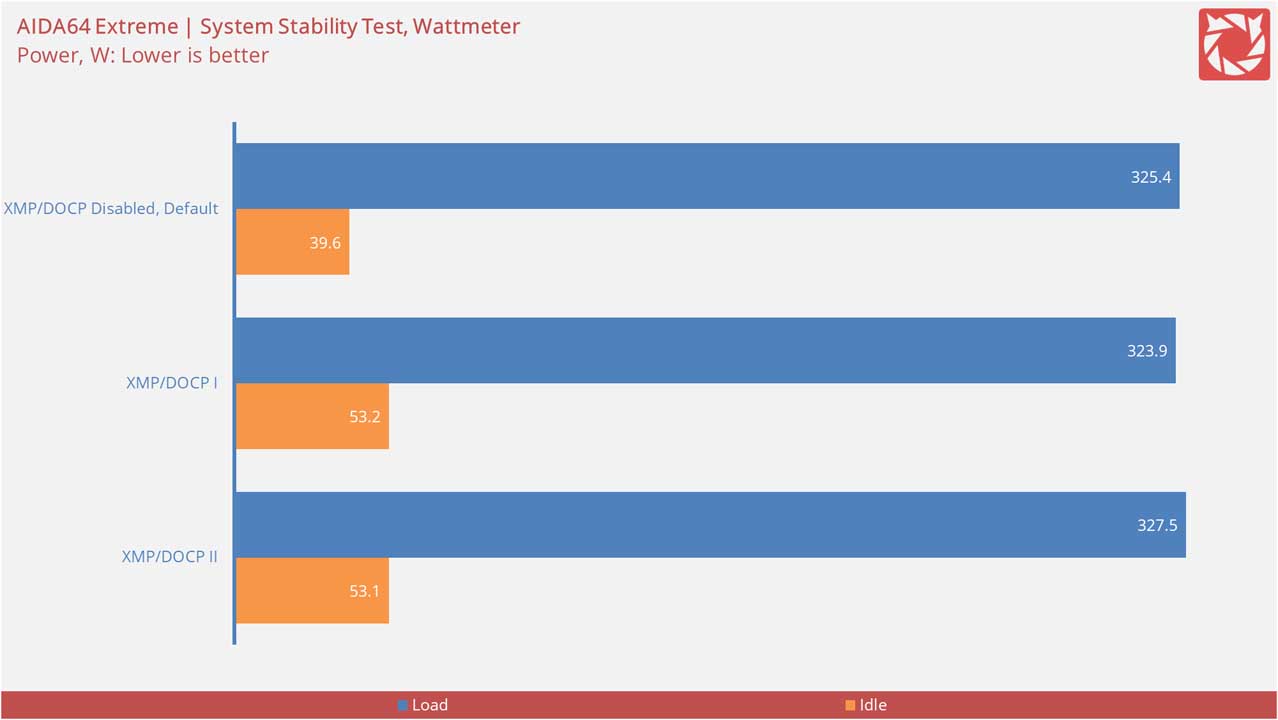 Power consumption is almost similar between the profiles or setting tested. That said, default has the best idling performance out of the bunch while DOCP II has the highest at load. If you really want to save more power, you could enabled the power saving mode via UEFI. With that mode, the system will consume around 32 W at idle but will still reach the 300 W mark at sustained loads.
Features
ASUS had the ROG Strix B760-F Gaming Wi-Fi bundled with the Armoury Crate. This is a powerful yet also a quirky software suite (not that buggy anymore compared to previous releases). The dashboard for the motherboard for an instance allows you to override whatever you configure at the UEFI – provided it pertains to the exactly the same settings or options.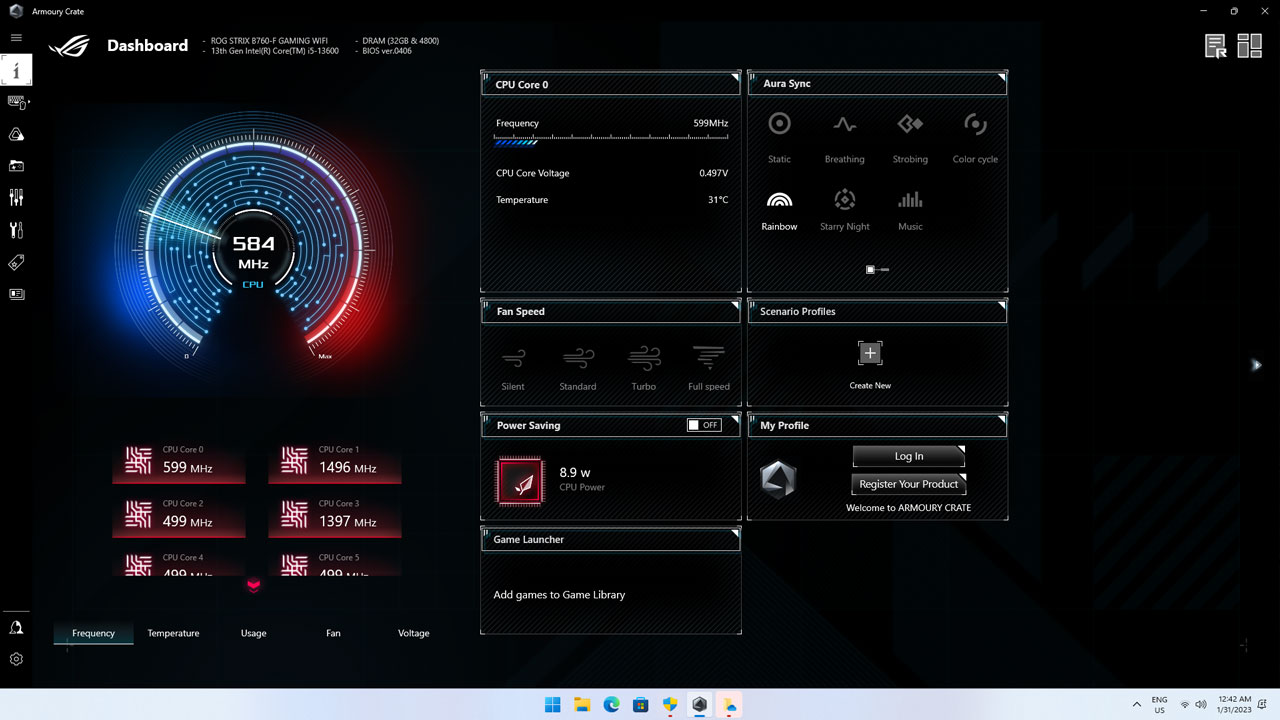 An instance would be the Fan Xpert 4. This is a much more refined version of the Q-Fan Control found within the UEFI.
Other features such as AI Noise Cancelation is required to be downloaded as a supplementary software.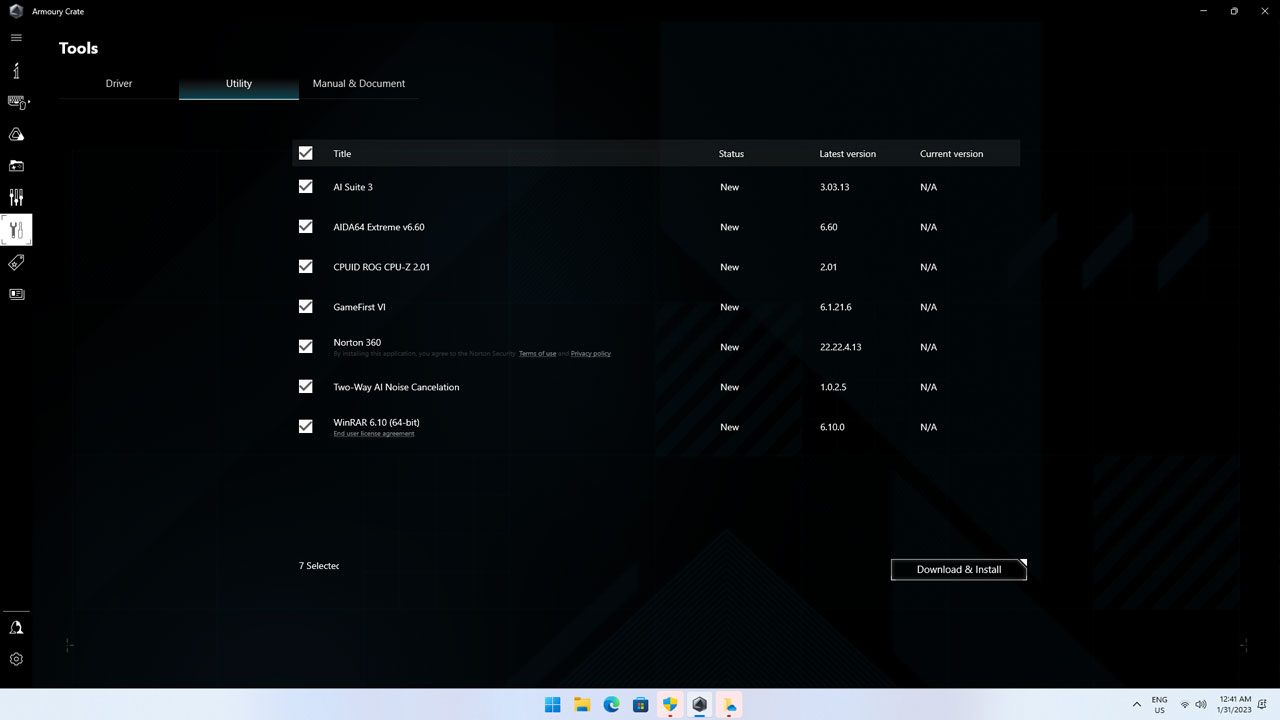 Final Thoughts
During my time with the ASUS ROG Strix B760-F Gaming Wi-Fi, I kept on wondering why it has an MSRP of ₱17, 420 PHP. I told myself it has to be its features and performance but having tested the board, I've been left with more questions than answers. That includes the reasoning behind its slated price considering that you could get the last generation's flagship for an identical amount – yes, we are talking about the ROG Strix Z690-F Gaming Wi-Fi here. That's a motherboard that also supports the latest generation LGA 1700 processors, PCIe 5.0, DDR5 memory, more I/O ports and more importantly CPU overlocking.
I get that the B760 chipset had just been recently announced so the prices of the new motherboards must have been at their peak? Sadly it is not the case, considering the competition and some of ASUS' own already hoovering around the $200 USD mark. That said, this motherboard has no business to stay beyond $300 USD. It irks me that some retailers had the balls to list this at $399 USD. Maybe they didn't have much of a choice.
Anyway, would I recommend the ASUS B760-F Gaming Wi-Fi? That is a tough question to ask considering its worth. Personally, I would just get a Z690 motherboard or the B660-F Gaming Wi-Fi. If the price drops down to $200 USD though, it will definitely get my seal of approval.
ASUS ROG Strix B760-F Gaming Wi-Fi
Summary
The ASUS ROG Strix B760-F Gaming Wi-Fi is an expensive Intel B760 chipset based motherboard. Tough sell really, considering the options.