The Dark Rock 4 is the first Be Quiet! product I have tested on this review. This is a brand that piqued my interest since their inception mainly due to their design philosophy. Suffice to say, I am excited as to what this CPU cooler could offer.
Now the Dark Rock 4 is yet another tower CPU cooler with a rated price under $100 USD. Unlike the last product tested, this comes with a larger dissipating area which is largely due to the inclusion of six heat-pipes. That said, this cooler also comes with 135mm fan. Combined, the Dark Rock 4 comes with a thermal capacity of 200W.
Disclosure: Be Quiet! sent the Dark Rock 4 for the purpose of this review. The company did not ask me to say anything particular about it. Like many stuff, I get to keep it though.
Technical Specifications
Cooler
Socket
 LGA 115X, 1200, 1366, 2011-3, 2066; AMX, FMX
Type
Single-tower
Material
Cooper (base, heat-pipes), aluminum (cooling fins), ceramic (coating)
TDP
200 W
Fan
Model
Be Quiet! Silent Wings 135 mm
Speed
1400RPM
Noise
21.4 dB(A) @ 100%
Airflow
—
Dimensions
Length
136 mm
Width
96 mm
Height
159 mm
Weight
920 g
Packaging and Accessories
Be Quiet! had the Dark Rock 4 packed inside a compact color box. The brand appears to use recycled materials too – not sure about the foam though.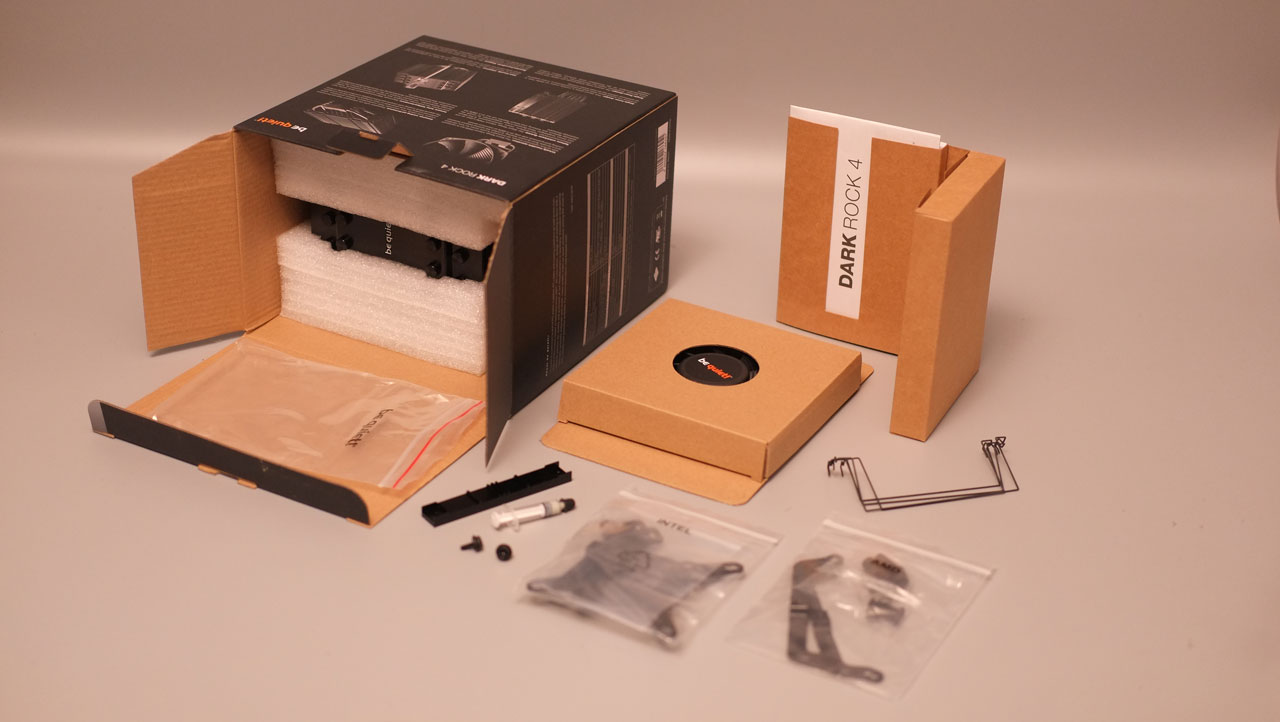 The packaging should come with the following items inside:
Be Quiet! Dark Rock 4
Be Quiet! Silent Wings 135 mm
Screw driver

Thermal grease

Intel mounting kit

AMD mounting kit

User manuals
Pretty good bundle of parts and accessories we got here.
Design, Layout and Build Quality:
If jet black and industrial design appeals to you, then the Dark Rock 4 is a cooler to check out – appearance wise. This is a nice looking single tower cooler with a weight of 970 grams.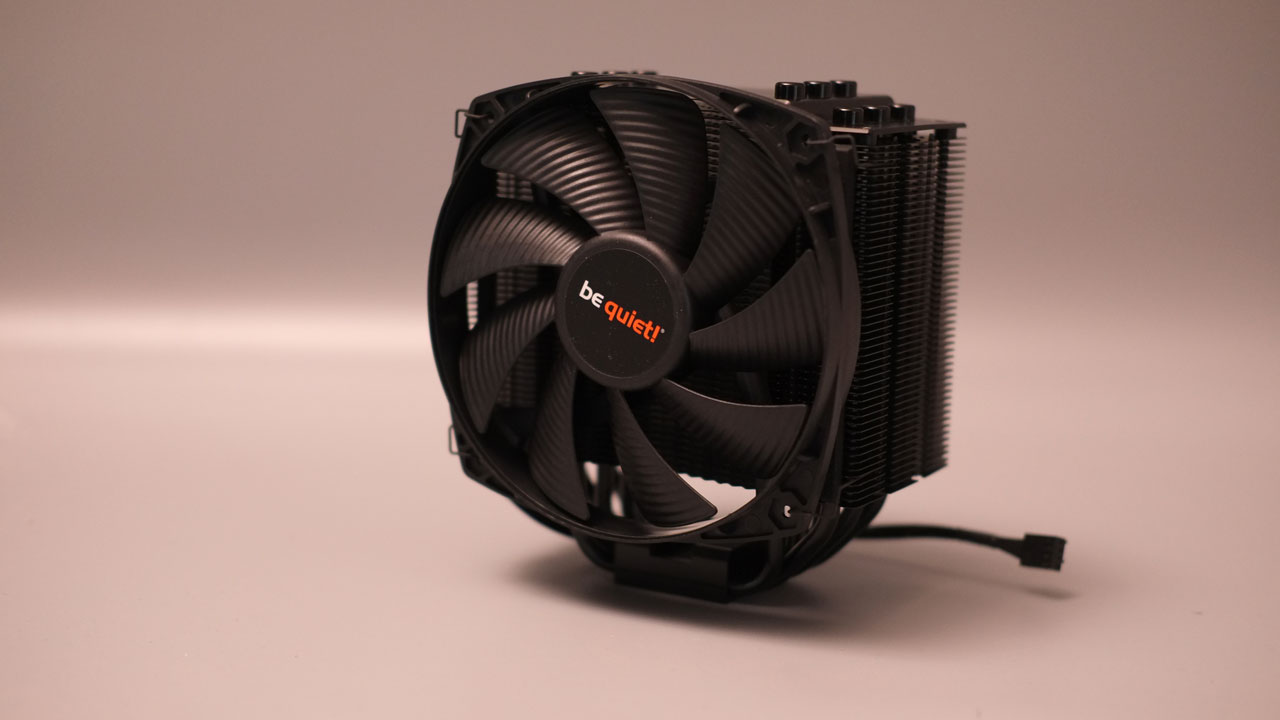 The cooler comes with six copper heat-pipes coated in ceramic. It also comes with a brushed aluminum top cover to make it extra pretty. Seriously, they even added pipe caps and rubber dampeners to seal the deal.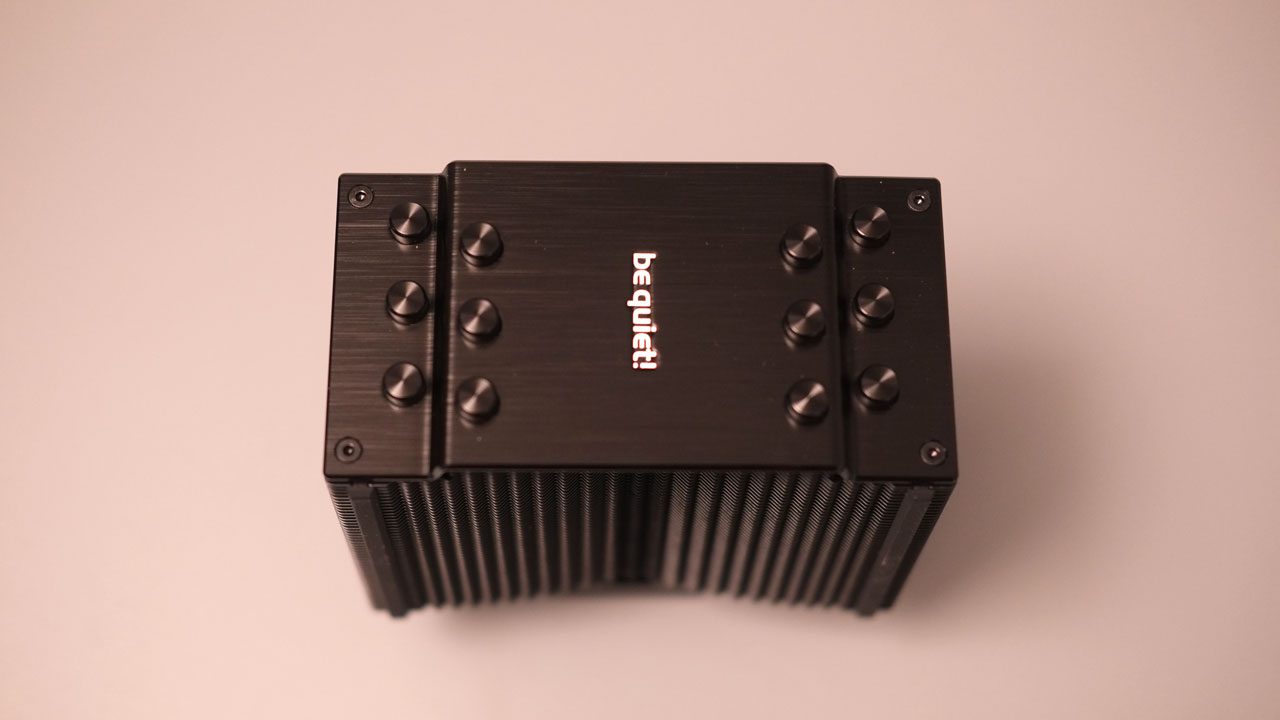 The base plate is copper in material but it gives off a shiny aluminum vibe – most likely due to the tin plating for corrosion resistance. This base plate also comes with a mini heatsink of its own. Should help with heat dissipation even by a bit.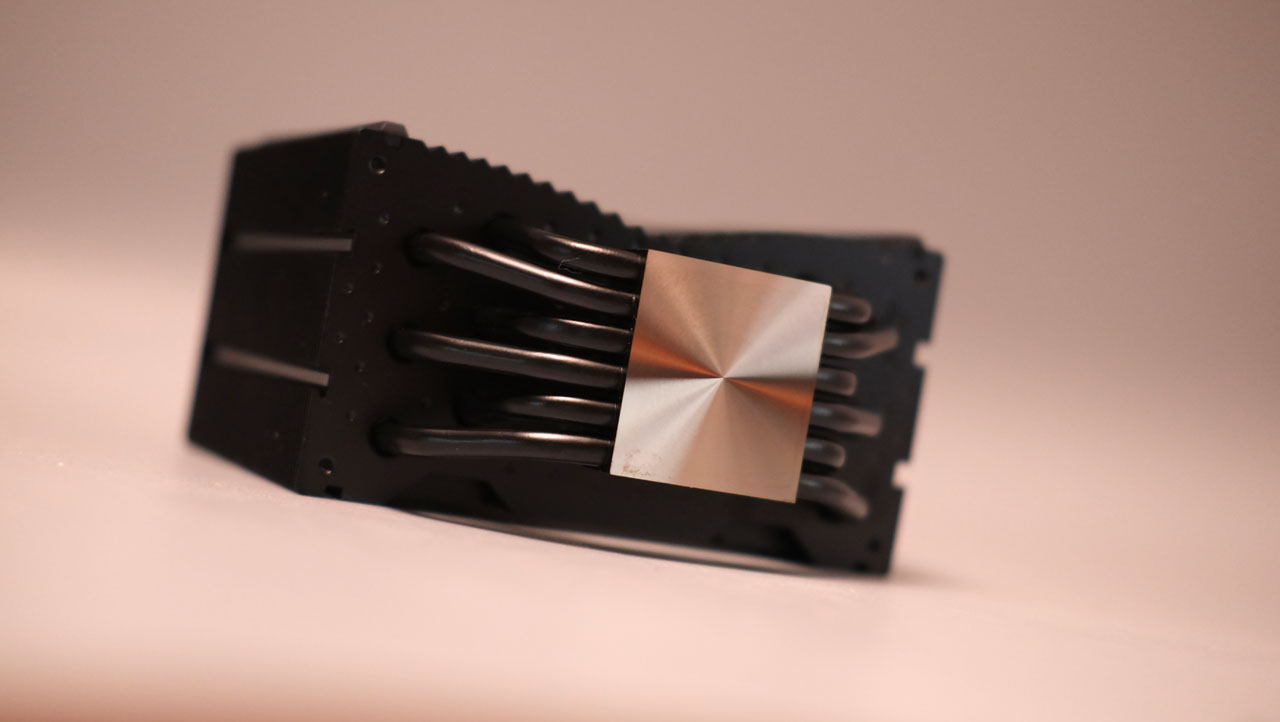 Now Be Quiet! supplied this cooler with the Silent Wings fan. This is rated to spin at 1400 RPM max with a sound pressure level of 21.4 db(A) which is nuts. This is a 135 mm with 120 mm mounting holes. Since the cooler supports up to two 120 mm fans, I am confident that two of these could be mounted.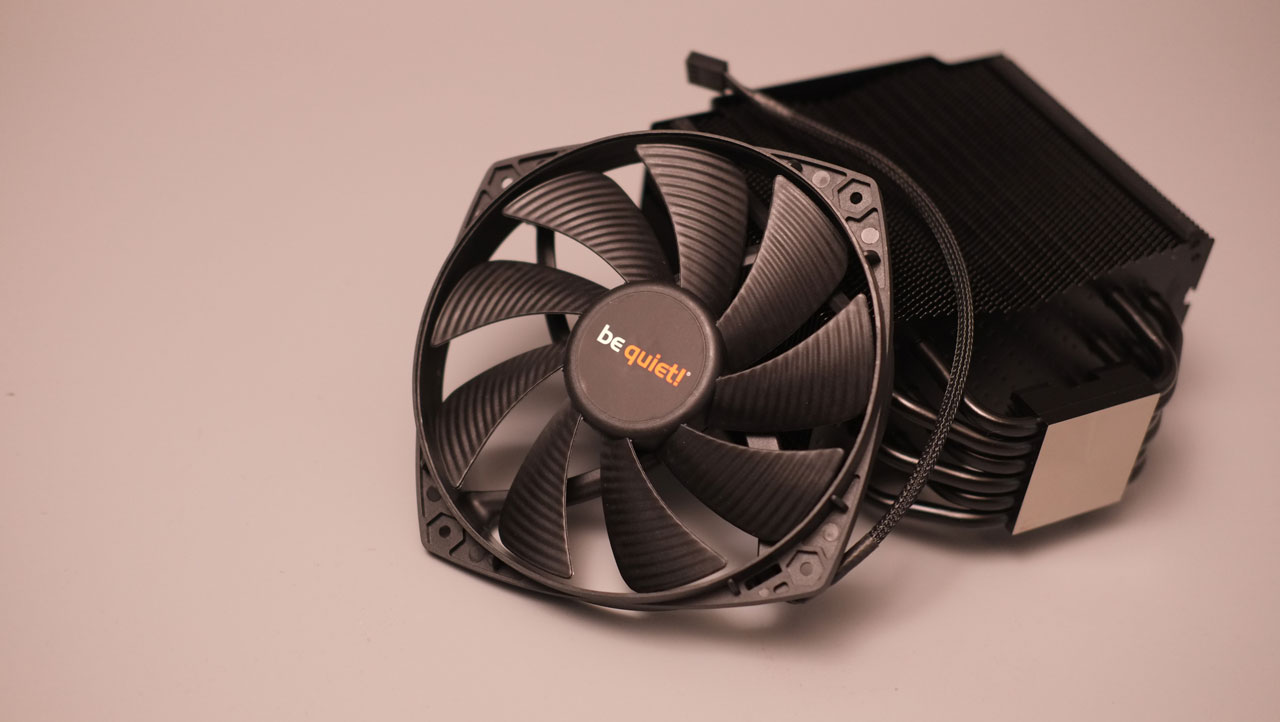 Overall, the Be Quiet! Dark Rock 4 appears to be a high quality CPU cooler down to its fans. Take extra care with the ceramic coated cooling fins though. It gets easily scratched. Mine did when I forced the fan mounting brackets.
Installation and Clearance
Installation is pretty straight forward, as with most tower coolers. Perhaps it's even easier with AMD's AM4 platform due to the already included back plate. We only need a few mounting hardware with this setup.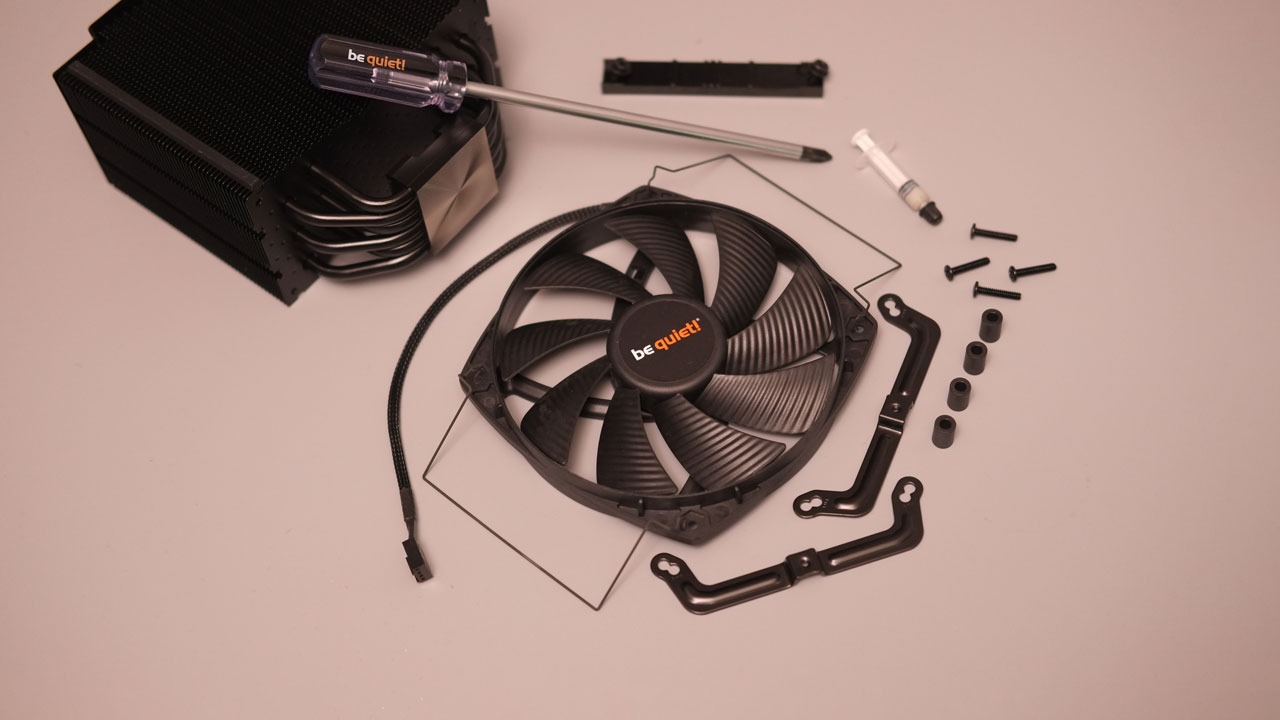 The cooler towers at 159mm but could be taller depending on the memory clearance you need. At its stock form, it will take a standard size LO-DIMM but if you need the clearance for taller ones, you either have to: move the fan at the VRM side or remove the top cover so you could adjust the fan mounting brackets. I kind of wished Be Quiet! added a cut-out here in the first place.
Obviously, I did not use this on an enclosure so your installation difficulty may vary. Measure twice, install once folks!
Test Setup and Methodology
Our test setup relies on the measurements taken from AIDA64 Extreme. It is important to note that we are testing the review sample after burn-in, with at least 24-hours of uptime. This is done so to negate the FOTB (fresh out the box) state of the DUT (device under test), yielding better benchmarking consistency.
Test System Specifications
CPU
AMD Ryzen 5 3600
Motherboard
BIOSTAR B550M-Silver
Cooler
Be Quiet! Dark Rock 4
Memory
ADATA Premier 2666MHz 16GB
GPU
GALAX RTX 2060 EX White 6GB
Storage
Plextor M9PE NVME 512GB
Case
Mechanical Library JXK-K2
PSU
Thermaltake Toughpower GF1 850W
Display
LG UF680T
OS
Microsoft Windows 10 Pro 64-bit
The DUT is tested with the following configuration from our test system:
UEFI configuration: Default
Windows Power Plan: Balanced
Temperature
Temperature is measured in degree Celcius (ºC) at system idle and load. This is done via AIDA64 Extreme and its built-in System Stability Test. Readings are taken directly from the CPU Tdie sensor via HWiNFO.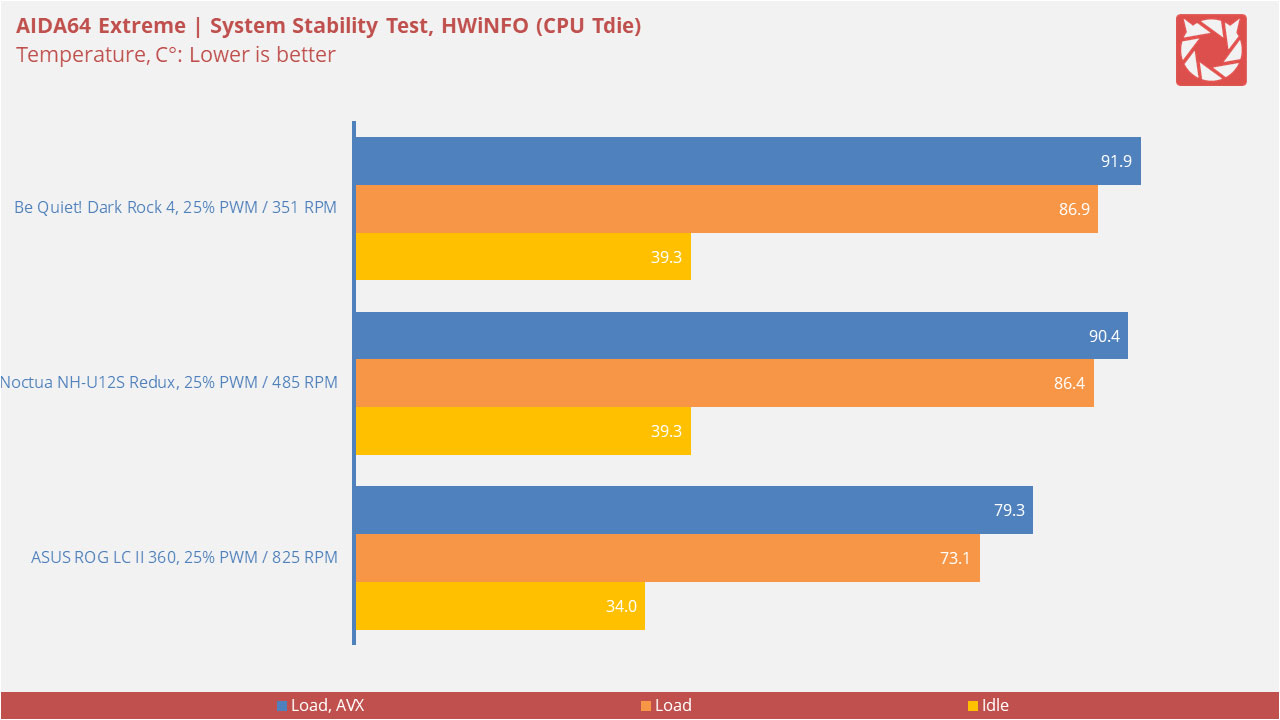 At 25% PWM Duty Cycle, the Dark Rock 4's cooling performance is not that much different from the Noctua NH-U12S Redux. This is more likely due to the ~350 RPM fan speed of the Silent Wings. No point running the fan this low by the way – that will be elaborated later.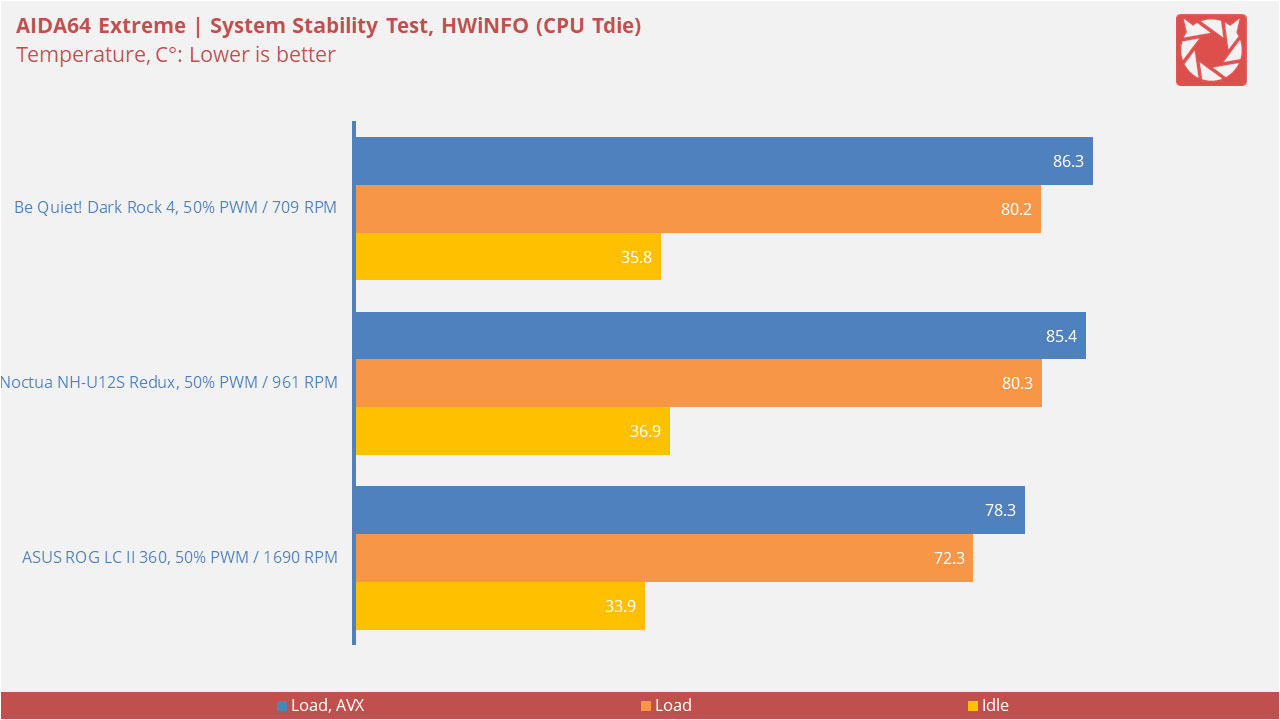 Not much difference here too at 50% PWM Duty Cycle but definitely below the TJ Max so you may run a decent CPU like the Ryzen 5 3600 at around ~1.4 v with this speed with no issue.
Not much of a difference here still compared to the Noctua cooler.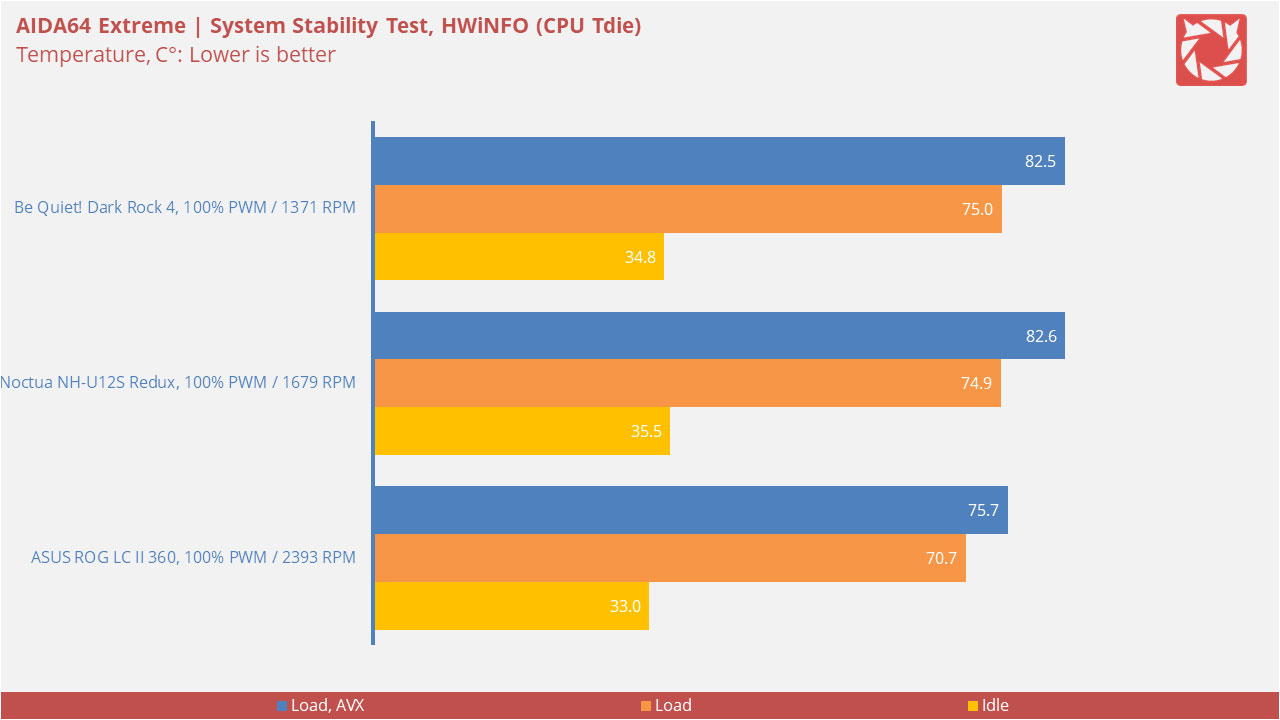 Same performance at 100% fan speed either. Though if I must say, the Dark Rock 4 is the winner based on RPM relative cooling performance.
Noise
Sound Pressure Level is measured in Decibels (dBA) at various fan duty cycles. This is done via AIDA64 Extreme and its built-in System Stability Test. Readings are taken directly from a sound level meter.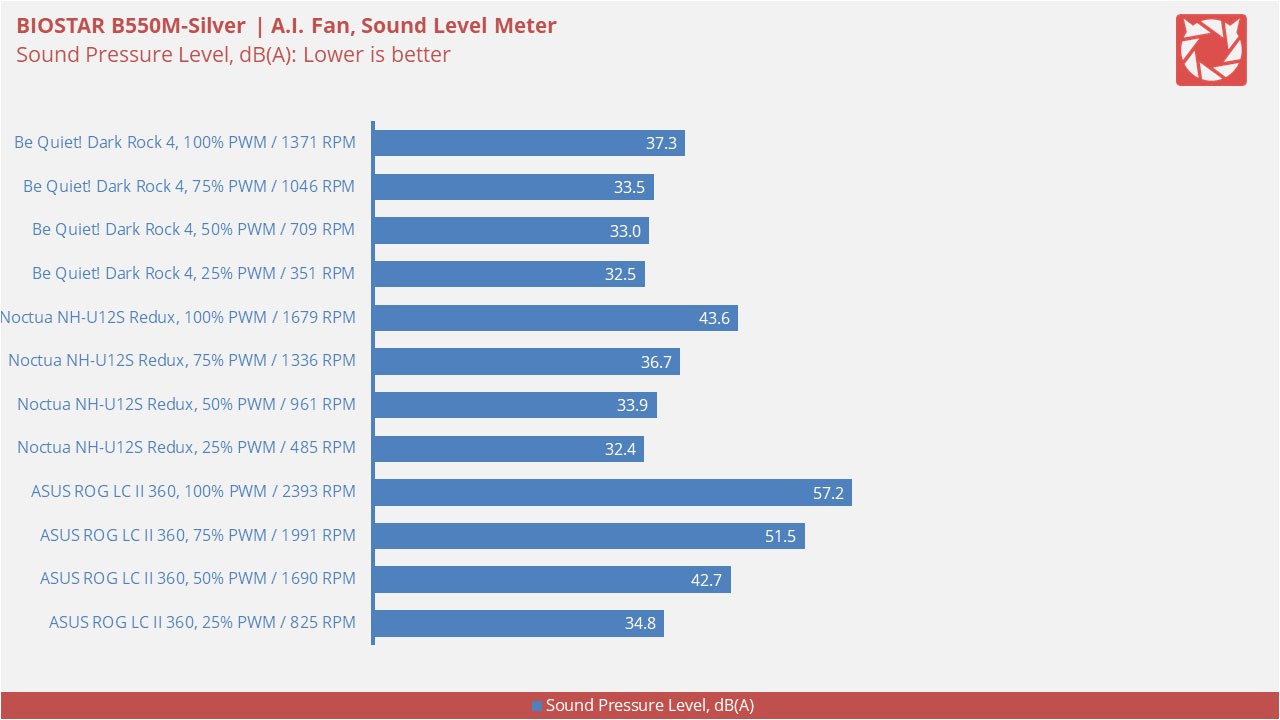 Now this is where the Dark Rock 4 truly shines – its acoustic performance. The Noctua NH-U12S Redux is already quiet in my book, but the Be Quiet! cooler demolishes it at most PWM Duty Cycles tested. We actually measured a maximum of 37.3 dB(A) at 100% load. This means you could practically run the cooler at its maximum 24/7 and still be whisper quiet.
Software, Lighting and Special Features
There isn't much to say when it comes to the extra set of features of the cooler. I mean no lights nor software package to speak of. Works for me!
Final Thoughts
The Dark Rock 4 is once again the first Be Quiet! cooler I've tested for a review. Initial impressions were great, more so when we tested it showing an acoustic performance truly fitting to the brand's name. This is a cooler that definitely tugs the heart of silent PC aficionados. A perfect sub $100 USD cooling solution for such – dear me included.
Now like many products it is not perfect. For an instance, memory clearance could be better. This is an issue with tall memory kits so better watch out for that or prepare to remove the top cover to allow mounting. The possibility to scratch the ceramic coating is also a factor to consider.
Over all, the Be Quiet! Dark Rock 4 is still a great choice for those who are looking for a silent CPU cooler without sacrificing much when it comes to thermal capacity. I admit it looks good too and comes with a proper 3 year manufacturer warranty.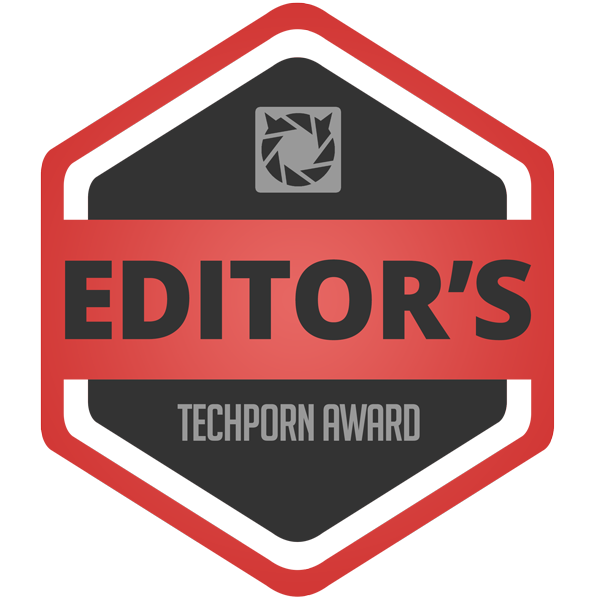 Be Quiet! Dark Rock 4
Summary
The Be Quiet! Dark Rock 4 is an excellent CPU cooler if you value a great balance between acoustic attenuation and thermal performance. At $74.90 USD, its strengths wholly outweighs its weaknesses.