In for review is the CORSAIR HS80 RGB. This is a wireless gaming headset with a retail price of $149 USD or about ₱7,195 PHP locally – that's an extra $50 USD over its wired counterpart.
The HS80 RGB Wireless comes with a pair of 50mm dynamic drivers. It also features the brand's SLIPSTREAM Wireless technology which is essentially what enabled its 24-bit, 48 kHz bitrate and its low latency design. The HS80 RGB also supports CORSAIR iCUE and Dolby Atmos out of the box.
Disclosure: CORSAIR sent the HS80 RGB Wireless for the purpose of this review. As usual, the company did not ask me to say anything particular about it.
Technical Specifications
Headphone
Design
Over-ear, Closed-back
Transducer
Dynamic (50mm)
Frequency Response
20 Hz -40 kHz
Impedance
32 Ω @ 1 kHz
Sensitivity
116 dB (+/-3 dB)
Connectivity
Wireless, USB Type-C
Microphone
Transducer
Dynamic
Polar Pattern
 Omni-directional
Frequency Response
100 Hz – 10 kHz
Sensitivity
-40 dB (+/-3 dB)
Dimensions
Length
—
Width
—
Height
—
Weight
376 g, without cables
Packaging and Accessories
The HS80 RGB Wireless comes in a new to me CORSAIR packaging. It is a simple yet effective solution to transport and take care of the unit when not in use.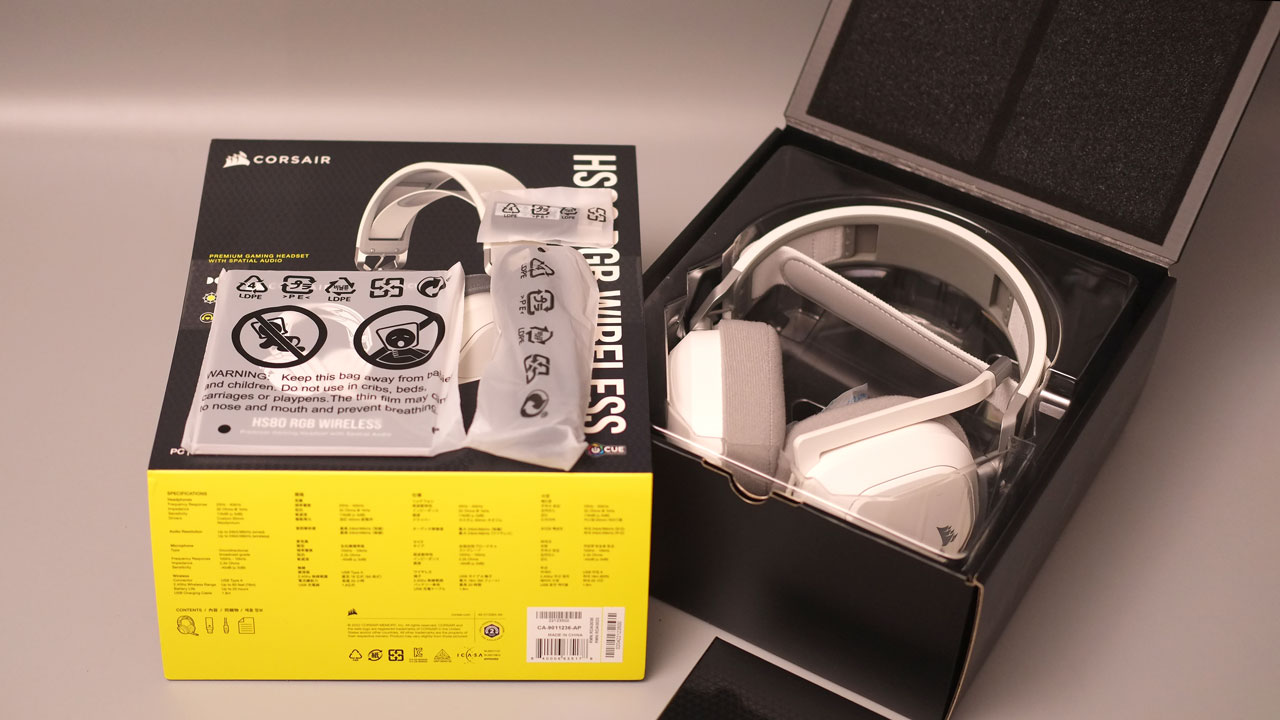 The product should come with the following items:
CORSAIR HS80 RGB Wireless
CORSAIR SLIPSTREAM Wireless USB Type-A dongle
1.8 m USB Type-C to Type-A charging cable
Warranty guide
Decent bundle of accessories we got here.
Design, Build and Connectivity
The HS80 RGB Wireless is nothing like the past two generations of CORSAIR headsets. It has a more elegant closed-back design while still maintaining a somewhat gamer centric look. It also comes in black!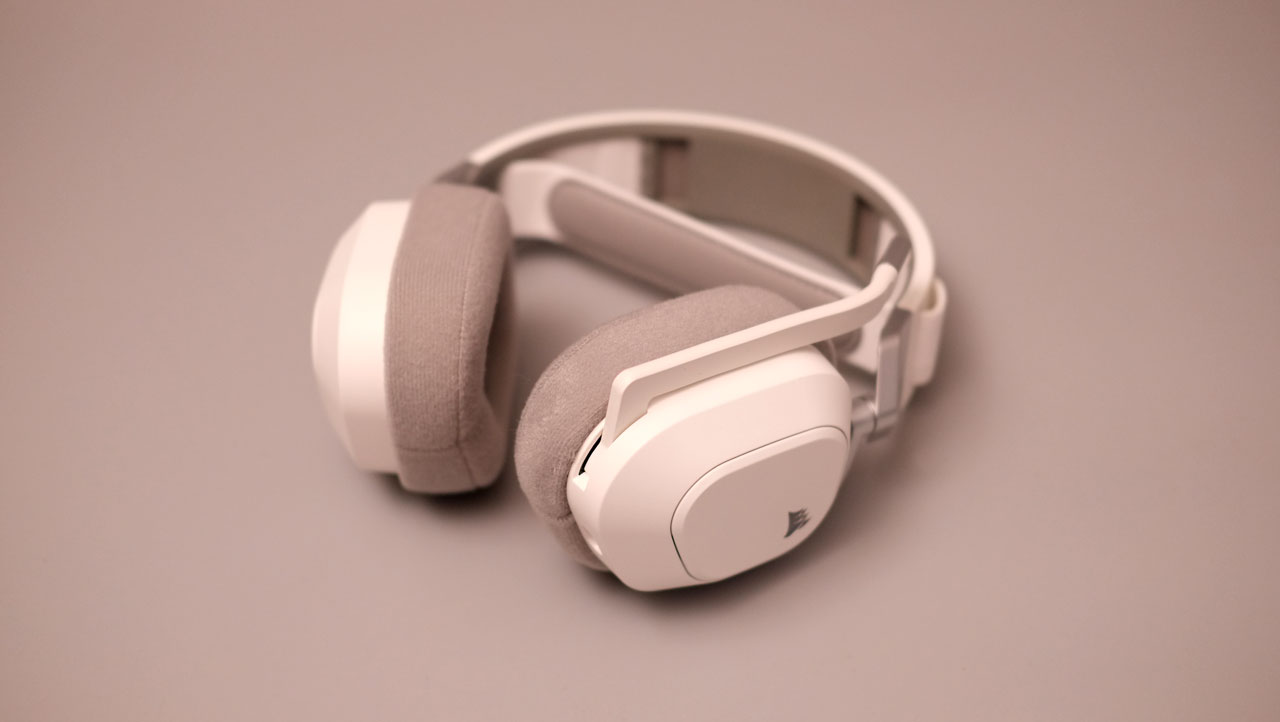 CORSAIR decided to go with a pair of ~3 cm thick fabric-wrapped memory foam pads. This pair is breathable so the HS80 wont be a sweat inducing ordeal to wear. It could be a sweat soaking one though if you play games on a hot summer day without AC.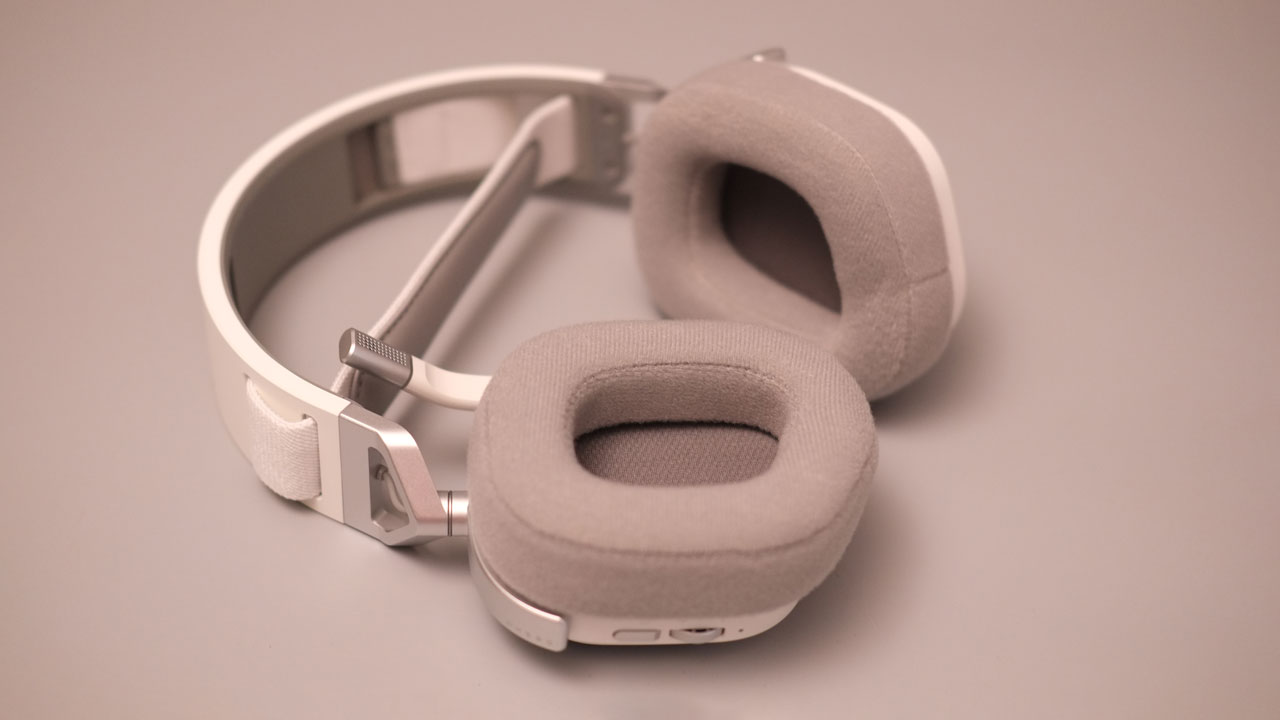 Function wise, the HS80 RGB Wireless comes with a power button, a volume wheel (2 steps, push capable) and a USB Type-C port for the included charging cable.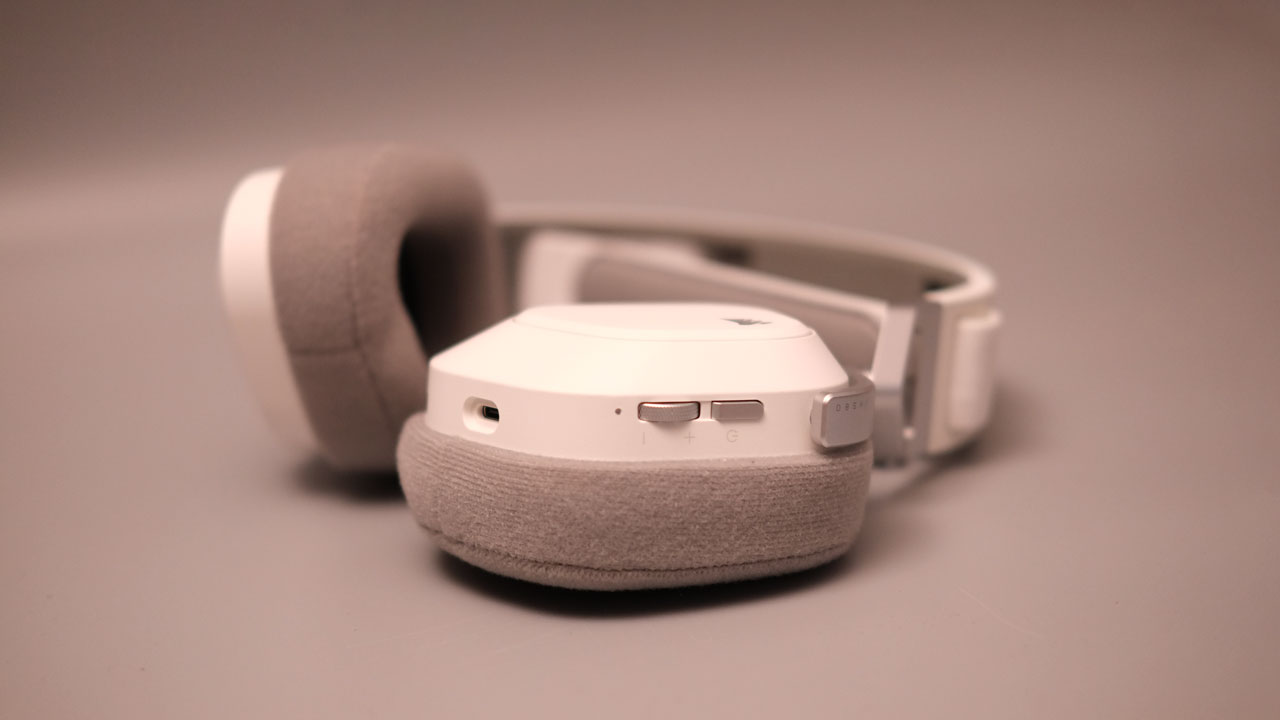 Connectivity on the other hand is provided by the CORSAIR SLIPSTREAM Wireless dongle. No USB Type-C adapter here so you'd better buy your own. Finally we have a braided 1.8 m charging cable – which is stiff AF.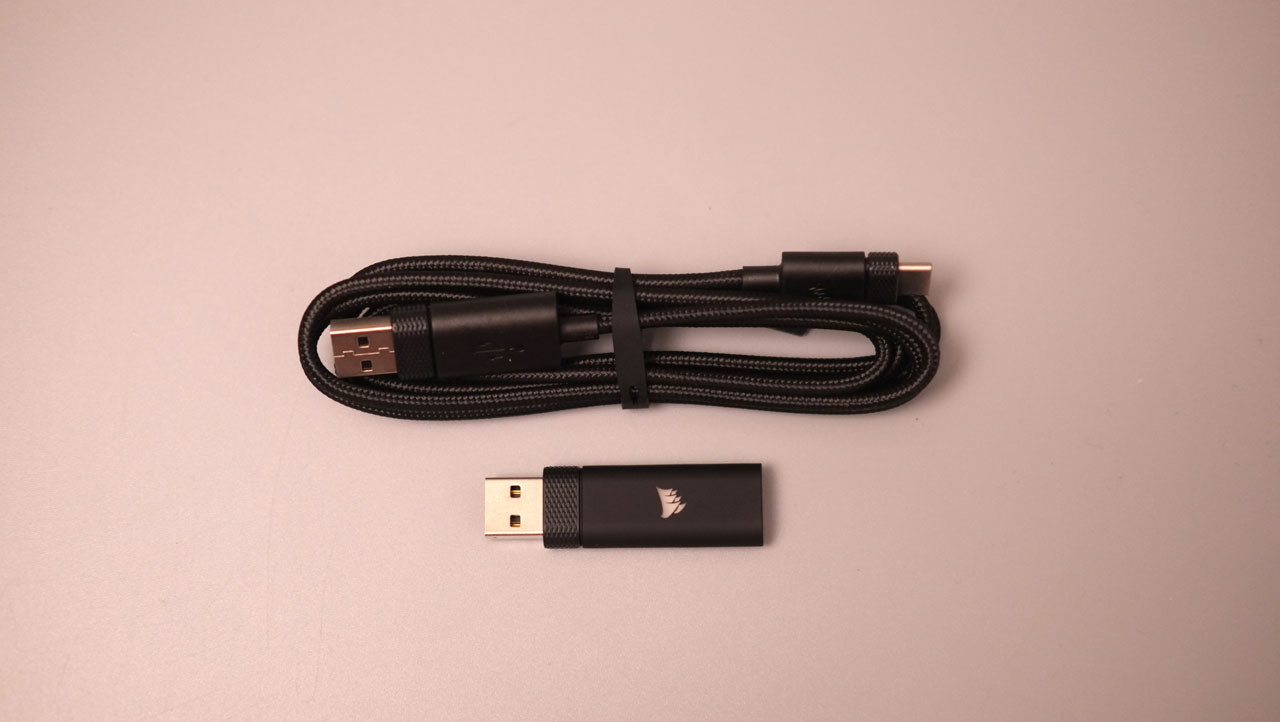 Without the somewhat hideous looking microphone, the HS80 actually looks and feels on par with higher end consumer wireless headphones – with its alloy swivel, hinge design et all. Overall, a pretty nice looking headset.
Ergonomics
The CORSAIR HS80 RGB Wireless weighs in at around 376 grams without the cable. Clamp force is light so it is pretty loose but could easily conform to many head shapes due to its ability to swivel and the addition of an adjustable Velcro strap. Pressure points are actually at the upper half of the cups so seal could be a potential issue for some. For your reference, my head's circumference measures at 54 cm – pretty small, so your mileage may vary.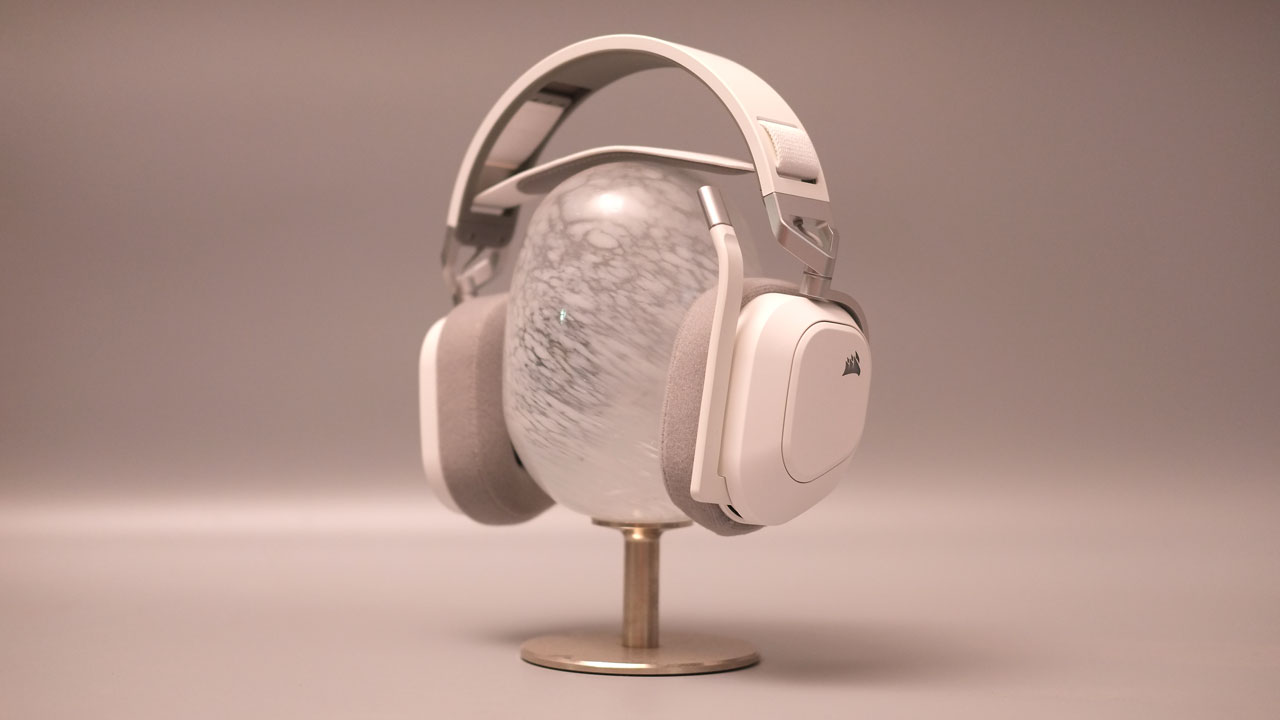 You could actually wear this with glasses with the added possibility to balance the seal. I wish the cup's cavity were wider though for those who have larger ears compared to mine.
Test Setup and Methodology
Our test setup relies on the measurements taken from Room EQ Wizard paired with MiniDSP EARS headphone test fixture. Audio chain has been made simple with the Topping DX7 Pro and Topping A90 for balanced and single-ended devices. It is important to note that we are testing the review sample after burn-in, with at least 24-hours of uptime. This is done so to negate the FOTB (fresh out the box) state of the DUT (device under test), yielding better benchmarking consistency.
Test Setup
Audio Chain
PC > Topping DX7 Pro > Topping A90 > DUT
Test Fixture
MiniDSP EARS
Sampling Rate
24-bit, 48 kHz (PCM)
Software
Room EQ Wizard, foobar2000, Spotify
Due to a number of factors – including the test fixture and its limitations, the measurements obtained here are not meant to be compared from various results you may find online.
Note: This is a wireless gaming headset so zero measurement has been made with our usual audio chain.
Frequency Response vs Target
Sound Pressure Level is measured in Decibels (dB SPL). The test aims to check the frequency response and its adherence to the Harman inspired target from MiniDSP. Objectively neutral for this particular measurement should be ruler flat.
The CORSAIR HS80 RGB Wireless is a tonally wonky headset at stock form. It has an elevated bass to low mid shelf, extra energy at the midrange proper and a huge deficiency towards the upper midrange. While it has proper ear gain at 4 kHz, it comes with yet another deficiency between 5 kHz and 6 kHz. The HS80 RGB strikes to me as a mid-centric/forward gaming headset.
Bass: I find this unnatural with the elevation towards the lower midrange. While it could sound acceptable for some, i.e., emphasized explosions and low-end effects, to my ears it sounds muddy. That means it is too boosted, masking some details otherwise audible on other headsets with similar midrange and treble response.
Midrange: Again, forward – shouty even, but could also sound hollow, tiny and nasal at times. The interaction between the dips and rise around this region is telling. With these factored in, the usual laid-back sounding upper mid dip found on other headphones transformed into a detachment. This is also most likely a by-product of the dip at the treble region. It is not sibilant though, courtesy of the controlled ear gain around 4 kHz which is a plus.
Treble: Veiled, detached and tiny sounding. Acceptable though, even with the dip between 5 kHz and 6 kHz. Lacks airiness but I'd take this approach over the bass region.
Now channel balance is totally fine sans the weirdness of each channel around 500 Hz and the patch between 3 kHz and 4 kHz. You'd still get decent stereo imaging with it and is perfectly fine for games especially with Dolby Atmos enabled – but with EQ enabled. Stage is perceived wide for a closed back but lacks the desired treble energy and overall tonality to feel natural.
Total Harmonic Distortion
Distortion is measured in Percentage (%). The test aims to check the difference between the fundamental signal and the harmonic distortion.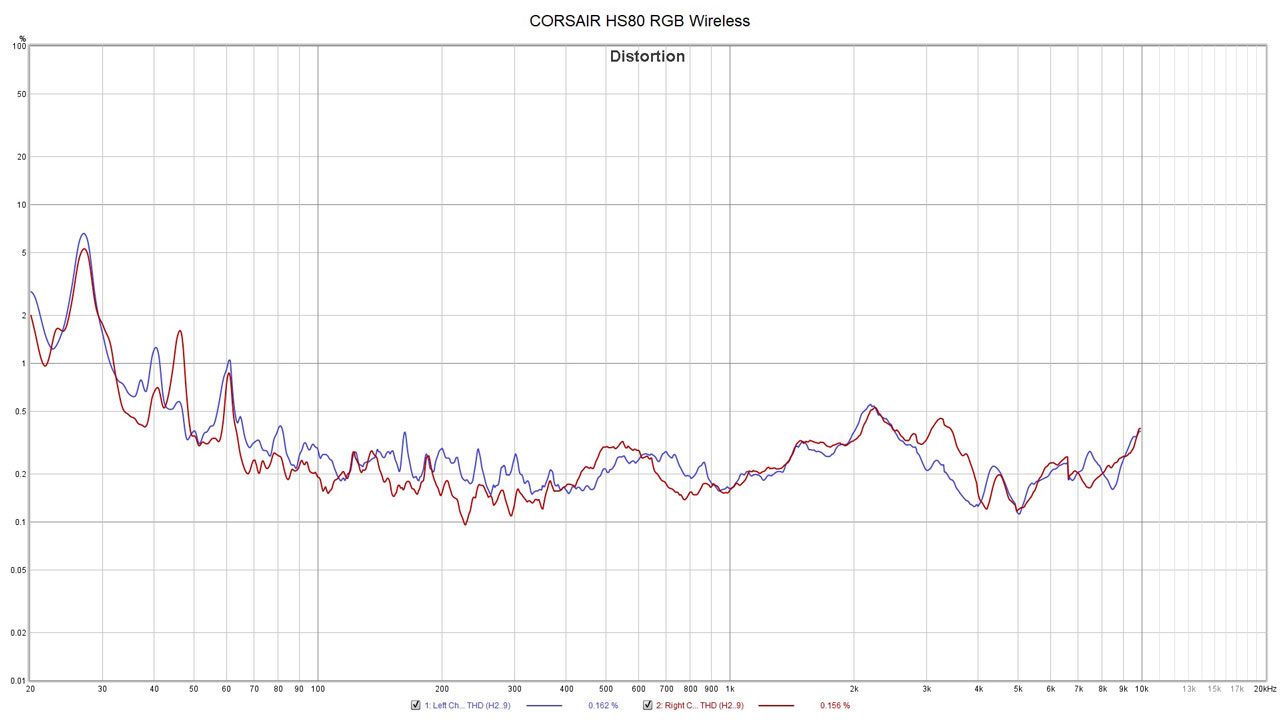 Except for the 5% elevation between 20 Hz and 30 Hz, I think CORSAIR really did a good job with the distortion figures of the HS80 RGB. This means we could safely assume that equalization is possible without introducing audible distortion – except for the bass region and maybe around 2 kHz. These are the places to watch out for.
Group Delay
Delay is measured in Milliseconds (ms). The test aims to check the amplitude over time across the frequency range.
Group delay is not so uneventful. We have huge spikes at 50 Hz and some artifacts at the left channel's presence region on top of the grassy upper treble. This driver is slow compared to lets say, some proper planar magnetics.
Cumulative Spectral Decay
Decay is measured in Milliseconds (ms). The test aims to check the energy content over time across the frequency range.
As for the decay or frequency response over time, the waterfall plots for each channels are clean enough for my liking; except maybe for the rise around the bass and lower mid regions. The resonance around the said regions could very well be the reason as to why its tonality is wonky from the get go.
Acoustic Attenuation
Sound Pressure Level is measured in Decibels (dBA). The test aims to check the noise isolation and leakage of the headphone.
Isolation performance is just eh, okay I guess for a closed back with fabric cloth pads. Leakage output is excellent though!
Features
The HS80 RGB Wireless is a feature rich headset – like many gaming devices from CORSAIR featuring the iCUE software support. Sadly, it is missing some features that I thought would be innate to wireless gears like the seek, pause and play functions. We have preset selection though via a push of the volume button.
Speaking, we have five pre-configured presets. All of them are useless – at least for my taste. Check out the frequency response of each presets below so you'd know what I'm talking about.
Lucky for us, the CORSAIR iCUE comes with a limited yet still useful 10-band equalizer. This enabled us to equalize the HS80 RGB to conform with our Harman inspired target – to an extent. The only stuff we couldn't adjust properly were the deficiencies around 500Hz, 3.5 kHz and 6 kHz. Using the Link EQ Slider feature didn't even help us in this regard.
Once equalized, the HS80 RGB gaming headset came to life with a night and day difference in tonality compared to its stock form. Bass quality and quantity are now miles better along with a neutral AF midrange coupled with agreeable upper midrange and treble regions. Accidentally, the hard to EQ dip next to 3 kHz also gave this headset a believable illusion of a grander sound stage – a bit similar to HiFiMan's tonality but without the super detached treble – actually laid back. For those who are interested, below is my EQ preset using the iCUE software.
| | | | | | | | | | | |
| --- | --- | --- | --- | --- | --- | --- | --- | --- | --- | --- |
| Band | 32 Hz | 64 Hz | 125 Hz | 250 Hz | 500 Hz | 1 kHz | 2 kHz | 4 kHz | 8 kHz | 16 kHz |
| Gain | -2 dB | 0 dB | -3 dB | -8 dB | +4 dB | -11 dB | +5 dB | -3 dB | -5 dB |  -6 dB |
Of course, we also tested its microphone's performance. You may hear it at my SoundCloud profile. It is technically better with more meat into the midrange compared to previously tested headsets.
Final Thoughts
The HS80 RGB is a tonally wonky wireless gaming headset from CORSAIR. I could imagine some folks will actually laugh at it with its all mids, muddy lows and absent highs – it is that mediocre at stock form.
That said, dear me was glad to pour the needed time and effort to make the HS80 truly shine. This is of course partly due to its decent technicalities made possible by CORSAIR themselves so we could properly tune the device without much fuss to think about.
With those in mind, CORSAIR could just release an update with a preset similar to ours – or maybe something even better. Other than that, I have nothing else to say. Maybe the just decent battery life at 17 hours and its over-blown operating range of 60 feet? I dunno… But still, you cannot deny the fact that this is a gaming headset with proper build quality cherry topped by its elegant design – minus the flappy (but good) microphone.
In closing, the CORSAIR HS80 RGB Wireless gets my full recommendation for a no wires attached gaming headset – should you consider equalization. Without it, the HS80 is a coin toss. You either hate it or love it with no in-betweens.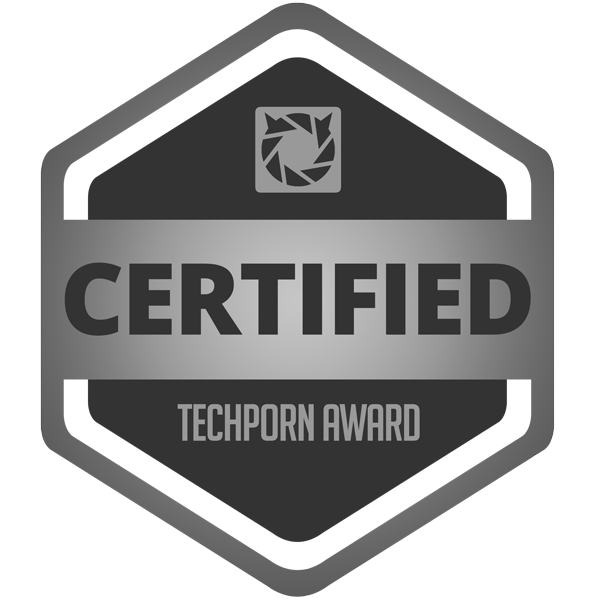 CORSAIR HS80 RGB Wireless Gaming Headset
Summary
The CORSAIR HS80 RGB Wireless gets my full recommendation for a no wires attached gaming headset – should you consider equalization. Without it, the HS80 is a coin toss. You either hate it or love it with no in-betweens.