Up for a much needed review is my personal pair of the HE6se V2. This is an over-ear, open-back, planar magnetic headphone with a price point of $1799 USD. It usually goes on sale for $549 USD via an email promotion – brand spanking new.
The HE6se V2 is a collaboration between HIFIMAN and Adorama, making it a somewhat limited edition product. Now the headphone features the heritage of the original HE6, meaning it should come with the dynamics and the wow factor of the series. It is more closely related to the HE6se though – hence the V2.
Disclosure: I bought this headphone directly from Adorama for the purpose of this review. The company did not ask me to say anything particular about it.
Technical Specifications
Headphones
Design
Circumaural/Over-ear, Open-back
Transducer
Orthodynamic/Planar Magnetic
Frequency Response
8 Hz – 65 kHz
Impedance
64 Ω
Sensitivity
83.5 dB/mW
Connectivity
Dual 3.5 mm to 4-pin XLR with 6.35 mm (1/4″) adapter
Microphone
Transducer
—
Polar Pattern
—
Frequency Response
—
Sensitivity
—
Dimensions
Length
—
Width
—
Height
—
Weight
470 g, without cables
Packaging and Accessories
The HE6se V2 comes in the usual HIFIMAN boxed packaging we used to see. It is strikingly similar to the packaging of the more budget oriented HE400i 2020. This is a possible indication that the money goes to the actual product – as opposed to the presentation.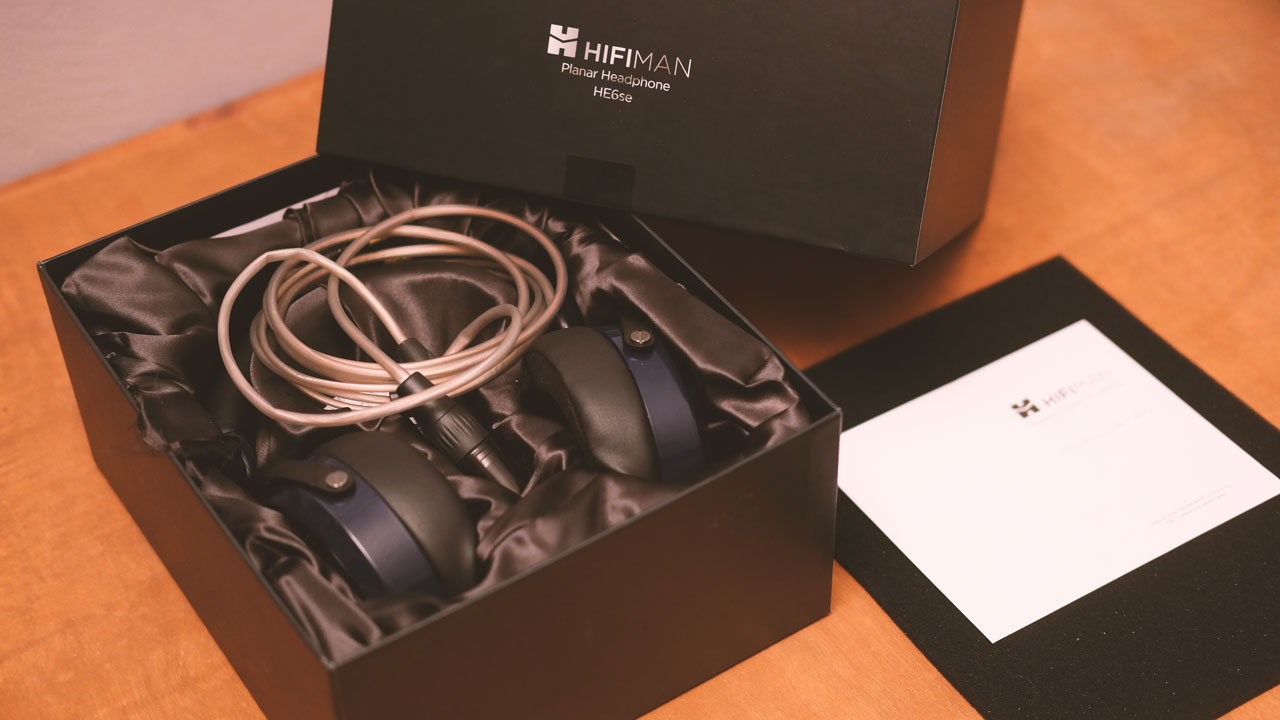 The product should come with the following items:
HIFIMAN HE6se V2
Dual 3.5 mm to 4-pin XLR cable
XLR to 6.35 mm adapter
Warranty guide
Actually decent bundle of accessories we got here.
Design, Build and Connectivity
The HE6se V2 looks like your typical open back circumaural planar magnetic headphone from HIFIMAN. It shares many similarities with the recently released HE400i 2020, HE400se and many more. The big differences between the said models are the colorway, the pads and the weight. For an instance, the HE6se V2 comes in Dark Navy Blue with the PaliPads and a weight of about 470 grams.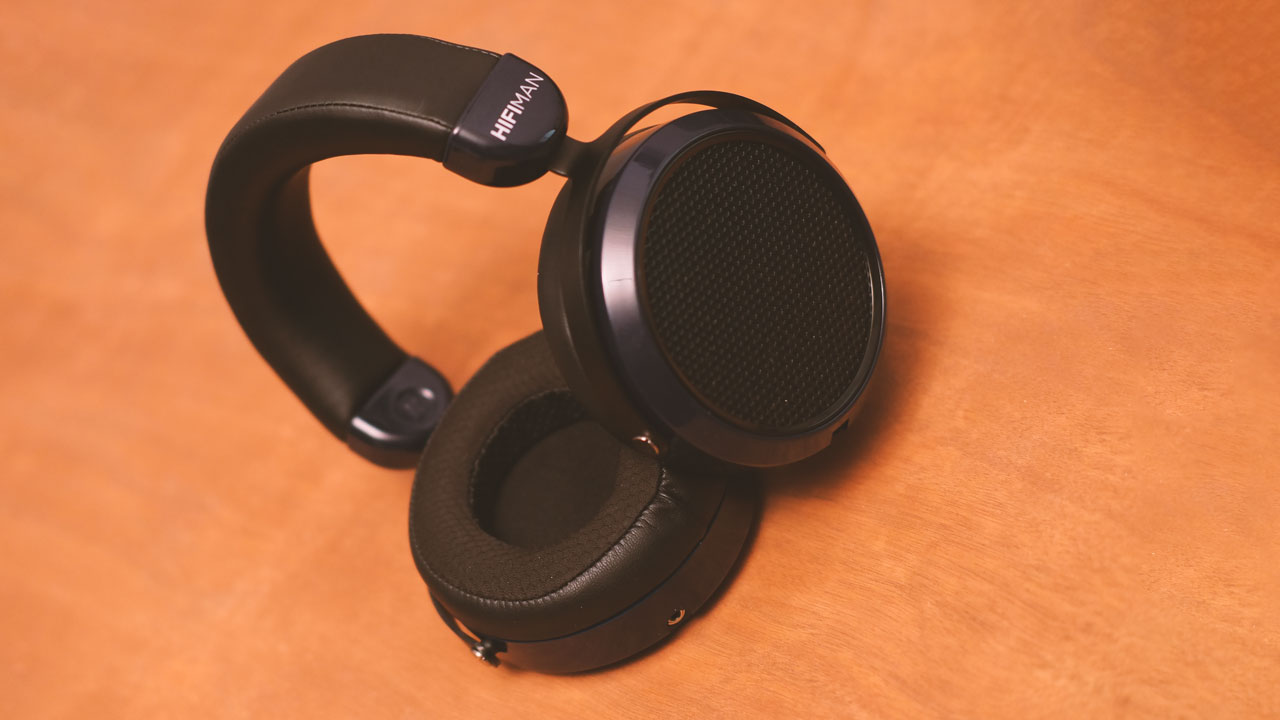 The HIFIMAN PaliPads comes standard with the HE6se V2. These are angled by nature to provide a better stereo image but most importantly, its minute effects to the tonality of the headphone itself  – along with comfort of course.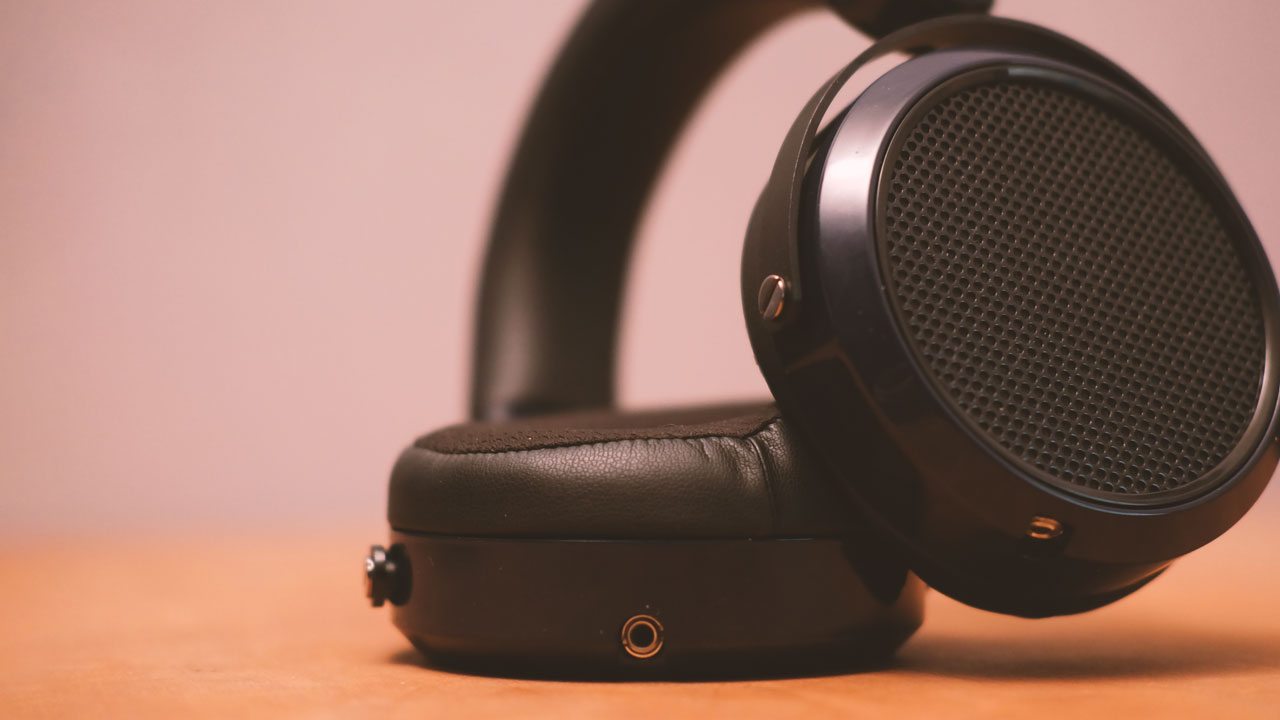 Connectivity wise, the HE6se V2 comes with a mediocre 3.5 mm L/R cable, terminating to a female 4-pole XLR with an added 6.35 mm adapter – that's the 1/4″ jack for imperial folks. The cable actually works fine with crystalline copper and silver material et al, but for something that retails for $99 USD on its own with discount ($249 USD, MSRP), it shouldn't look and feel like something you ought to leave at the hospital.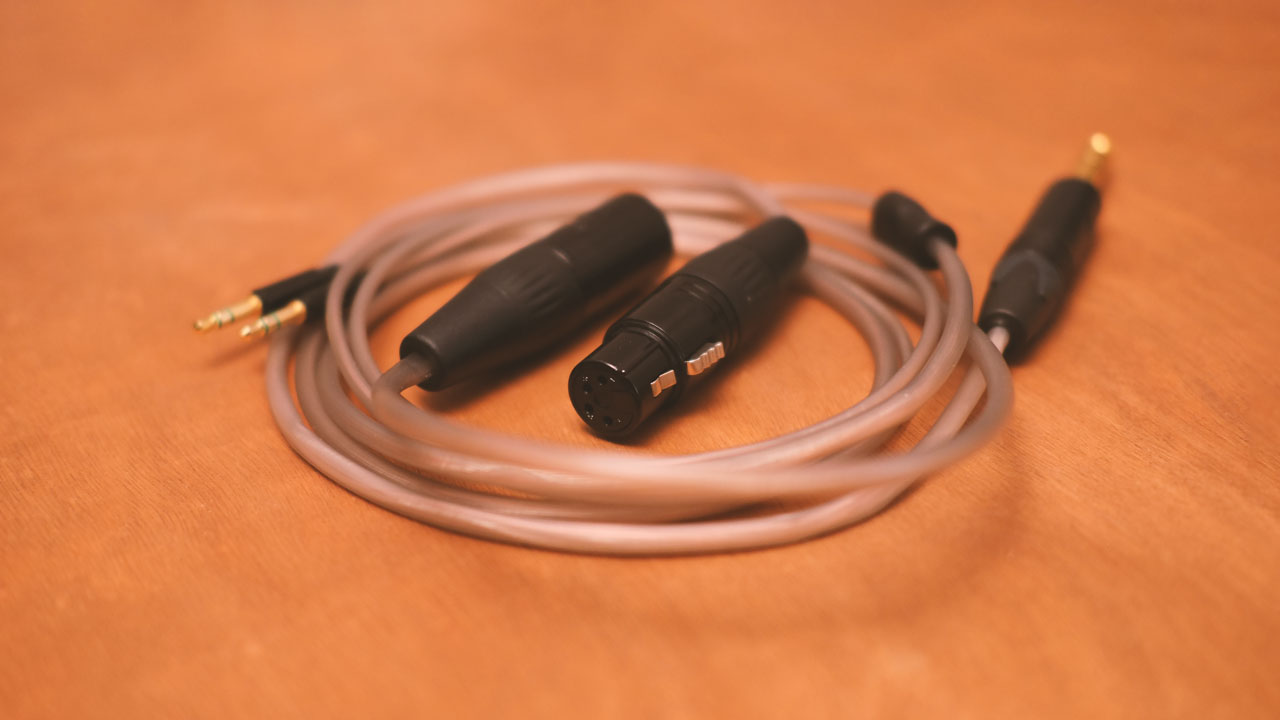 Overall build quality is decent. While it doesn't look like a $1799 USD headphone, the heft and its golden drivers alone indicates that it could very well be within the ballpark of its discounted price.
Ergonomics
The HE6se V2 is a heavy headphone weighing in at around 470 grams without its cable. Clamp force is similar to other HIFIMAN models with the Deva-style headband so it is pretty loose but still conforms well to due to its ability to swivel. That said, pressure is still decently distributed across the coupler but with a bit of a hot spot at the middle of the headband – where most of the weight is felt. For your reference, my head's circumference measures at 56 cm – middling, yet your mileage may still vary.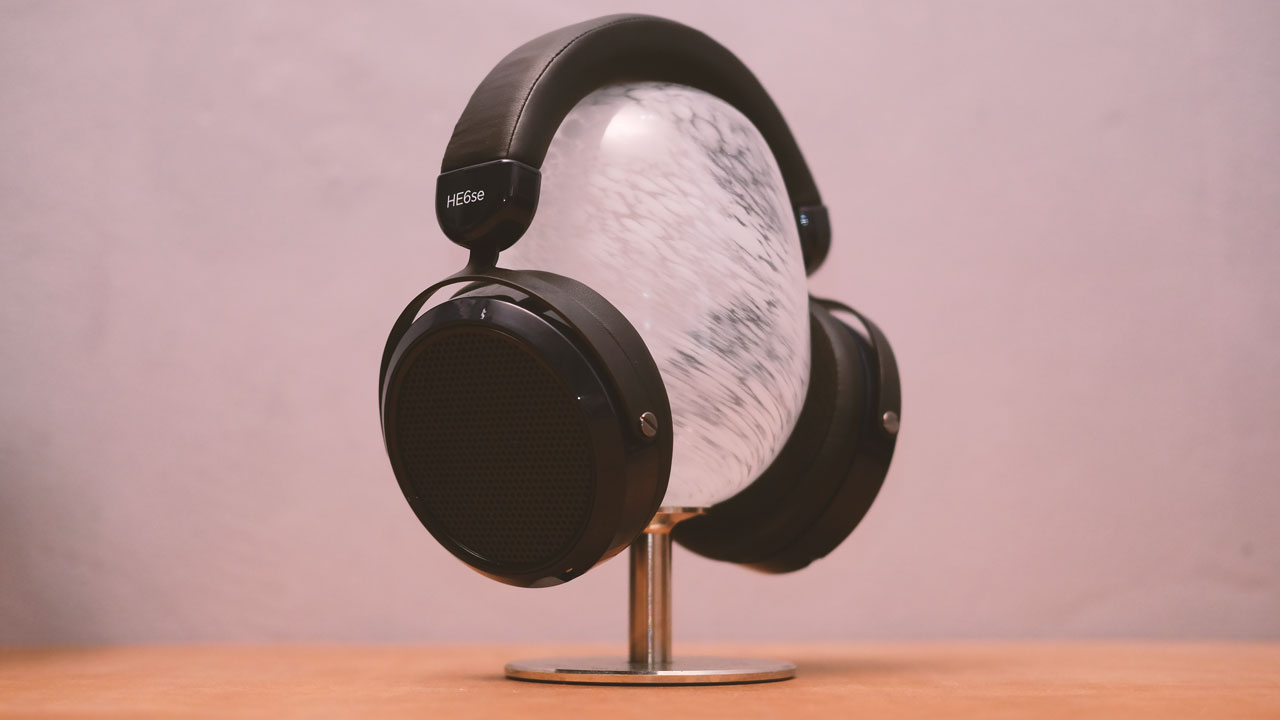 Perfect seal and ear comfort is possible with the PaliPads even with glasses on. These are plush stock pads with enough breathing room for ears featuring a width below 2 cm.
Test Setup and Methodology
Our test setup relies on the measurements taken from Room EQ Wizard paired with the MiniDSP EARS headphone test fixture. Audio chain has been made simple with the Topping DX7 Pro and Topping A90 for balanced and single-ended devices. It is important to note that we are testing the review sample after burn-in, with at least 24-hours of uptime. This is done so to negate the FOTB (fresh out the box) state of the DUT (device under test), yielding better benchmarking consistency.
Test Setup
Audio Chain
Topping DX7 Pro -> Topping A90 -> DUT
Test Fixture
MiniDSP EARS
Sampling Rate
24-bit, 48 kHz (PCM)
Software
Room EQ Wizard
Due to a number of factors – including the test fixture and its limitations, the measurements obtained here are not meant to be compared from various results you may find online.
Note: The HIFIMAN HE6se is a highly inefficient headphone. You need at least 2 W into 50 Ω to drive it properly according to HIFIMAN. My experience also checks out with this claim using the Topping DX7 Pro which is rated at 1.7 W @ 32 Ω. That said, the HE6se V2 gets loud with the setup but it sounds constrained compared to lets say, the Topping A90 – a proper amplifier that could output a maximum of 6.4 W @ 32 Ω.
Frequency Response vs Target
Sound Pressure Level is measured in Decibels (dB SPL). The test aims to check the frequency response and its adherence to the Harman inspired target curve from MiniDSP.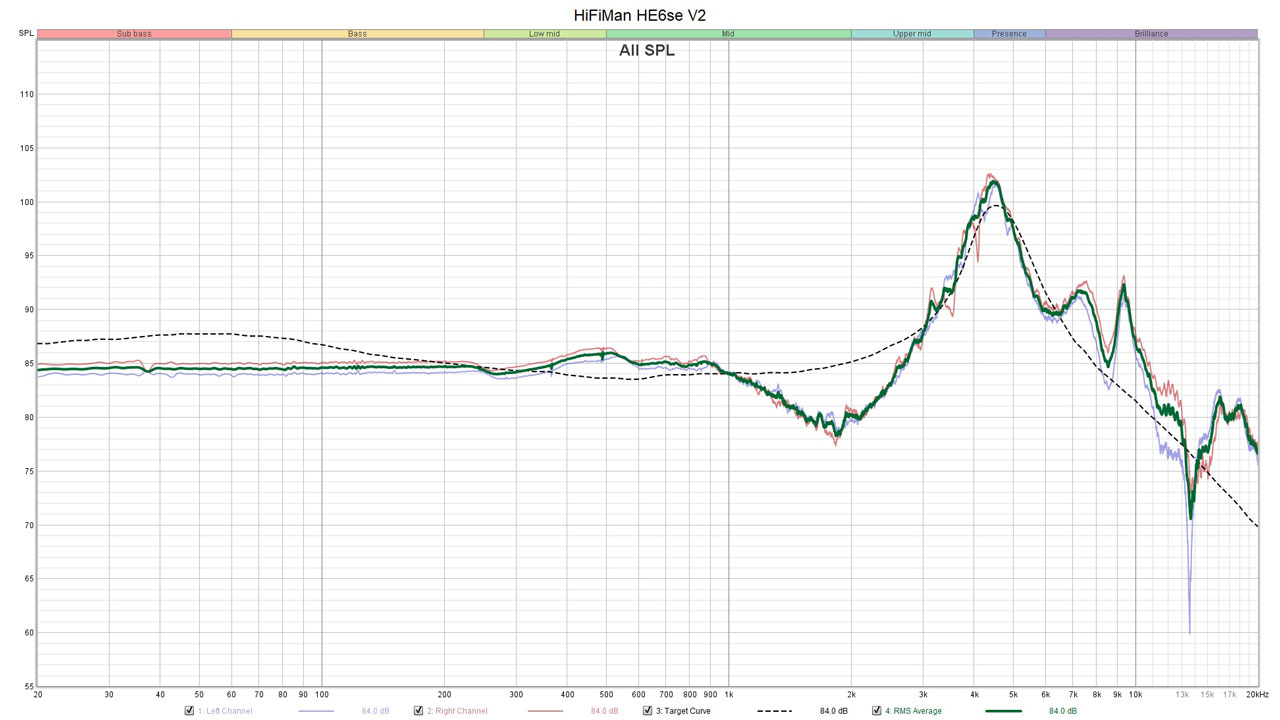 The HE6se V2 is what I could say a technically proficient headphone with a ruler flat bass response, scooped midrange and an airy treble. This frequency response is typical HIFIMAN tuning and is what many already consider neutral with a slight hint of warmth.
Bass: Flat yet well extended – down to 20 Hz. The HE6se V2 has one of the best bass response I have ever heard and felt on a planar magnetic even at its stock form. You don't have to match the target to enjoy it, featuring enough authority for a hair-raising punch and slam factor when the recording calls for it. The HE6se V2 is that impressive when it comes to this region. It also goes to show that there's more to headphones and audio gears in general over target adherence alone.
Midrange: Smooth and rather laid back in presentation due to the scoop between 1 kHz and 3 kHz. While it lacked a bit of weight around these areas, I felt like I wasn't missing much when it comes to clarity – a usual tradeoff when this region has deficiencies. This could be due to the small rise around 500 Hz but I'm not entirely sure. I dig the Sennheiser HD600 for its lush and full-bodied midrange, but even with a scoop here, the HE6se V2's technical performance made up for what it lost. I think this explains why it sounds so detailed and tactile, yet also effortless at the same time with good timbre to boot.
Treble: Perfect for my taste or at my age rather. There is enough sparkle and air around this region without sounding harsh, piercing nor fatiguing – contrary to the frequency response graph. This area just sounds so good with the HE6se V2 without the usual trade-off of being too clinical compared to other high-resolution headphones.
Now channel balance is totally fine with a few decibels off across the audible frequency range so stereo imaging should still be on point. That means you could experience a precise phantom center and a clear idea of where the instruments are in any given arrangement. Stage on the other hand is perceived wide, grand even – which is again, most likely attributed to its midrange dip and overall tonality. While it has that grandeur presentation, it doesn't sound extra wide nor tall though – something that the egg-shaped HIFIMAN models do well in this regard.
Total Harmonic Distortion
Distortion is measured in Percentage (%). The test aims to check the difference between the fundamental signal and the harmonic distortion.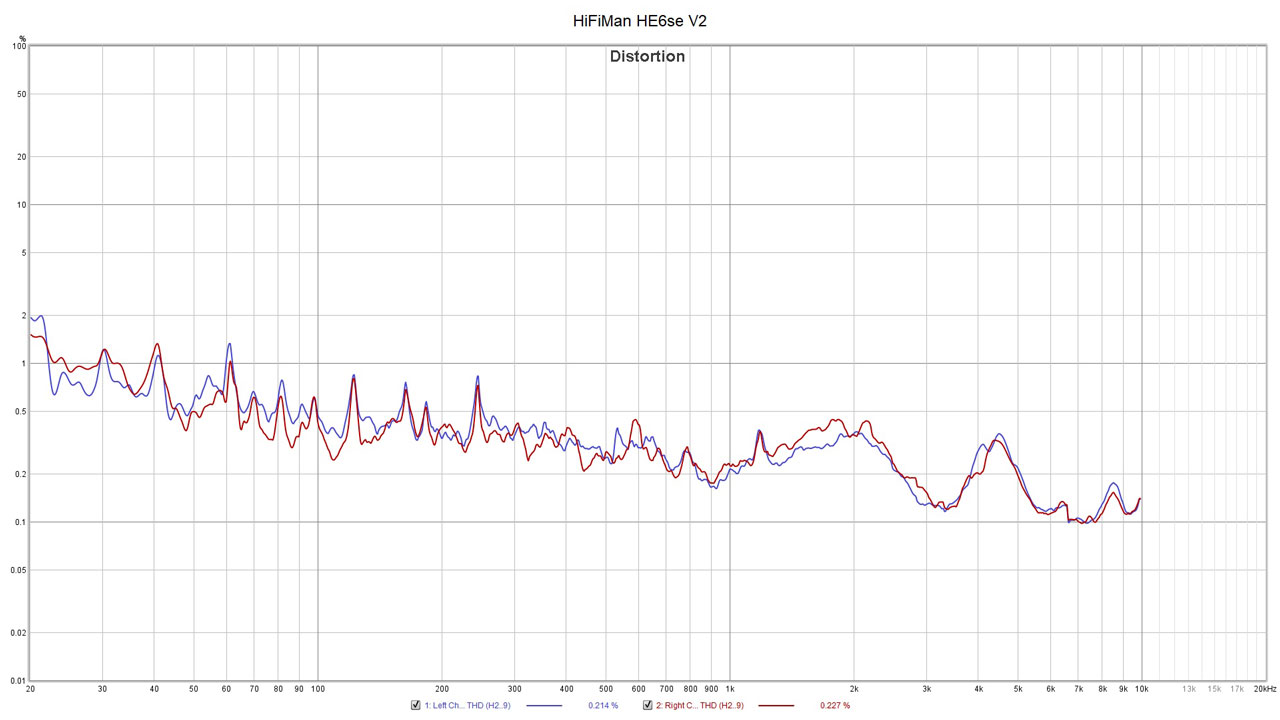 Good results we got here despite the >1% elevation around the bass region. This could be a potential problem if you want to apply EQ by boosting the said frequency band to match the bass shelf of the Harman AE/OE target curve. PEQ is your friend in this regard especially with Equalizer APO and its ability to set pre-amp gain into a negative value.
Group Delay
Delay is measured in Milliseconds (ms). The test aims to check the amplitude over time across the frequency range.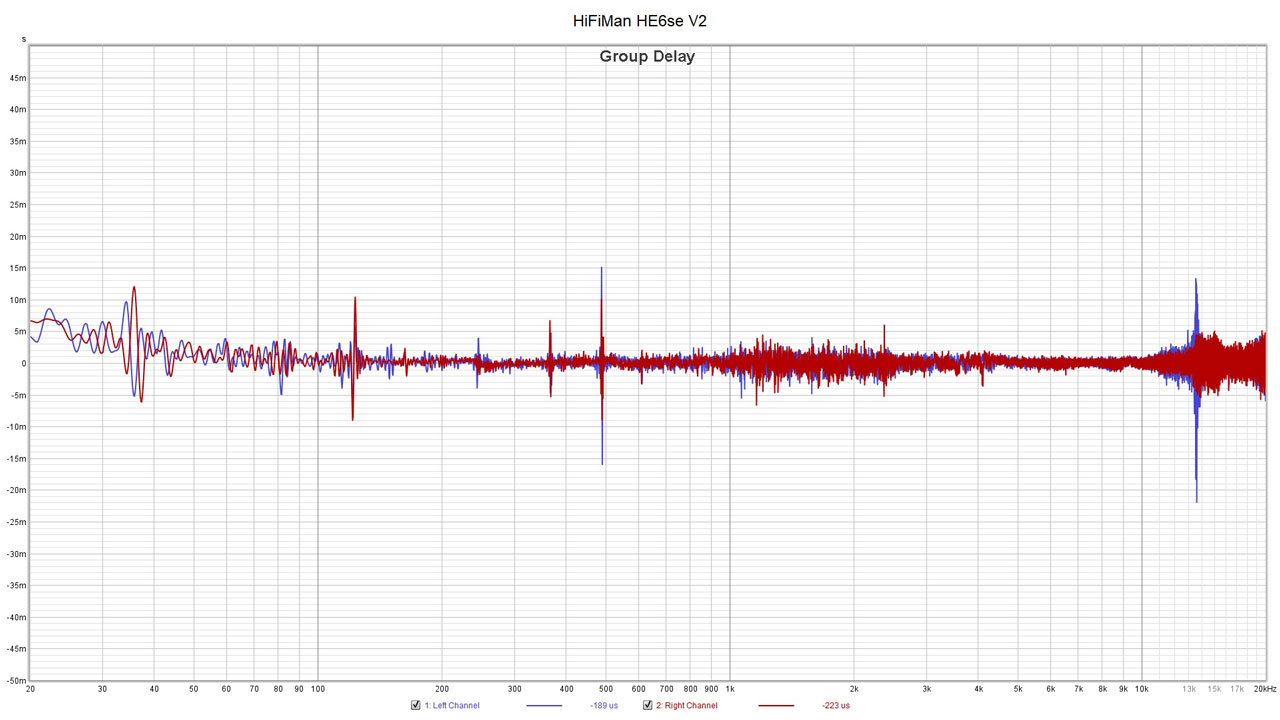 Group delay is mostly uneventful with the exception of the spike around 120 Hz, 500 Hz and 14 kHz. The spikes around 120 Hz and 500 Hz are most likely artifacts from my measurement rig. Regardless, these huge drivers are just quick to reach their maximum amplitude over time – planar speed, defined.
Cumulative Spectral Decay
Decay is measured in Milliseconds (ms). The test aims to check the energy content over time across the frequency range.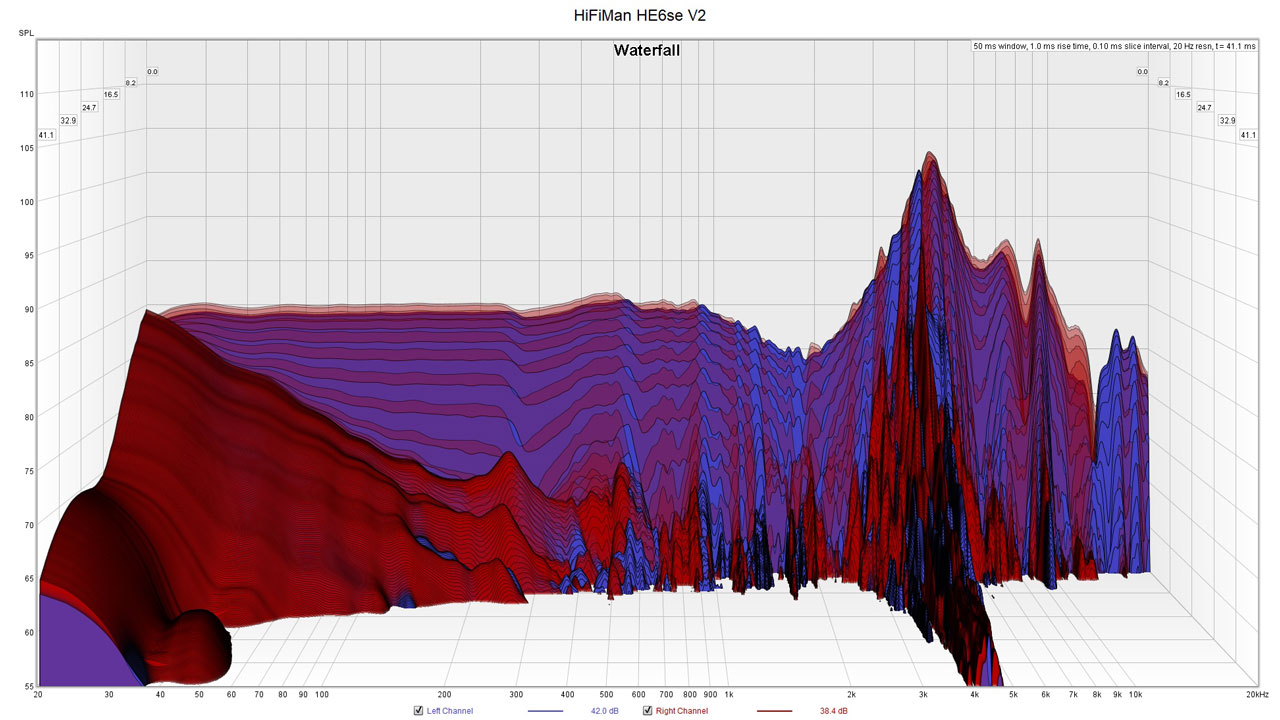 Now as for the decay throughout the frequency range, I could say this is good – totally not as messy as some budget oriented stuff we've tested way back. Resonance could be seen around 50 Hz, 200 Hz and a few more but short-lived ones at the treble region. This is clean enough for my liking.
Noise
Sound Pressure Level is measured in Decibels (dBA). The test aims to check the noise isolation and leakage of the headphones.
Isolation performance – or lack thereof is what I expected with such an open-back design from HIFIMAN . Leakage output is a bit better though compared to the Sennheiser HD600.
Features
The HE6se V2 is no gaming headset nor a general consumer product, but it is a feature rich headphone for its demographic – considering what you could do with it. For an instance, it is a DIY friendly headphone, able to have the cables, headband, pads and grills swapped to your liking. I have mine configured with the HIFIMAN Velour Pads along with the HIFIMAN Newly Enhanced Comfort Headband.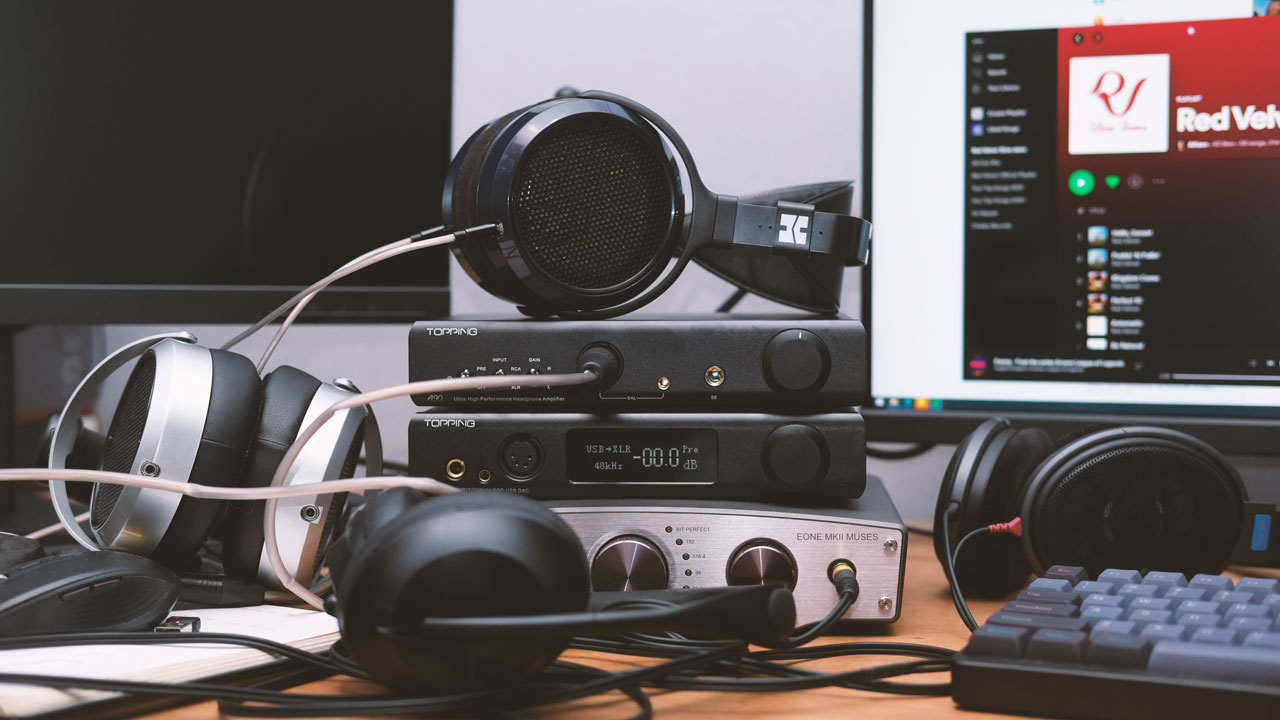 This configuration allowed me to enjoy a more linear bass to midrange response (less dip around 2 kHz) while at the same time, darkening the upper mids and treble by a good bit which is what my younger brother prefer – along with a tighter clamping force.
Final Thoughts
With a laidback tonality yet still within the bounds of neutrality, the technically impressive HE6se V2 is an excellent entry into the world of high-end headphones. That's without the need to approach the $1000 barrier – provided you could get it at a discounted price. The only thing holding it back is its inefficiency, requiring you to invest on a powerful amplifier to get the most out of it.
My personal experience also made me realize that the HE6se V2 is an easy recommendation to those who are already exploring the depths of the audiophile world – with powerful amplifiers already backing them up. At the same time, the HE6se V2 is a somewhat harder product to recommend for new comers due to its requirements. I actually saw a lot of open-box deals probably from previous owners whom couldn't power them well enough.
Now build quality is similar to other budget oriented headphones HIFIMAN has to offer and I would say comfort is generally the same too with the added weight to bear. I must add that this is my second unit, with the first one returned due to a massive channel mismatch. Adorama and HIFIMAN's support are awesome though so there's that for an added peace of mind if you get a dud.
In closing, the HIFIMAN HE6se V2 is well worth its discounted asking price. Just keep in mind its power requirements and the other quirks that came with it – that includes the hideous cable.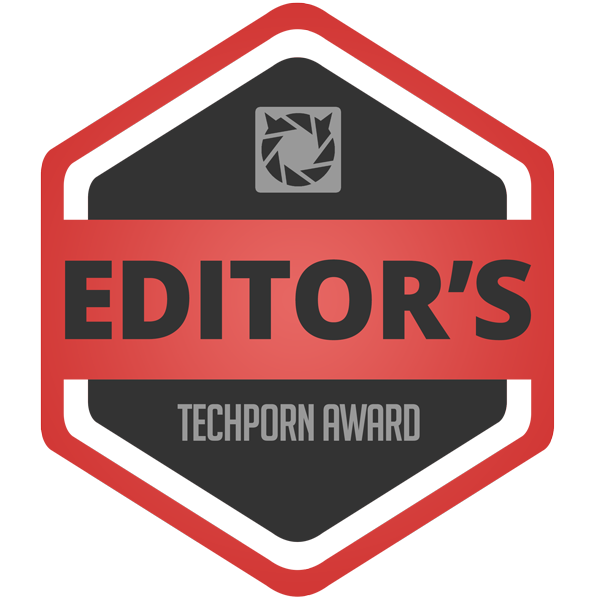 HIFIMAN HE6se V2 Headphones
Summary
The HIFIMAN HE6se V2 is worth every penny at its discounted price point. It has the technicality of high-end planar magnetics paired with a pleasing tonality. Hard to beat if you have the power to make it sing.