Mechanical keyboards through the years have changed the landscape of the PC Industry. While it is evident that they have been here decades ago, the surge of their popularity these recent years just proved that the general public demands their presence especially gamers where mechanical keyboard companies simply cannot disregard.
While the Ducky DK2087 TKL keyboard isn't exactly aimed for gamers, it features one thing that gamers love – simply the fact that it is fully mechanical and features a TenKeyLess form factor (80% layout). We've had the Ducky DK2087 for almost a year now, and we'd like to share our experience with it in this little review – Why I bought it, and simply put, why it's one of the best when it comes to gaming at a very tempting price point of 2, 900 Pesos.
FEATURES & SPECIFICATIONS:
There isn't much to say about the Ducky 2087, especially if Ducky has little information about it. Maybe because it's basic of the basic when it comes to mechanical keyboards, and for that fact we applaud it.
Basically, the keyboard conforms to the 80% TKL layout, with a Dual Layer PCB for added strength, NKRO functionality, and a Windows Key Lockout among the few. It is only available in Cherry MX Blues so if you're shopping for keyboards with Cherry MX Reds, Browns, and Blacks, then this one is not for you.
BUNDLED ACCESSORIES:
Ducky decided not to include unnecessary paperworks in their bundle with the keyboard which is always a good sign that they've put most of their effort into designing the product itself. The bundle consists of a simple Ducky logo based guide for the function keys complete with a basic specification sheets, a key cap puller styled in Ducky fashion, and a set of extra Pink WASD keys for FPS gamers.
THE DUCKY ZERO DK2087 TKL:
80% and TenKeyLess layout is the name of the game with the DUcky DK2087. It features a basic design, encased in a black yet durable plastic casing and feels solid as its 1.2 Kg weight. It's not flashy, but it wont have a problem blending with your gears and desk due to its basic design. A professional-like appearance I must say.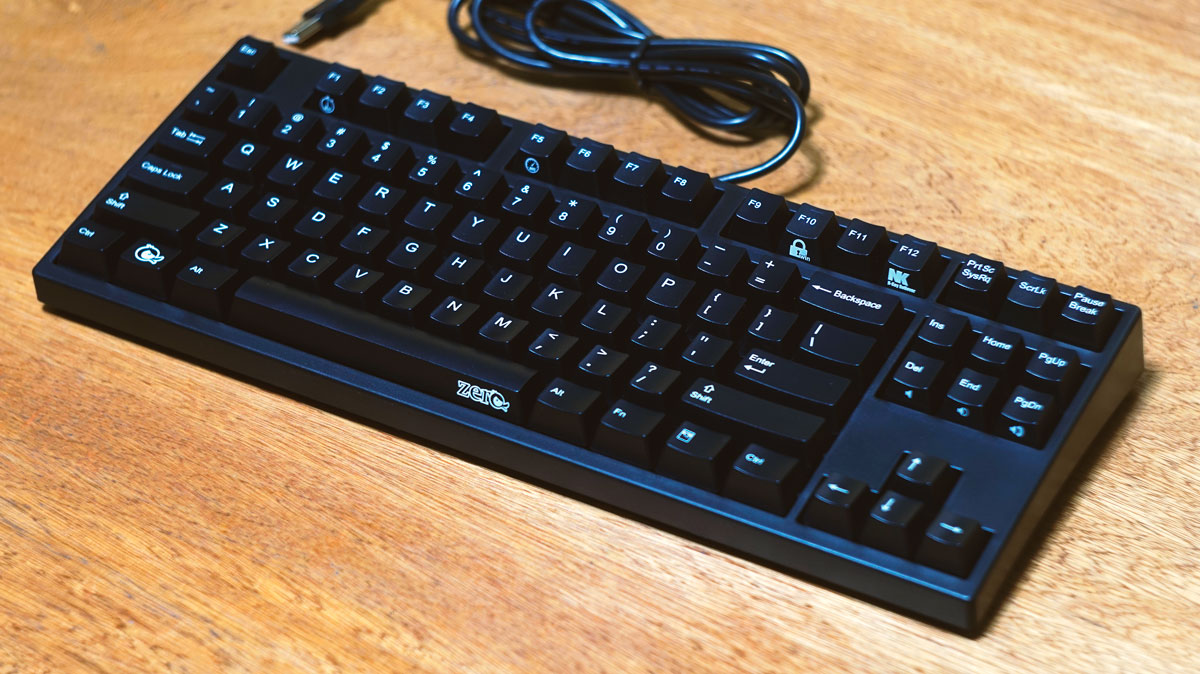 The back has no cable routing channels, but is as clean as a newly paved hi-way. It features four rubber footings which enables solid typing experience, and a 1-1/2″ riser as well with its own rubberized footing. Don't be bothered by the blueish tint. That's from my camera's flash.
The keyboard stands at a minimum of 1/2″ and at a maximum of 3.5″ without the riser. The key caps are ABS, molded in a standard cylindrical housing and features good quality of print – as expected from Ducky. I'm not sure what method is used, but it looks like Ducky used the Ablation method for most of the keys.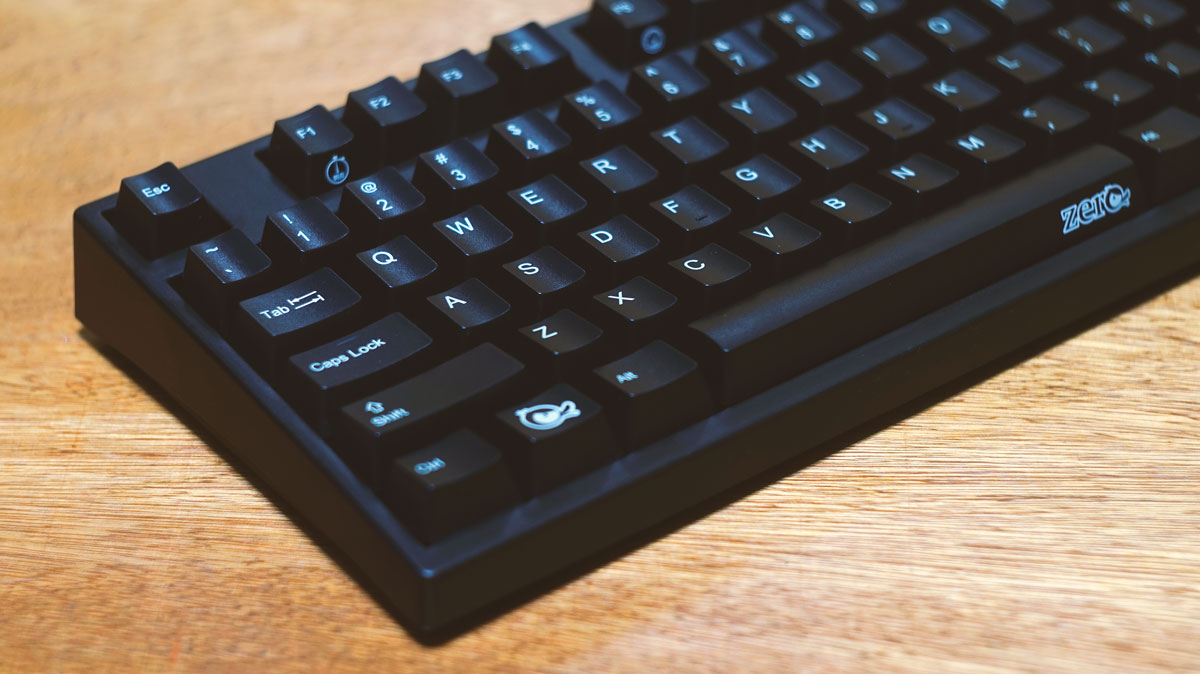 The DK2087 feature N-KRO, and is switchable from a 6-KRO via the Function Key. You could also disable the Windows Key for gaming purposes and have the volume increased or decreased (even muted) via the said modifier. Repeat Delay, and Repeat Rate could also be adjusted on the fly.
As said earlier, the DK2087 is only available in Cherry MX Blue configuration. It is my favorite mechanical key out of the bunch from Cherry and it's a pleasant sight to see. For the un-initiated, the Cherry MX Blues are light, yet tactile and clicky switch and is one of the noisiest switch out of the bunch with a recorded 61-68 dBA noise output per click on our unit.
The extra WASD keys are unfortunately pad printed, but they wont wear off easily with a thick coating so it's still good. There are actually 10 LED lit keys at the keyboard considering the price, and the key caps appears to be double shots with a transparent inner cap.
A look at the bottom of the caps suggests that the LED enabled switches has Ducky's very own ABS double-shot backlit capable caps. These are a welcome sight to the budget mechanical keyboard and I expect nothing less from the company itself. Very nice.
The Keyboard's USB 2.0 cable is long, and is never flimsy to begin with. It's my least favorite part of the keyboard to be honest but considering the price-point I understand Ducky's choice to go with a standard cable rather than a fully sleeved one.
The keyboard is small, and to be honest the lack of numeric pad isn't that bothersome compared to the space you'll save. The TKL form factor also helps in ergonomics too by saving you precious space for your mouse – keeping your arm movements to stay within a comfortable level. Helpful in long periods of gaming.
USER EXPERIENCE & CONCLUSION:
Having tested all Cherry MX mechanical switches except for the Cherry MX Clear, I could say that I have a partial bias towards the Blues simply because it is my favorite out of the bunch. It doesn't mean that I hate to use other keys though – as I also prefer the Browns next to the Blues. I just like these keys due to the fact that they are generally good at typing and gaming based on my experience over the past few years.
Knowing that the Ducky DK2087 features a Cherry MX Blue, I simply had to get one for the fact that it has my favorite keys – Plus, it's budget friendly and features a TKL layout at 80%. Before the arrival of the DK2087, I got another keyboard with the same keys but has a full sized layout. Tired of reaching too far & wide with my mouse next to a full layout keyboard with FPS games, I simply had to switch for the good especially if you're playing Battlefield games where conquest type matches could last for more than an hour.
It's hard to tell the perks of using a mechanical keyboard to everyone especially if you haven't tried one yourself. But, let me tell to those who have yet to feel the difference that it is actually night and day apart – especially if you've found your sweet spot. Or should I say, your Cherry MX Switch of choice. For the initiated, you'll instantly know what you guys need, so if this keyboard's features clicks for you then I suggest giving it a try.
Now the reason why I like this keyboard comes from many things big and small, but lemme tell you that TKL is the way to go if you have a small desk to spare, and requires precise yet nimble arm movements to play comfortably. If you could live without the numeric pad, requires an MX Blue, and doesn't need fancy features then this keyboard should be on your list. At 65 USD converted, the Ducky DK2087 is solid and hard to match on its price point.
THE VERDICT
PROS:
COMFORTABLE TKL EXPERIENCE
SOLID BUILD QUALITY
INEXPENSIVE AT $65
NKRO CAPABLE
LASER ETCHED KEYS
CONS:
Ducky 2087 TKL
PERFORMANCE -

8/10

BUILD QUALITY -

9/10

FEATURES -

7/10

AESTHETICS -

8/10

VALUE -

9/10
Summary
If you could live without the numeric pad, requires an MX Blue, and doesn't need fancy features then this keyboard should be on your list. At 65 USD converted, the Ducky DK2087 is solid and hard to match on its price point.