ECS released ITX Form Factor Z97I-DRONE Gaming Motherboard to L337 Gaming Squad
2014/10/09 Taipei, Taiwan— Over 27 years of experience, motherboard leading manufacturer ECS proudly announced that its high-end gaming motherboard series, L337 Gaming, launched the latest Z97I-DRONE to its lineup. With the rise of the Mini ITX gaming market demand, L337 Gaming Z97I-DRONE is the wonderful choice for users from every perspective.
L337 (pronounce as LEET) is derived from ELITE. The L337 alphabet is a specialized form of symbolic writing. The term L337 is used as an adjective to describe formidable prowess or accomplishment, especially in the fields of online gaming. L337 Gaming was created to dedicate efforts in developing products focused on gamers, and Z97I-DRONE is the latest member of L337 Gaming Motherboard. Equipped with Z97 Express Chipset, the Mini ITX form factor Z97I-DRONE provides 2 Dual Channel DDR3 3000+ (OC) Memory up to 16GB, 1 PCI-Express x 16 Gen. 3 Slot, and 1 M.2 Slot for Wi-Fi/Bluetooth device. In addition to enhance the gaming experience, the "Low-to-Full USB Speed" technology is designed for gamers, delivering an optimized 8-time faster keyboard and mouse report rate from 125Hz to 1000Hz, which is a true benefit, especially for FPS gamers. Besides, Z97I-DRONE introduces Intel® I218V Gigabit LAN to provide the outstanding fast LAN networking for gaming and avoid latency.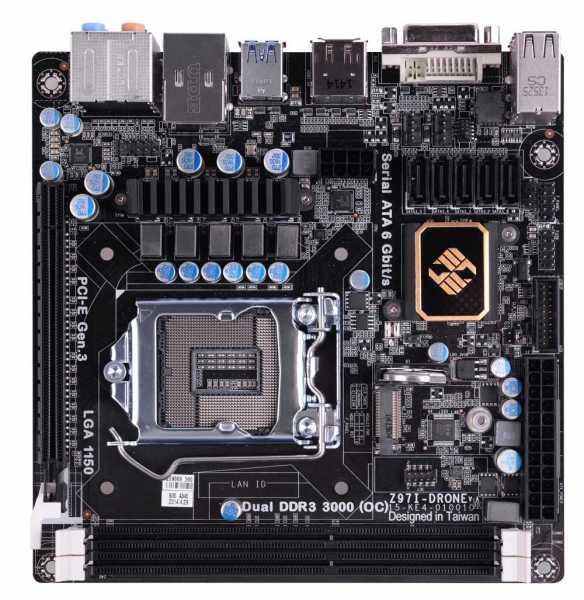 In order to fulfill the higher standard ITX motherboard requested from users, L337 Gaming Z97I-DRONE equips the new "Hybrid Power" technology to strengthen the outstanding performance and deliver remarkable stability. First of all, the Hybrid Digital 5-Phase PWM is designed for managing microprocessor core and memory voltage regulator with auto phase shedding, and Dual Advanced MOSFETs provides up to 90% power efficiency, which allows extreme heat dissipation with the optimal combination of fast switching, high efficient power conversion and low on-resistance. And speaking of stability, Z97I-DORNE adopts the ultimate long-lifespan Nichicon Japanese Capacitors with the highest standard of stability, reliability and longevity to fulfill hard core gamers' demand and overclocking application. Lastly, the Icy Choke from Hybrid Power provides 1.5X greater stability, offering 50° wider temperature range and reducing heat by 13% more than standard ferrite chokes, even under full loading operations.
As the new addition to L337 Gaming squad, Z97I-DRONE combines not only high performance and stability but also gaming-centric features, giving users a total package of Z97 ITX gaming motherboard. Learn more about L337 Gaming Z97I-DRONE https://www.l337gaming.com/
AWESOME SAUCE: