It's been a while since we tested memory kits, and we are very much happy to get a nudge from one of the well known brands on this side of the industry, G.Skill. Now the company is probably as old as I am, established on 1989 with an excellent reputation, and enthusiast grade offerings embedded on their portfolio. One could say that G.Skill got a lot of ground covered when it comes to those areas. Trident Z
Speaking of enthusiast grade products, what we have here is the 16GB G.Skill Trident Z 3200 MHz CL16 DDR4 memory in a kit of Two – with the part number F4-3200C16D-16GTZSW. That's a lot of numbers and letters, but it's actually easy to breakdown. Refer to our little photoshop work below.
The Trident Z memory kit we got is a part of the vast Trident Z family of high performance DIMMs from G.Skill. The Trident Z family has frequencies ranging from 2800 MHz up to 4266 MHz, with 14 to 19 CAS Latency. It is also available in multitude of color schemes to choose from, and comes in dual and quad channel kits. Refer to THIS LINK for more details.
| | |
| --- | --- |
| SERIES |  TRIDENT Z |
| MEMORY TYPE | DDR4 |
| CAPACITY | 16GB (8GBX2) |
| MULTI-CHANNEL KIT | DUAL CHANNEL KIT |
| TESTED SPEED | 3200MHZ |
| TESTED LATENCY | 16-18-18-38-2N |
| TESTED VOLTAGE | 1.35V |
| REGISTERED/UNBUFFERED | UNBUFFERED |
| ERROR CHECKING | NON-ECC |
| SPD SPEED | 2133MHZ |
| SPD VOLTAGE | 1.20V |
| FAN LNCLUDED | NO |
| HEIGHT | 44 MM / 1.73 INCH |
| WARRANTY | LIMITED LIFETIME |
| FEATURES | INTEL XMP 2.0 (EXTREME MEMORY PROFILE) READY |
Ours is definitely just above the middle of the Trident Z pack, with 3200 MHz of tested frequency and 16-18-18-38-2N timings. It is Intel XMP 2.0 certified so all you have to do is to set the XMP profile on your board. Well, that's how I pictured it at least.
PACKAGING AND BUNDLED ACCESSORIES:
The G.Skill Trident Z memory kit is packed inside a rectangular box, which is rather pleasing compared to what we used to see nowadays. The front features the Trident Z kit prominently, while the back has a written introduction about the kit, together with its basic technical specifications.
Bundled accessories isn't that lavish, as you'll only receive a G.Skill Case Badge together with the purchase. Still, it's better compared to nothing at all.
THE G.SKILL TRIDENT Z MEMORY KIT:
Out of the box, the Trident Z is probably one of the most aesthetically pleasing DDR4 memory kits out there. With that said, I can easily list it as one of the best looking PC hardwares I have laid my eyes on. It's substantial, has the weight of 4 DIMMs, and is just plain awesome to look at.
The memory kit stands mighty at 1.7 inches with the spreader, and at around 1.2 inches without it. DIMMs with such height could pose cooler compatibility issues, so bear those measurements in mind if you are building a PC with an air cooler.
Bearing the SW suffix, our TridentZ model is fit for those gamers and system builders who wants to showcase their themed builds. This will definitely go well with motherboards featuring White & Silver accents, together with components featuring a brushed aluminum design.
G.Skill went the extra mile to provide you a removable set of "Z" bars. These can be painted to better suit the build, or have them removed definitely for that edgier Trident Z look. I honestly love this feature since it opens up myriads of aesthetic possibilities.
A stick of the Trident Z 3200 MHz from our 16GB Dual Channel kit features a single rank module design. It has 8 banks of memory chips with a density of 1GB each.
TEST SETUP AND INSTALLATION:
Our test system is based on a Intel Core i5 6600K gaming system, which should be in-line with the latest mainstream gaming components. The operating system used is a 64-bit Windows 10 Pro Edition with power options set to balanced. All third party background softwares are disabled unless they are absolutely required.
TEST SYSTEM SPECIFICATIONS

CPU
INTEL CORE I5 6600K
MOTHERBOARD
ASUS Z170-A + ASUS Maximus VIII Gene (Compatibility Check)
CPU COOLER
CRYORIG H5 ULTIMATE
MEMORY
CRUCIAL BALLISTIX TACTICAL 16GB + G.SKILL TRIDENT Z 3200 MHZ 16GB
GRAPHICS CARD
ASUS ROG GTX 1060 STRIX OC 6GB
INT. STORAGE
CRUCIAL MX100 256GB SSD
PSU
CORSAIR RM850X 850W
DISPLAY
27″ DELL U2715H WQHD IPS PANEL
OS
MICROSOFT WINDOWS 10 PRO
G.Skill advised that I must use a high-end Z170 model for this kit. Turns out that I don't have to, as my ASUS Z170-A motherboard is enough to support the kit. We never had a problems with the ASUS ROG Maximus VIII Gene either. Just plug in the kit, set the XMP 2.0 profiles and yoiu are good to go.
The Trident Z memory kit has a JEDEC standard of 2133 MHz with default timings at 15-15-15-35 under 1.20v. At its XMP 2.0 settings, or should I say rated speed, the Trident Z features a 3200 MHz frequency, together with a 16-18-18-38 timings under 1.35v.
G.SKILL TRIDENT Z 3200 MHZ 16GB KIT BENCHMARKS:
AIDA64 Extreme Edition is a streamlined Windows diagnostic and benchmarking software that home users can use to check computer performance with. It boasts a wide range of features to help with overclocking, hardware error diagnostics, stress tests, and sensor monitoring.
Super PI is a single threaded benchmark that calculates pi to a specific number of digits. It uses the Gauss-Legendre algorithm and is a Windows port of a program used by Yasumasa Kanada in 1995 to compute pi to 232 digits.
wPrime is a multi-threaded benchmarking application designed to measure the raw computational power of a CPU. It can be configured to run on a custom number of threads to accommodate multi-core CPUs.
GIMP or GNU Image Manipulation Program is a free and open-source raster graphics editor used for image editing. GIMP is also capable of free-form drawing, image format conversions, and more specialized tasks.
HandBrake is a free and open-source video transcoder and is available for Windows, OS X, and Ubuntu for free.
CINEBENCH is a real-world cross platform test suite that evaluates a computer's performance capabilities. CINEBENCH is based on MAXON's award-winning 3D animation software Cinema 4D, used extensively by studios and production houses worldwide.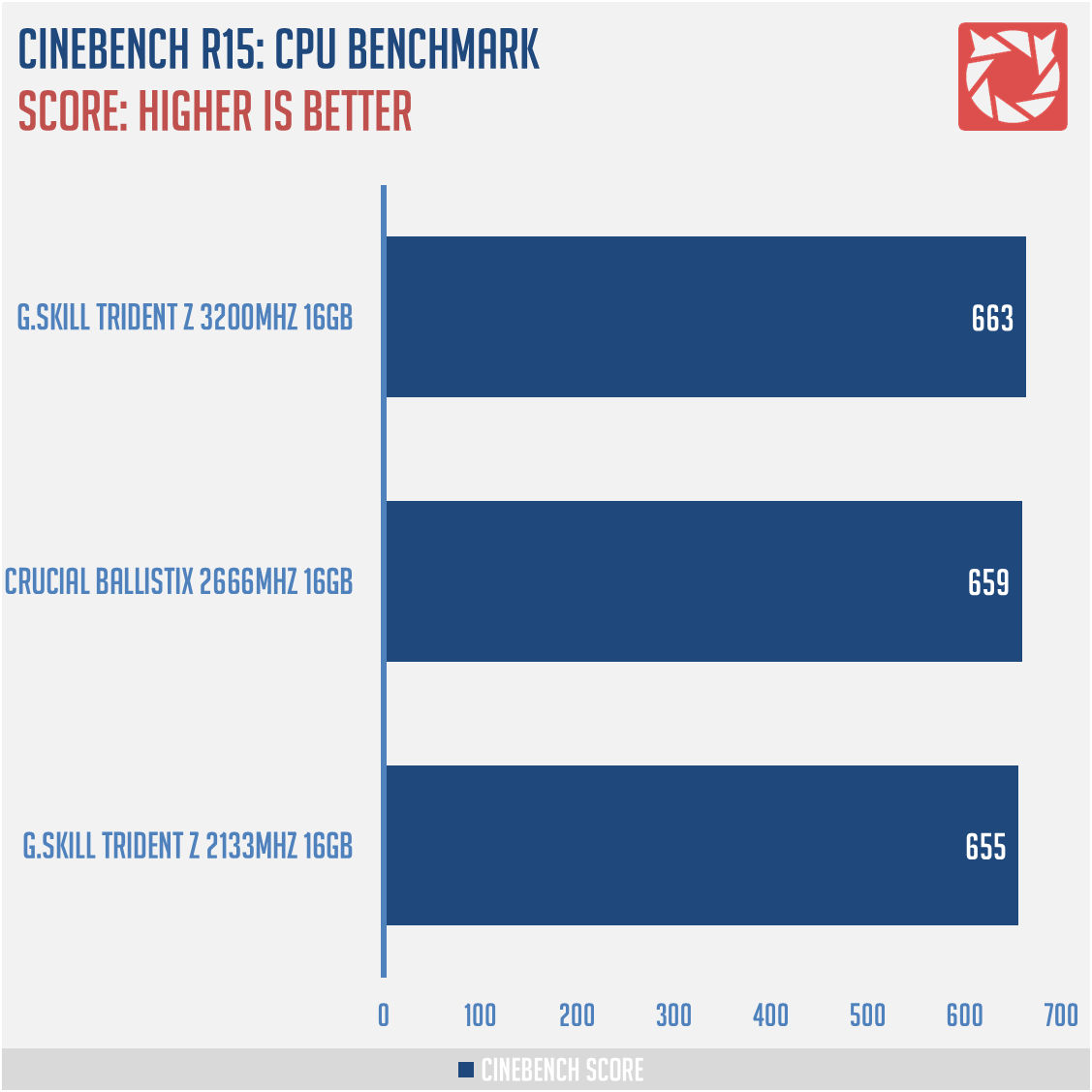 PCMark 8 is the latest version of Futuremark's industry standard PC benchmarking tool. With PCMark 8 you can test the performance of all types of PC, from tablets to desktops.
PERFORMANCE ANALYSIS AND WRAPPING IT UP:
Excellent is one of the many words that we could use to describe the Trident Z memory kit. It's blazing fast at 3200 MHz and has the benchmark results to back it up. At AIDA64 as an example, the Trident Z offers data rates we haven't seen anywhere on our test results. Memory read, write, and copy benchmark values are well above the other kits we have tested, combined with an excellent 48.8ns of latency. Other benchmark suites such as PCMark, Handbrake, and Cinebench also saw good performance gains over any other DIMMs we have tested.
The Trident Z memory kit's build quality and aesthetics are just superb. A good example of a core component that aims to show itself off. As for customization, you can get this kit with a totally different color scheme. With a choice of 2 heat sink shadings in Silver and Black, with 3 color bar options for each. That might sound small, but these options are more-than enough for theme specific builds. You can even remove the bars if you prefer an edgier looking kit.
There isn't much to complain about this kit other than the obvious height clearance, and compatibility issues. A quick look at the kit's Qualified Vendor List doesn't even include my ASUS Z170A motherboard but it worked nonetheless. Regardless, it is still best to check the QVL and have a tested board paired with it. G.Skill is particularly playing it safe around this area, since we're dealing with speeds over the JEDEC specifications.
As for the pricing, this exact model of the Trident Z retails for about 5, 930 PHP. That's not bad at all, even if we are to consider the price increase of DRAM modules this time of the year. You just wont get a comparable high frequency 16GB memory kit anywhere else but from G.Skill within that price point.
The G.Skill Trident Z 3200MHz 16GB Kit is a beautiful piece of art that comes with performance to match it up. If you are considering an upgrade to a Z170 based DDR4 system, then this is a kit that you must include on your list.
G.SKILL Trident Z 3200 MHz
PERFORMANCE -

8/10

BUILD QUALITY -

9/10

AESTHETICS -

9/10

VALUE -

8/10
Summary
The G.Skill Trident Z 3200MHz 16GB Kit is a beautiful piece of art that comes with performance to match it up. If you considered upgrading to a DDR4 system, then this is a kit that you must include on your list.