GIGABYTE might not be the largest player in the display category, but I've been watching their space since the inception of their monitors ages ago. Suffice to say, they've improved a lot and doesn't seem like stopping anytime soon with continued releases and announcements left to right.
Now while the closing statement has been true since the start of the year, they only had a handful (literally) of new monitors and or displays at COMPUTEX 2023. Reason being that some of them were already announced at CES 2023 – and that's about it.
M32U Arm Edition Monitor
First seen last year, the M32U gets a face-lift (also literally) with an Arm Edition. True to its name, the M32U Arm Edition Monitor now comes with an arm mount, making at an even more adaptable gaming monitor for a multitude of gaming configurations.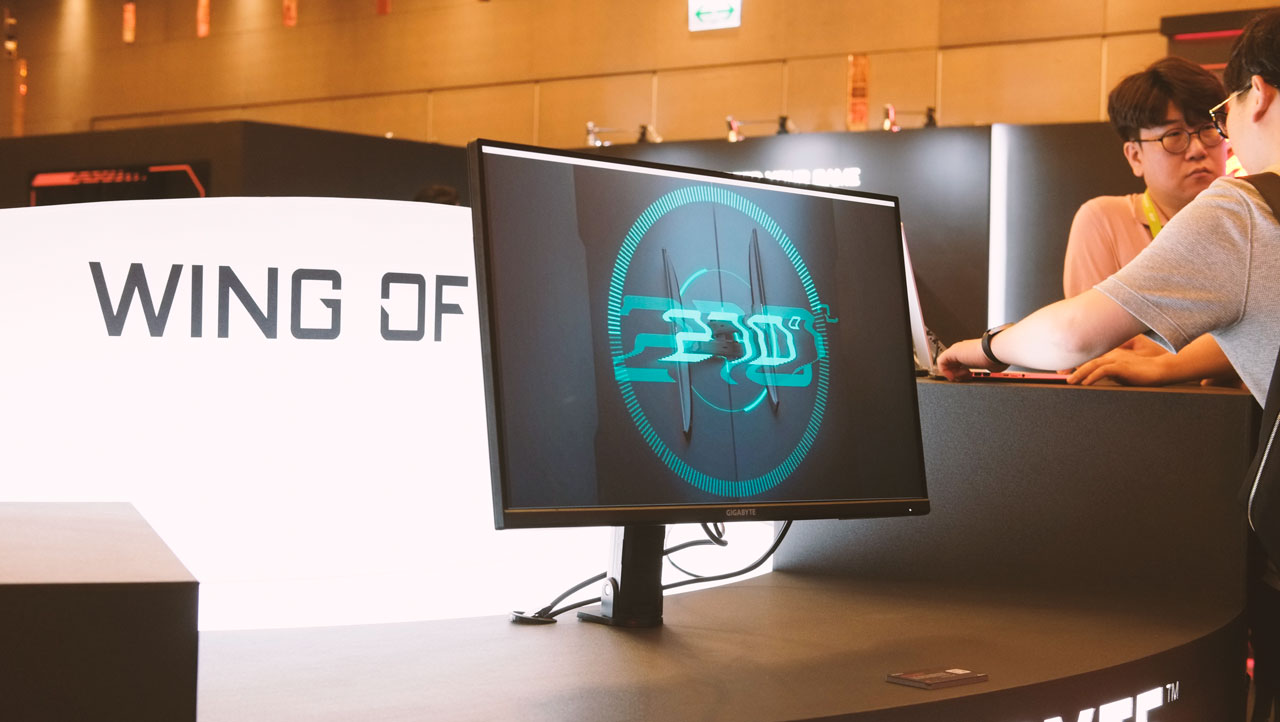 GIGABYTE realizes that the base M32U is already good as is with its feature set, bearing a KVM, tons of connectivity options and its innate fast-paced gaming specifications. Thus why not slap an arm into its proven design and call it a new SKU. I am not joking here though; If nothing's broken, don't fix it and improve it further – that's what they did here basically.
As for specifics, the M32U Arm Edition comes with a 230 mm forward extension, 208 mm of height adjustment, ±270° of rotation, -5° ~ +25° of tilting action and 90° pivot. Icing on the cake is its structural rigidity along with a flowing design (still too edgy for me though) and the built-in cable management. I just wish it comes with a built-in USB hub but then again, it already has one within the panel itself.
M28U Arm Edition
GIGABYTE also showcased the M28U Arm Edition. Basically a smaller, more affordable MXXU series gaming monitor.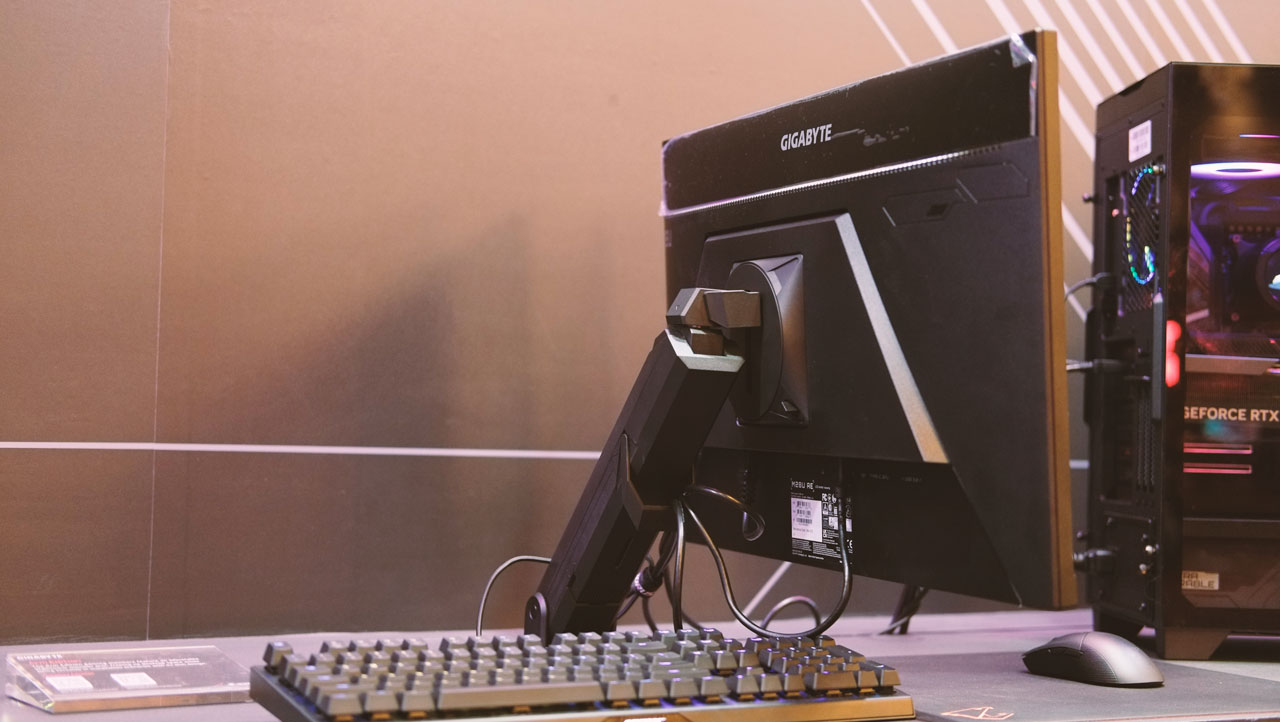 It seems like the M28U using the same arm which means it could hold at least 5 to 7 kilograms – though I believe the range is more than that. It doesn't mean much though as the arm appears to be made solely for these models. You may disassemble it but good luck with the mounting possibilities (or lack thereof) due to its semi-custom VESA mold.
Aourus FO48U Still Looking Good
The FO48U has been around for almost 2 years yet it still is striking as ever. It is a 4K OLED panel with a 120 Hz refresh rate and 1 ms GtG response time. This might be made for the living room but its 10-bit color and super-wide color gamut of 98% DCI-P3 and 130% sRGB coverage means that you could pretty much do some color critical work on it.
Like many GIGABYTE displays, the FO48U  also comes with KVM function, and like many big format gaming displays, it has a slew of connectivity options to choose from. Pretty nice if you are fortunate enough to own an Xbox, PlayStation and a gaming PC all at the same time.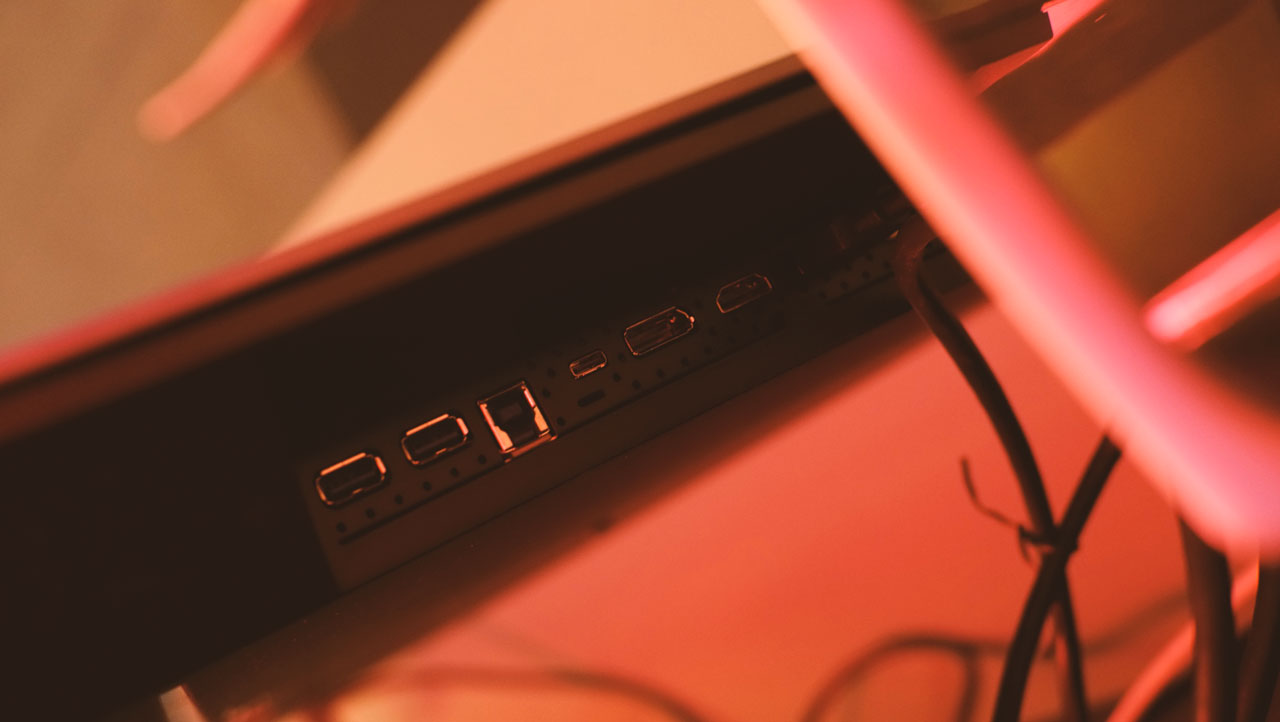 Mind a Triple G32QC Gaming Monitor?
Three GIGABYTE G32QC gaming monitors were also seen at the event. First seen at CES 2023, this baby has a native 1500 R curvature, 165 Hz refresh rate, and 1 ms MPRT. Three side by side looks great – and should be more attainable too compared to the higher end Aorus models.
Nothing much new here due to CES 2023 launches but regardless, these are the monitors that GIGABYTE wanted you to watch out for this year. Most of these are already released in the prowl so feel free to check out their street prices.