Finding the best fitness watch that perfectly suits your preference can sometimes be a challenge due to budget limitations. Also, we are pre-conditioned that affordable items are subpar and easily fall apart. However, this is not necessarily the case all the time. There are few companies like Huawei that take into consideration the needs of the general masses by providing them flagship-material tech gadgets at a very affordable rate.
And one example of the brand's excellence in this department is the Huawei Band 6. And if you're here to know more about the fitness watch and how it can help you with your daily goals and needs. So without further ado, let's begin today's discussion…
Huawei Band 6: Built-Quality and Design
The Huawei Band 6 has stunning aesthetics in both design and display. It has a semi-elongated, sleek, and minimalistic look that makes it chic and perfect as an "everyday" watch. In addition, it is lightweight that only weighs 0.09kg which includes the straps. On the other hand, it only weighs 0.03kg if the straps are removed.
Also, it has a 1.47-inch AMOLED touch-capability screen which provides vibrant colors great user interface. The rectangular screen display may seem a disadvantage, but they actually make the interaction with the watch a lot more convenient.
Huawei Band 6: Operating System and Notable Features
If you have owned Huawei smartwatches before, then you'd definitely feel at home with the Huawei Band 6 because they're utilizing the Lite OS as well. The brand is known to manufacture its software and specific technologies and then embed them into its own devices. The Lite OS, for example, enables the device to interconnect with any operating system and allows its consumers to enjoy Huawei exclusives as well.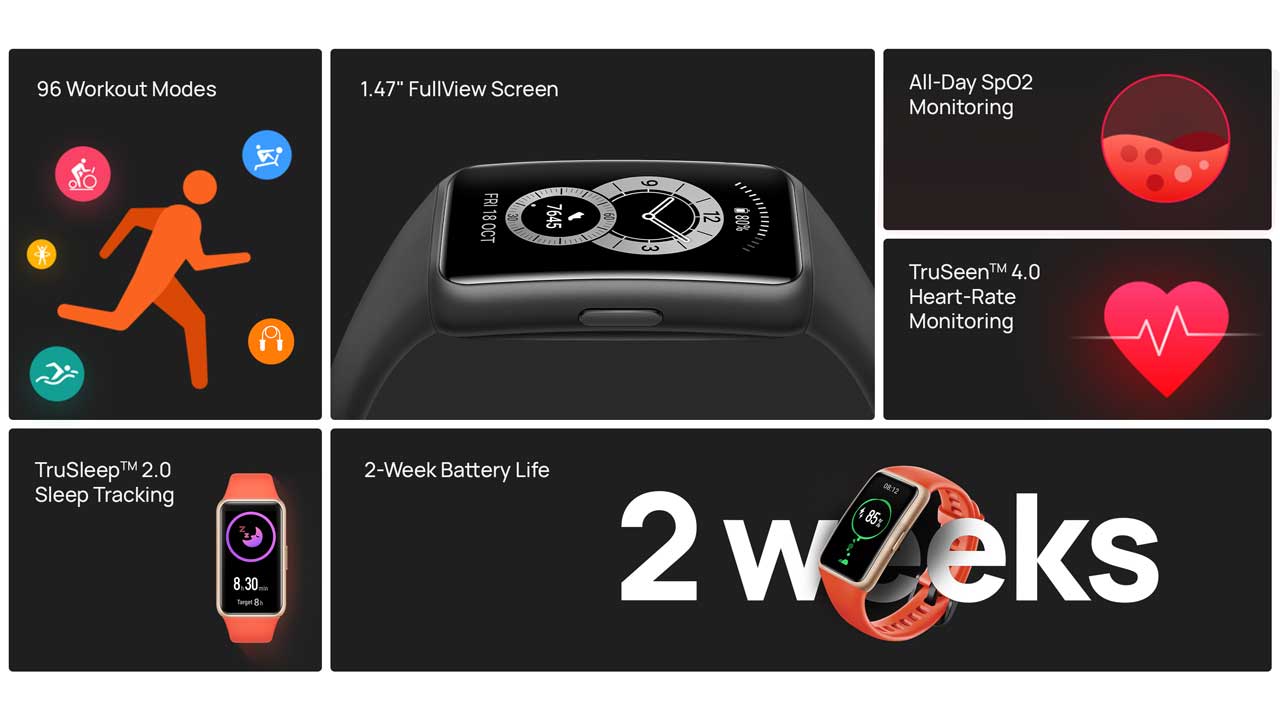 Huawei Band 6: Battery Life and Performance
Huawei Band 6 is equipped with a 180 mAh battery that can deliver solid power for an extended amount of time. In a single charge, it can provide you 14 days of power! However, you have to bear in mind that varying applications require different power consumption as well. And what I mean by this is that your fitness watch may not reach the 2-week battery life guarantee if its advanced features are continuously used. In this scenario, you'd be getting a good 10-day battery life which is still the best among the competition.
Huawei Band 6: Price and Availability
The retail price of the Huawei Band 6 is ₱2,599. The cost that Huawei has put up is already affordable if you think about it and considering that it is a mid-range device. If, for some reason that it is still out of your budget, then you'd be happy to know that they are under discounted price as of today! And you can only purchase them at ₱2,099! That's a huge sales discount of ₱509!
If you're interested in owning a Huawei Band 6, you can buy them at any local outlet near you. Since the brand is a global tech giant with partners spread across the world, you should be able to find at least a few in your area. However, you can always check out Huawei's official business page online if you can't find any stores within your vicinity.
Our Verdict: Value for Money
Overall, the Huawei Band 6 is a great value for money if you're specifically looking for a premium device that you can avail of at a budget-friendly price at the same time. In addition, they're visually pleasing, which can boost your outfit for the day. With this being said—you have to try the Huawei Band 6 if you are particularly searching for the abovementioned characteristics.