Over the top styling, and loads of unnecessary bloat plagued the PC gaming industry for years. With RGB lighting almost leaping to the border of insanity, gamers have been left wanting for something simpler. If you're in the same group that applauds simplicity over anything else, then the HyperX Alloy FPS might be just for you.
The Kingston HyperX Alloy FPS is a full sized mechanical gaming keyboard with simplicity at its very core. Its compact design is one of its perks for a full sized keyboard, offering a solid-steel frame for that extra peace of mind. It also comes with a sleeve, and has a detachable cable to keep things tidy while in transit. HyperX also got you covered with a choice of Cherry MX mechanical keys from Blue, Red and Brown.
FEATURES & SPECIFICATIONS:
The HyperX Alloy FPS comes with 3 switch configurations. It weighs in at around 1.04 kilograms, and features a single color 6 back-light effect in red. There are no programmable macro keys but you'll get KRO toggle between 6KRO to NKRO, together with media key function via the Function keys.
PACKAGING & BUNDLED ACCESSORIES:
The HyperX Alloy FPS is stored inside a well labelled typical HyperX packaging. You'd get to see the keyboard's full layout and its main features right on the box, while the innards are cradled by a thick foam insert.
The keyboard comes with paper works, a set of extra WASD and numeric keys from 1-4, and a key cap puller. Kingston HyperX also decided to included a nice travel sleeve with a side pouch. It's not a waterproof bag yet it's a nice touch that fits the wandering gamer's lifestyle.
HyperX Alloy FPS DESIGN & BUILD QUALITY:
The HyperX Alloy FPS is a minimalistic gaming mechanical keyboard built from the ground up. Design is neat, and the build quality is rather impressive with little to no flex thanks to the steel plating.
The back of the keyboard is clean – rather basic, and features a good footing. Foot extensions adds extra height should you require it.
The keyboard is based on a 104 Key ANSI layout with no extra or dedicated macro keys – keeping the profile sharp, and low. Without the cable, the HyperX Alloy actually weighs in at approximately 991 grams which is not light by any means.
The keyboard profile is contoured and is based on Cherry's designs. At its lowest, the keyboard features a height of around ~3 cm, with a maximum height at the far end around ~3.5 cm. It can be adjusted further by a centimeter via the extended rubberized footing. These measurements were taken from bottom row to the top row keys.
Connectivity is provided by a 4mm thick braided 6 feet cable. At the keyboard's end, it terminates via a mini-USB cable, while the other connects to the PC  via USB Type-A ports. One supplies power to the pass-through, and one is for connectivity.
There are no dedicated media and gaming keys at the keyboard, but you'd get these functionalities via the Fn key. For an instance, the media functions and game mode can be triggered via the Fn + function keys. Lighting on the other hand can be adjusted via Fn + arrow keys, while Fn + DEL and Fn + INS will toggle your keyboard's KRO.
You can use any Mini-USB cables provided that they are less than 11.8mm thick. The charging port on the other hand features your normal USB Type-A port. This port is not data capable so refrain from sticking in your external storage devices.
THE CHERRY MX BLUE SWITCHES:
The Cherry MX Blue is the de facto mechanical switch within the realm of the industry. It features an actuation force of 50 cN across the board, with a tactile click and a minimum to maximum travel distance to actuation of 2.2 – 4.0 mm (± 0.6 mm). The switch features a Red LED diode, and does not feature a clear housing as opposed to the RGB diode enabled ones. And no, we don't know if these are plate or PCB mounted. I have yet to dissect it for the purpose of the review.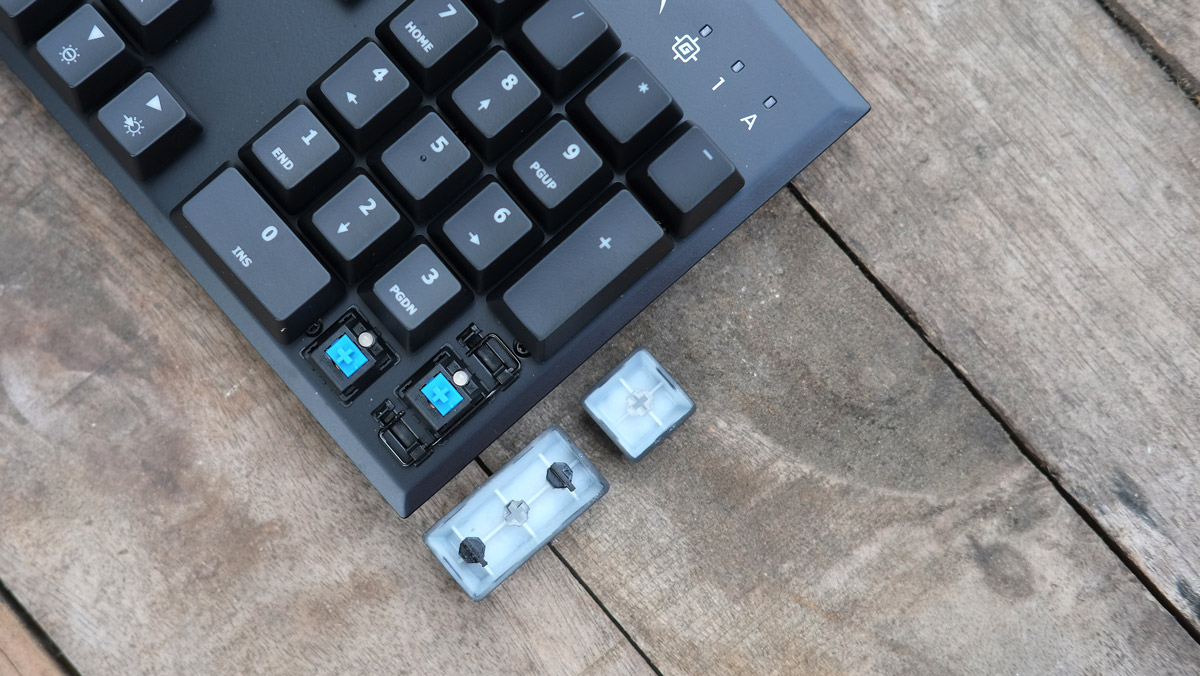 | | | | | | | |
| --- | --- | --- | --- | --- | --- | --- |
| BRAND | SWITCH | ACTUATION (cN) | LINEAR | TACTILE | MAX TRAVEL | MIN TRAVEL |
|  Cherry | MX Blue |  50 cN |  No | Yes |  4.0 mm |  2.2 ± 0.6 mm |
|  Cherry | MX Red |  45 cN |  Yes | No |  4.0 mm | 2.2 ± 0.6 mm |
|  Cherry | MX Brown |  45 cN |  No | Yes |  4.0 mm | 2.2 ± 0.6 mm |
|  Cherry | MX Black |  60 cN |  Yes | No |  4.0 mm | 2.2 ± 0.6 mm |
Stabilizers are costar inspired, and it's a little bummer considering the price tag. It's not a huge complain though since it has its own perks compared to the Cherry MX stabilizers. That being said, I still prefer Cherry stabilizers for easier maintenance.
THE KEYCAPS:
The HyperX Alloy FPS features your typical back lit keycap from top to the bottom row. It features an uppercase serif style font, paired with a center to top alignment. The key-cap material is most likely ABS, has virtually no visible runner marks, and feels quite alright to touch.
The key-caps are light, and has a good – rather alright thickness at 1.14mm. The keycap's printing method is not the best, but major players in the industry follows this method since it's cheaper than double shot printing. Not really complaining but I hope that the major gaming gear companies are listening.
The extra caps follows the same principle of printing method albeit the WASD keys are treated a little different when it comes to the coat and texture. They are thinner though at around 0.90mm.
SOUND PROFILE:
No two or three keyboard sounds the same, even if they feature the same keys. This is due to factors including the switch housing itself, the key-cap materials, and the overall construct of the keyboard. Listen to the profile below to get an idea of the keyboard's sound signature.
KEYBOARD ERGONOMICS:
The HyperX Alloy FPS is a comfortable gaming keyboard. Possibly one of the comfiest I've used due to its frameless design, and standard contoured key profile from top to bottom.
NKRO GHOSTING & MISCELLANEOUS:
EliteKeyboard's Switch Hitter is an excellent freeware that anyone could utilize to test any keyboard's key registration, KRO, and ghosting issues if there is any. It supports a wide variety of layouts, and could log your usage for extra statistics such as the actuation time it took for your keys to register and depress.  You can download the Switch Hitter here to check it out yourself.
Testing the KRO function of the keyboard points out that the HyperX Alloy FPS has no issues swapping between 6KRO and NKRO. Ghosting is also non existent.
The charging port of the HyperX Alloy FPS maxes out at 0.46 Amps, which is basically 0.50 Amps or 500mA. Typical of a USB 1.0 and USB 2.0 specification. Not a fast charger I must say.
There are 6 easy to toggle lighting modes found within the keyboard itself. They are Static (default), Breathing, Wave, Light Up via key press, Splash via key press, and a custom mode. The said custom mode will light up the WASD, CTRL, Space, and the 1-4 numeric keys.
This keyboard requires no software to set these lighting options up, and with the 4-level brightness adjustment, it is easy enough to set the brightness to your preference.
WRAPPING IT UP:
Gaming on the HyperX Alloy FPS felt like any other mechanical gaming keyboard with a Cherry MX Blue inside – with a significant difference when it comes to comfort. I'd be honest that I've been typing more than anything else these past few days, so I really appreciated the haptic feedback provided by the MX Blues over anything else. These are my favorite keys for general use and even for competitive gaming so there is definitely a bias on this area. Apologies but Cherry MX are just my favorite.
The build quality of the HyperX Alloy FPS is excellent which is largely due to its steel plating. The added reinforcement also contributed to the hefty weight of the keyboard which is always a welcome feature. If you own a smooth mouse mat, then the weight should be a huge help for you. This thing will just never slide unless forced to.
The HyperX Alloy FPS is an impressive no-frills keyboard but there are things that you should consider. The charging port just maxes out at 500mA, and is not data capable. There are virtually zero macro keys too, and I would love to see even a non-dedicated one. The key caps are also not the best – just your typical 104 set backlit key caps. Finally, being a 100% layout made me wonder why it is called the Alloy FPS in the first place. 80% and less are the way to go for FPS gaming – especially at competition stages where personal space is almost non-existent. I would love to see a TKL variant of this keyboard badly.
Overall, the HyperX Alloy FPS is an excellent mechanical gaming keyboard at 5, 990 PHP. It's a bit pricey but do note that it comes with a 2 year manufacturer guaranteed warranty, together with some niceties that has been left out by most. That includes a soft travelling sleeve, a built in charger, extra key caps, and the simplicity that is just a fresh sight after tons and tons of over the top styled keyboards. For HyperX's first keyboard, this is a great start!
MINIMALIST STYLING – A FRESH BREATHE OF AIR
ASTOUNDING BUILD QUALITY
STEEL PLATING REINFORCED
COMFORTABLE LOW PROFILE DESIGN
6 LIGHTING OPTIONS
SWEET SET OF ACCESSORIES 

NON DOUBLE SHOT CAPS
ZERO MACRO KEYS
Kingston HyperX Alloy FPS
PERFORMANCE -

9/10

BUILD QUALITY -

8/10

FEATURES -

7/10

AESTHETICS -

8/10

VALUE -

7/10
Summary
The HyperX Alloy FPS is an excellent mechanical gaming keyboard at 5, 990 PHP. It's a bit pricey but do note that it comes with a 2 year manufacturer guaranteed warranty, together with some niceties that has been left out by most. For HyperX's first keyboard, this is a great start!