Lexar unveiled a variety of new products at IFA 2023 estimated to be launched in Q4 2023. Designed for photography professionals and PC enthusiasts to accelerate their workflow, the expanded portfolio includes a new microSD™ card, internal SSDs, DRAM, and portable SSDs.
"Lexar has established a long history of developing leading memory solutions for photo and video communities. By leveraging its expertise to develop a variety of products, we are proud to offer the quality, performance, and reliability Lexar users expect. We will continue to offer products designed to meet the unique needs of photographers, videographers, content creators, and PC enthusiasts of all levels." said Samy Benarf, General Manager Europe of Lexar.
Professional GOLD micro SDXC™ UHS-II
The new Professional GOLD micro SDXC™ UHS-II card, available in 128 GB and 256 GB, leverages the high-speed performance and a Video Speed Class 60 (V60) rating, allowing users to quickly capture, play back, and transfer high-definition multimedia files, including 4K video, with a read transfer speed up to 280 MB/s. This card is also great for use with gaming devices, sports camcorders, tablets, or smartphones, and drones.
Lexar ARES RGB DDR5 Memory
The performance of Lexar ARES RGB DDR5 Desktop Memory reaches a new height of 8000 MT/s and 8400 MT/s, allowing hardcore gamers and PC enthusiasts to experience superior performance with next-gen DDR5. And, in addition to the performance, this memory also features Lexar RGB Sync so gamers can customize the RGB LED to their own style, and its sleek premium aluminum heat spreader keeps the system cool. It is built with on-die ECC, which leverages real-time data error correction for increased data stability and reliability. With on-board Power Management IC (PMIC), it provides better power control and power delivery.
Professional NM1090 M.2 Gen 5 NVMe SSD
The Professional NM1090 M.2 Gen 5 NVMe SSD, available in capacities from 1 TB to 4 TB, is perfect for hardcore gamers, professionals, and creators, delivering unparalleled performance of 12,000 MB/s read, 11,000 MB/s write, thanks to its PCIe Gen 5 x4 NVMe 2.0 technology standard. It features an integrated Active Heatsink to reduce heat for better performance and power efficiency. It leverages the latest 12 nm controller to produce low power consumption and longer battery life.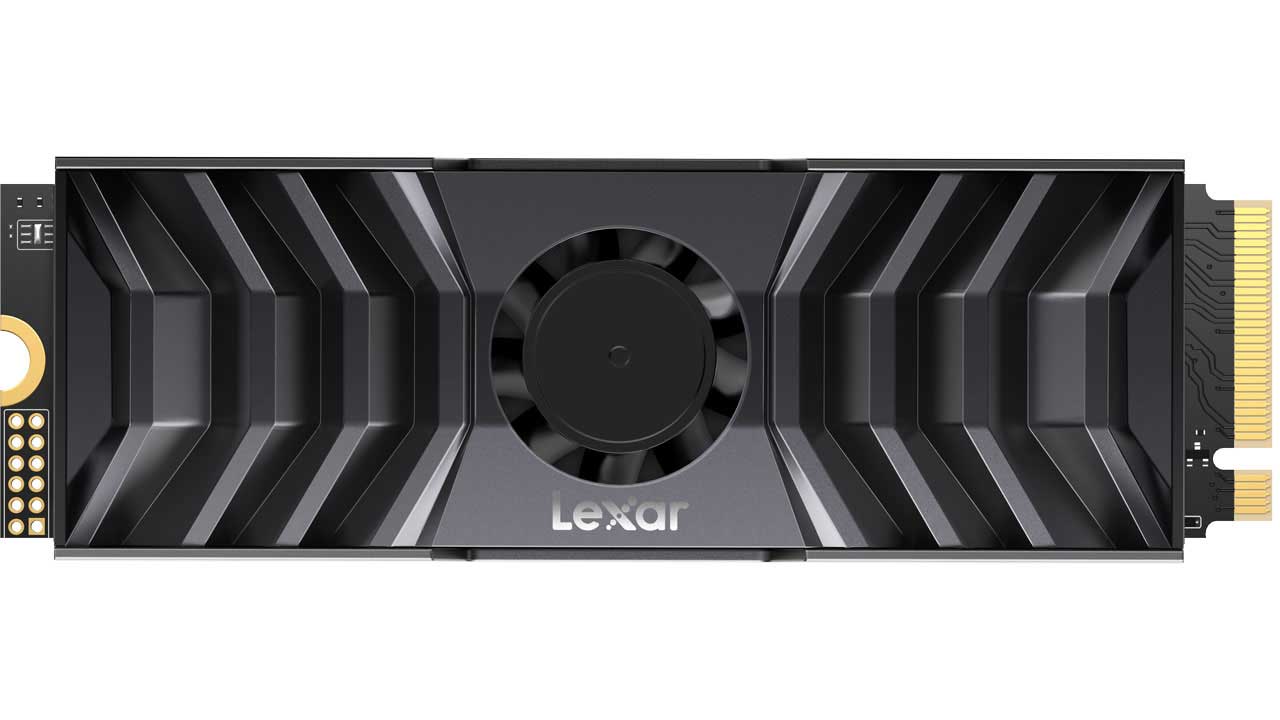 Professional NM790 M.2 Gen 5 NVMe SSD
The NM790 with Heatsink M.2 NVMe SSD, available in capacities ranging from 1 TB to 4 TB, delivers incredible speeds of 7400 MB/s read, 6500 MB/s write with PCIe Gen 4 tech, which includes HMB 3.0 and Dynamic SLC Cache. The memory features an integrated heatsink, which ensures systems stay cool to maintain speed, power efficiency, and thermal control for sustained high-performance. It is compatible with desktop computers, and is perfect to use with PlayStation®5.
SL600 Portable SSD
Aimed at users working with huge files in the field, the new portable SSDs deliver excellent durability and reliability. The SL600 portable SSD, available in 512 GB to 4 TB, has blazing-fast speeds up to 2000 MB/s read/write and features a durable aluminum enclosure with a sandblasted finish. Besides offering the same speed performance as the SL600, the new Armor 700 Rugged Portable SSD, available in 1 TB to 4 TB, is IP65 rated for water and dust resistance and the rugged design can even endure a 3-meter anti-drop.
SL500 Portable SSD
The SL500 portable SSD, available in 512 GB to 4 TB, is capable of speeds up to 2000 MB/s read and 1080 MB/s write. The sleek aluminum design is compact and easy to carry. All the portable SSDs are secured by Lexar DataShield, an advanced security software that helps keep files safe with 256-bit AES encryption.
So whether users are looking for a smooth experience in gaming battles or to conquer their latest creative pursuits, they can count on these gaming DRAM, m.2 SSD, and portable SSDs to level up their gaming experience.