In for a much needed review is the Lexar NM790 SSD. First seen at Gamescom, the NM790 is among Lexar's latest NVMe SSDs, featuring a street price of ₱3,730 PHP ($62.99 USD at Amazon) for the 1 TB model.
Specifications wise, the NM790 comes with sequential read and write speeds of up to 7,400 MB/s and 6,500 MB/s respectively. This drive is also available in 512 GB, 2 TB and 4 TB models and is 100% compatible with the Sony PlayStation 5 according to Lexar.
Disclosure: Lexar sent the NM790 for the purpose of this review. The company did not ask me to say anything particular about it.
Technical Specifications
Storage
Capacity
1 TB
Cache
N/A
Flash Controller
N/A
Flash Memory
3D NAND
Form Factor
M.2 2280
Interface
PCIe 4.0 x4
Sequential Read
7,400 MB/s
Sequential Write
6,500 MB/s
Random Read
N/A
Random Write
N/A
Endurance
MTBF
1,500,000 Hours
TBW
1000 TB
Dimensions
Length
80 mm
Width
22 mm
Height
2.45 mm
Weight
6 grams
Packaging and Accessories
The Lexar NM790 comes in a simple packaging.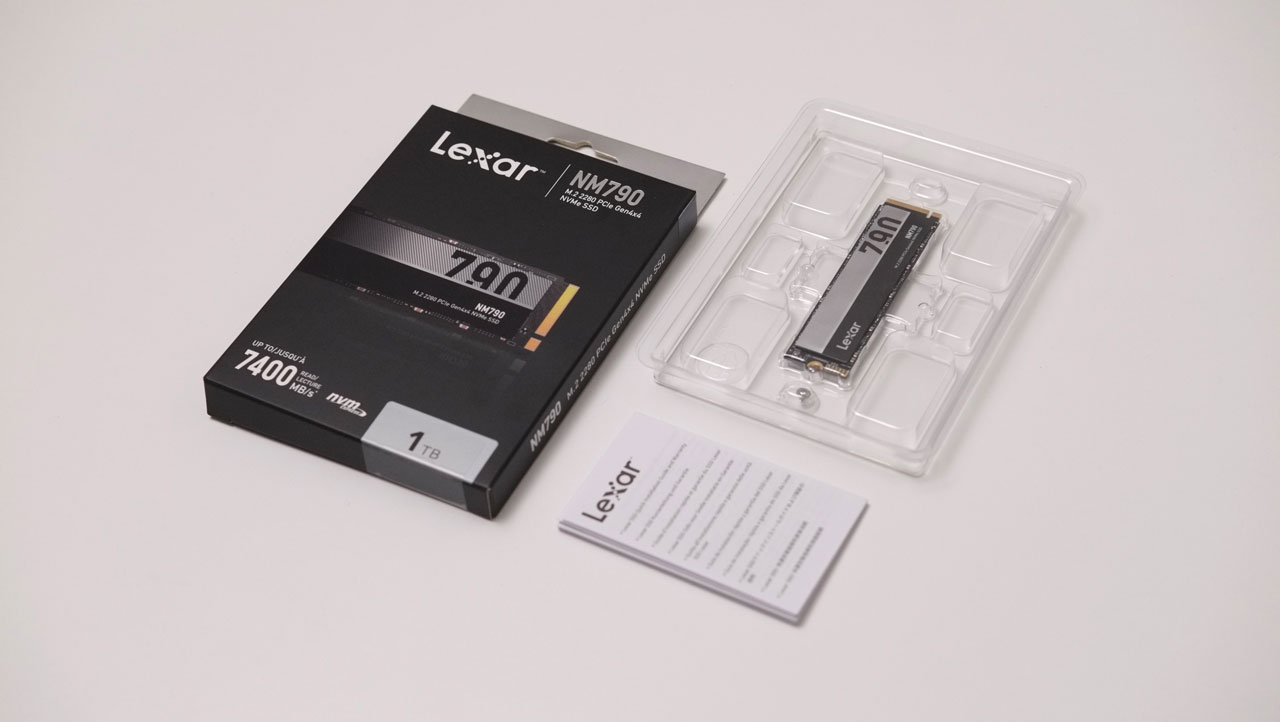 Scope of delivery are as follows:
Lexar NM790
Screw
Documentation(s)
Basic stuff we got here to get things started.
Design, Build and Connectivity
The NM790 in its 1 TB model is a fairly simple looking drive. It comes with a decal at the top, covering the NAND flash and its controller. While it is not exactly as fancy as other NVMe SSDs we've tested, its design should fit the bill for those who are looking for a barebone SSD. Its simplicity is highly appreciated for lets say, the Sony PlayStation 5.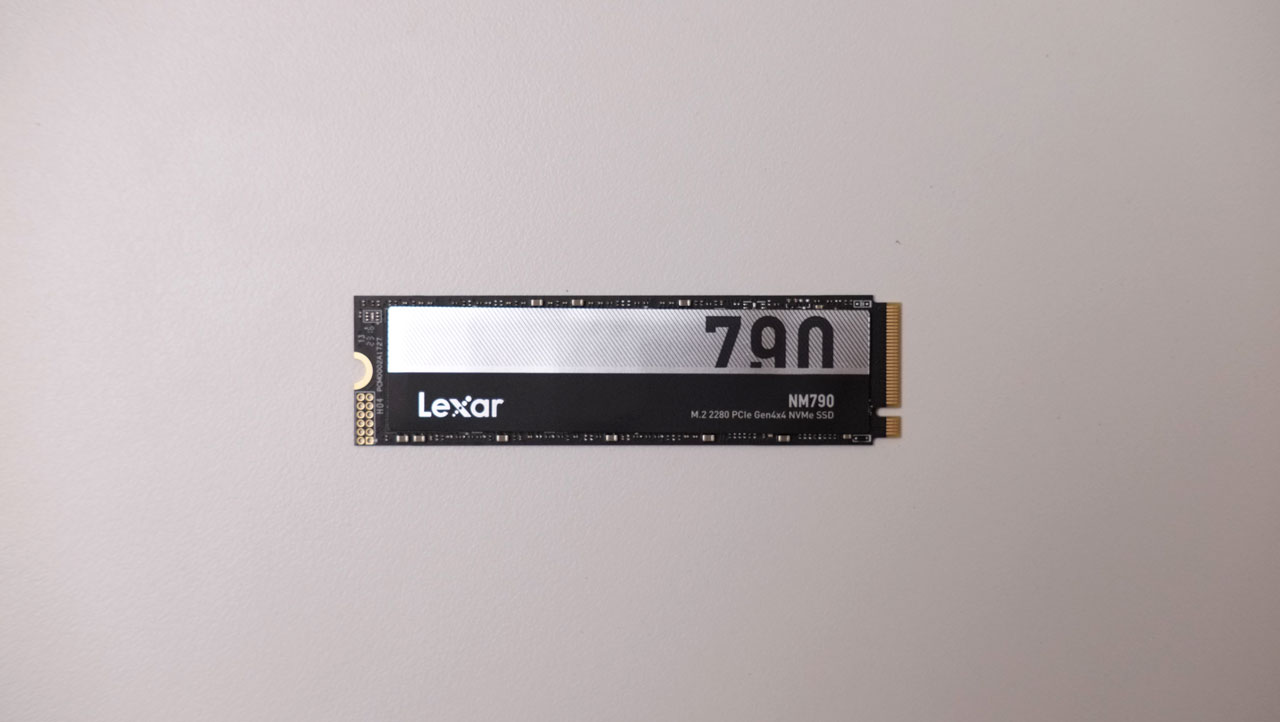 The back of the NM790 is devoid of any major components. Here, we have the usual product label along with the certifications.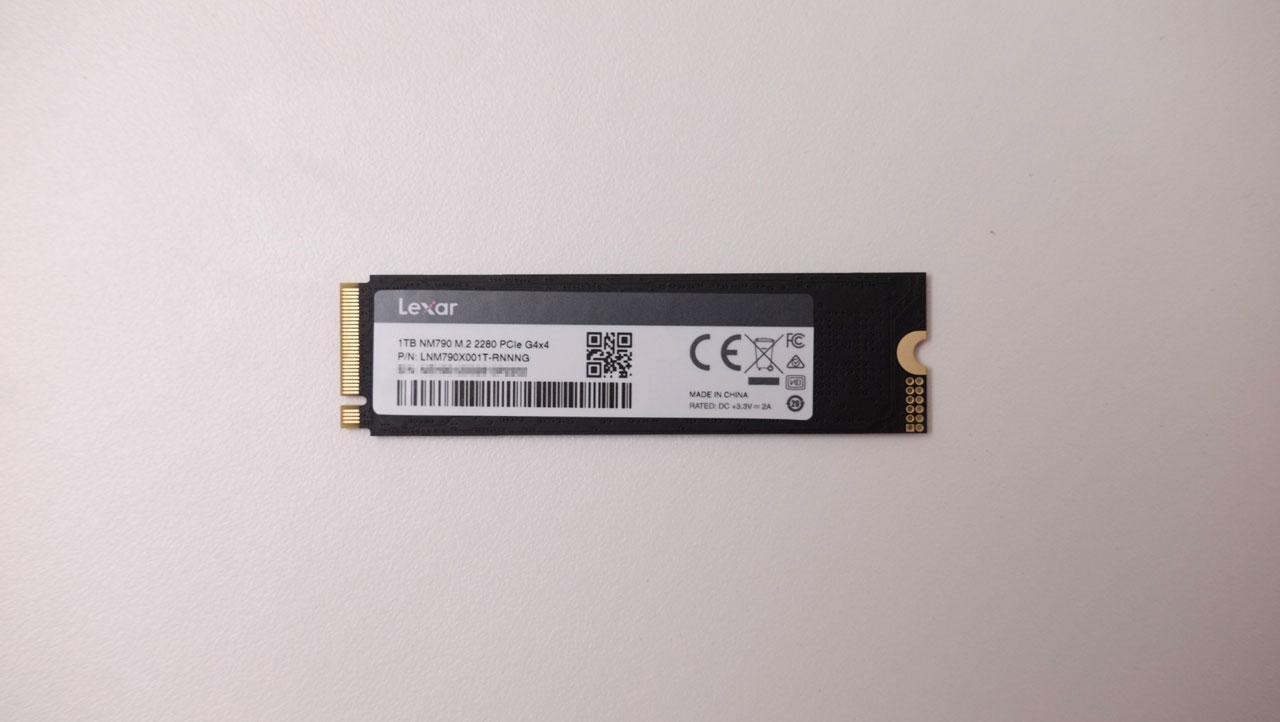 I have nothing else to say about its physical design – the NM790 is just a simple product.
Throughput
The Lexar NM790 is in line with the performance of the recent SSDs tested – at least for the sequential read. That said, it still failed to reach its quoted sequential read and write performance numbers. I wager they got their numbers using the 4 TB model.
The AS SSD results also reflects its actual performance. While it isn't bad, I would like Lexar to show the actual read and write speeds per model as to not confuse consumers.
IOPS
Input/output operations per second is about 867K for the read and around 558K for the write. It checks out fine compared to other drives of its class but it is definitely not 1,000,000 IOPS capable according to Lexar's claim.
The NM790's AS SSD result is lower on the read but is higher on the write at the 4K-64Thrd benchmark. Still, decent results for its class.
Access Time
Results are pretty much spot on here for an NVMe SSD.
File Copy
AS SSD file copy performance is a touch better compared to its competitors specifically at the Program and Game copy benchmarks.
Above translates to 0.20, 1.07 and 0.42 seconds.
Compression
Read compression is consistent, while write compression result has dips under 30% into the benchmark.
Cache
It took 183 GB of data to fully saturate the write cache of the Lexar NM790. This is the drive's strongest point, whereas other SSDs tested could only hit 128 GB at best (66 GB at worst). Even when it hits its limit, the write performance is respectable. As for the read, I am not quite sure why its performance took a hit but it could be related to its buffer or thermals.
Temperature
Thermal output is what I would say decent for its performance output. A bit toasty but not even close to the drive's operating limit.
Final Thoughts
The 1 TB NM790 NVMe SSD from Lexar is a value oriented addition to the growing number of capable NVMe SSDs at the sub $70 USD mark. This is, for the lack of a better word, is the cheapest 1 TB NVMe SSD that I have tested with a competent write cache along with a decent sequential performance. IOPS could definitely be better but it is not that far off compared to the other drives of its class.
Now benchmarks closer to real world performance benefits greatly to its cache as seen with AS SSD's file copy benchmark and the SSD Slow Mark. That said, sustained performance is its strong point which is lacking when it comes to the segment's competing products. The NM790 also features an acceptable thermal output considering that it is devoid of any cooling solution.
Bottom line is, the Lexar NM790 is what I would consider a good 1 TB NVMe SSD for its price. It may not reach its specified performance but it is surprisingly good with real world related benchmarks.
Lexar NM790 (1 TB)
$62.99 USD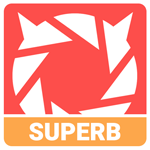 Product Name: Lexar NM790 (1 TB)
Product Description: The Lexar NM790 SSD has the performance to put you across the finish line first or easily meet your most demanding deadlines.
Brand: Lexar
Summary
The Lexar NM790 is a good NVMe SSD for its slated price of $62.99 USD. If sustained performance is what matters to you the most, then this drive should suffice.