LIAN LI at COMPUTEX 2023 also showed their latest fans and coolers, featuring swappable face plates, LCD displays and smart connections.
GALAHAD II TRINITY Series
​LIAN LI introduces its next-generation AIO liquid cooling, the GALAHAD II TRINITY series – meant for easy customization and performance. Three models are available: GALAHAD II TRINITY, GALAHAD II TRINITY SL INF and the GALAHAD II TRINITY PERFORMANCE.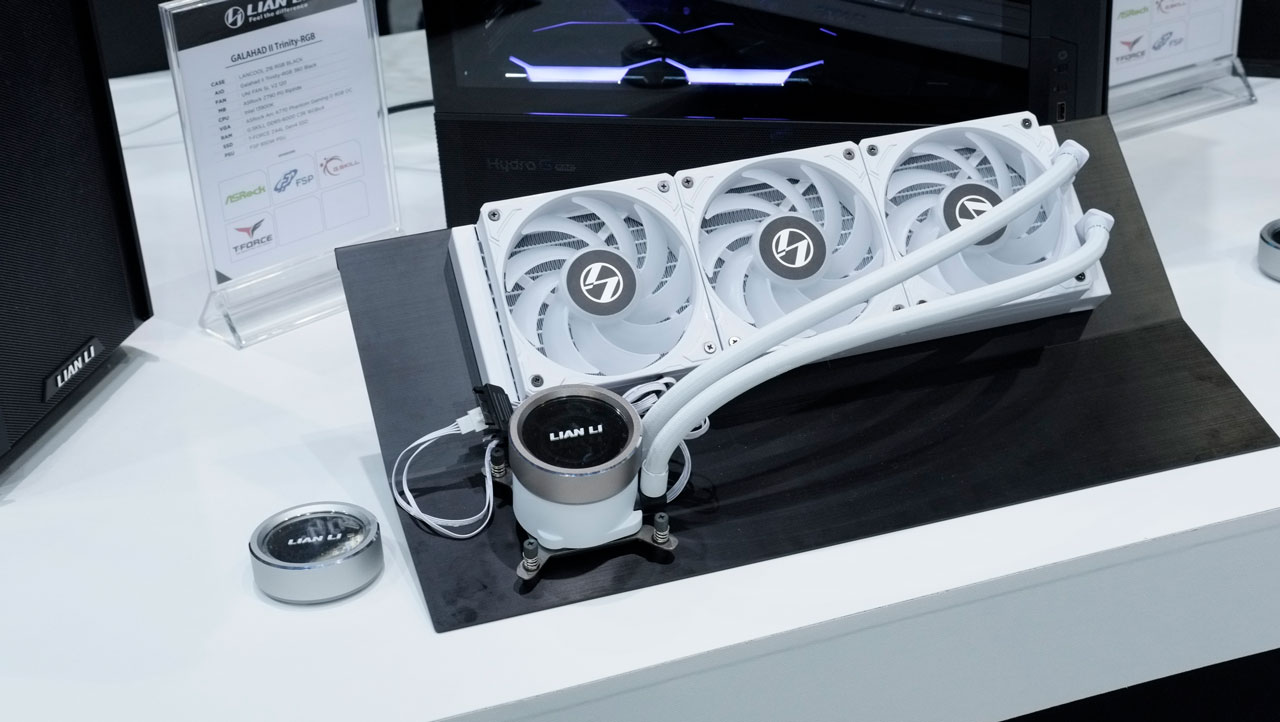 The TRINITY series comes with swappable caps for pump block customization along with 45-degree rotary fittings at the radiator for easier tube orientation. Differences among the sub models are the following:
GALAHAD II TRINITY – Comes in 240 and 360 mm sizes, equipped with pre-installed RGB fans.
GALAHAD II TRINITY SL INF – Comes in 240 and 360 mm sizes, equipped with UNI FAN SL INFINITY fans and controller.
GALAHAD II TRINITY PERFORMANCE – Comes in 360 mm size, equipped with 28mm thick high-performance LCP fans, 32mm thick radiator with double wave fin design and a 4200RPM pump.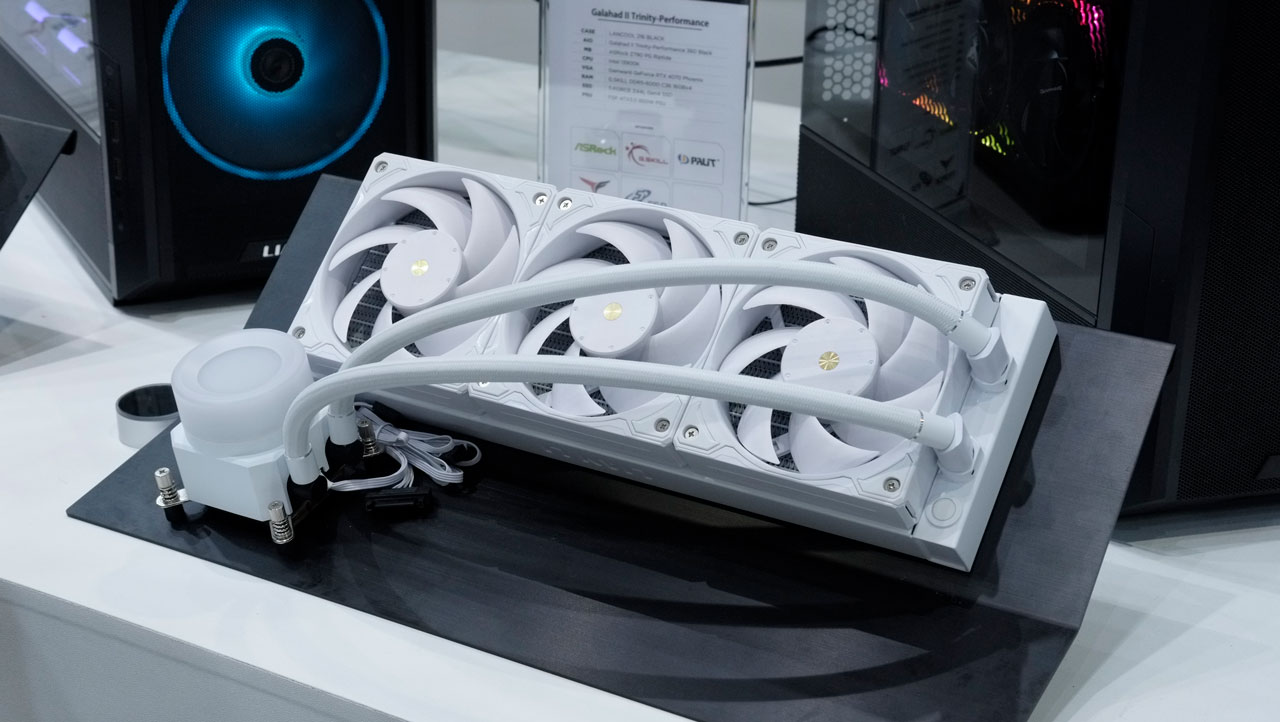 The new series is scheduled to launch in late June of 2023.
GALAHAD II LCD
​The GALAHAD II LCD is a 280 and 360 AIO cooler featuring a 2.88 inch LCD screen with a 480 x 480 resolution display at the top of the pump.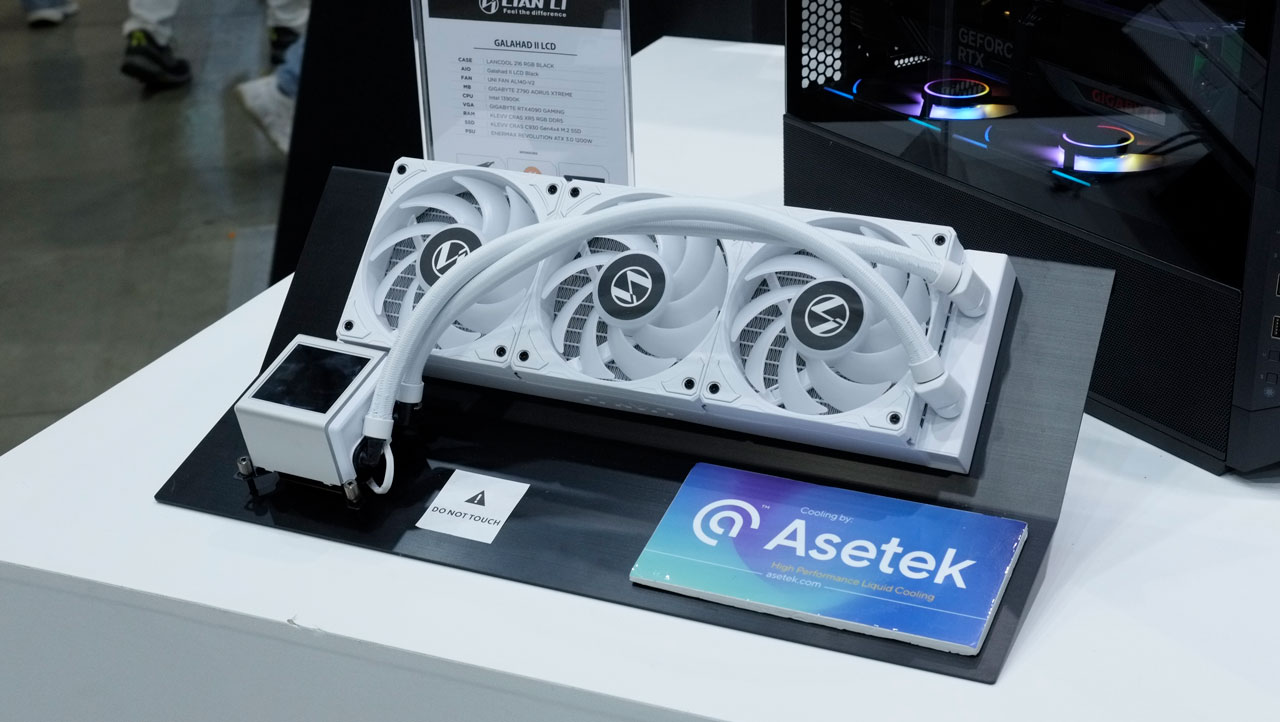 The sides of the pump are 2 aluminum caps featuring edge-diffused LED lighting. The LCD supports MP4 files, customizable layers, screen capturing and split screen with 2 GB of flash memory – allowing MP4 file playback up to 3 minutes.
UNI FAN Gen 2 TL
The 2nd generation of UNI FAN comes with a new lighting and blade design. The UNI FAN TL features edge lighting that wraps around the mounting holes at the front and rear for continuous lighting while the edge of the fan is equipped with an enlarged infinity mirror.
With LCP blades, the UNI FAN TL is the first ARGB fan from LIAN LI to equip a sturdier blade material, allowing for a minimal 0.7 mm gap between the blades and the fan frame.
The FDB motor can achieve 0-2200 RPM and up to 10 fans can be connected per port on the controller. Via L-Connect, users can separate their fans into 4 different control zones to run different lighting patterns or RPM speed profiles.
UNI FAN Gen 2 TL LCD
​The UNI FAN Gen 2 TL LCD is the first PC fan to feature a customizable LCD screen. The screen can also be controlled via L-Connect 3 and supports GIF files, MP4, images and can display your system information. Its 120 mm fan is equipped with liquid crystal polymer blades, fluid dynamic bearing motor supporting speeds of 300 to 1800 RPM and a 0.8mm blade to frame gap for maximum airflow performance.
In addition, each fan features an IC allowing them to be automatically recognized individually by the software, allowing complete control of each fan's speed within a cluster.
Price and Availability
No words about pricing yet but most of these products are slated to get launched this month of June.