MSI, a world-leading laptop brand, has proudly unveiled its all-new laptop lineups equipped with the latest NVIDIA GeForce RTX 40 series GPUs and up to 13th Gen Intel® Core™ HX series processors. With the leap of performance boosting and the awarded recognition at CES, MSI is pushing the peak of performance and innovation with the whole new laptop lineup.
The latest MSI laptops are powered by the ultra-efficient NVIDIA Ada Lovelace architecture, bringing a quantum leap in performance with AI-powered DLSS 3 and enabling lifelike virtual worlds with full ray tracing.
Arriving in the country are the Stealth 16 Studio A13VG and the Prestige 16 Studio A13VF which are NVIDIA Studio validated. 3D creators gain access to NVIDIA Omniverse™, an RTX and AI-enabled platform that connects 3D workflows, replacing linear pipelines with live-sync creation, letting artists iterate faster and easier than ever.
Backed by NVIDIA Studio technologies for creators, products with NVIDIA RTX™ GPUs benefit from RTX optimizations in over 110 creative apps, NVIDIA Studio Drivers for the highest levels of stability and performance in creative apps, and exclusive AI-powered NVIDIA tools: Canvas, Broadcast, and RTX Remix.
MSI Stealth, Creator Z and Prestige series laptops come pre-installed with NVIDIA Broadcast, transforming any room into a home studio through the power of AI.
The new MSI laptops also feature the brand-new Intel 13th gen processors with an overall performance increase up to 45% benefiting from the increased core count and turbo frequency.
All new Gaming Series: Powerful than Ever
The new MSI gaming laptops come with the latest exclusive thermal design, which helps to make the gaming series more powerful than ever. All the heat pipes have been redesigned to shared pipes, dedicated pipes, and VRAM-exclusive pipes, to assure the performance will be fully delivered. In response to the performance enhancement, MSI's GeForce RTX 40 Series laptops, from the high-end Titan series to the entry gaming Katana series, incorporate the MUX design to allow activation of Discrete Graphics Mode through MSI Center, further unleashing more GPU power.
With the aesthetic design motto, MSI has released more than 10 new ID designs gaming laptops and also applied the 16:10 QHD+ 240Hz refresh rate display in high-end gaming, namely Raider GE and Stealth series. Moreover, the exclusive futuristic translucent keycap design allows gamers easier to navigate the control and shortcut which greatly enhance the gaming experience.
Titan GT series / Raider GE series / Vector GP series: Extreme Powerhouse
The award-winning Titan GT and Raider GE come with the top-notch i9-13980HX and i9-13950HX processors and up to GeForce RTX 4090 Laptop GPU together with the exclusive MSI OverBoost Ultra technology, pushing the processors and graphics to 250W total full power or support 5.2GHz frequency across 8 P-cores depending on workload.
To present these incredible performances, Titan GT and Raider GE come with a world-class display. Titan GT is equipped with the world's first 4K/144Hz Mini LED display, featuring over 1000 nits of peak brightness with over 1000 local-dimming zones, while Raider GE is geared with the 16:10 QHD+ 240Hz display. These world-class displays clearly present those frames driven by powerful hardware.
The Raider GE series comes with a new chassis with an upgraded matrix light bar which is fancier and more futuristic. As well as Vector GP series, with the low profile and minimalism new design but also impressive performance to become the best choice for STEM and engineering users.
Stealth Series: Sleek and Sharp in Every Range
The slim and powerful award-winning Stealth series is now coming with a full-size range from 14, 15, 16, to 17-inch, with the 16-inch configuration arriving in the local market.
Introducing the newly designed Stealth 16 Studio. Favored by the magnesium-aluminum alloy body to deliver a thin and lightweight chassis. Moreover, the Stealth 16 Studio comes with a trilateral Dynaudio 6-speaker sound system providing the most immersive entertainment experience. Furthermore, to deliver mighty performance, the Stealth 16 studio is an NVIDIA Studio validated laptop, which fulfills different needs across gaming and content creation.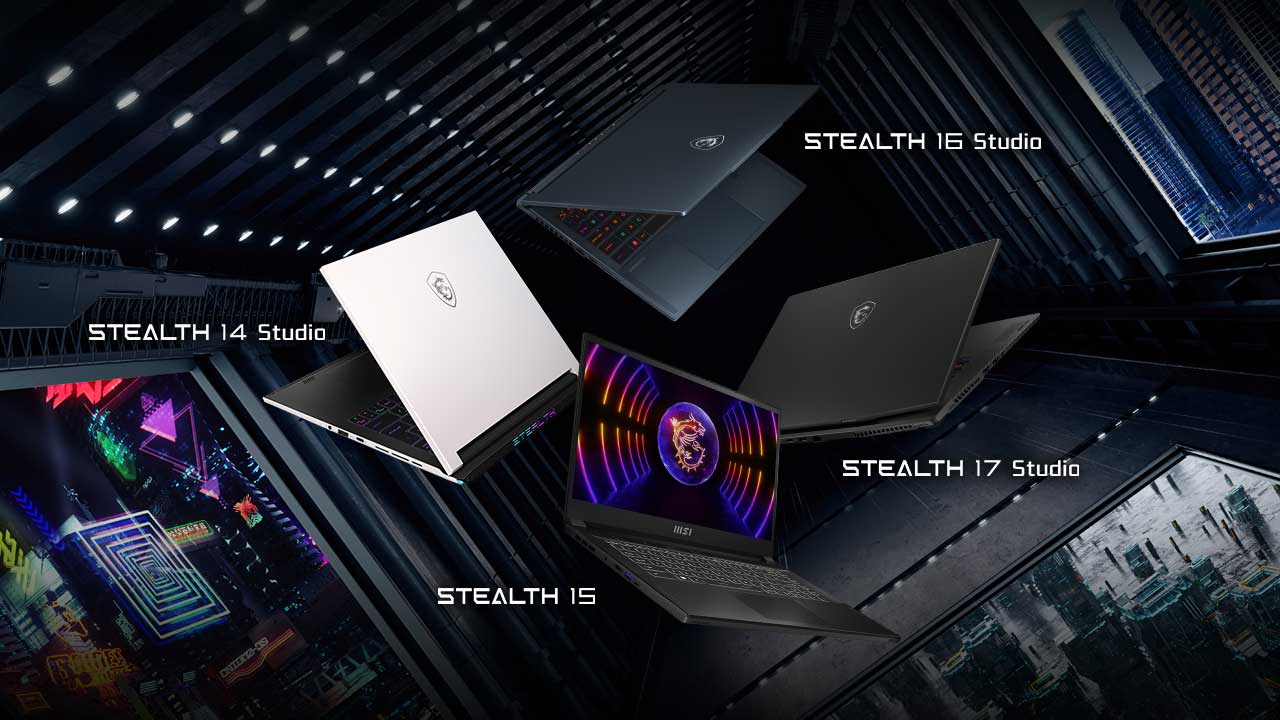 To deliver the most immersive and stunning experience, Stealth 16 Studio brings a revolutionary high refresh rate OLED display, with 240Hz and less than 0.2 ms response time. It also supports a 100% DCI-P3 color gamut, allowing users to experience the next level of gaming.
With the NVIDIA Max-Q suite of technologies that optimizes system performance, power, battery life, and acoustics for peak efficiency. The Stealth series is not just blazing-fast performance, but also thin and quiet.
Cyborg / Katana / Thin series: Wide Selection for Gamers
Introducing the whole-new series of entry gaming laptops, Cyborg 15. It comes with a futuristic translucent chassis design, in which you can see the mechanical & electrical parts through it. With its thin and light body and cyberpunk-inspired design, Cyborg 15 is a perfect choice for those bored with the ordinary entry gaming design.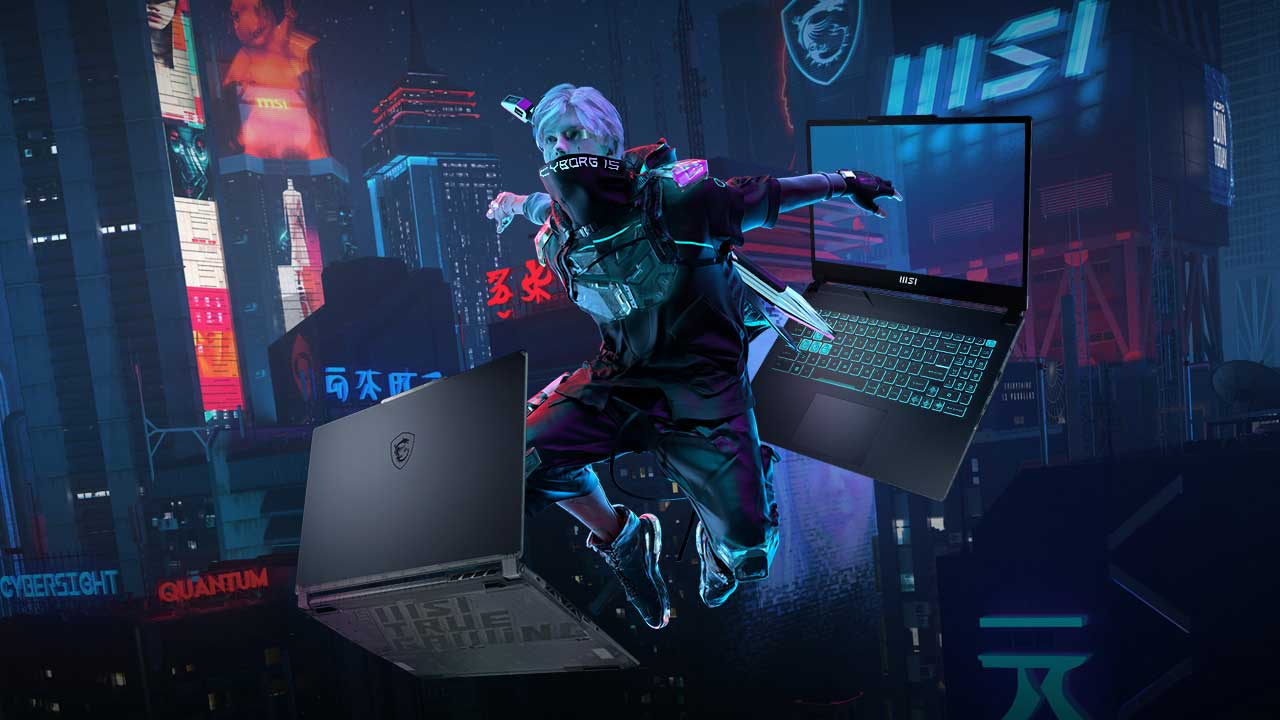 MSI has also refreshed the hot-selling gaming series Katana to the latest graphics and processors for better gaming performance. Moreover, this series is now available with the MUX switch. Gamers can easily switch between hybrid graphics mode or discrete graphic mode via the built-in MSI Center.
One last upgrade to the entry gaming is the Thin GF63 series. Now with the 12th Gen CPU and the RTX 40 Series GPU, it can continue to play your favorite games for years to come.
Prestige / Summit / Modern series: Thin & Powerful
The power of the Prestige series has come to a new level. The new Prestige 14 Evo and Prestige 16 Evo support up to the latest Intel® Core™ i7 H series processor, which provides a lightweight yet powerful experience for users. The Prestige 16 Studio also comes with GeForce RTX 40 Series Laptop GPUs, and is NVIDIA Studio validated, promising even better productivity and peak reliability.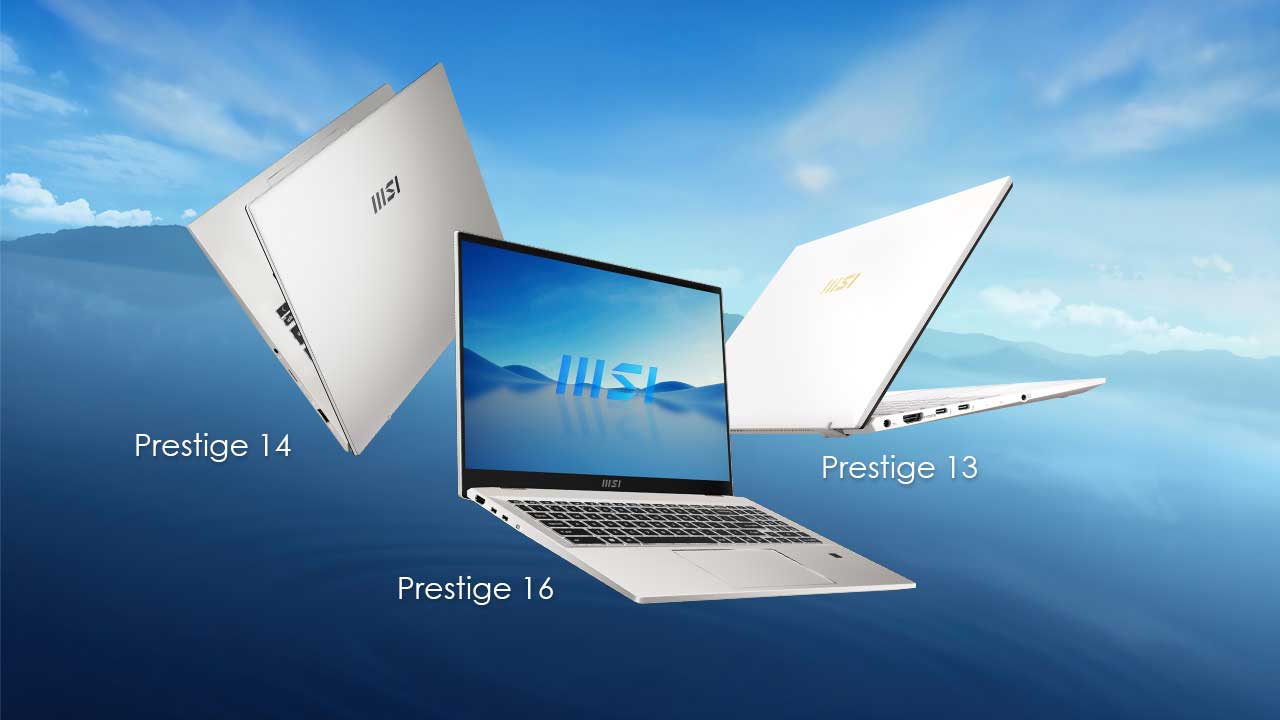 The Summit Series also gets the upgrade treatment with the latest 13th Gen CPUs as well as compatibility with the MSI Pen 2. This is the most handy companion for content creation and business work because of its pen and finger touch-screen panel and 360 Flip capability.
The Modern Series is also refreshed with new color options with star blue and urban silver to meet everyday fashion statements.
*Summit E16 Flip series, Prestige 14/16 series and Modern series are available in the Philippine market.