RGB is everywhere and it would be idiotic to say that it's going to die anytime soon. While it is not for everyone, RGB is here to stay; and a lot of gamers do really love the feature. We've had RGB motherboards, cases, coolers, keyboards, mouse, headsets, mouse pads and even reservoirs. Cue in the Smart RGB PSU series, completing the RGB lineup of components and gears from Thermaltake.
The Thermaltake Smart RGB 700W is the top line of the latest Smart RGB PSU models. It features 10 LED Light Bulbs all capable of displaying 15 color effects including 256 colors RGB Cycle. It is 80 PLUS Standard certified with up to 87% efficiency.
TECHNICAL SPECIFICATIONS:
The Thermaltake Smart RGB 700W features a maximum output capacity of 700W. It is a single rail PSU, with an efficiency rated at 82-86% at 20-100% load.
| | |
| --- | --- |
| Fan quantity | PS-SPR-0700NHSAWx-1 |
| Short P/N | SPR-0700NHSAW |
| Model | SPR-700AH2NK-2 |
| Type | Intel ATX 12V 2.3 |
| Max. Output Capacity | 700W |
| Color | Black |
| Dimension (H x W x D) | 86mm x 150mm x 140mm |
| PFC (Power Factor Correction) | Active PFC |
| Power Good Signal | 100-500 msec |
| Hold Up Time | 16msec (minimum) within 60% load |
| Input current | 9A max |
| Input Frequency Range | 50 Hz – 60 Hz |
| Input Voltage | 230 Vac |
| Operating Temperature | 5℃ to +40℃ |
| Operating Humidity | 20% to 85%,non-condensing |
| Storage Temperature | -40 ℃ to +55 ℃ |
| Storage Humidity | 10% to 95%, non-condensing |
| Cooling System | 120mm Fan: 1800 R.P.M. ± 10% |
| Efficiency | 82-86% efficiency @ 20-100% load |
| MTBF | 100,000 hrs minimum |
| Safety Approval | CE/CB/TUV/ EAC |
PFC is an active one, which is much more preferable compared to passive PFC. Active PFC uses a circuit to correct power factor and is able to generate a theoretical power factor of over 95%. Protection comes in the form of Over Voltage, Over Power and Short-Circuit protection.
PACKAGING AND ACCESSORIES:
The Smart RGB 700W PSU comes in a standard Thermaltake packaging we used to see from the company. Thermaltake made sure to include the most important features up front, while the back states its specifications and certifications.
You'll get a few paper works, four screws and a 2-prong EU power plug. Nothing is out of place as far as bundles are concerned.
DESIGN, LAYOUT AND CONNECTIVITY:
The Smart RGB 700W is a compact PSU with a 150mm length and a 140mm width. All Smart RGB PSUs features the same dimensions and color which is black of course.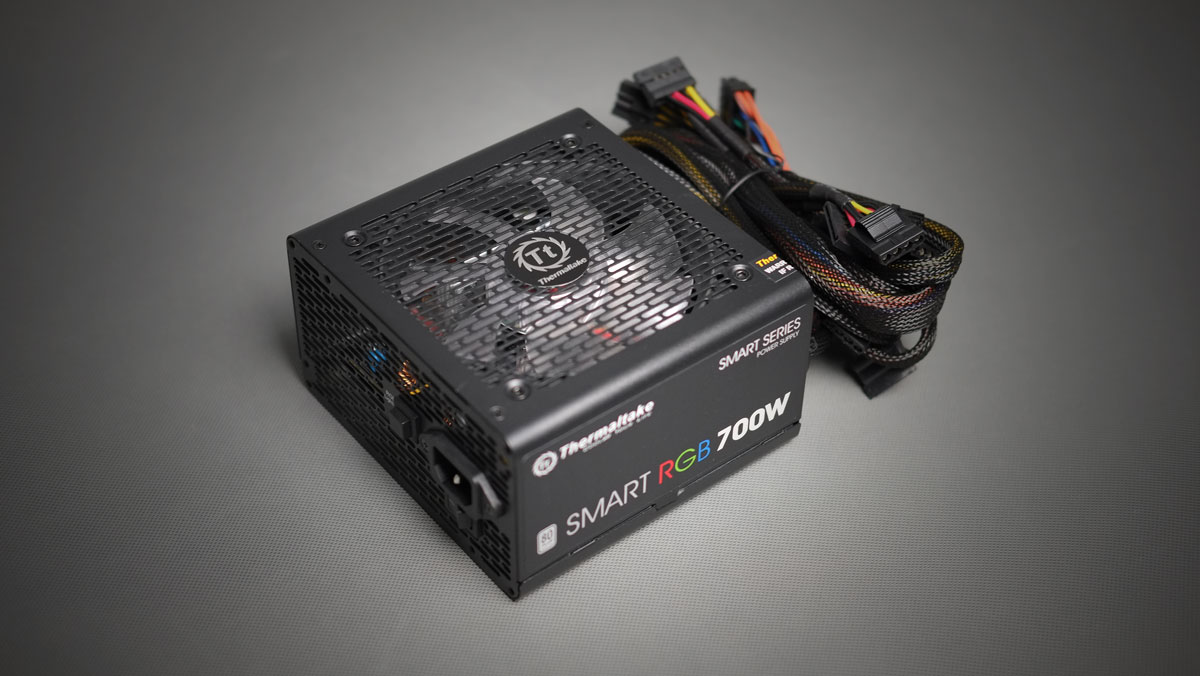 Certifications, tests passed and specifications are labelled at the top of the power supply's chassis. Corresponding output current ratings (max) are also printed together with the maximum output power for the DC outputs.
The fan used is a 120mm Sleeve Bearing Fan with a translucent blade unit to accentuate the RGB lighting. Thermaltake rated this "Ultra Quiet" fan to feature a 26.8dB noise level at full load which is more than enough for my requirements.
Ventilation is good with an ample amount of vent holes. The RGB lighting button also located on this area together with the power switch.
This is no modular PSU, so expect to cook some nasty spaghetti management inside your case. The wires are sleeved, but the cables themselves are color coded so you'll still see the mess. Not really complaining that hard though since the cable work is  pretty solid.
The cables have enough length to stretch inside full towers with adequate cable management routes and are easy enough to bend.
| | | |
| --- | --- | --- |
| Cable Type | Cable | Connector |
| ATX 20+4 pin | 1 | 1 |
| ATX 4+4 pin | 1 | 1 |
| PCI-E 6+2 pin | 1 | 2 |
| SATA | 2 | 6 |
| Molex 4 pin | 2 | 5 |
| FDD 4 pin | 1 | 1 |
ASSEMBLY AND FINISHED BUILD:
The Thermaltake Smart RGB PSU's installation is a breeze; just like any other standard PSUs out there. Lighting options are excellent, blending well with our gaming PC setup as seen from the pictures below.
Lighting is not in your face, so it truly blends well with our setup. It's also easy enough to switch between modes and I really appreciated the addition of the on-board memory. No need to press the button every time you turn on the system.
WRAPPING IT UP:
I don't see myself reviewing PSUs anytime soon with the lack of equipment to actually deliver quantifiable results. That said, our verdict will rely instead on our experience which is excellent so far during our period with the unit. We never had crashes, power loss and abnormal voltage readings from the standard rails. Granted, our test system barely made it at 300W which is just above 40% of its total capacity rating. As for safety features, we are going to rely on Thermaltake's claims. I never had any trouble with their PSUs in the past few years so I guess there's that for a peace of mind.
Thermaltake's Smart RGB 700W PSU is a compelling choice for those who are looking to complete their RGB components lineup. This is one of the few RGB PSUs out there with a price to match. The 700W model setting you up at just around 3090 Pesos. More value oriented models such as the 600W and 500W units will set you back at 2690 and 2490 Pesos respectively. Personally, I do believe that the 700W unit is the best when it comes to bracketing. A true value oriented product with the features to back it up.
Thermaltake Smart RGB 700W PSU
FEATURES -

8/10

AESTHETICS -

7/10

VALUE -

9/10
Summary
Thermaltake's Smart RGB PSU is a compelling choice for those who are looking to complete their RGB components lineup.