The INFAREX M20 is one of the first gaming mouse introduced by ADATA last year. Bearing the XPG badge, this one is on a more serious note compared to your usual gaming oriented devices. That includes an ergonomic right-handed focused design, OMRON clickers rated with a lifespan of 20 million clicks and a 5000 DPI sensor to boot.

As for the specifics, the XPG INFAREX M20 packs an adjustable DPI from 400 to 5000 together with a polling rate that goes from 125Hz to 1000Hz – without requiring a software to do the trick. That, together with RGB lighting support should make it an appealing choice to a majority of gamers. Or is it? Let us find out.
TECHNICAL SPECIFICATIONS:
Mouse
Size
Medium-large
Layout
Right-handed
Design
Traditional
Macro
NA
Profile
NA
Software
NA
Weight
160 grams
Interface
USB
Memory
NA
Polling Rate
250, 500, 1000Hz
Lighting
RGB
Switch
OMRON
Buttons
6
Cable Length
1.8 meters
Sensor
Type
Optical
DPI
400, 800, 3200, 5000 DPI
Acceleration
20G
PACKAGING AND ACCESSORIES:
The INFAREX M20 comes packed inside a slim packaging. It's rather simple, no flaps and no BS design. I just wished they printed the INFAREX M20 up front to match its actual size.
The mouse comes with a quick start guide. That's about it, really. No travel pouch, no warranty policy, nothing else.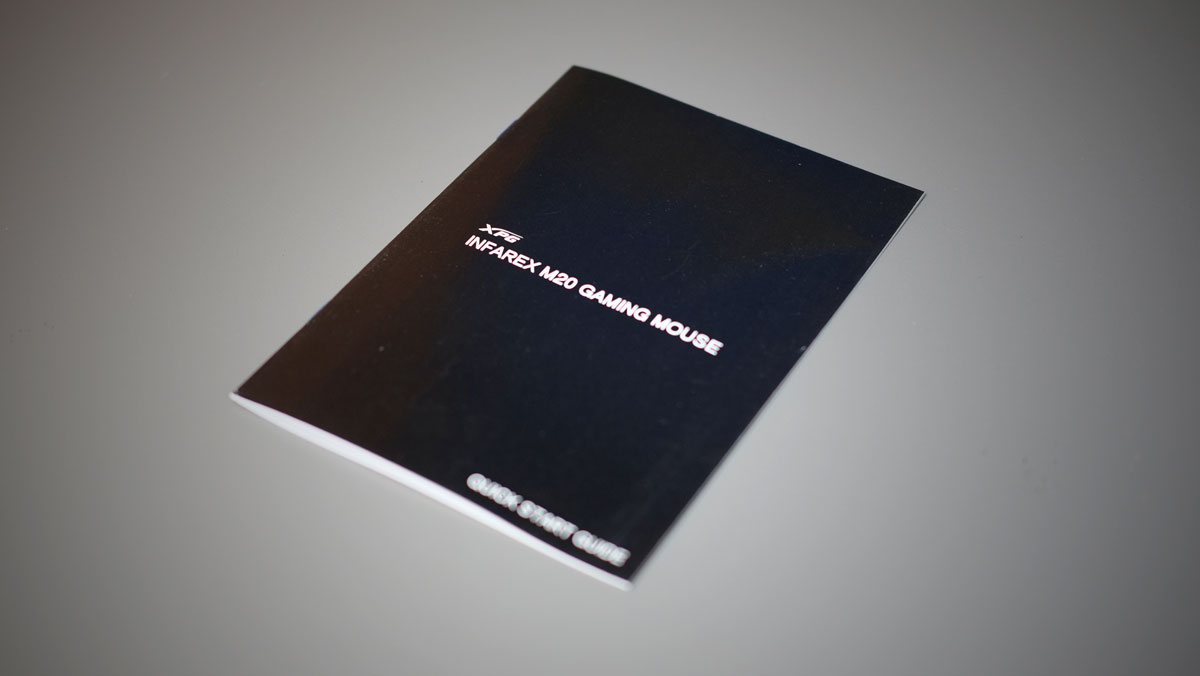 DESIGN, LAYOUT AND BUILD QUALITY:
The ADATA XPG INFAREX M20 is a medium to large gaming mouse with a sculpted right-handed design. Much like the HyperX Pulsefire FPS. Quality is overall on the good side with a gloss, matte and textured finishing blending well with each other. This mouse weighs in at a staggering 160 grams though.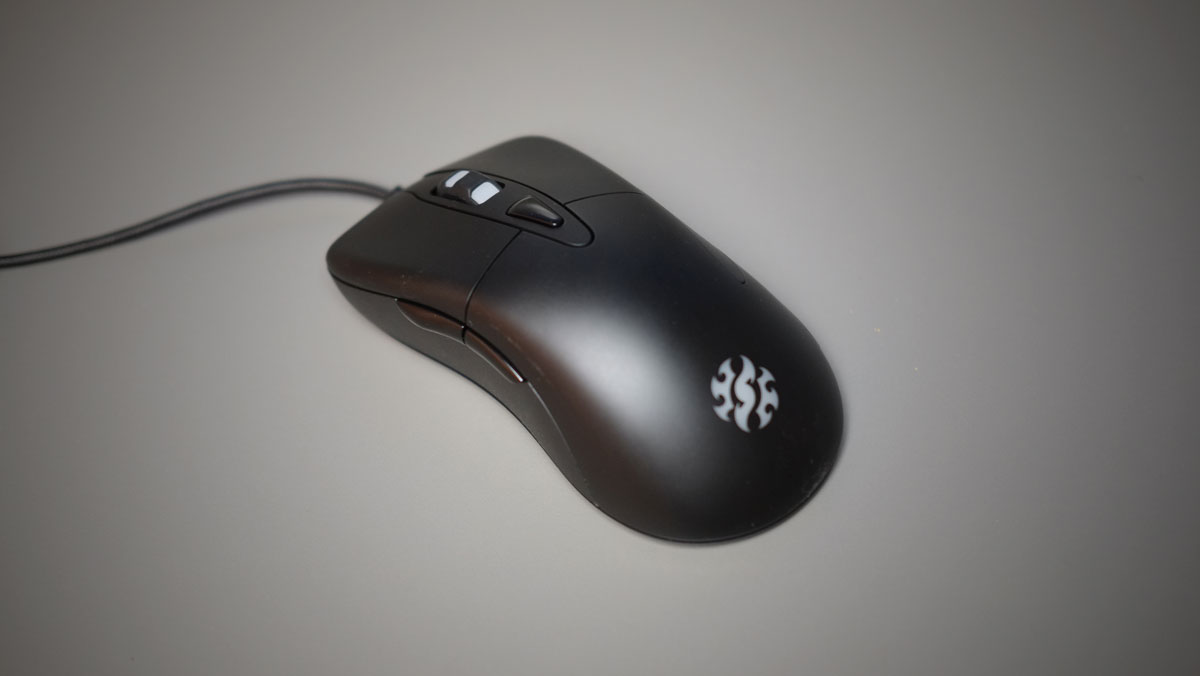 The mouse has a total of 6 buttons including the scroll wheel. That's more than enough for most tasks. They feel good, rather clicky yet the main buttons felt a little dampened – in a nice way.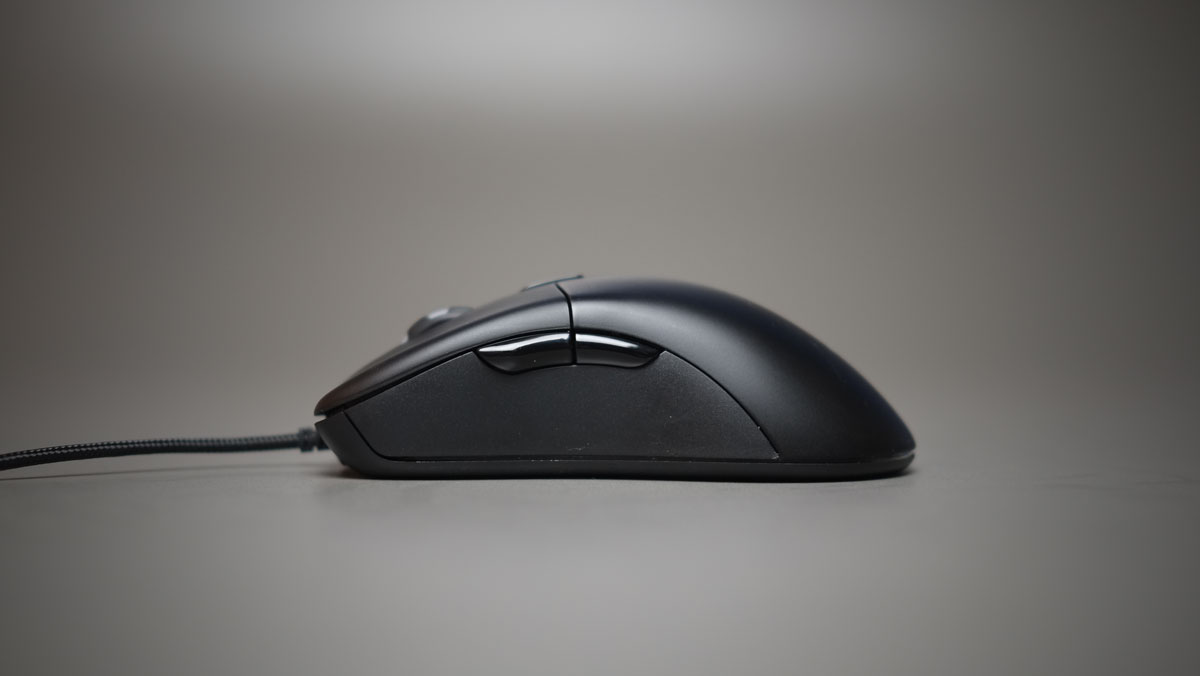 The side profile clearly shows the design of the grips. They are sculpted and had a shiny but grainy texture. Though sweat might make them a bit slippery, they are easier to clean compared to textured rubber.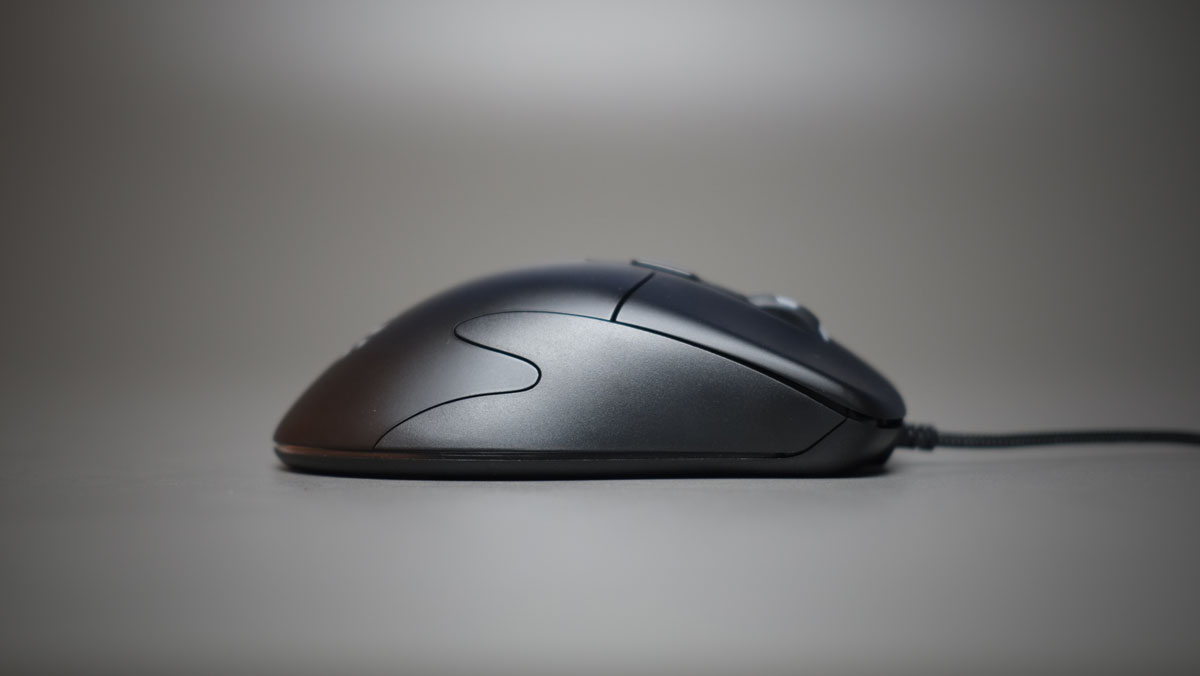 The top shell construct is made out of a 3 piece plastic that should allow the mouse to feature a more uniformed action for its design. The scroll wheel is smooth with a prominent gear like design to aid scrolling. The DPI button on the other hand is almost flush to the shell so it wont pose any issue even during intense gaming sessions.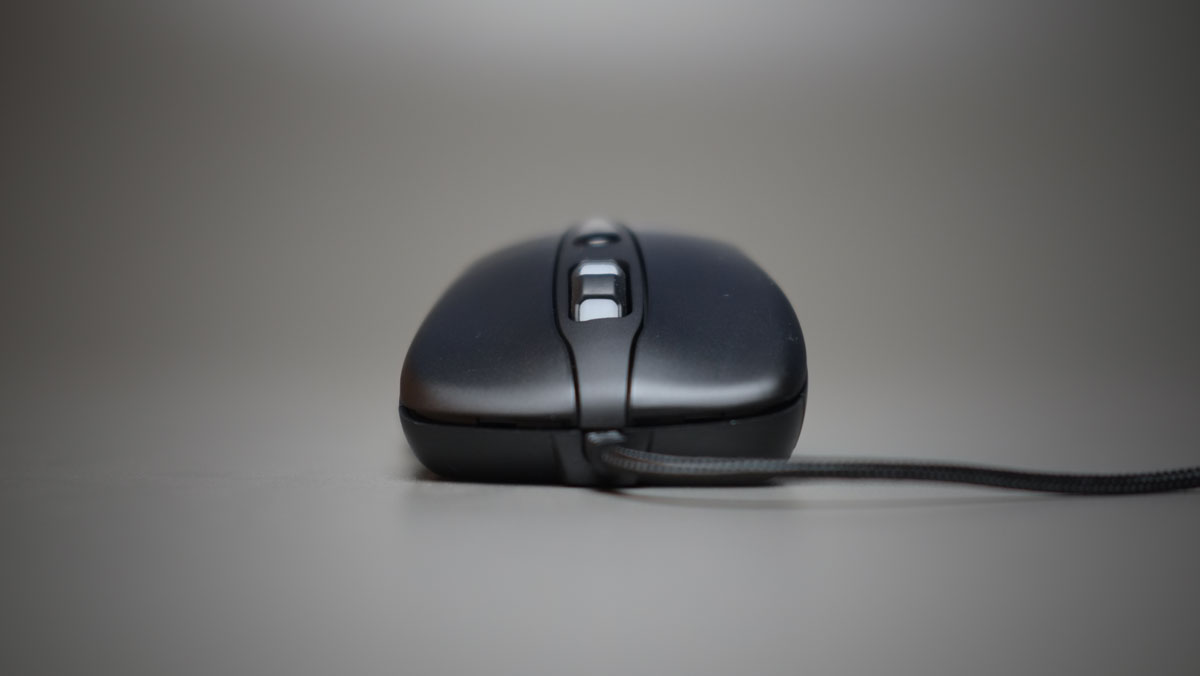 The 1.8 meter long cable is braided and is kinda stiff for my liking. It shouldn't be a problem with soft and hard mats though due to its tightly weaved pattern. Still, I prefer a more simple yet flexible cable.
The skates are large 3 piece proprietary Teflons – just excellent gliding materials. Here, we could also see the switches for the LED and the Polling Rate. The sensor on the other hand is located at the middle of the mouse. Everything that you could adjust with this mouse is on the fly.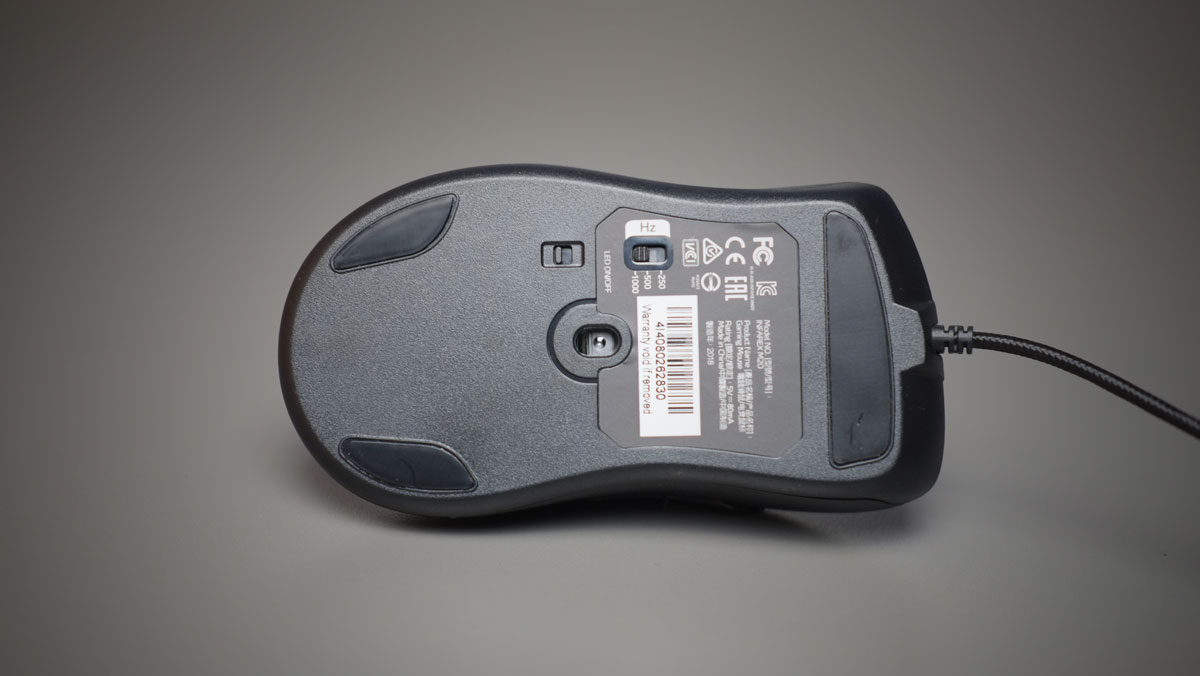 TEST SETUP AND METHODOLOGY:
Testing a gaming mouse is not that difficult, but it is mostly subjective; similar to testing head gears in a sense. That said, no mouse is perfect and the verdict usually depends on personal preferences. With that in mind, we are overhauling our testing methodology by following key pointers that should matter the most; that includes the sensor performance, the size, grip and comfort. To keep our test methodology simple and free of extra variables, please note the following software and configurations used below.
Test Setup
Games
Overwatch, Battlefield 4, DOTA 2
Pointer Speed
6/11, EPP Disabled
Sensitivity
 800, 1600, 3200, If possible
Polling Rate
1000Hz, If possible
Software
MouseTester V1.5.3
PHYSICAL LAYOUT, FUNCTIONALITY AND ERGONOMICS:
Your grip and aiming style are important things to consider when looking for a mouse. There are four basic types of grips here; the fingertip, claw, palm and hybrid grips. Fingertip grip is generally preferred when aiming with the wrist, while palm grip is the choice when aiming with the arm. Claw and hybrid grips are middle ground options for both aiming styles. Of course, you could go with a hybrid of both grip and aiming styles if they suit you best.
Your hand size also influences what mouse you should buy on top of your grip and aiming style. For an instance, my hands measures at 7 inches x 3.5 inches (length x width). This puts my hands on the small to medium size category. My style is finger-tip grip, so I would generally look for a mouse with a small to medium foot print.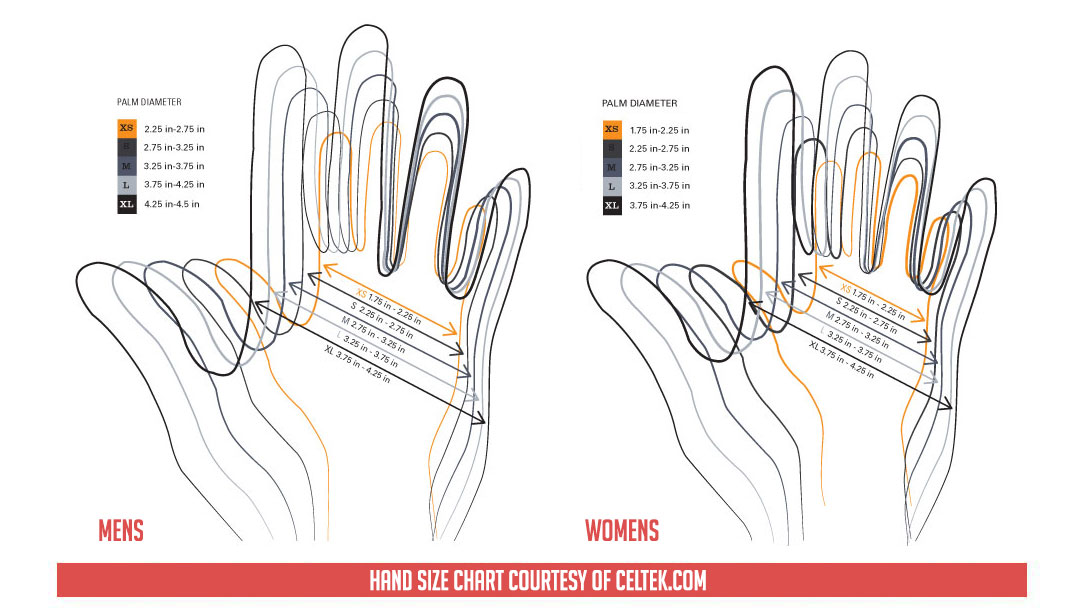 The ADATA XPG INFAREX M20 features a 2:1 ratio, with a length at roughly 5 inches and a grip area at around 2.5 inches base-to-base. The highest point of the shell is at 1.7 inches with a gradual curvature. This makes the mouse ideal for palm and claw grip gamers with medium to large hand sizes. If you have smaller hands and you prefer finger and claw grip styles, pick something else.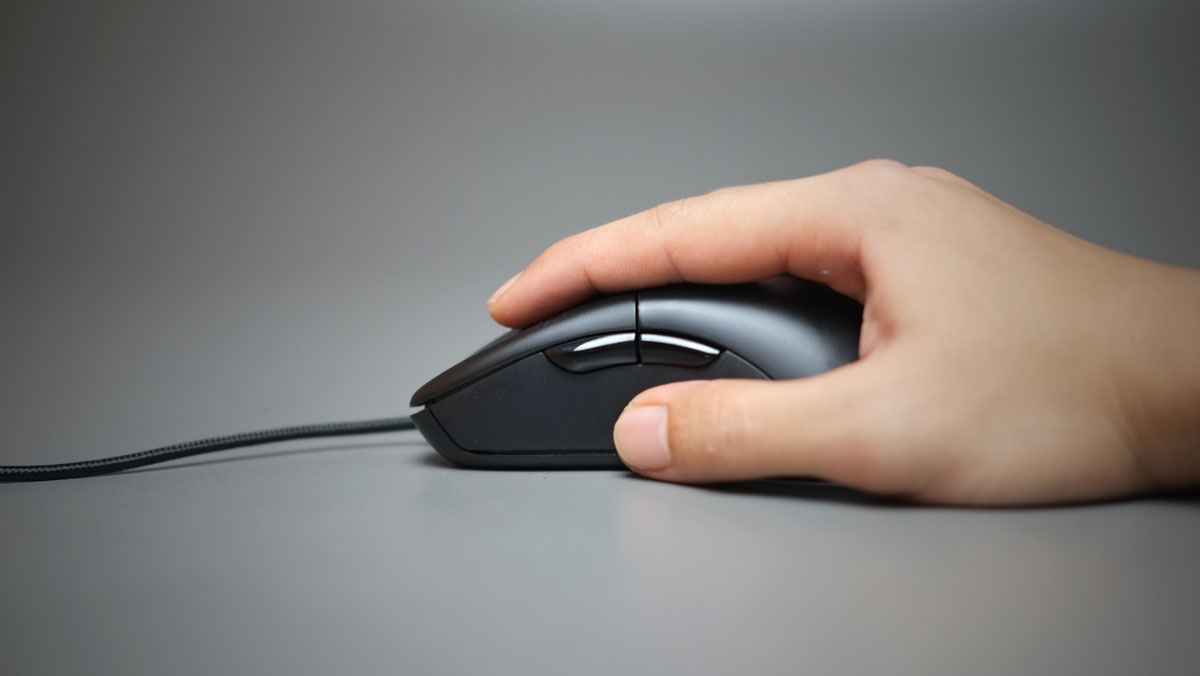 For medium sized hands, the mouse is just excellent to palm grip. If you have larger hands, claw and finger tip griping are also possible. Both wrist and arm aiming shouldn't be an issue with this gaming mouse but be aware of its 160 gram weight. It is not made to be flicked around with someone my size. You may try though if you prefer a heavier gaming mouse.
LIFT OFF DISTANCE, ANGLE SNAPPING AND ACCELERATION:
Angle snapping, acceleration and lift off distance are also evaluated. Angle snapping and acceleration are checked with MouseTester V1.5.3, while lift off distance is checked with ~1.2mm optical discs. Sensor rattle is then checked with an electrical tape.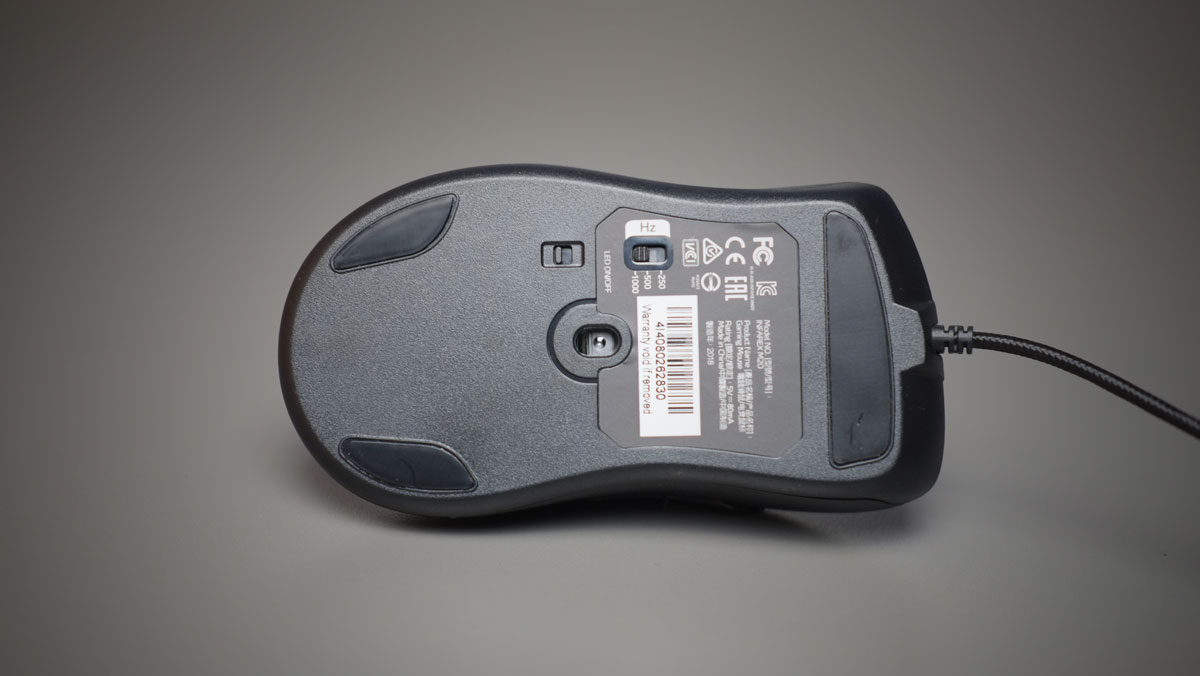 Lift off distance is locked at around ~1.2mm give or take, which is good enough to tick one of my requirements. Angle snapping is non-existent, sensor rattle is physically out of the equation and acceleration is not a problem either.
MOUSE VELOCITY:
Mouse velocity at industry standard DPI levels is checked with the MouseTester V1.5.3. We flick the mouse in a circular pattern at our fastest to check the sensor's speed at 800, 1600 and 3200 DPI.
Mouse velocity at various DPI levels are sufficient enough with the lowest recorded at 1m/s and a peak at 10m/s. Generally, anything that could achieve a 1m/s of velocity and above is good enough for my requirements.
DPI ACCURACY:
DPI accuracy at industry standard DPI levels is checked with the MouseTester V1.5.3. We rigged the mouse on a camera slider to check the sensor's accuracy at 800, 1600 and 3200 DPI.
Excellent DPI accuracy reports we got here from the ADATA XPG INFAREX M20 at 800, 1600 and 3200 DPI levels.
POLLING RATE CONSISTENCY:
The Polling Rate of the device is evaluated with the MouseTester V1.5.3 at the 800 DPI level. This is to check the consistency of the device's update rate at 1000Hz.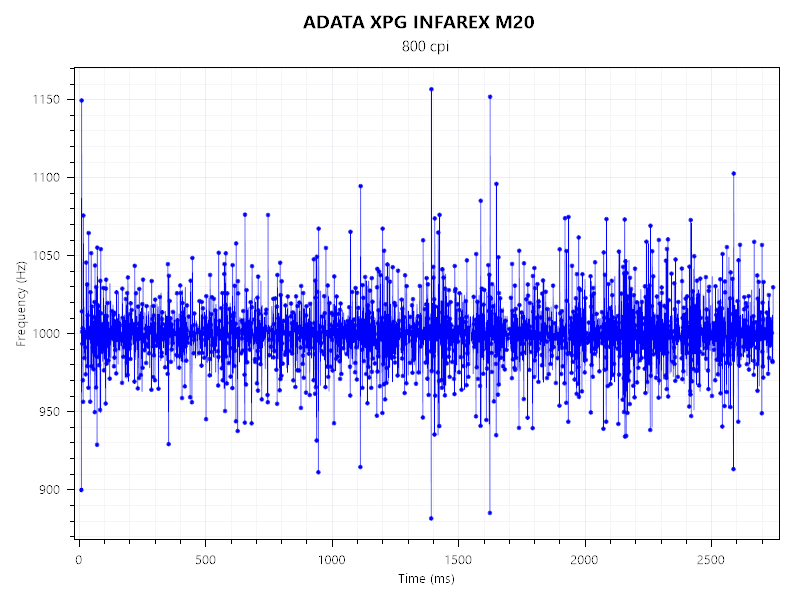 Polling rate is not the most consistent out of all the mouse I've tested although it's not entirely bad either. We've seen small jumps and then dips from the ideal frequency of 1000Hz but then again it isn't a deal breaker.
TRACKING PERFORMANCE:
Mouse tracking performance is evaluated with the MouseTester V1.5.3 with a DPI level of 800 DPI. Our aim is to check out the sensor's performance; and to look for reporting inconsistencies. That includes inconsistencies from sensor ripple or jitter.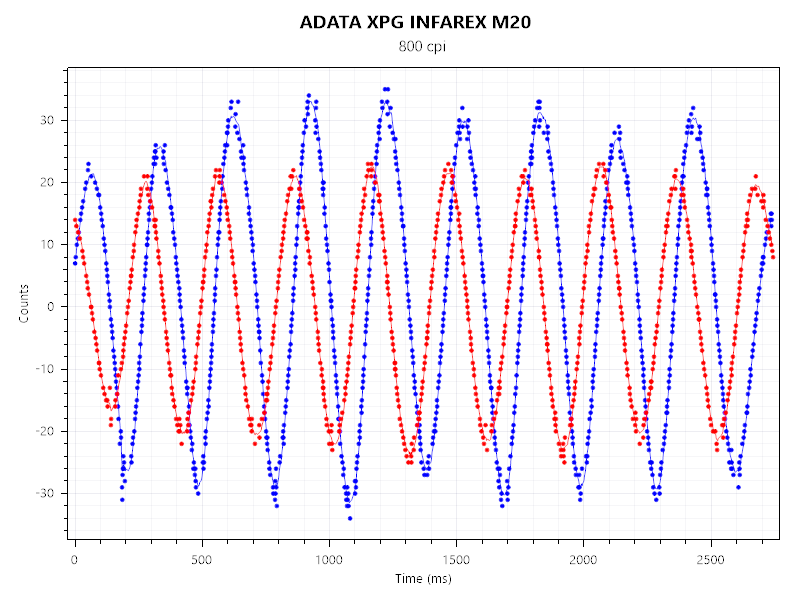 Flicking the ADATA XPG INFAREX M20 back and forth in a fast circular pattern showed decent amount of counts with small gaps yet smooth through out. What we don't want to see here are huge deviations from the line which is not the case with the INFAREX M20.
SOFTWARE, LIGHTING AND SPECIAL FEATURES:
The ADATA XPG INFAREX M20 doesn't come with its own software nor it needs such to work properly. Everything has to be done via the switches and buttons.
Lighting for the most part is alright. Flick the switch and off you go with a breathing RGB cycle. It is not addressable though, so that's something you have to keep in mind. For a full list of its capabilities, head over to the official product page.
FINAL THOUGHTS:
The ADATA XPG INFAREX M20 is a capable gaming mouse straight out of the XPG line; Offering excellent mid-size ergonomics and a sensor that does the job just fine. It is on the heavier side though, so gamers looking for something larger yet a bit lighter should look elsewhere.
The 5000 DPI capable sensor is more than enough for the tasks it intends to do. DPI accuracy is excellent, the mouse acted within my range – velocity wise and the tracking while not the best out there is no slouch.
Build quality is great yet there are design choices that could make it even better. The braided cable for example could've been more flexible or ADATA could've gone with a non braided cable at all.
Coming in hot at 1898 Pesos or about $35 USD, the ADATA XPG INFAREX M20 is not cheap at all, but not over priced either. It is an excellent option though if you prefer a large and heavy mouse with a competitive grade sensor to boot.
ON THE FLY ADJUSTEMENTS, NO SOFTWARE REQUIRED
CAPABLE 5000 DPI SENSOR
GREAT BUILD QUALITY
EXCELLENT FOR PALM AND CLAW GRIP

LARGE AND HEAVY, NOT FOR EVERYONE
LIGHTING NOT ADDRESSABLE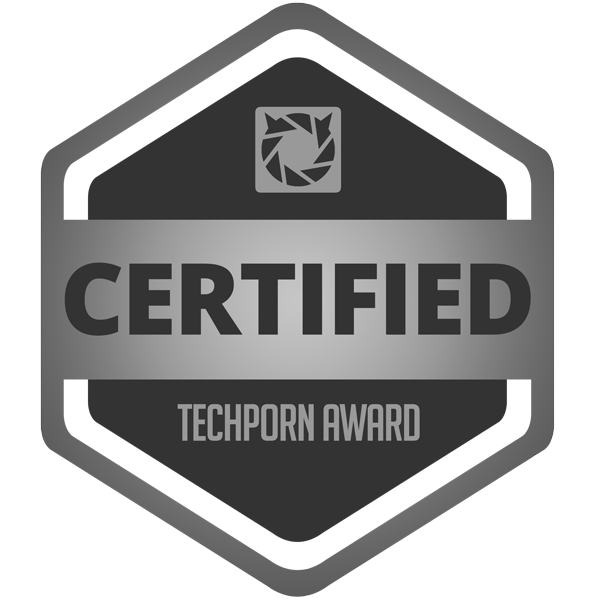 ADATA XPG INFAREX M20 Gaming Mouse Review
PERFORMANCE -

9/10

BUILD QUALITY -

8/10

FEATURES -

7/10

AESTHETICS -

8/10

VALUE -

7/10
Summary
Coming in hot at 1898 Pesos or about $35 USD, the ADATA XPG INFAREX M20 is not cheap at all, but not over priced either. It is an excellent option though if you prefer a large and heavy mouse with a competitive grade sensor to boot.