To be completely honest, ASUS ROG keyboards are the least of my favorite out of the company's offerings. They were expensive, too edgy for my liking and just doesn't feel like anything better than my daily driver. Fast forward today, it seems like my view for these ROG keyboards needs some fine-tuning with the release of the ROG Strix Scope RGB.

The ASUS ROG Strix Scope RGB is everything but tacky. It is a full sized gaming keyboard with RGB lighting, featuring the tried and tested Cherry MX RGB switches inside. Now what I like about this keyboard are the inclusion of the following: It is made out of aluminum, has a nuke button for privacy and has a CTRL button as wide as the Shift key.
Technical Specifications
Keyboard
Size
Full size
Layout
104 Key, Extended CTRL
Design
Frameless
Macro
Yes
Profile
Yes
Software
Yes
Interface
USB
Polling Rate
1000Hz
Lighting
Yes, RGB
Wrist Rest
NA
Pass-through
NA
Cable Management
Yes, 3 way
Multimedia Keys
Yes
Cable Length
1.8 meters
Switch
Type
Cherry MX RGB, Red, Blue, Brown, Black, Silent Red, Speed Silver
Actuation
2.0mm
Travel
4.0mm
Lifespan
50 million
Dimensions
Length
440mm
Width
137mm
Height
39mm
Weight
1070 grams
Packaging and Accessories
The ASUS ROG Strix Scope RGB comes packed inside your usual mechanical keyboard packaging. It comes with the following documentations and accessories inside:
Quick Start Guide
ROG Logo sticker
Additional FPS Keycaps
Keycap puller
Design, Layout and Build Quality
The ASUS ROG Strix Scope RGB is an elegant looking frameless keyboard in spite of its gaming DNA. Build quality certainly is top of the notch, with excellent material quality and weight to back it up at 1070 grams. This is one of the sleekest mechanical gaming keyboards I've tested this side of the year.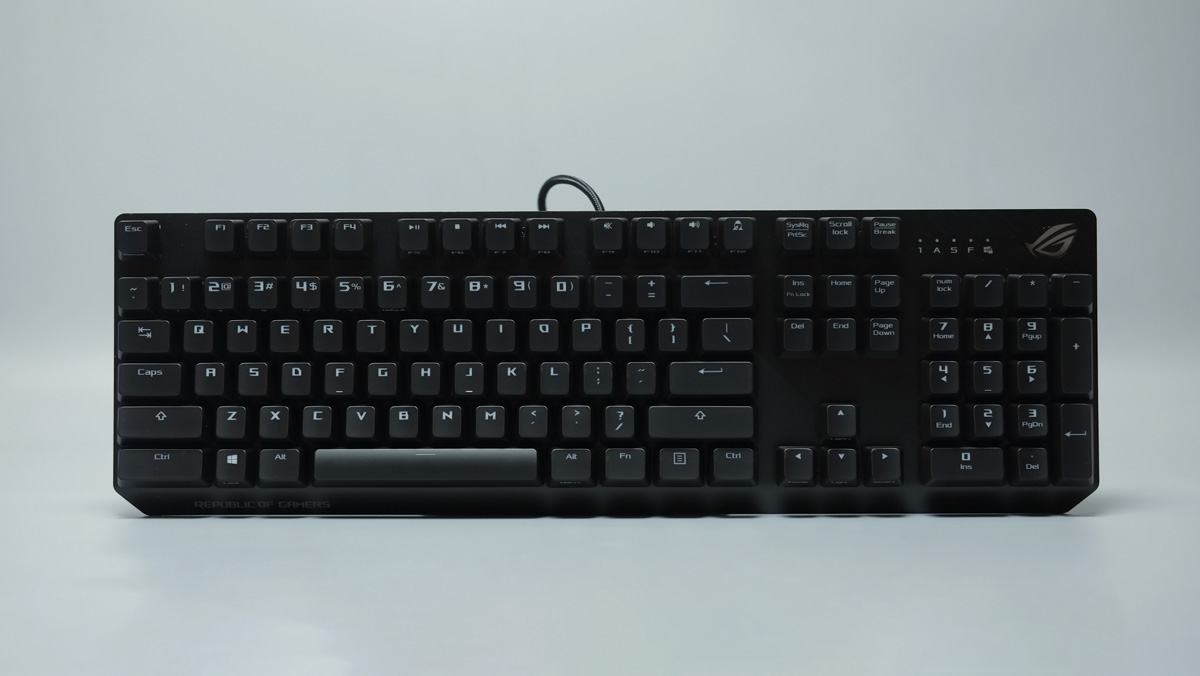 The back end of the Strix Scope is just as good looking as its facade. Here we have decent size yet proprietary rubber footings and a three way cable routing option. Height is adjustable too by about an inch via the extenders.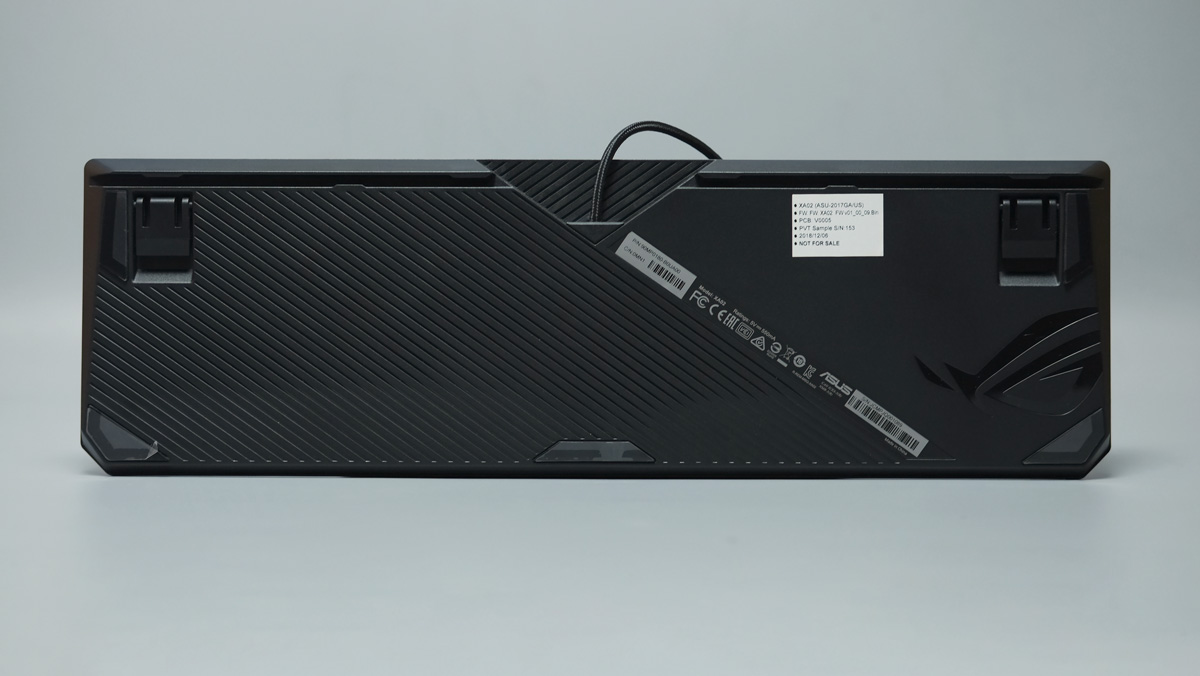 The key profile is sculpted from top to bottom which is accentuated further by the frameless design of the keyboard. Due to the nature of its design, bumping onto the lower end has been reduced too which is always a plus.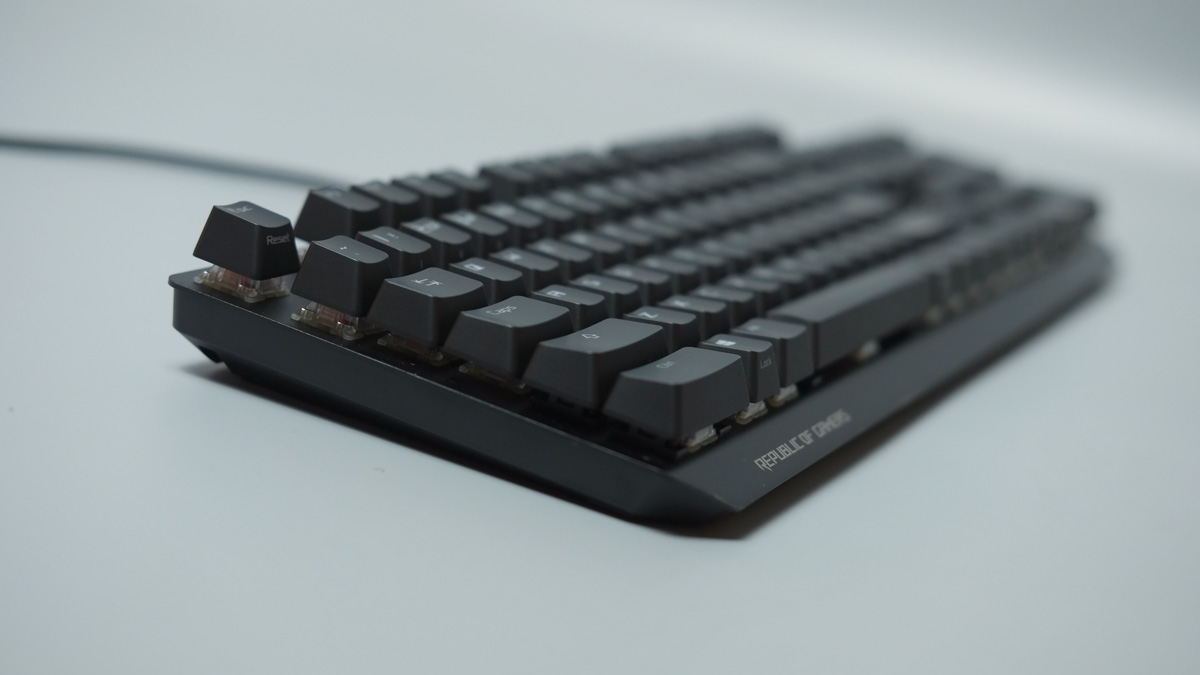 Keyboard connectivity is provided by a braided 1.8 meter cable. Kinda wished the cable on the ASUS ROG Strix Scope RGB is not braided though for maximum flexibility.
Test Setup and Methodology
Testing a keyboard is not that difficult, but it is mostly subjective; similar to testing head gears in a sense. That said, no keyboard is perfect and the verdict usually depends on personal preferences. With that in mind our methodology is overhauled to follow the key pointers that should matter the most. That includes how good the switches are, the quality of keycap and its profile plus the comfort.
Test Setup
Games
Overwatch, Battlefield 4, DOTA 2
Repeat Rate
Shortest
Repeat Delay
Fastest
Polling Rate
1000Hz, If possible
Software
EliteKeyboards Switch Hitter
Physical Layout, Functionality and Ergonomics
Keyboards are generally categorized in 4 standard sizes or layouts: Full Size, TKL, Compact 75% and 60% layouts. These standard layouts had drastic effects on the functionality and ergonomics of the keyboard. Generally, compact layouts allows for better ergonomics; whereas full layouts offers 100% functionality.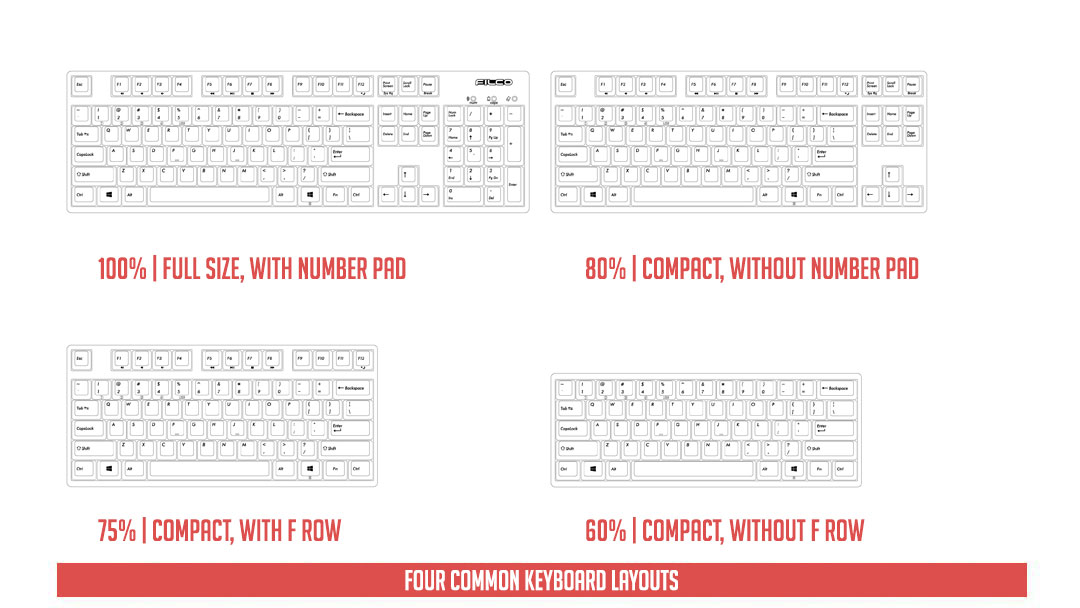 The ASUS ROG Strix Scope RGB features a somewhat traditional 104 key layout. Somewhat, since the CTRL key is just as wide as the Shift key. It is a bit slimmer than your normal 100% layout though due to the nature of its frameless design. This design also allows for easier maintenance too which is always a plus.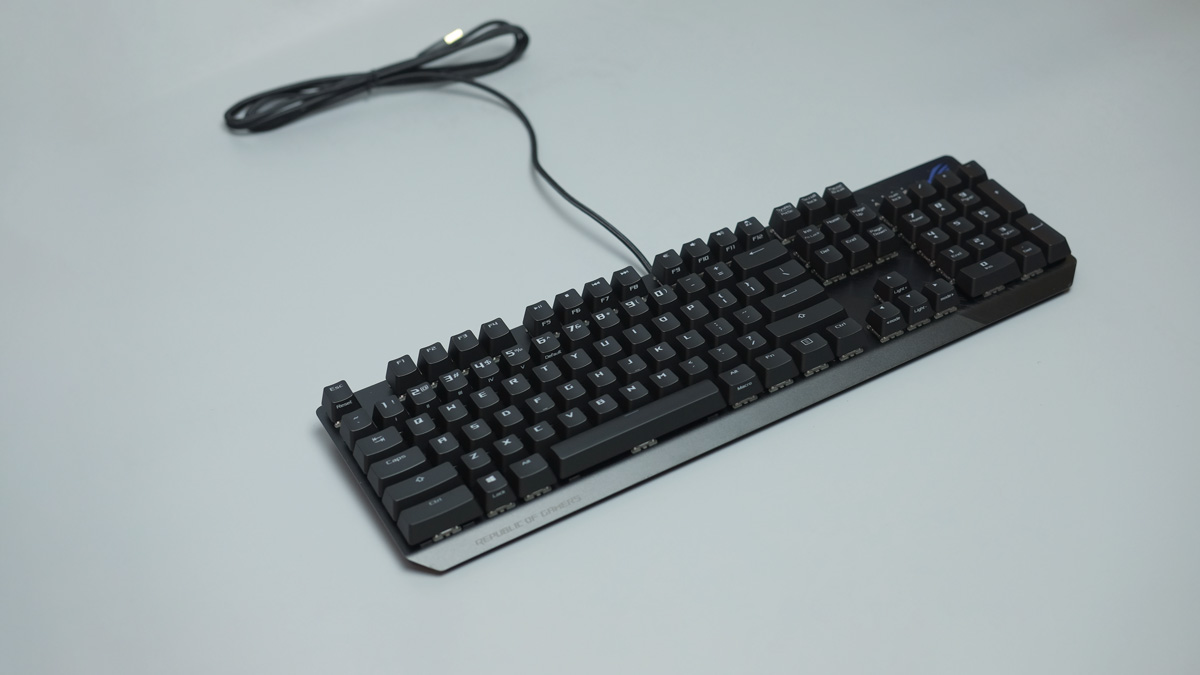 As for functionality, there are many to talk about. We have multimedia keys, macro recording keys, profile switch functionalities, lighting effect switches and even factory reset.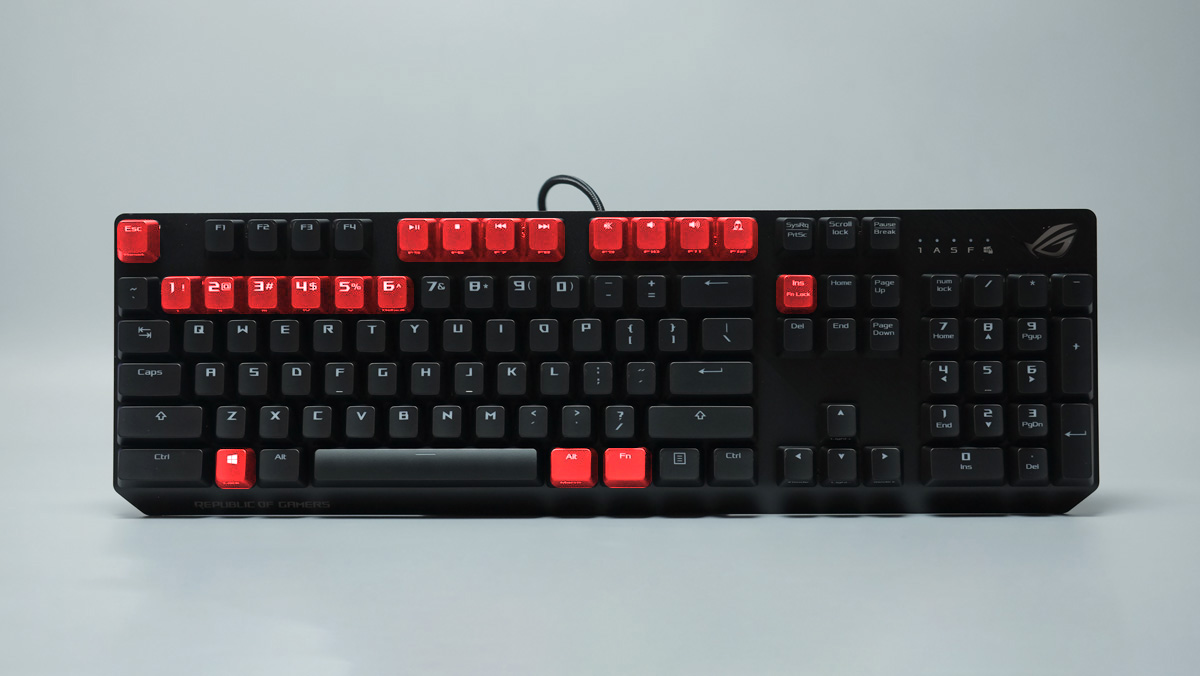 Listed below are the most common key combinations:
Fn + Ins: Toggle between normal Fn and media controls for the F5-F12 keys.
Fn + F12: Minimize all active windows and mutes the system (F12 if Fn + Ins is enabled)
Fn + Esc: Factory default
On the Fly Macro recording:
Fn + Right ALT: Star recording
Input your desired macro
Fn + Right ALT: Stop recording
Input your assigned macro key
Profile Switch:
Fn + 1, 2, 3, 4, 5, 6: Number 6 is the default profile
Light Effects:
Fn + Right: Effect scroll
Fn + Left: Effect scroll
Fn + Up: Brightness up
Fn + Down: Brightness down
Fn + Delete: Red increase
Fn + End: Green increase
Fn + Page Down: Blue increase
We'd like to note that if you happen to install the ASUS AURA software, the hot keys related to lighting effects will be disabled.
Keycap Profile, Printing and Material
The keycap profile is often overlooked when it comes to keyboards. It shouldn't be, considering that the profile usually makes or breaks a portion of keyboard's ergonomic and feel. The DCS family is the most common one here, with Cherry and OEM profile slotted beneath it. On the other hand, profiles such as the DSA and SA profiles are mostly found on higher end mechanical keyboards.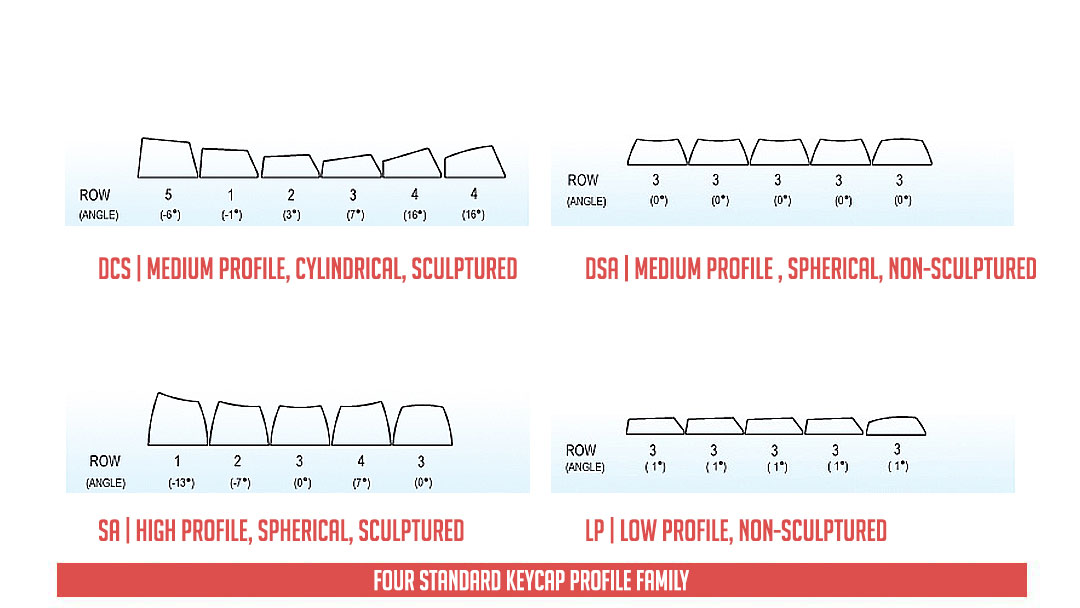 Keycap printing method is also an important aspect we should look into. Pad printing is the most common one here, while dye sublimation and double shot injection being the more premium ones due to their printing quality and durability.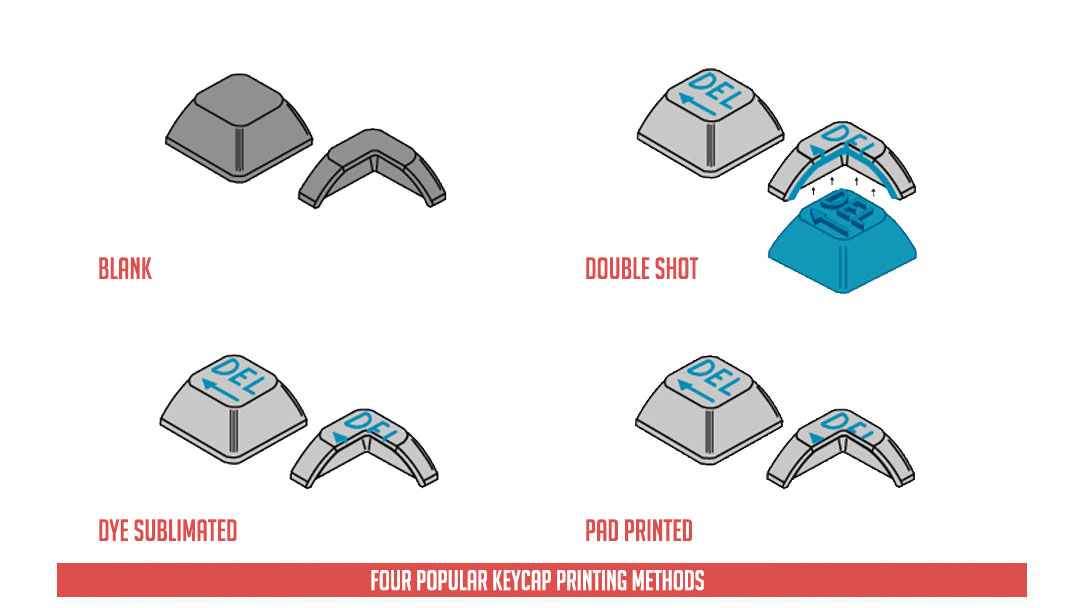 Keycap materials are important too in selecting a mechanical keyboard; though it is common to see keyboards shipped with either ABS and PVC keycaps. These materials do however shine faster than other materials and quality is generally not the best. PBT doesn't shine as fast compared to these keycaps and are highly regarded for their quality and distinct texture. POM on the other hand is also a durable material but they are rarely found as aftermarket options.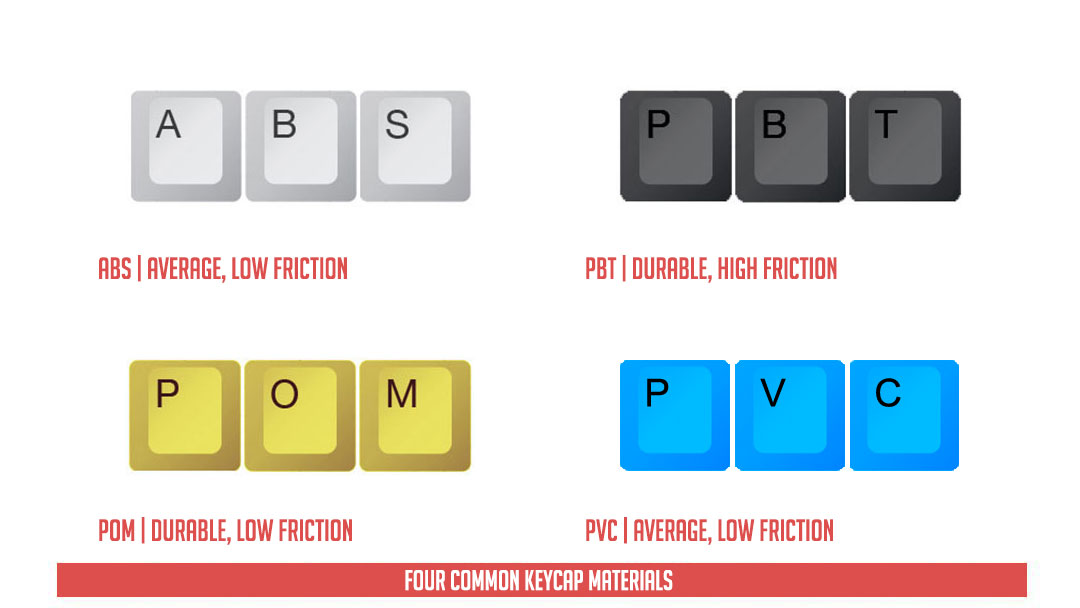 The keycap profile of the ASUS ROG Strix Scope RGB is under the DCS family, more specifically the sculpted medium OEM profile. The same profile with most mechanical keyboards out there.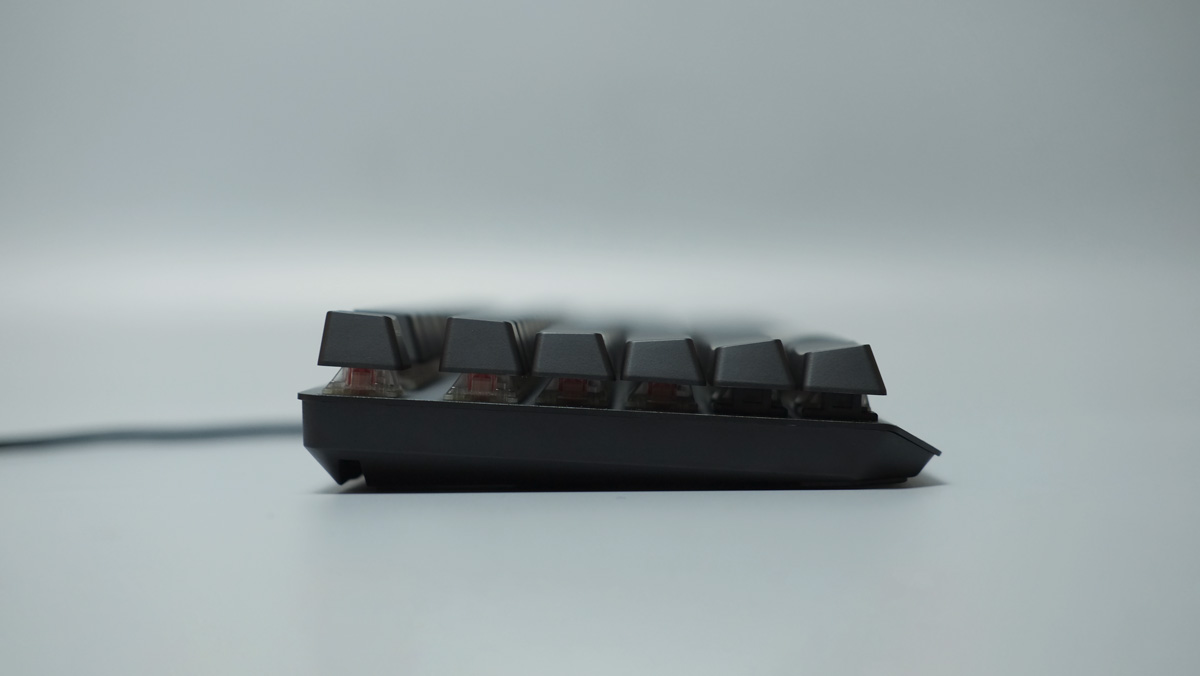 Material used for the keycaps is ABS plastic. The prints on this particular set is excellent, although I wouldn't mind a simpler font design.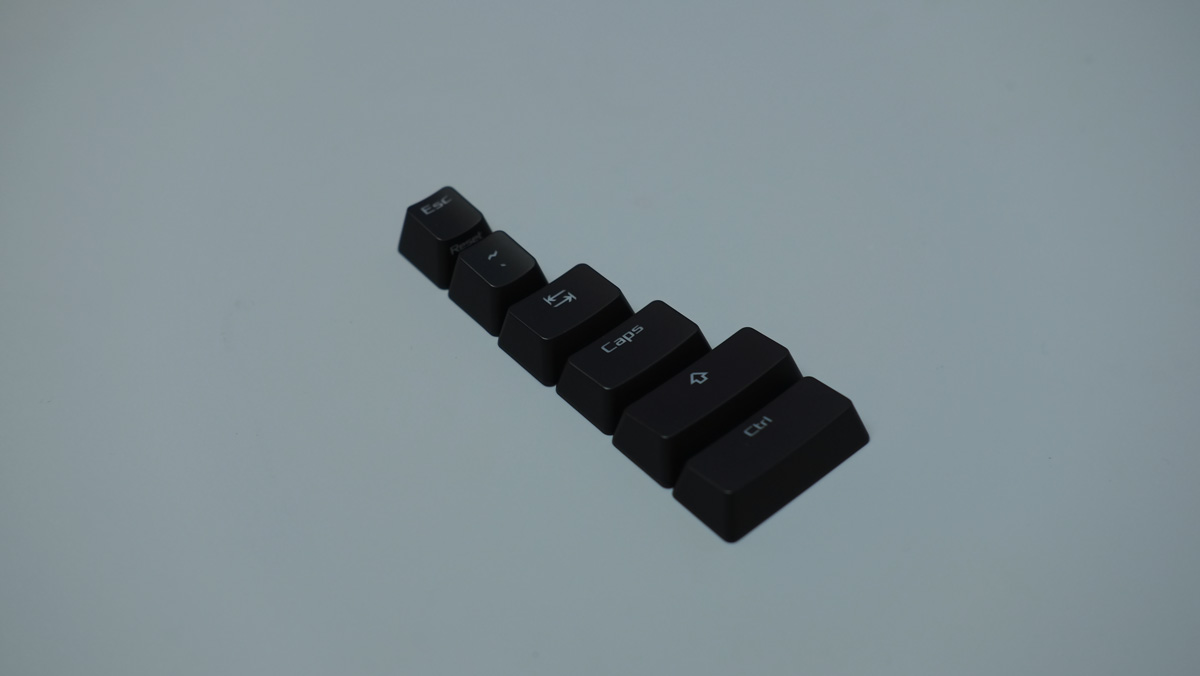 Keycap thickness is more than decent with no obvious nub marks nor fragile stem supports. Nothing to worry about the ASUS ROG Strix Scope as far as keys are concerned I suppose.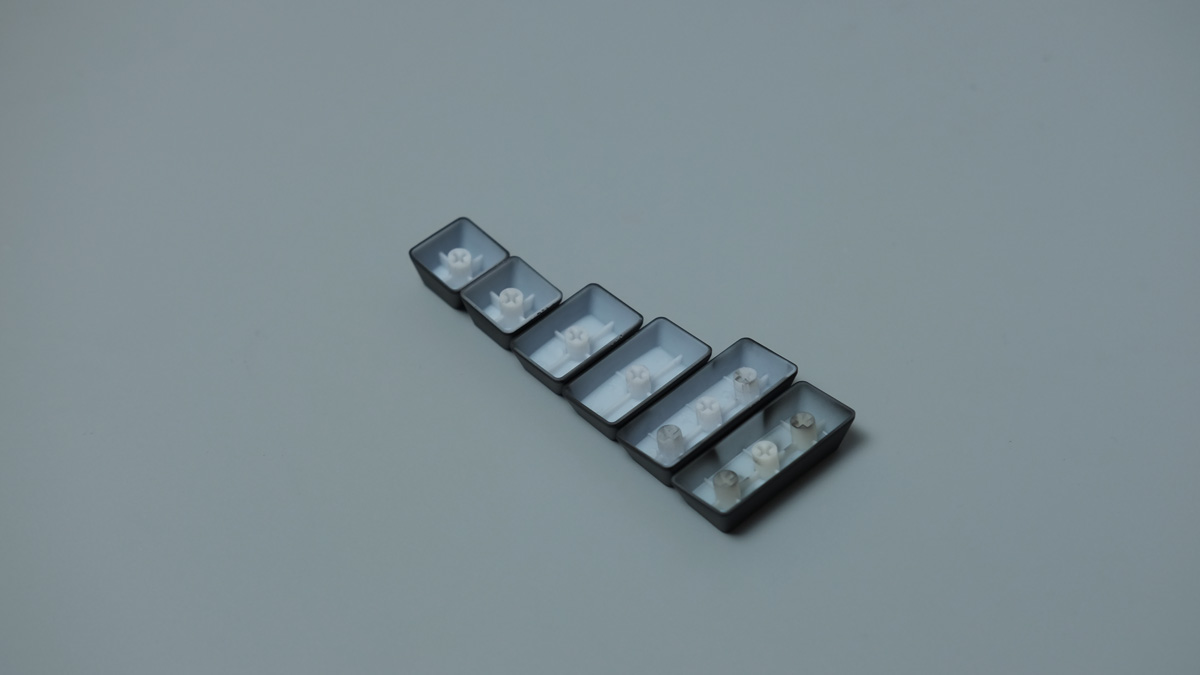 Mechanical Switches and Stabilizers
The mechanical switches makes up the reason why mechanical keyboards are called "mechanical keyboards" in the first place. There are tons of switches out there but Cherry MX switches are the most popular of them all; setting a standard for the rest. They have clicky, linear and bumpy switches; all with their own mixture of actuation forces and actuation points.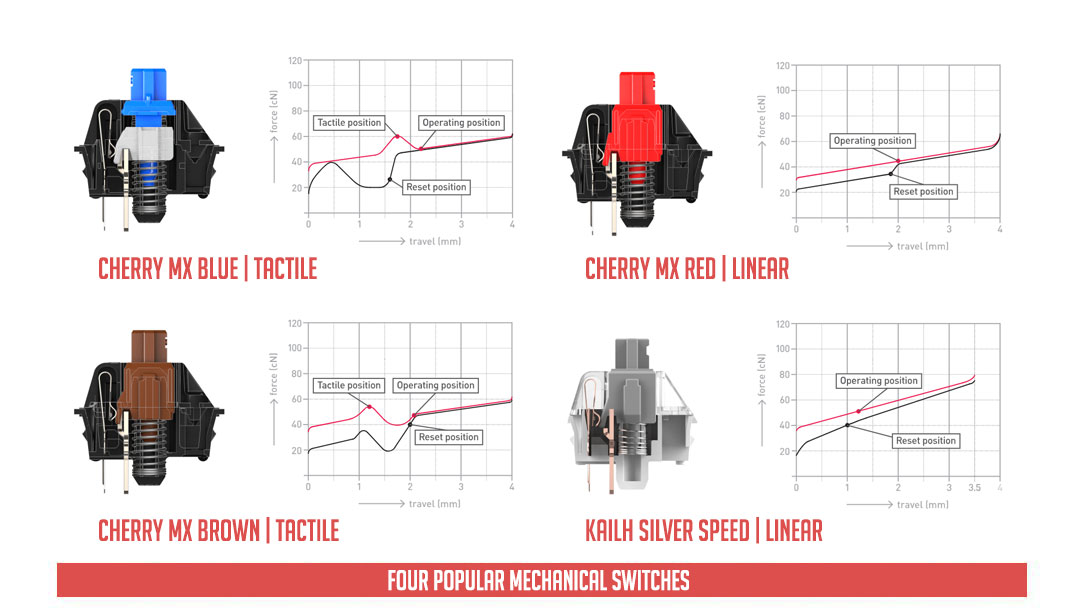 The ASUS ROG Strix Scope RGB model we got features the Cherry MX RGB Red switches inside. The Cherry MX RGB Red has a lower operating position compared to let's say, a Cherry MX Blue and features lighter force to actuate. It is also quieter too if not bottomed out. This keyboard is also available in Cherry MX Silent Reds. Basically a quieter, faster actuating equivalent of the normal variant.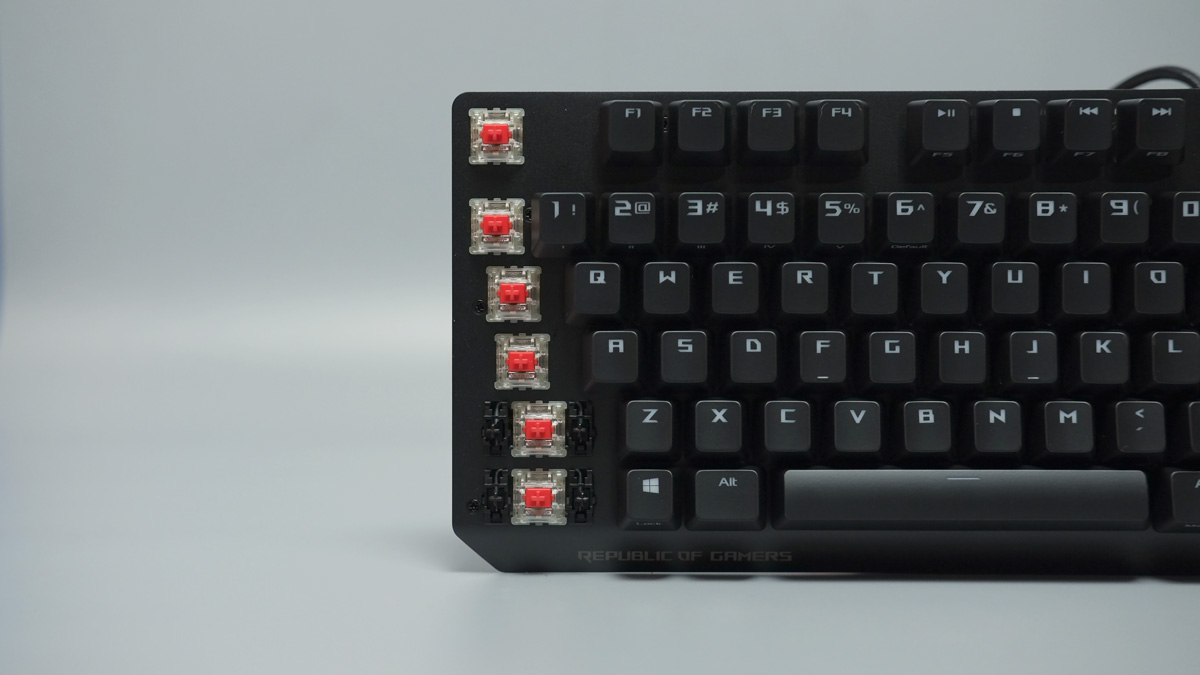 Key stabilizers are present on all switches that requires them. ASUS made sure to employ good quality ones on the ROG Strix Scope RGB.
Key Rollover, Chatter and Ghosting
EliteKeyboard's Switch Hitter is an excellent freeware to test key rollover, chatter and ghosting. Key rollover is basically the number of keys the keyboard could register, while chatter is multiple registered inputs with a single press of a key. Ghosting on the other hand is the unwanted input registration when several keys are pressed together.

The ASUS ROG Strix Scope RGB passed with flying colors on our rollover, chatter and ghosting tests. Nothing to worry about here guys so let's move on.
Software, Lighting and Special Features
Just like most ASUS gaming gear products, the ROG Strix Scope RGB comes with support for the ASUS AURA and the ROG Armoury II software. Basically, the ASUS AURA allows you to pair the keyboard with the rest of your AURA compatible components while the Armoury is used for the gaming gear eco-system. Pick only one or pick nothing at all if you want to maintain the Fn based lighting effect functionality of the keyboard.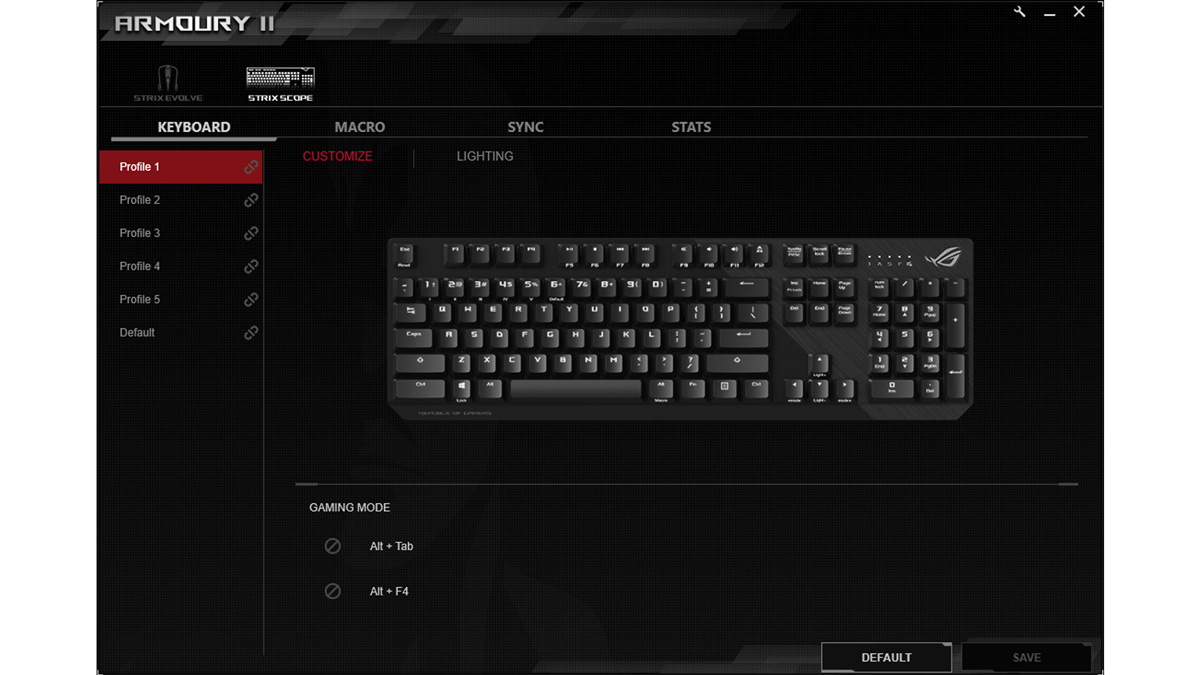 Lighting is excellent with 10 pre-defined effects at your disposal. I cannot fault this one out. It is just as good as any higher end ASUS ROG gaming keyboards. Even the ROG logo lights up which is fantastic.
Now the ASUS Stealth key, Quick-Toggle Switch and Xccurate Design (wide CTRL) are the main reasons why I like this keyboard so much. The ASUS Stealth key in particular allows you to mute your system while minimizing all the windows at the same time. This is an excellent feature especially if you kept on stumbling upon some troll videos on social media or if you have something more embarrassing to hide in a snap.
The Quick-Toggle Switch is again, another favorite since it basically transforms all the Fn keys with secondary functions. This is useful if you favor using the media keys over the normal function keys.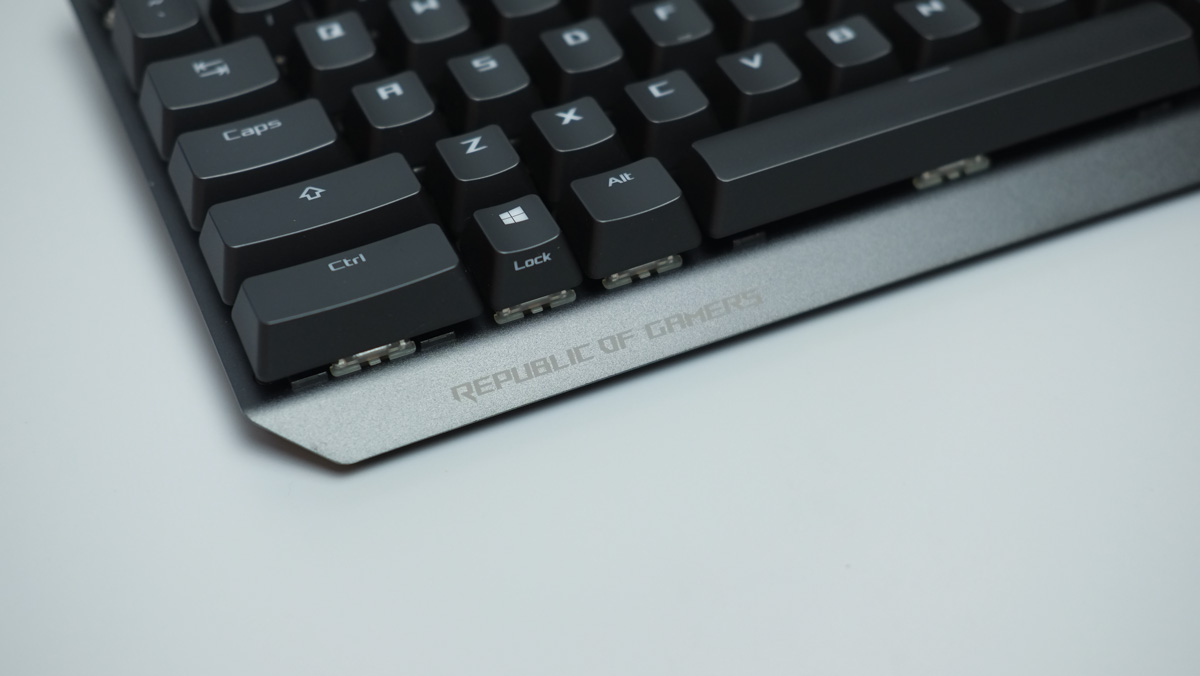 Finally, we get the explore the not-so aptly named Xccurate Design CTRL. This is another favorite, in spite of its double edge sword like nature. If you are a gamer that usually hits the left ALT key by mistake, then this is your savior. If you are so used to the left ALT key to the point where it enhances your ability to play games, then this is a no-no.
Final Thoughts
The ASUS ROG Strix Scope RGB is an excellent mechanical gaming keyboard from ASUS, no doubt about that. It has the necessary features to give yourself an edge in-game and so much more.
It is not perfect though. For an instance, the cables are still braided, which is so early 20XX. A feature that I despise since it hinders my ability to shape its own to my exact liking. It soaks dirt like a sponge too and cleaning it will most likely be a chore like most braided offerings in the market. While its ABS plastic is top-notch both in print and quality, ASUS should've gone with a more durable material like I dunno, maybe the not cheap looking, heavenly PBT? For the price point of 7699 Pesos ($170 USD elsewhere) I expected a bit more of love for the #MKB enthusiast crowd.
Overall and with my personal nitpicks aside, the ASUS ROG Strix Scope RGB is still an excellent keyboard to be had. My favorite yet from ASUS ROG's offerings out of the bunch.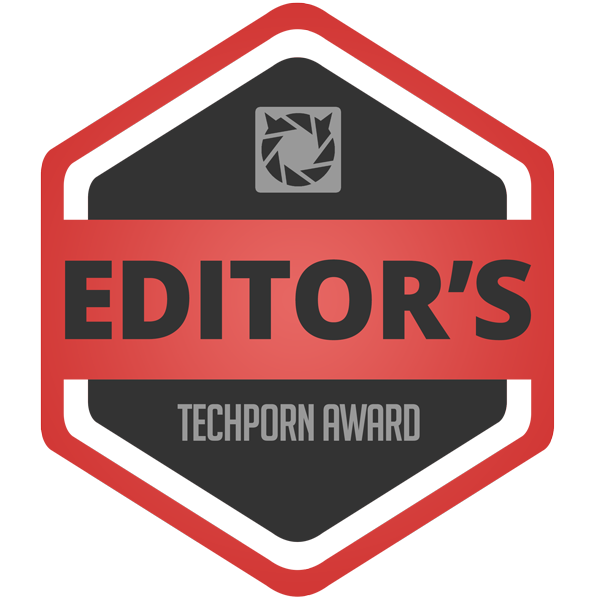 ASUS ROG Strix Scope RGB Mechanical Gaming Keyboard
Performance -

9/10

Build Quality -

9/10

Features -

9/10

Design -

9/10

Value -

7/10
Summary
Overall and with my personal nitpicks aside, the ASUS ROG Strix Scope RGB is still an excellent keyboard to be had. My favorite yet from ASUS ROG's offerings out of the bunch.
Pros
Excellent build quality
Ergonomics
Aluminum design
RGB lighting
Excellent bundle
Cons
Braided cables
ABS plastic keycaps
Price point