Investing in the right chair for your gaming or workspace can instantly elevate your productivity and motivation. Take your setup to the next level with the award-winning Secretlab TITAN Evo 2022 Series designed for those who spend most of the day seated, from work to play and everything in between. Read on to find out how you can score exclusive Single's Day deals from Secretlab this 11.11.
Back pain affects most people at some point in their lives. Although you can experience pain anywhere along your spine, lower back pain is particularly common. Back pain is also one of the biggest reasons for absences from work, with sprains, strains and posture issues accounting for the majority of cases.
With most of us spending most of our day seated—an average adult sits for 6.5 hours a day—having a correctly adjusted chair can help support your back properly and reduce strain.
What good sitting posture looks like
Poor posture can have a negative impact on your health. Slouching or slumping can weaken your spine, decrease flexibility, and even affect your overall balance. Here's how you should really be sitting.
Make sure your back is fully supported. Get a chair with a full-length backrest and adjustable lumbar support, so it can support the natural curve of your lower back. Additionally, your chair should also be firm enough to support your spine in a neutral position. Avoid soft seats since they are bad at supporting a healthy posture and you'll feel aches and pains after some time.
Keep your elbows close to your body. Your elbows should be bent between 90 and 120 degrees and supported by your chair's armrests to take the strain off your neck and shoulders.
Your armrests should be adjustable, so they can be set level with your desk whenever required, and go low enough when you need to slide them under your desk to sit closer.
Keep your feet flat on the ground. You should be able to set your feet comfortably on the ground to support yourself in a healthy, neutral position. Your knees should be bent at around 90 degrees, and your thighs and hips should be parallel to the ground. Your chair should be adjusted to the ideal height for you.
Relax your shoulders. They should not be rounded or pulled backwards.
Research-backed ergonomics
The Secretlab TITAN Evo 2022 radically reshapes how people think of gaming chairs. The all-new Secretlab TITAN Evo 2022 Series is the culmination of all these years of research and testing, drawing on data collected from detailed ergonomic studies and its dedicated state-of-the-art test lab, the Secretlab TITAN Evo 2022 is masterfully crafted with multiple patent-pending features that have been engineered for relentless performance.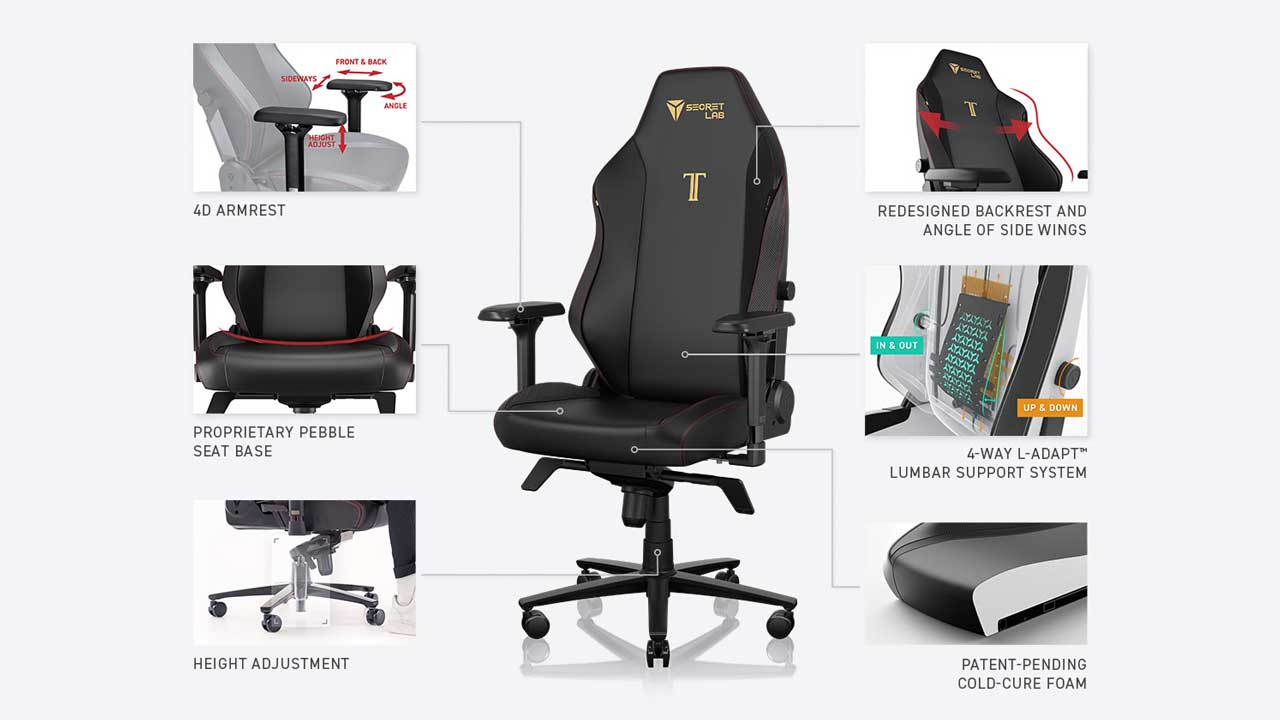 The Secretlab TITAN Evo 2022 has the world's most advanced lumbar support on a gaming chair. The integrated 4-way L-ADAPT™ Lumbar Support System can be adjusted up and down, and in and out, tucking neatly into the curve of your lumbar spine for improved support.
Proprietary pebble seat base. Guides your hips toward the middle for optimal support, while still leaving plenty of room to accommodate your natural movements.
Patent-pending cold-cure foam. Secretlab's signature foam is specially formulated to be medium-firm — the perfect blend of comfort and support. It distributes weight evenly and effectively relieves pressure for optimal support.
Redesigned backrest and angle of side wings. Cradles your shoulders, without forcing them into a rounded position.
Adjustable, 4D armrests for effective support for your wrists and elbows in all directions during a long ground.
Optimised the height adjustment range on its Class 4 hydraulic mechanism, so you can set your feet flat on the ground for greater stability.
Maximum comfort in one all-new package, designed with the most demanding users in mind, many of whom spend over 12 hours a day seated, shop the Secretlab TITAN Evo 2022 this 11.11 and enjoy up to 28% OFF, FREE Delivery and get a pack of Secretlab Upholstery Wipes worth ₱1,190 for FREE with every chair purchase.