Loads of New Products at COMPUTEX 2016
With all the cases, power supplies, coolers, and gears combined, Thermaltake probably had the most metallic elements at COMPUTEX 2016. It is a trivial matter, but no one can deny the fact that this company attracted a lot of persons at the said event – brimming with modified PCs, and concepts that will be released to the public soon.
Talking about concepts, Thermaltake had a table PC made out of their Core Series chassis. The desk is physically a combination of multiple system units combined. A nice concept, and a very expensive one.
Thermaltake also showed us their fully 3D printed chassis, the Core P1. It is an ITX chassis, fully made by a 3D printer that could support a full size PSU, a 120mm radiator, and 2 storage devices in 2.5″ form factor.
Thermaltake's product manager also stated that they are interested in premium gaming lounges, and are now looking forward to do business – particularly with the iCAFE industry business owners to allow them to ship one of a kind gaming lounges as seen below.
The company is also entering the gaming chair market, with their TteSports GAMING Chair. No pricing revealed yet, but they are targeting a price bracket at around 250 USD. The chair seems good enough for the targeted price point.
Thermaltake also showcased their Core Series chassis at COMPUTEX 2016, with the Core WP200 at the spotlight. Next to them are the mid tower Suppressor F Series of cases.
The Core P5 Series, which is undoubtedly one of Thermaltake's successful cases, is also on  the show with modders having a go at it, displaying their own creations. This case is definitely on my list. Could be a great test-bench case too.
A smaller version of the Core P5 has been revealed too, which is the Core P3. This is basically the Core P5 with a smaller footprint. The case supports mATX boards out of the box, but it can be also configured to support larger motherboards by removing the PSU bracket at the bottom. Next to it is the Suppressor F1 cube chassis.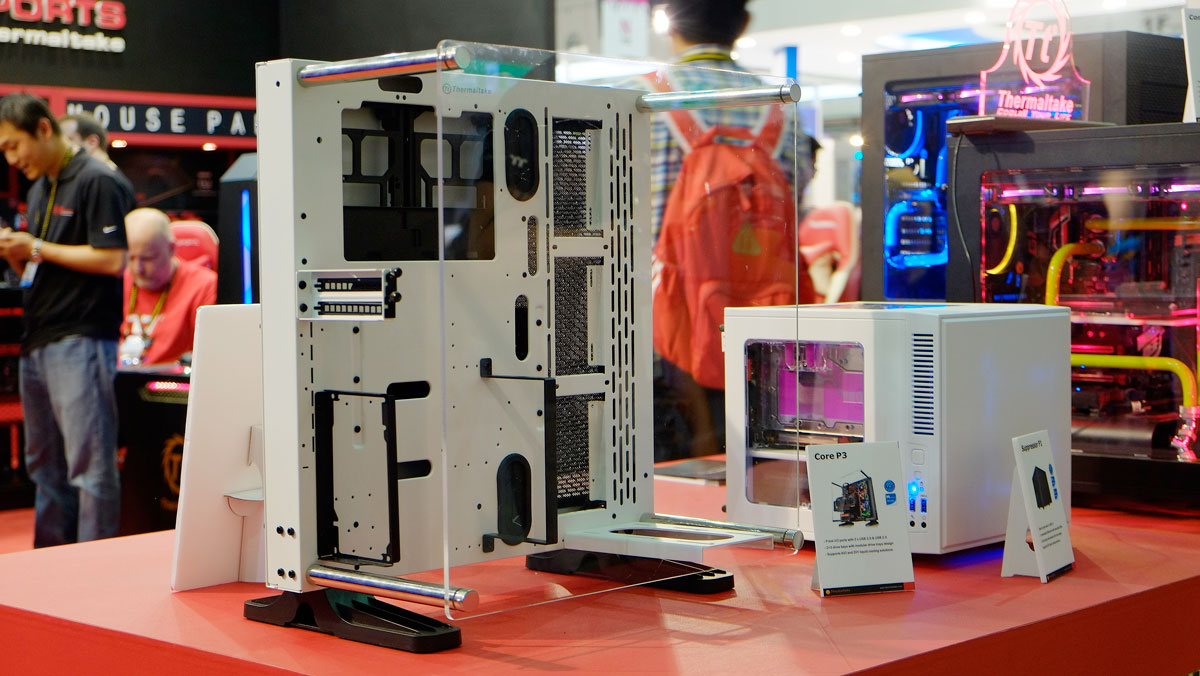 The Tower, which is a modified Core X9, is a collaboration between Thermaltake and WaterMod France. It is Thermaltake's first modified chassis that will go into a mass manufacturing process.