It is unlikely that in 2009  the developers of Omegle and Chatroulette could have imagined how popular the video chat roulette format would still be after more than 10 years. At that time, there were no such services, and Internet users communicated either by email or on themed forums and regular text chats. It was only in 2009 that a completely new format appeared — chat roulettes.
Chat roulettes allowed people from all over the world to meet and communicate with users from other countries and continents — conveniently, quickly and for free. At the peak of the popularity of Omegle and Chatroulette, their daily number of users often exceeded 1-2 million. True, both sites suffered from poor moderation, and an abundance of Internet trolls and scammers. This did not suit many people, so ordinary users quickly began to look for alternative sites – by that time there were a lot of them.
Today we decided to look at the top alternative video chat roulettes in the USA, and evaluate their advantages and capabilities. If you are looking for a decent replacement for Omegle or Chatroulette right now, be sure to take a closer look at the proposed options.
Best chat roulette apps in the USA
Chatruletka
Chatruletka is a classic random video chat with basic functionality. You can specify your country and gender so that the algorithm can more accurately select chat partners. You can communicate via video link or text chat, and for variety you can add different emoticons to messages. An important plus of Chatruletka chat is convenient applications for iOS and Android, so it's not necessary to use the web version to use all the video chat functions. The platform is free, but there are optional paid features.
Arousr
Arousr is an online texting site that really lets you play around with strangers directly. Whenever you choose someone, you're going to be talking to her right on her cellphone and that makes a huge difference. It's not how sites like Chatroulette operate. Those sites are only around to let you talk to people in public chat rooms. When you use Arousr, you're talking privately so you're getting the girl's full attention. Best of all, you don't have to wait for her to see your texts. They're popping up directly on her phone so she can reply back to you. That's really the best way to go about all of your texting needs. You'll be able to see what the model looks like and text her with any naughty thoughts that you can come up with. If you're not texting like that, then you're not really enjoying it at all.
RandoChat
RandoChat is in some ways a combination of random video chat and dating site. Here, when registering, you'll need to fill out a profile — add a photo or choose an avatar, come up with a nickname, indicate gender and age. You can also select the desired gender and age of users to search for. One of the main features of RandoChat is the ability to add interesting users to your favorites list so that you can connect to them again in the future. It's very convenient and allows you not to lose a person you like. Another interesting feature is that RandoChat does not store your messages on the server, which makes the chat more confidential. This chat roulette does not have a web version, but there are applications for iOS and Android.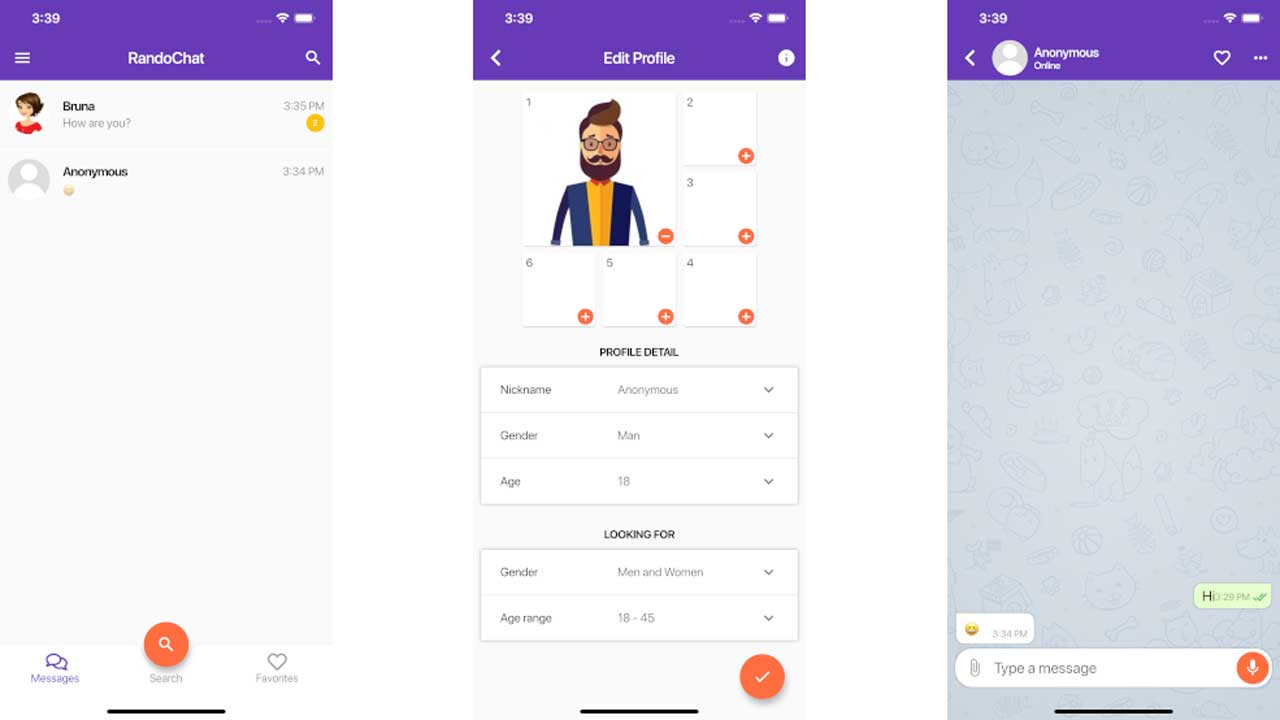 Chat Alternative
Chat Alternative is a combination of simplicity and convenience. It's not necessary to register here – you can go through authorization via your social networks. For a more accurate search for people you like, you can specify your country and gender, and a "Pair" option is available. You can chat not only via webcam, but also in a text chat, and you can talk and send messages at the same time. For example, you could send a link to your social networks while you are talking. Like most modern chat roulettes, Chat Alternative has apps for iOS and Android. The basic functionality of the site is available for free, but you'll have to pay for additional features.
Video Chat US
VideoChat US is known as the best chatroulette in America for men, and this is fully justified. Firstly, the site connects men only with girls and is never wrong. Secondly, each girl confirms her data when registering, which eliminates fakes and bots. And thirdly, all the girls on the website are very much interested in dating. There are no users on VideoChatUS who just "came to watch". Other advantages of the site include high image and sound quality, excellent moderation and a gender filter that works impeccably. Definitely the best option for men!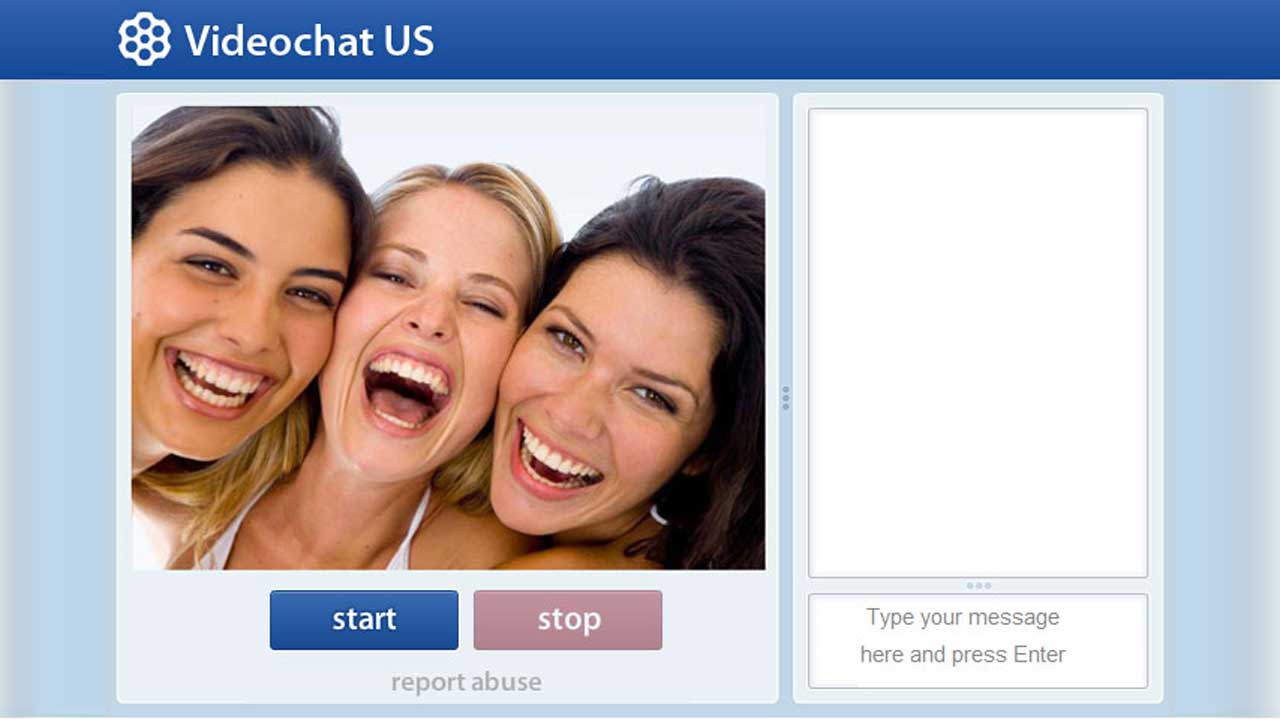 Camsurf
Although Camsurf does not offer much unique functionality, it provides everything you need for comfortable video chatting. You can immediately specify your gender for a more precise search, choose the language of communication and add a list of interests. For an additional fee, you can hide your own location, show a verification badge to other users, get followers for your social networks and use an introductory message. Camsurf mobile apps are also available. This means that you can communicate with interesting strangers almost anywhere, anytime.
Omega
Omega's developers call their anonymous video chat the best Omegle alternative. In fact, the sites are very similar. You can communicate via video or text chat, there are filters by region and gender (there's no gender filter in Omegle). Also in Omega chat, you can give virtual gifts to your favorite chat partners. And most importantly, this chat has a mobile Android application, which Omegle does not.
CamWhirl
CamWhirl is a popular video chat roulette for Android, where you can search for other users by interest, find interesting people in your region or around the world, communicate by text, voice or video link — whatever is more convenient for you. CamWhirl is currently only available for Android devices. But in the future, it's possible that an iOS version will appear.
Chatspin
Chatspin is a very usable chat roulette with a gender filter. You can choose not only the options "Man" or "Woman", but even "Couple" or "Transgender". This makes finding a suitable chat partner much easier and more convenient. Chatspin is available in a web version, and on Android and iOS. Here you can communicate via video or text chat, exchange virtual gifts, use filters and video masks.
PUM
PUM is a free video, voice and text chat for Android devices with gender and geographic filters. The developers are focused on privacy and security. There are some premium paid features in the app, but they are not required for a pleasant and convenient chat.
OmegLady
OmegLady is an alternative to the classic Omegle chat roulette with almost identical functionality. The main difference is that OmegLady runs on Android, but the chat does not have a web version. Omegle has the opposite. Therefore, choose whichever is more convenient for you.
Which video chat to choose?
There is no perfect and universal chat roulette, and it is unlikely that one will ever appear. Each site and application has its own advantages and disadvantages. Therefore, you need to choose based on your own goals and wishes. We recommend considering the following factors:
free and paid features
availability of gender and geographic filters
usability of the site, availability of a mobile application
quality of moderation and the work of the support service
number of active users in your country and region
If you want to find the right chat roulette, be sure to explore different options. Chat face to face, visit themed chat rooms, connect to video streams, and so on. Sooner or later, you'll find one or even several video chat apps that will become ideal for you.
We wish you interesting meetings, excellent chat partners and a pleasant time in chat roulettes!