ADATA Technology is a manufacturer of storage products ranging from memory modules, USB flash drives, external storage devices, memory cards, SSDs, and other mobile accessories that happens to incorporate storage as their main feature. The company has been manufacturing all these sorts of products for quite a while now, and with that said, you might have owned one or two of their products unconsciously at home and at work.
We were pretty impressed with ADATA's XPG V2 memory kit the last time we have tested it, and has since become a main stay kit for our reviews due to its consistent performance. Now what we have here is the updated version with a new and stylish heatsink design; The ADATA XPG V3. This came in a very similar flavor if compared to the recent XPG V2 that came to our labs a couple of months ago. That said, it features the same 2400MHz memory frequency and the same timing configuration at CL11-13-13-35. It's pretty darn similar I must say.
FEATURES & SPECIFICATIONS:
The ADATA XPG V3 is available in many flavors ranging from the 1.5v 1600MHz kits up to the extreme 3100MHz .65v kits. There are no quad channel kits available yet as the XPG V2 comes only in single pairs but you could always buy an additional kit to serve quad channel functionality.
| | | | | | |
| --- | --- | --- | --- | --- | --- |
| Model name | Speed | Size | Latency | Voltage | Color |
| DDR3-3100 | PC3-24800 | 8GB x 2 | CL12-14-14-36 | 1.65V | Black (Red+Gold) |
| DDR3-3100 | PC3-24800 | 4GB x 2 | CL12-14-14-36 | 1.65V | Black (Red+Gold) |
| DDR3-2933 | PC3-23400 | 8GB x 2 | CL12-14-14-36 | 1.65V | Black (Red+Gold) |
| DDR3-2933 | PC3-23400 | 4GB x 2 | CL12-14-14-36 | 1.65V | Black (Red+Gold) |
| DDR3-2800 | PC3-22400 | 8GB x 2 | CL12-14-14-36 | 1.65V | Black (Red+Gold) |
| DDR3-2800 | PC3-22400 | 4GB x 2 | CL12-14-14-36 | 1.65V | Black (Red+Gold) |
| DDR3-2600 | PC3-20800 | 8GB x 2 | CL11-13-13-35 | 1.65V | Black (Red+Gold) |
| DDR3-2600 | PC3-20800 | 4GB x 2 | CL11-13-13-35 | 1.65V | Black (Red+Gold) |
| DDR3-2400 | PC3-19200 | 8GB x 2 | CL11-13-13-35 | 1.65V | Black (Red+Gold) |
| DDR3-2400 | PC3-19200 | 4GB x 2 | CL11-13-13-35 | 1.65V | Black (Red+Gold) |
| DDR3-2133 | PC3-17000 | 8GB x 2 | CL10-11-11-30 | 1.65V | Black (Red+Gold) |
| DDR3-2133 | PC3-17000 | 4GB x 2 | CL10-11-11-30 | 1.65V | Black (Red+Gold) |
| DDR3-1866 | PC3-14900 | 8GB x 2 | CL10-11-11-30 | 1.5V | Black (Red+Gold) |
| DDR3-1866 | PC3-14900 | 4GB x 2 | CL10-11-11-30 | 1.5V | Black (Red+Gold) |
| DDR3-1600 | PC3-12800 | 8GB x 2 | CL9-9-9-24 | 1.5V | Black (Red+Gold) |
| DDR3-1600 | PC3-12800 | 4GB x 2 | CL9-9-9-24 | 1.5V | Black (Red+Gold) |
PACKAGING & BUNDLED ACCESSORIES:
The ADATA XPG V3 came in a nice, easily to open transparent blister pack. Up front, you'll immediately see the XPG V3 in its glory, along with some branding and notable specifications.
The back features the additional fins that you could swap with the default Red one. There is also a step by step installation guide on how to swap the parts. There is also a QR code added that should take you to a registration page for the memory's warranty and support. If you decided to register it, you will be entitled to freely download ADATA's softwares which is actually, already free to be downloaded by the general public. Check em out on the LINK.
THE MEMORY KIT:
The ADATA XPG V3 is a pretty awesome looking kit, featuring a serrated design from each side. The inner bar with serration is a distinct feature too, and adds a good accent to the memory module itself. If compared to the XPG v2, I must say that I like this design better. It's  standing tall at 2 Inches though so CPU tower cooling aficionados needs to check out their CPU and memory clearance should they want to use this kit on their systems.
A small sticker denotes the specific memory kit we got, along with its capacity, timing, and memory frequency. Based on ADATA, the remastered XPG memory kits features their very own Thermal Conductive Technology to ensure direct heat transfer between the pre-overclocked memory chips and the heatsinks. The PCB has been also bumped up when it comes to the copper layer at 2 oz.
Since the XPG V3 features an extra bar in Gold, we decided to dress it out with new clothes. Removing and replacing the bar is actually an easy feat; All you need to do is to unscrew the default bar with a small screw driver, slide it out, and slide in the new.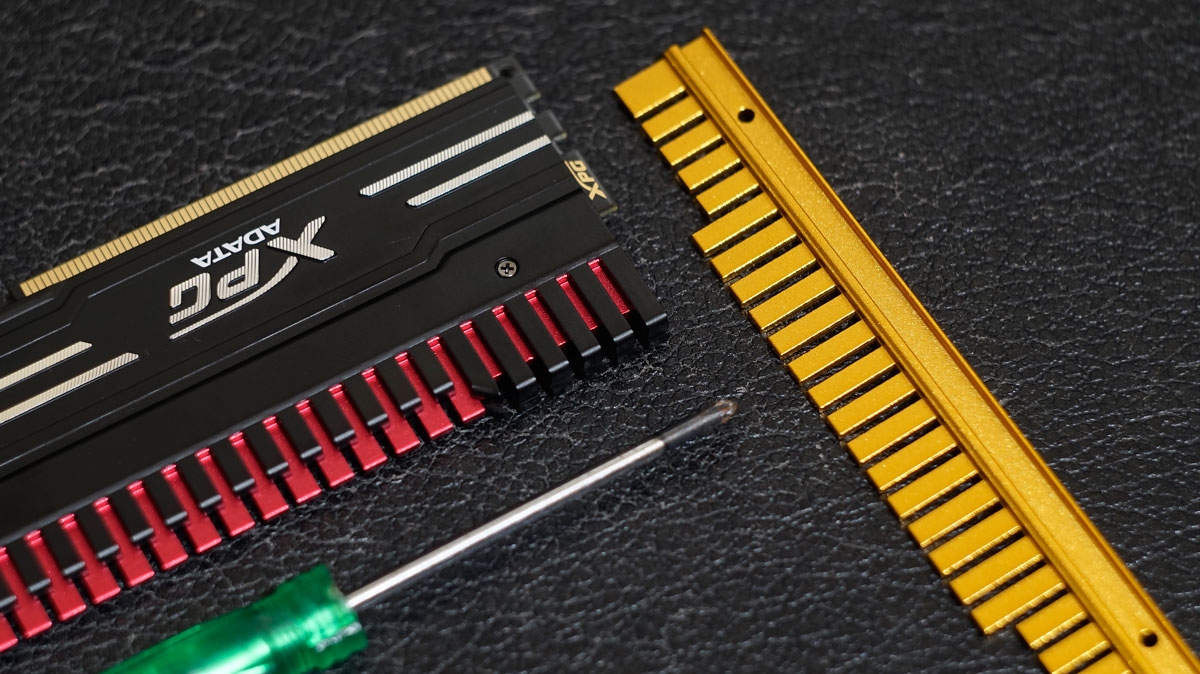 Without the extra serrated bars, the memory kit is still rocking fine in the aesthetic department. It kinda looks like something crucial. Something ballistic. *Wink
The ADATA XPG V3 still looks good in Gold, and if you're not a fan of both default color schemes, you could always paint them based on your liking.
Here we see the XPG V3 on its natural habitat. Seriously, it fits our Z97 motherboard pretty well albeit the harsher shade of Gold. Now onto the testing!
TEST SYSTEM:
To provide precise test results, the test systems will run on an updated copy of Windows 7 Ultimate x64 SP1. The BIOS/UEFI, Chipset, and Video Card drivers of the test system will be updated too, as much as possible. No other silly forms of softwares should be running while the benchmarks are on going, unless it is stated. Below are the test system's specifications:
| | |
| --- | --- |
| CPU | Intel Core i5 4670K |
| MOTHERBOARD | GIGABYTE GA-Z87X-OC |
| CPU COOLER | Cooler Master Seidon 120XL |
| MEMORY | 4GBx2 ADATA XPG V3 2400MHz / 2600MHz |
| GRAPHICS CARD | GIGABYTE GTX 750 |
| INT. STORAGE | Kingston SSDNow V+200 128GB |
| PSU | Cooler Master Silent PRO Hybrid 1300W |
| DISPLAY | 23″ DELL S2340L IPS Monitor |
| OS | Microsoft Windows 7 Ultimate x64 SP1 (Updated) |
| SOUND CARD | N/A |
| EXT. STORAGE | 2TB Western Digital My Passport |
PERFORMANCE (SYSTEM/SYNTHETIC):
AIDA64 is a streamlined Windows diagnostic and benchmarking software for home users. We'll use the built-in memory benchmark tools of the AIDA64 to determine the memory's performance.
MaxxMEM2 is a lightweight tool that allows us to estimate the performance of the computer's memory with minimum effort. We can use it to compare the performance of multiple computers or to test different configurations on our machine.
wPrime is a multi-threaded benchmarking application designed to measure the raw computational power of a CPU. It can be configured to run on a custom number of threads to accommodate multi-core CPUs.
CINEBENCH R11.5 is a real-world cross-platform test suite that evaluates the computer's performance capabilities. CINEBENCH is based on MAXON's award-winning animation software CINEMA 4D, which is used extensively by studios and production houses worldwide for 3D content creation.
RESULTS: Just as I thought, the ADATA XPG behaves just like its older brother, the ADATA XPG V2. However, we saw discrepancies when it comes to the kit's AIDA64 memory copy performance; showing a marginally better result overall. The rest of the result showed pretty much the same performance compared to the XPG V2, and is well within the 3% margin of error most of the time. It doesn't change the fact that it is a good memory kit to play with.
PERFORMANCE (REALWORLD):
HandBrake is a a free, open-source, and multi platform tool for converting video from nearly any format to a selection of modern, widely supported codecs. We used a Full HD, 1080P MKV movie, and encoded it into a 1080P MP4 video.
x264 HD Benchmark is a tool that measures a PC's encoding performance using a 1080P video clip then converts it to an x264 video format. It is memory and CPU intensive so it's a great way to measure a PC's performance.
RESULTS: Even looking at the real world test scenarios, the ADATA XPG V2 and V3 shared almost the same test results. Not complaining, but I actually thought the V3 will feature better results marginally.
PERFORMANCE (OVERCLOCKING):
Since the ADATA XPG V3 at 2400MHz  shares an uncanny similarity with the XPG V2 we got, we tried to see and check out if it will also display the same or better results when it comes to overclocking. The maximum we've got with the XPG V3 shares the same memory frequency and timings with the XPG v2 BUT, sadly, it's only stable in desktop mode with the default voltage of 1.65v. That said, running any memory intensive benchmarks and games will either result in a BSOD. Good thing though is that it could achieve a stable 2600MHz frequency with the same loosened up 11-14-14-36 timings at the cost of a higher memory voltage at 1.7v. That's the best we could do with the V3.
RESULTS: As expected, the ADATA XPG V3 has a similar overclocked results with the V2 albeit also displaying the same marginally better copy performance. We could say that the ADATA XPG V3 at 2600MHz seized the day when it comes to overclocking performance alone, but still, do note that this is at 1.7v.
VALUE & CONCLUSION:
The ADATA XPG V3 DDR3 2400MHz 2x4GB Kit continues the legacy of the XPG V2 in a more stylish fashion courtesy of its ingenious serrated heatsink design and interchangeable inner bar to suit most builds. In addition, the build quality of this kit is fantastic, even better than the late XPG V2 if you'll ask me.
In all honesty, there is nothing wrong with the ADATA XPG V3's performance. It's just that we were impressed by its predecessor's performance so we were expecting a bit more from the next big thing of the XPG series. Nonetheless, what you will receive with the V3 is the new styling which is fit for the current generation of motherboard designs, better heat dissipation via an improved thermal design, and the freedom to match it with any build. Seriously, if you want to pair this thing with a Blue themed board, there's no stopping you from spraying the bar to your desired coloring.
Now price wise, the ADATA XPG V3 in 2400MHz flavor and at capacity configurations of 4GBx2, will cost you at around 120 USD tops based on e-tailers world wide. That's a full 25 USD pricier than the V2 of the same caliber at launch but since it came out when DRAM's prices are still sky high, and it has extra bars for that extra aesthetic appeal, it sounds forgivable. Unless of course, you want to maximize your well spent money. If that's the likes of you, then you're better off with the V2 which is at an outstanding 85 USD at the moment and is readily available almost everywhere.
THE VERDICT
PROS:
LOOKS REALLY GREAT
INTERCHANGEABLE COLOR BARS
GREAT FACTORY OC PERFORMANCE
GREAT BUILD QUALITY
CONS:
NEEDS EXTRA JUICE WHEN FURTHER OC'ED
ADATA XPG V3 DDR3
PERFORMANCE -

8/10

BUILD QUALITY -

8/10

FEATURES -

8/10

AESTHETICS -

8/10

VALUE -

7/10
Summary
The ADATA XPG V3 DDR3 2400MHz  2x4GB Memory Kit now available at certain e-tailers with a retail price at around 120 USD. It is backed with ADATA's Lifetime Warranty.