The Nvidia GTX 750 is among the first graphics cards from Nvidia to hail the Maxwell architecture, featuring an improved power efficiency figures for its performance, as seen on our last review of the GTX 750 Ti. Since then, fans have been waiting for the Maxwell 2.0 cards, and boy Nvidia really had a great time when the GTX 900 Series of cards launched.
Now what we have here is one of the first Maxwell cards to see daylight, the GTX 750. We've got the ASUS part which is overclocked, and has a non reference cooling solution. Clocking at 1059 MHz base clock and 1253 MHz ( 5010 MHz effective ) memory clock speed, this GTX 750 in particular should be faster compared to its reference brethren. Now let us see if it will indeed turn out to be.
FEATURES & SPECIFICATIONS:
Shader Units
Core Clock (MHz)
Memory Clock
(MHz)
Memory Amount
Memory Width
Max Power (W)
ASUS GTX 750 OC
640
1059/1137+
1253
1024
128-bit GDDR5
75+
Nvidia Geforce GTX 750
640
1020/1085+
1250
1024
128-bit GDDR5
60
Nvidia GeForce GTX 750 Ti
640
1020/1085+
1350
2048
128-bit GDDR5
60
The ASUS GTX 750 OC features ASUS' in-house Super Alloy Power components, as well as a dust proof fan to keep dusts away from its bearing. In addtion, the card supports the ASUS GPU Tweak software should you want to reach the limits of the card's performance.
UNBOXING & BUNDLED ACCESSORIES:
The card came in an old fashioned ASUS packaging with bits and pieces of the most notable features at the front. It kept the card safe from bumps and bruises so there is no need to complain.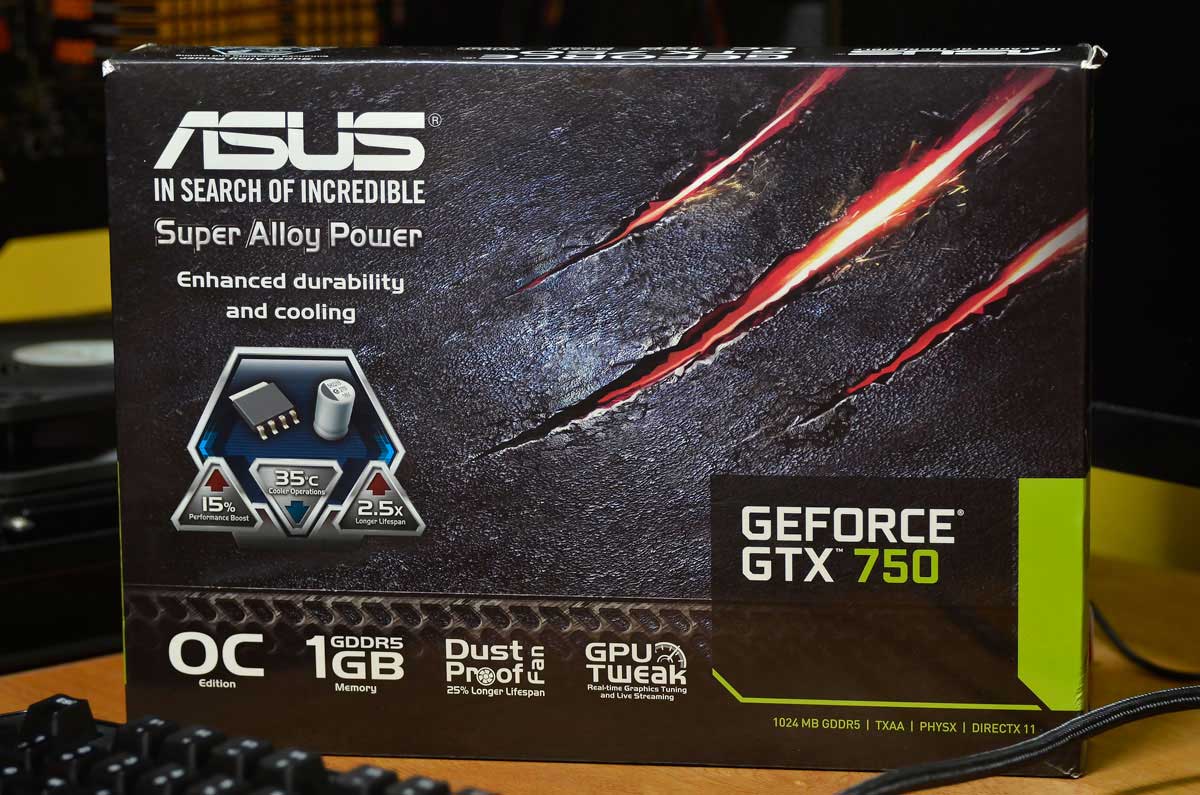 The back talks more about the card's features, as well as listing its specifications and output ports.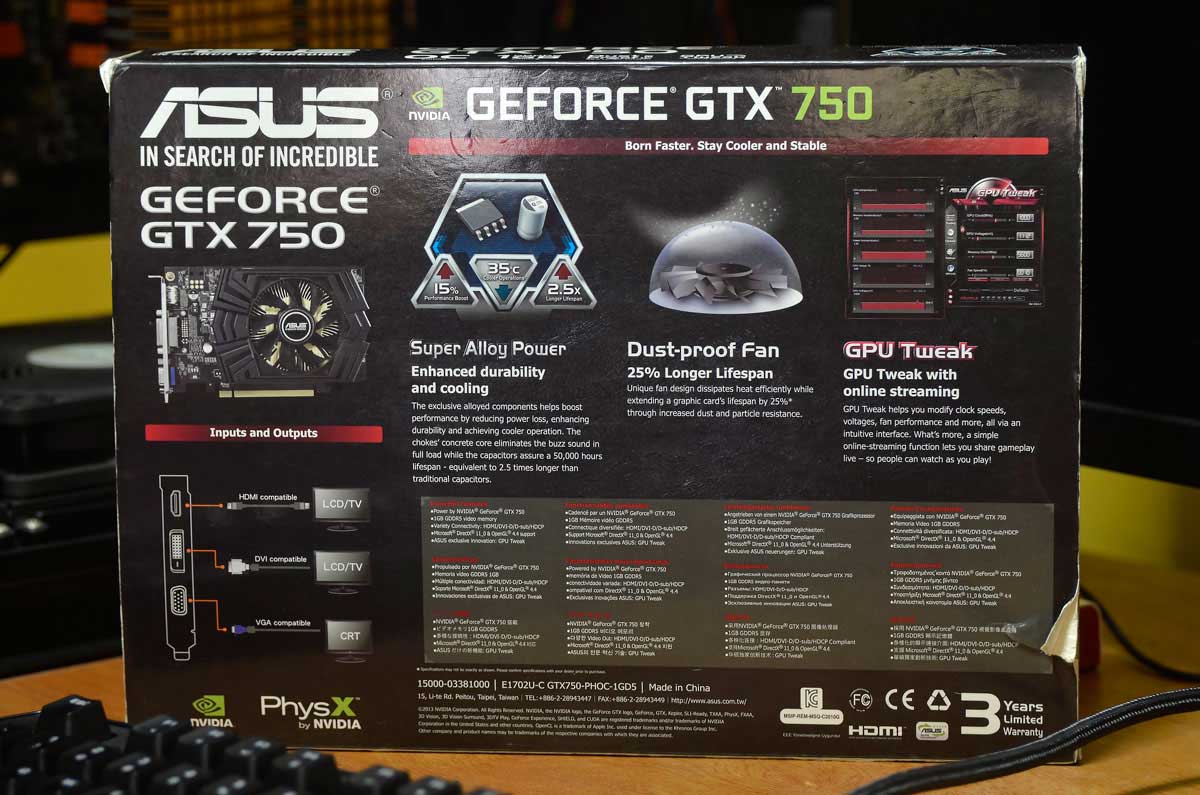 Bundled accessories are nay as you'll only receive a manual and a driver DVD. Nothing to see here.
THE ASUS GTX 750 OC:
The ASUS GTX 750 OC is a small card at around 7.28″ Inches in length. Though small, it's a dual slot card courtesy of the ASUS designed shroud. It looks cool for a budget oriented graphics card to be honest.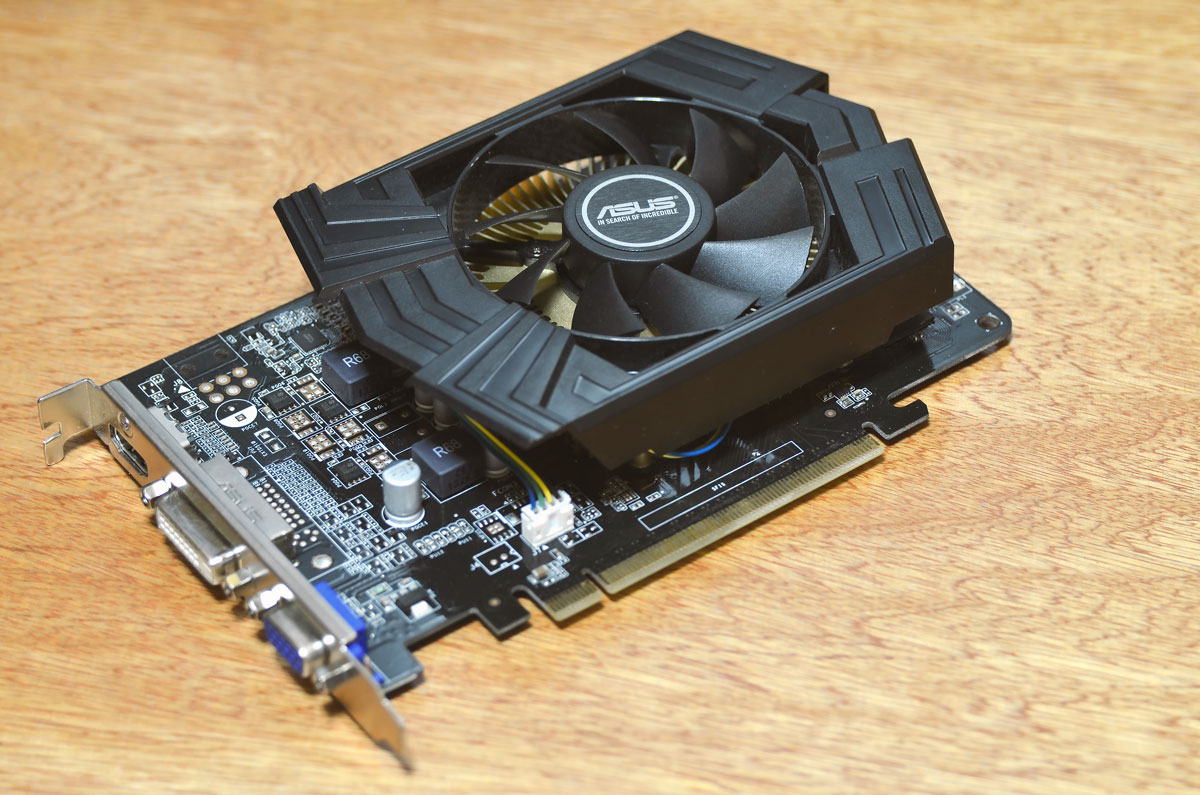 The back is clean enough to let you adore that shiny Black PCB. I always applaud manufacturers that goes extra mile on the presentation so have a +1 ASUS.
The actual color of the heatsink resembles that of the dull / champagne gold found on the most recent ASUS motherboards. That said, this card will easily match any recent boards from ASUS.
Display ports are as simple as they could get with only an HDMI, DVI, and a legacy VGA port to greet you on this side. The DVI port is digital with a Dual Link interface that should enable the card to output a maximum of 2560 × 1600 resolution when the port is in use.
TEST SYSTEM & SPECIFICATIONS:
As usual, to provide precise test results, the test systems will run on an updated copy of Windows 7 Ultimate x64 SP1. The BIOS/UEFI, Chipset, and Video Card drivers of the test system will be updated too, as much as possible. No other silly forms of softwares should be running while the benchmarks are on going, unless it is needed, or stated. As for the gaming benchmarks alone, tests should include 720P, 1080p, and 1440p (2560×1440) resolution results if permitted by the games, and benchmarking tools, or if necessary. Games without benchmarking tools of their own will have the FPS recorded with FRAPS. Below are the test system's specifications:
| | |
| --- | --- |
| CPU | Intel Core i5 4670K |
| MOTHERBOARD | GIGABYTE Z87X-OC |
| CPU COOLER | Cooler Master Seidon 120XL |
| MEMORY | ADATA XPG V2 @2400MHz 16GB |
| GRAPHICS CARD | ASUS GTX 750 OC |
| INT. STORAGE | Kingston SSDNow V+200 128GB |
| PSU | Cooler Master Silent Pro Hybrid 1300W |
| DISPLAY | ASUS VX279H |
| OS | Microsoft Windows 7 Ultimate x64 SP1 (Updated) |
| SOUND CARD | On board |
| EXT. STORAGE | 2TB Western Digital My Passport |
PERFORMANCE (SYNTHETIC/GPU COMPUTE):
3DMARK (2013) is a multi-platform benchmarking tool from FUTUREMARK, consisting of comprehensive tests that aims to gauge your gaming hardware; be it a smartphone, a tablet, a laptop, or a desktop PC.
CINEBENCH R11.5 is a real-world cross-platform test suite that evaluates the computer's performance capabilities. CINEBENCH is based on MAXON's award-winning animation software CINEMA 4D, which is used extensively by studios and production houses worldwide for 3D content creation.
CLBenchmark is an easy to use, no frills high performance compute benchmark. It compares the strengths and weaknesses of different hardware architectures such as CPUs, GPUs and APUs.
RESULTS: Once again, the Nvidia Maxwell 1.0 proved to be a competitive architecture when it comes to compute performance, as shown on our benchmarks able to even shame the monstrous GTX 780 Ti on CINEBENCH's OpenGL performance test.
PERFORMANCE (REAL WORLD):
Resident Evil 6, is a survival horror video game developed and published by CAPCOM. It's one of my favorite PC games, mainly because I'm a fan of the series. It also has a built-in benchmarking tool to measure your PC's performance. It's only DirectX 9.0 compatible at the moment, though.
Tomb Raider (2013) is the fifth game, and the reboot of the Tomb Raider series. It is developed by Crystal Dynamics, and published by Square-Enix. We disabled Tress FX for this benchmark.
GRiD 2 is a racing video game developed and published by Codemasters and is the sequel to the award winning Race Driver: GRiD. The game was released for Microsoft Windows, PlayStation 3 and Xbox 360 on May 2013.
Company of Heroes 2 is a WWII based real-time strategy video game developed by Relic Entertainment and published by Sega for the Microsoft Windows platform. It is the sequel to the critically acclaimed 2006 game Company of Heroes.
Battlefield 4 is EA and DICE's latest first person shooter utilizing the all new Frostbite 3 game engine featuring better tessellation effects and destruction compared to its predecessor.
Dota 2 is a Multiplayer Online Battle Arena (MOBA) video game developed by Valve and is the stand-alone sequel to the Warcraft III based Defense of the Ancients (DotA) mod.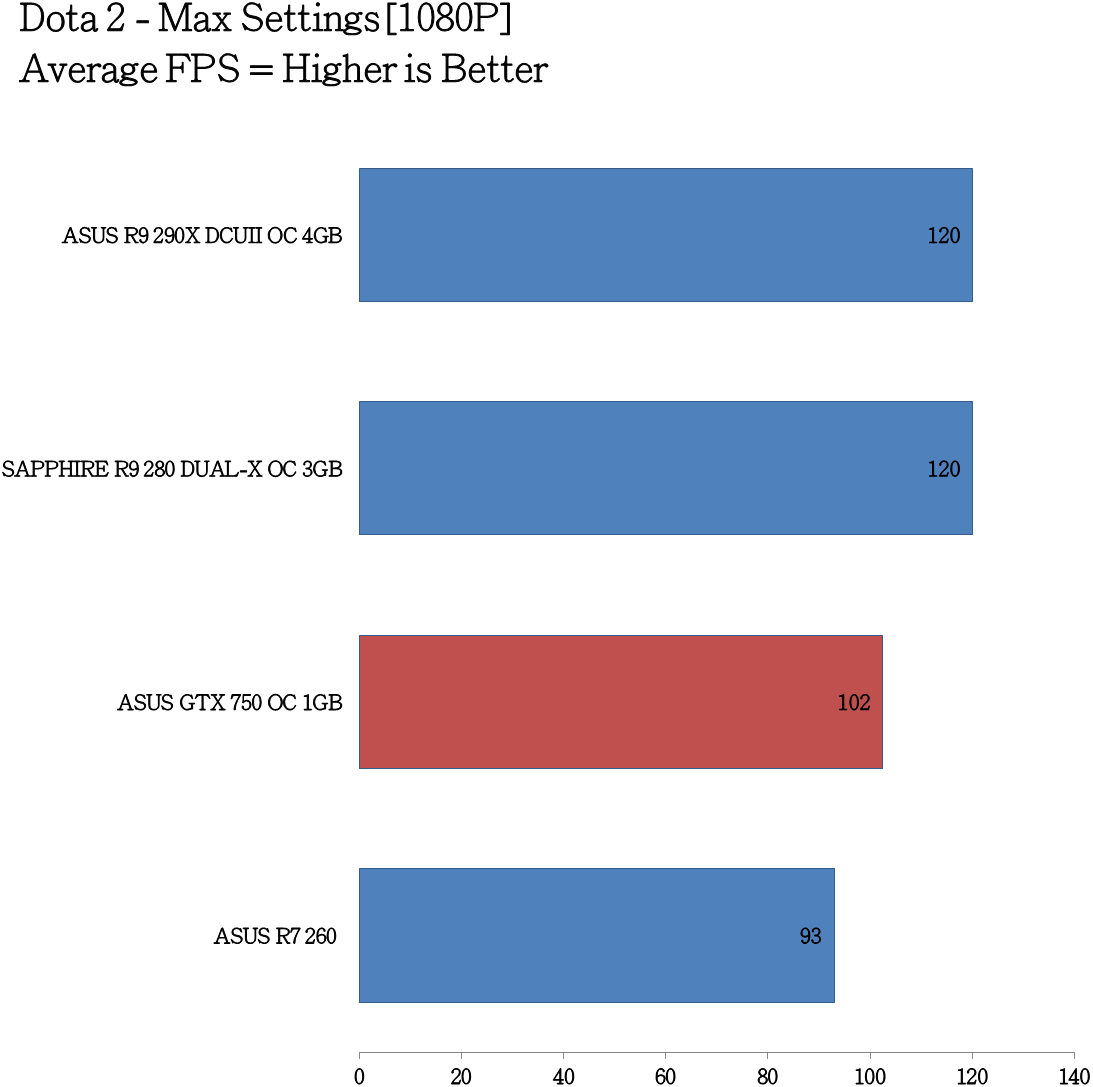 RESULTS: Gaming performance is good if not great, as most of the titles on our suite were handled well by the ASUS GTX 750 OC. This card will play anything 1080P at maximum settings with a moderate FPS, but should you want to for example, breach 60 FPS, prepare to tone down some settings.
TEMPERATURE & POWER CONSUMPTION:
FurMark is a very intensive OpenGL benchmark that uses fur rendering algorithms to measure the performance of the graphics card. To record the GPU's maximum temperatures, I will run Furmark's Fur Rendering Burn-in Test, and let it run for 30 Minutes. As always, we try to keep the results consistent by keeping the ambient temperature checked at 27ºC.
We also check to see how GPUs impacts power consumption. The system is left to idle for 30 minutes before readings are taken, and load data is taken 30 minutes while FurMark is running. Power readings are taken for the entire system from the socket.
RESULTS: The ASUS GTX 750 OC stayed true to the Maxwell architecture's formula with its pleasing temperature results (32/68ºC) and power figures.
VALUE & CONCLUSION:
The GTX 900 Series might be already eating up a chunk of the high-end market but if you can't spare the cash and still within the lines of 1080P, then you should take a look at this card. Performance wise,  what you're going to receive is a totally playable 1080P gaming experience with all the settings cranked up. Not exactly what some of you might be looking for but you could always tone down the resolution and play with the settings to get that silky smooth 60 FPS experience. Other than that, MOBA games could be actually maxed out with this card without even dipping down below 60 FPS.
Build quality isn't shabby, along with the aesthetics. I mean come on, don't expect a perfectly crafted card for this price range but "decent" isn't enough to describe this card as ASUS added some niceties including the Super Alloy Components, and a good cooling solution to keep it cool and quiet despite its diminutive appearance. It's a card perfect for HTPCs, low power computing needs, and probably for your first Steam Box.
Perhaps the only downside of the card is the lack of bundled games / accessories for its price. At 129 USD or at around 5, 700 Pesos (direct conversion) at the time of this writing, I expected it to at-least be bundled with an HDMI cable or a single Triple-A title. It's a price premium over its competitors but nonetheless, ASUS managed to squeeze in a 3 year manufacturer warranty for your peace of mind. Overall the ASUS GTX 750 OC stayed true to the Maxwell formula, and is still a viable option for your gaming needs.
THE VERDICT
PROS:
GOOD 1080P GAMING PERFORMANCE
GREAT THERMALS
POWER CONSUMPTION
BUILD QUALITY
3 YEAR WARRANTY
CONS:
PRICING VARIES
COULD USE SOME BUNDLES
ASUS GTX 750 OC
PERFORMANCE -

8/10

BUILD QUALITY -

8/10

FEATURES -

7/10

AESTHETICS -

8/10

VALUE -

7/10
Summary
Overall the ASUS GTX 750 OC stayed true to the Maxwell formula, and is still a viable option for your gaming needs.