While the world is at a standstill, many companies have adopted a "Work from Home" approach and have let their staff bring home equipment to maintain operations. Because of this, their routers stretched thin with home-use only gadgets.
Additional devices will experience degraded network performance. ASUS, with its multi-core CPU router products, can help solve this predicament.
Fast internet and a good router go hand in hand
What do people usually do when they're connected to the Internet? It may be browsing, sending emails, or listening to music streaming. Once other devices use bandwidth, all devices' connection would slow down.
Internet speed may seem to be the problem, or it might be the router that they use. With 20 Mbps and above connection on single-core router, people are bound to experience bottlenecks wherein it occurs when a router is overloaded with work and cannot properly perform what it needs to do especially when multiple devices are simultaneously connected.
A router needs a powerful processor to ensure that all connected devices and the programs or tasks running in it are operating appropriately.
Why need for more CPU cores?
A multi-core router can do the following:
Handle more simultaneous connections
A single household can have more connected devices, both handheld and not. Now that everyone is at home working, bandwidth traffic management will increase. A router with at least a dual-core CPU can allocate bandwidth properly to serve each client more efficiently.
Open to advanced tasks
starting with ASUS' quad-core RT-AC1300UHP up to our high-end GT-AX11000, all of these feature a USB port and 4 to 8 LAN ports depending on the model. Some routers will experience bandwidth bottlenecking when all of these ports are filled, but not for ASUS. Making good use of its additional cores, ASUS routers can handle additional hardwired devices and ensure that all devices connected to the network should still receive a fast internet connection.
Special features
ASUS' biggest advantage to its competition is its high-end technologies; Game Boost, AiProtection Pro, AiRadar Beamforming and AiMesh, to name a few. These ASUS exclusive features will only be possible with our multi-core CPU routers.
Which ASUS router is for you?
Counting the number of ASUS' wide range of routers might be too tasking, so we've narrowed it down to these routers:
RT-AC1300UHP and RT-AC59U
Just need something that works or an upgrade from your ISP's mediocre router/modem combo? These routers are perfect for smaller spaces such as studios or 1-bedroom apartments and condominium units. The latter has a higher combined bandwidth of 1,500 Mbps which is enough to sustain a buffer-free 4K video stream while the former has more powerful antennas to penetrate walls. They also feature a quad-core and dual-core CPUs, respectively.
RT-AC68U
Starting an AiMesh WiFi network to work anywhere at home is easy using this model. This 1,900 Mbps dual-core router boost WiFi signal to where your device is and can be paired with another AiMesh router to further envelop your house with better WiFi signals.
RT-AX88U
This is the world's first WiFi 6 router. Powered by a quad-core router, the RT-AX88U can accommodate Gigabit internet speeds with ease, perfect as a future-proof router. Up to 8 LAN ports can also be found behind this router to support clients that prefer a more stable network connection and even if these were all populated, no connected device should feel any network degradation. This is the perfect addition to a 2-tiered household.
ROG Rapture GT-AC5300
With 4 cores found inside the router, this model should give work-at-home employees and gamers in one household a good internet speed on their connected devices. Add ASUS' Game Boost feature, gamers can say goodbye to in-game latency issues even if everyone is sending an email, watching hi-resolution videos, or streaming music.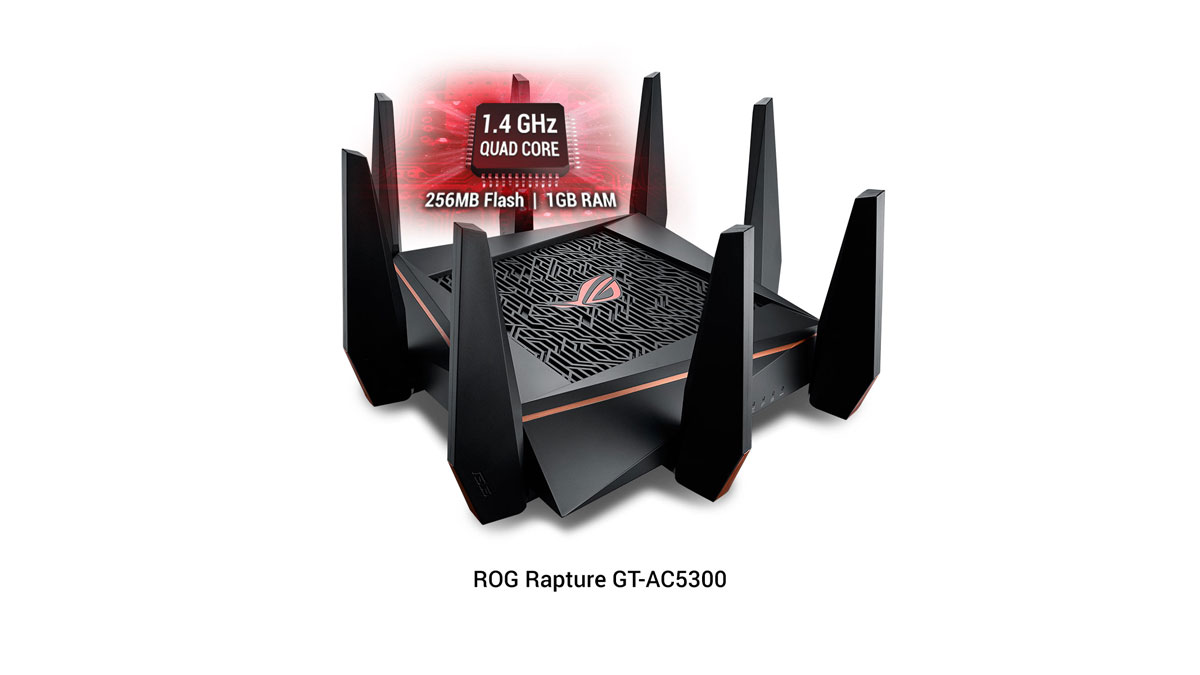 ROG Rapture GT-AC2900
Use it as a final piece to a worthy office and workstation at home. This 2,900Mbps fast router features an RGB glow in front that goes well to any themed space. Peeking under the hood is a dual-core CPU that should handle all network traffic and intelligently prioritize packets you set it to focus on. It can also set VPN per device, assuring you that your other devices won't slow down when you connect your work PC to a private network.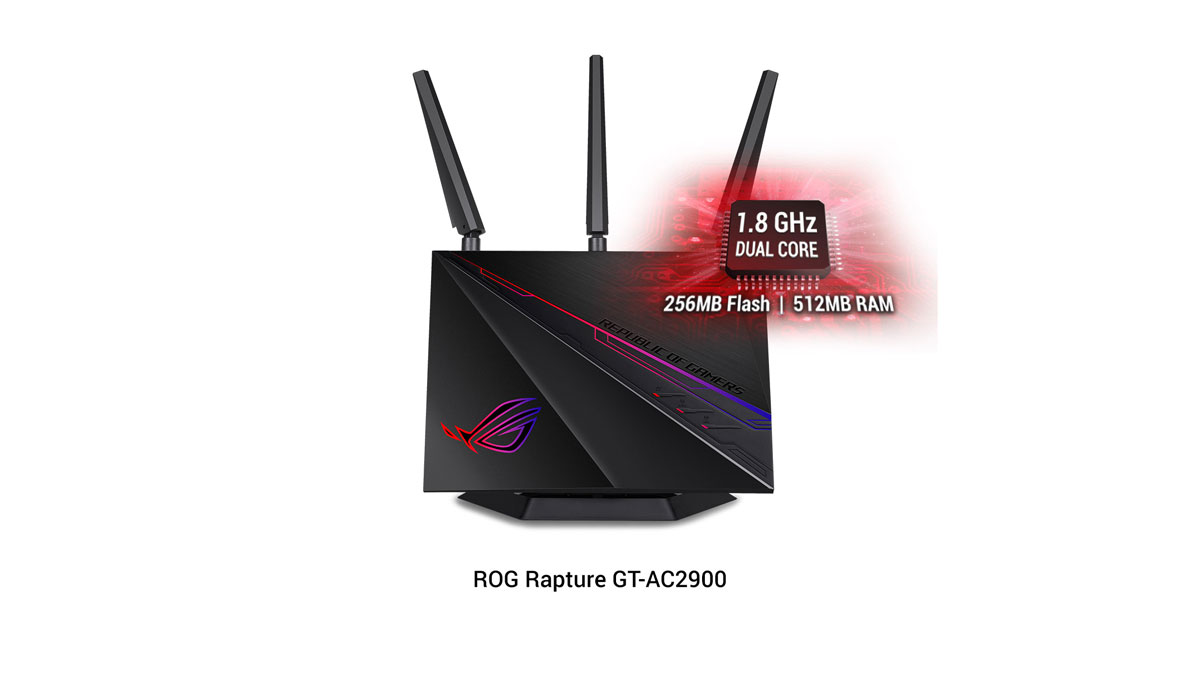 ROG Rapture GT-AX11000
The ROG Rapture GT-AX11000 should be able to cover a wider home space with its high-powered internals – enough for work-at-home users to work anywhere at home with uninterrupted WiFi speeds. A quad-core CPU is coupled with the router to power its 2.5 Gbps port for fast file transfer, 8 antennas for MU-MIMO, and three WiFi bands for a dedicated band for office work. After a long day at work, users can throw all their gaming, 4K resolution streams, and P2P downloads at it, and the Rapture GT-AX11000 will still hold its ground.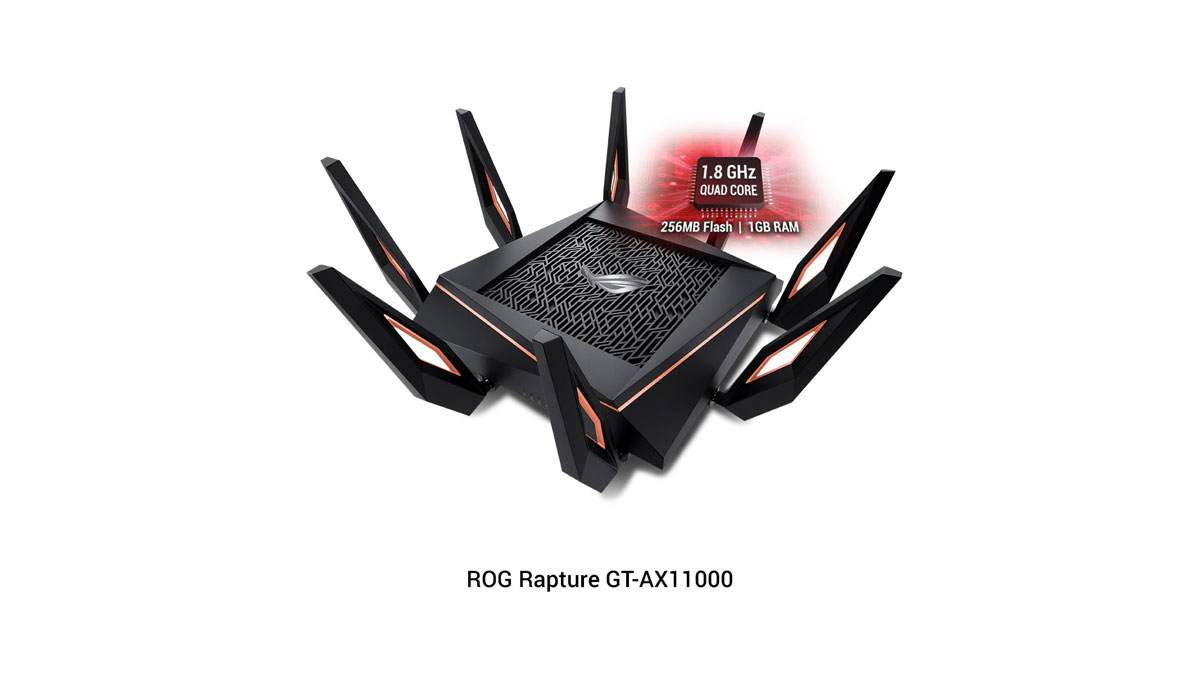 Pricing and Availability
All the routers mentioned are available for purchase from our local partner store with the following SRPs.
| | |
| --- | --- |
| Model | SRP |
| RT-AC1300UHP | PHP 5,075.00 |
| RT-AC59U | PHP 4,300.00 |
| RT-AC68U | PHP 6,990.00 |
| GT-AC2900 | PHP 12,000.00 |
| GT-AC5300 | PHP 21,250.00 |
| RT-AX88U | PHP 20,690.00 |
| GT-AX11000 | PHP 26,700.00 |