LOCKDOWN THAT DRIVE FOR… SCIENCE!
INTRODUCTION:
Data safety and security isn't always the talked about topic in our labs, since we usually refrain from mingling with such. Either way, data safety and security has been in the news lately, and with exploits here and there, especially of those from the local celeb scene (ehem), you should be worried.
Now Capella Philippines appears to have the solution for your nightmares, in the form of the Lockdown USB 3.0 Enclosure. A good name I must say to go along with its features. Speaking of which, the Lockdown supports hardware level AES 256-bit encryption, along with a non-tactile touch-pad for password input and maintenance purposes. Shall we take a look?
FEATURES & SPECIFICATIONS: CLICK HERE
UNBOXING THE LOCKDOWN:
The Capella Lockdown came in a simple packaging courtesy of Sky Digital. It is their product after all but in a couple of months, Capella Philippines will re-introduce the device with their own colors to better suite the distribution rights they received from Sky Digital.
No space is wasted at the back of the packaging, since it hosts most of the Lockdown's features with detailed description.
Once opened, a smaller inner packing will greet you. It houses the USB 3.0 + 2.0 cable, a set of screws and a screw driver, along with a wipe and a carrying pouch which is nice. A huge arse manual is also included.
THE LOCKDOWN & INSTALLATION:
The Lockdown isn't already assembled right out of the box, which is good since you don't have to go to a lengthy process of dis-assembly again and again.
The Lockdown is mainly made out of Two parts: The touch enabled hard plastic "piano black" shell and the shiny stainless steel back housing. Build and looks alone, they should be enough to protect your hard earned investment, but don't expect the Lockdown to protect your HDD / SSD from shock or drop.
For our test setup, we had the Lockdown installed with our ADATA XPG SX900 SSD. Speaking, installation ios an easy feat as you only need to slide down the SSD in place. The drive supports 2.5″ storage devices with a Z-height of 9.5mm. Anything higher than that will result in incompatibility. Now for 7.5mm drives, make sure that you have a spacer in place so the drive wont wobble inside the contraption.
Assembly as said earlier is no sweat, as you only need to use Two screws and the provided screw driver the secure the drive in place. The metallic shroud is perhaps one of Lockdown's strength when it comes to presentation, as it really looks quite great in its mirror finished smooth texture.
The Lockdown is just larger than your average 4″ smartphone both in width and height. Actually, it resembles a power bank, and a locking mechanism. The piano black surface sure is a beauty.
HOW THE DAMN THING WORKS:
Enclosures usually works out of the box. Plug the HDD or SSD in and then plug the enclosure to the board. It's just as that. The Lockdown works the same if you're not going to use encryption as your storage device, new or old, will be instantly recognized. To do it, you have to press "0" on the numpad initially to skip HDD initialization for the encrypted mode.
Even without entering encryption mode, you could use Lockdown's other set features. These includes the ability to check out the SSD / HDD's temperature, up time, link speed mode, and write protect which is essential to keep your drive safe from viruses and the likes.
Now as for the encrypted setup, you have to check out the enclosure's menu for the Initiation of HDD Usage Mode by pressing the corresponding number (1= yes, 0 = no) when the device asked you. Once initiated for encryption, go to your PC's Disk / Volume Management tool and have the disk itself initiated there by right clicking on the drive's icon and pressing the Initialize Disk option.
Select the Master Boot Record option, and then press OK. After initialization, right click the drive again to create a simple volume.
Before formatting, you have the option to specify the drive's capacity, as well as assigning a letter to it.
Now format the drive using NTFS file system. You could quick format the drive, which is the best option for SSDs. Press Next and wait for it to finish. Afterwards, you're good to go.
TEST SYSTEM & PROCEDURES:
Storage devices, unlike motherboards, revolves around the use of various storage benchmarking tools to test their performance. We've got loads of them in the past, but we toned down the synthetic benchmarking tools to ATTO, and Crystal Disk Mark. It is important to note that we have a pre-made Test OS for the storage benchmarks and we are always aiming to fill up the drive to 50% of its capacity. This is to ensure that we are testing the drive according to its real world usage along with a very small margin of error.
The Capella Lockdown together with the ADATA XPG SX900 has approximately 256 Billion bytes, translated roughly at 238GB of available space to play with so there are no wasted space during the drive initiation. The test system's specifications are as follows:
| | |
| --- | --- |
| CPU | Intel Core i5 4670K |
| MOTHERBOARD | ASUS Z97-PRO WiFi AC |
| CPU COOLER | Cooler Master Seidon 120XL |
| MEMORY | ADATA XPG V2 @2400MHz 16GB |
| GRAPHICS CARD | ZOTAC GeForce GTX 970 4GB |
| INT. STORAGE | Kingston V200+ SSD 120GB |
| PSU | Cooler Master Silent Pro Hybrid 1300W |
| DISPLAY | DELL S2340L 23″ IPS |
| OS | Microsoft Windows 7 Ultimate x64 SP1 (Updated) |
| SOUND CARD | Realtek ALC1150 |
| EXT. STORAGE | 2TB Western Digital My Passport |
READ & WRITE PERFORMANCE:
First up in the benchies is ATTO Tech's Disk Benchmark. It basically measures the system's storage performance with various transfer sizes and test lengths for reads and writes. An industry standard.
Next up is the venerable Crystal Disk Mark. This storage benchmarking software aims to measure sequential, and random read/write speeds of storage devices. Check out the author's page HERE.
AS SSD features read / write specific tests without using the cache, and that could strain mechanical drives. We used AS SSD's extra benchmarks to check out the drive's file copy performance.
The real world performance tests is our home brewed file copy test which involves copying of Images, Videos, PSD files, DOC files, XML files, PDFs, etc. you name it, to simulate a real world file copy scenario. Do note that the files are inside their respective folders, and they're randomly placed.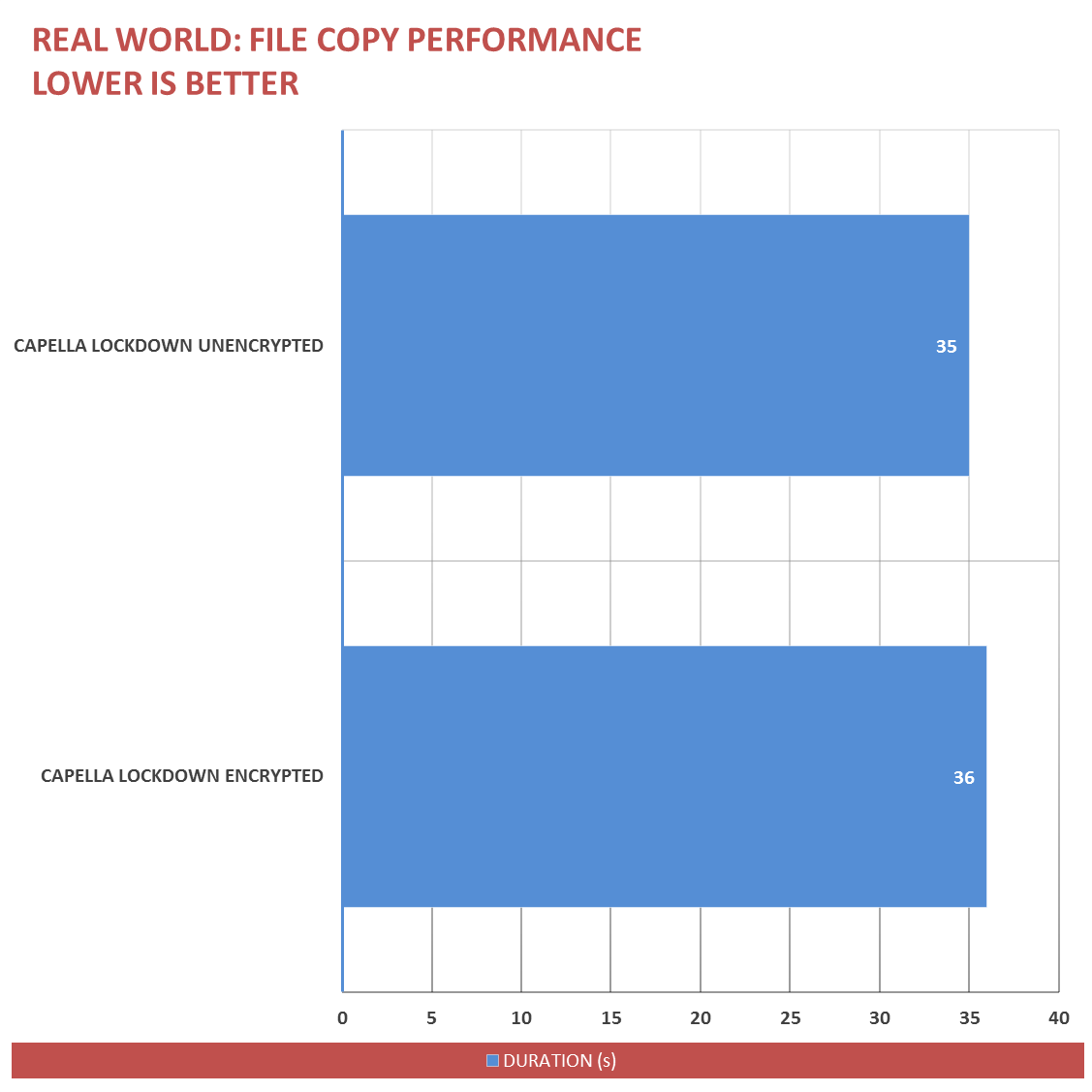 VALUE & CONCLUSION:
There is a lot to like about the Lockdown, but let us start with the core function first which is the encryption. For starters, encrypting the device is an easy task; there is no need for elaborate manual to do so, as you'll just have to follow simple steps which is I thought would be daunting but it is actually not. Performance is somewhat identical to the unencrypted setup, which is actually pretty surprising since there is virtually a small difference thanks to the hardware based encryption.
Aesthetically, the Lockdown is a sleek looking device. The front is stylish enough to distinguish itself from the rest, while the mirror finished stainless steel back-end provides this extra aura of assurance. A well built enclosure to be precise. Being an enclosure with hardware level of encryption, you could actually plug it and play its media files using your media center; be it a TV or even a media-player with USB input. Perhaps what I don't like about the Lockdown is the lack of shock proofing feature, but to be fair, shock proofing will actually depend on your storage device.
Write protection, even though as basic as it sounds, is probably one of my favorite feature of the drive as I usually plug my storage devices to any systems that needs repairs or maintenance. Protecting my precious drive from viruses is a daily task, and I must say it helped me to alleviate from that concern.
Now speaking of concerns, the enclosure retails for around 2, 350 Pesos at the moment. For the price you could get your own barebone external storage device with 500 GB of storage without offering any safety features. That fact alone pits the Lockdown in a tight spot, where you only have two options to weigh in. Luckily, Capella had the less intuitive version priced at 1, 550 Pesos.
The Capella Lockdown is for those who wants to take safety and security further by offering hardware level encryption. Capella had the Lockdown in two configurations; the Lockdown itself alone at 2, 350 Pesos and a version with a 500GB Hitachi drive at 4, 500 Pesos.
THE CAPELLA LOCKDOWN USB 3.0 ENCRYPTED ENCLOSURE RETAILS FOR AROUND 2, 350 PESOS WITH A 6 MONTH WARRANTY.
THE VERDICT
PROS:
GREAT USB 3.0 PERFORMANCE

HARDWARE LEVEL 256-BIT ENCRYPTION

LIGHT WEIGHT & VISUALLY APPEALING

INTUITIVE TOUCH PANEL

 BUNDLED ACCESSORIES

GREAT BUILD QUALITY
CONS:
TOUCH PANEL PRONE TO FINGER PRINTS

PRICING COULD BE BETTER