Hi, this is Gino. Today we're going to review the GTX 950 Xtreme Gaming Graphics Card from Gigabyte. An additional choice of flavor to the already abundant GTX 950 GPU line up on today's market. We will also see how it compares to its 5 year old uncle, the GTX 570, and will this 8,920 peso graphics card be a worthy choice for upgrade to old gen/budget conscious users? We'll find that out today! Read on!
The brand new XTREME GAMING series is designed to deliver extreme gaming experience for dedicated enthusiasts. Gigabyte is claiming that this new line up can deliver unmatched overclocking performance to rock-solid durability, and that XTREME GAMING takes PC gaming to the extremes in every aspect that gamers are truly excited about. Awesome!
About the GTX 950 Xtreme Gaming:
The card comes with a high factory overclock of 1203 MHz Core Clock Speed with 1405 MHz of GPU Boost Clock and has 1750 MHz (7000 MHz) Memory clock speed. Other specification of the card remains the same such as the Vram which remains at 2gb, Cuda Cores and memory bus. In theory, the GTX 950 Xtreme Gaming card is 17-19% more powerful than the reference variant.
Gigabyte was able to achieve the said specification improvement due to a refine incorporation of innovative features namely XTREME Cooling which is based on WINDFORCE 2x system with 3D-Active Fan, the industry's first 0dB semi-passive fan design. XTREME Protection which gives the PCB aerospace-grade breathable coating to shield against moisture, dust, and corrosion. Its also said to be ideal for Gamers who live in regions with high humidity. And with XTREME Durability, The card was engineered with the same highest-grade chokes and capacitors as those of Titan X, the graphics card delivers the ultimate integration of thermal, electric characteristics, digital signals, power circuitry for enhanced results and longer system lifespan. This is just to mention a few of the key features of the New Xtreme Gaming Series. For additional information, just CLICK HERE.
UNBOXING THE  CARD:
In front of the box, we have the new Gigabyte Xtreme Gaming logo with the name of the card on the lower right side (no picture of the actual card). Gigabyte have created a new refreshing look for their Xtreme Gaming line-up. It included the classic Gigabyte G symbol with carbon like black parallel line background inside a beefy metal shield with enticing orange colored panels which definitely screams GAMING! XTREME GAMING!
On the back of the card, we can see all of the new marketed features that was added to the card. Click the link in Features and specifications for more details.
Inside the box comes another box. It's all colored in black with a simplified, but still gorgeous looking, Xtreme Gaming logo on the center. This inside the box enclosure definitely adds to the premium unboxing feel that most people want and also its thick, so it adds more protection to the said product.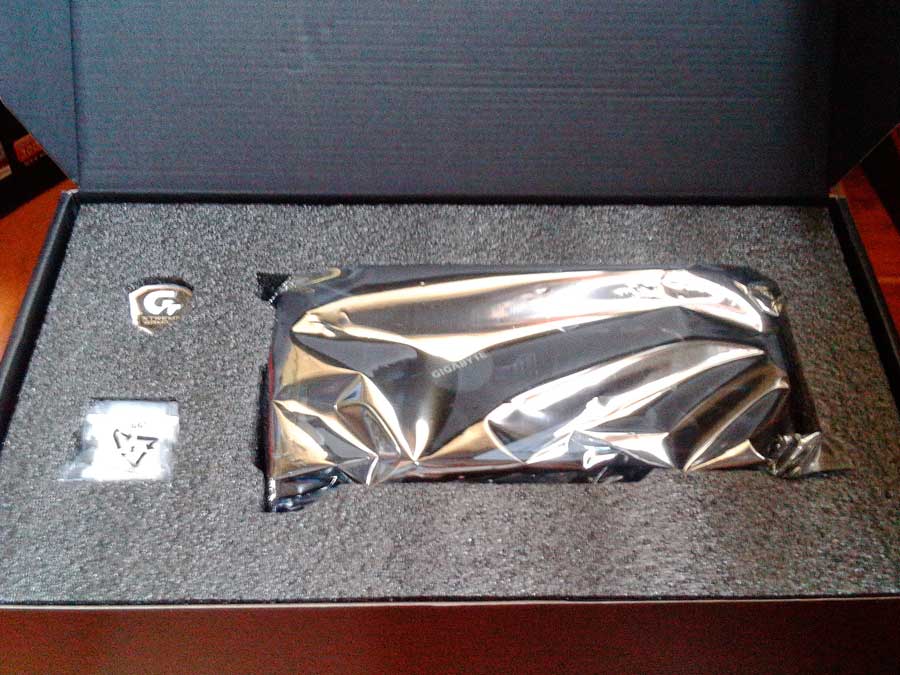 After opening the inner enclosure, we can see immediately the card enveloped in an antistatic bag and tightly snugged inside a thick black foam protection. We can also see 2 more cut outs were the sexy looking Xtreme Gaming case badge and vga to dvi adapter is inserted. Packaging also includes the basic Quick start guide and driver installer disk. The Xtreme Gaming Case badge is made of plastic and the detail is amazing.
Finally we have the main course. It's a good looking card that's for sure. The cooling design is based on Windforce 2. The shroud's design has some protruding parts and slanting lines. Gigabyte has added a quarter of silvery tone to the black shroud making it look outstanding. The Xtreme Gaming logo placed in between the uniquely design blade fans greatly adds to the overall aesthetics of the card (Like a cherry on top of the icing). The card has a dimension of 39 mm height, 227 mm length and 117 mm width. Definitely, the card can fit on most ITX builds. It only uses 2 case pci slot when mounting.
The only critic (and this is just nitpicking) I can site is that the shroud is made of plastic. Its quite flimsy so you have to be a bit careful when your handling this GPU but overall, the build quality is great. You wont be touching the shroud any way when the card is already placed inside your chassis. Moving forward, I'll be backing up my quote "great build quality" on the next slide.
Even though the fan shroud has its shortcoming, the card has an amazingly thick and firm aluminium backplate. Due to its beefiness, the probability of sagging the card's pcb (which is also thick, with aerospace-grade coating) would go down to zero. Also take note that length of the gpu isn't that long and since the shroud is made of light weight plastic, most definitely the card is immune to sagging over time. The backplate design is simple but it looks very sleek and refine. It also has a black aluminium brush finish which definitely adds more finesse to the overall aesthetics.
Unlike any other GTX 950, The Gigabyte Xtreme Gaming variant has multi colored LED (Xtreme Outlook). This is great because you normally see this lighting feature just on Higher Tier Nvidia cards. Because of its non-reference design and feature, the GTX 950 Xtreme Gaming uses an 8 pin connector.
You can customize the color and the behavior of the LED lighting through OC GURU II. Instead of using the included driver installer disk, I suggest downloading the updated OC GURU II installer on their website because you will have better LED customization with that one. You can also do customization through GeForce Experience but unfortunately, you still need the OC Guru II to change LED colors.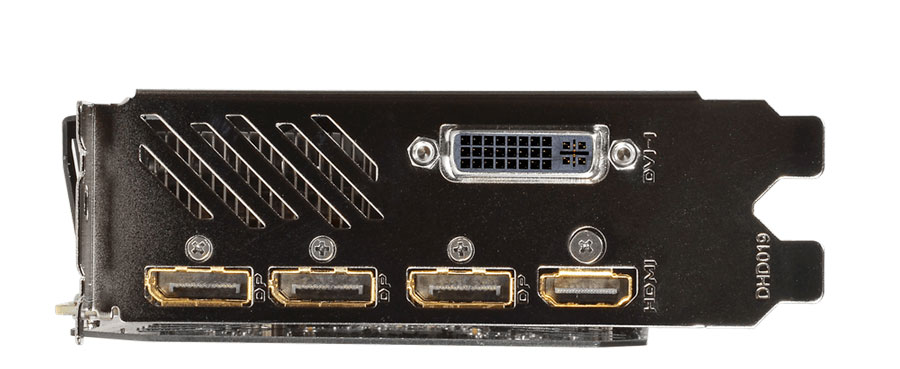 Testing & Methodology:
Will be using an Nvidia 358.50 driver on both GTX 570 and GTX 950 in order to eliminate performance discrepancies.
Test Setup:
Processor: Intel i5 3570k
Motherboard: Gigabyte z77x-UP7
Memory: GSkillz RipjawsX 8gb 1333mhz
Storage: Western Digital Caviar Black 1tb + Western Digital Caviar Blue 250gb
PSU: Seasonic X-760 760W Gold PSU
Cooling: Phanteks PH-TC14PE with 3 140mm Phanteks fans
Monitor: HP x2300 1080p 3ms 60hz
VGA: GIGABYTE GTX 950 XTREME 2GB VS GTX 570
Softwares Used:
Unigine
3Dmark
Fraps
MSI afterburner
OC Guru II
Techpower up GPUZ/CPUZ
CPUID HWMonitor
Tested Games:
Battlefield 3
Battlefield 4
TombRaider (2013)
Metro 2033
Dota 2
Tools Used:
SYNTHETIC GRAPHICS PERFORMANCE:
3dMark Futuremark creates benchmarking software that helps you measure the hardware performance of your PC, tablet and smartphone. Running their benchmarks regularly, and especially before and after making changes to your system, can highlight setup and stability problems. 3dmark Firestrike is one of our benchmark of choice in comparing the said graphic cards.
Fire Strike is a showcase DirectX 11 benchmark designed for today's high-performance gaming PCs. It is Futuremark's most ambitious and technical benchmark ever, featuring real-time graphics rendered with detail and complexity far beyond what is found in other benchmarks and games today.
Here we can see that there is approximately  63-64% performance difference between the DCUII GTX 570 and Gigabyte GTX 950 Xtreme Gaming. Clearly, the high factory overclocked configuration is a significant factor of this card in creating a huge performance gap between the GTX 570.
Unigine Heaven Benchmark with its current version 4.0 is a GPU-intensive benchmark that hammers graphics cards to the limits. This powerful tool can be effectively used to determine the stability of a GPU under extremely stressful conditions, as well as check the cooling system's potential under maximum heat output.
Heaven Benchmark immerses a user into a magical steampunk world of shiny brass, wood and gears. Nested on flying islands, a tiny village with its cozy, sun-heated cobblestone streets, an elaborately crafted dirigible above the expanse of fluffy clouds, and a majestic dragon on the central square gives a true sense of adventure. An interactive experience with fly-by and walk-through modes allows for exploring all corners of this world powered by the cutting-edge UNIGINE Engine that leverages the most advanced capabilities of graphics APIs and turns this benchmark into a visual masterpiece.
Yet again, the Gigabyte GTX 950 Xtreme Gaming is hammering the DCUII GTX 570 making a performance difference of approximately 37-38% in terms of minimum FPS and a 34-35% performance gain in terms of Average, Maximum and Overall benchmark score.
GAMING PERFORMANCE:
BATTLEFIELD 3: Graphic Settings: Ultra / v-sync off  / 1080p / Map/Mission: Operation Swordbreaker (Part were Chafin got shot by a sniper)
Battlefield 3 runs significantly better on the Gigabyte GTX 950 Xtreme Gaming. . It tops all of the chart values with an amazing gain of 37.54% on average fps and 32.30% performance gain on minimum fps.
BATTLEFIELD 4: Graphic Settings: Custom (AA deferred off, everything else is ultra/max) / v-sync off / 1080p / Map/Mission: Singapore (clash on the beach)
Battlefield 4 runs significantly better with the Gigabyte GTX 950 Xtreme Gaming. It tops all of the chart values with an amazing gain of 95.05% on average fps and 129% performance gain on minimum fps. Game play was very pleasant and smooth. The GTX 570 was barely reaching the 40 fps average sweet spot. Clearly, the GTX 950 Xtreme Gaming edition is the best choice if you want to be competitive in multiplayer games such as BF4 without hurting your pockets.
TombRaider 2013: Graphic Settings: Ultimate / v-sync off / 1080p / Map: In game benchmarking tool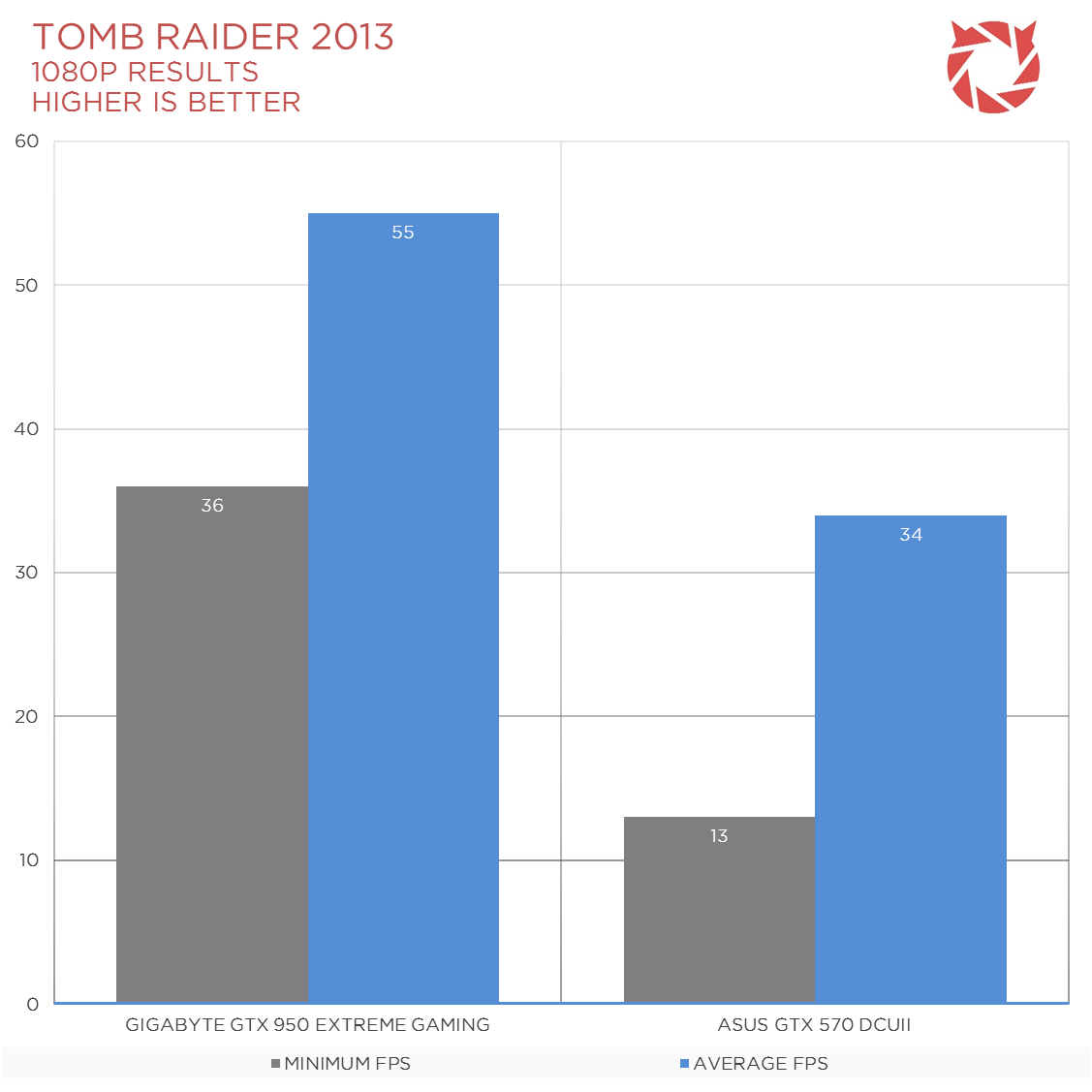 The GTX 950 Xtreme Gaming tears the GTX 570 apart with it awesome fps performance in TombRaider. It tops all of the chart values with an amazing gain of 203% on average fps and 171% performance gain on minimum fps. The reason why the there's a big performance gap between the 2 cards is because of TressFX. Older Fermi cards has poor support with this technology while the newer Maxwell cards from Nvidia (and newer AMD cards) are optimize to run it. Gaming on just Ultra settings (TressFX Off) with the GTX 570 will make gameplay more tolerable with some dips to 30 fps.
Metro 2033: Graphic Settings: Max out / v-sync off / 1080p / Map/Mission: Prologue (mutant horde rushing towards the tower)
The GTX 950 Xtreme Gaming dips with average of 37 fps but the game play was still smooth. On the other hand, the GTX 570 was just doing average 26.7 fps. The GTX 950 Xtreme Gaming wins with a 38.49% FPS performance gain on average fps.
Dota 2: Graphic Settings: Max out / v-sync off / 1080p / Map/Mission: Mid lane
Surprisingly, there's no significant fps gain or difference in playing Dota 2 in neither of the two graphic cards. Only a marginal gain of 4% in average FPS and 11% minimum fps gain. The game is averaging 100+ frame rate on both cards. No noticeable difference at all.
TEMPERATURE & POWER CONSUMPTION:
The fan speed and setting was just set on default. As we can see here on our graph, the Gigabyte GTX 950 Xtreme Gaming is only 1 degree cooler versus the GTX 570 when on idle but it stays completely silent because of 0db technology while on the other hand the DCUII GTX 570's fan speed was hovering around 15-20% fan speed with a slight humming noise when listening closely to it.
When under load, the GTX 950 Xtreme Gaming is 13-14% cooler than the GTX 570 with a 9 degree Celsius difference. The GTX 950's "Windforce" LED lights up and the fans started spinning with just a silent hum when listening to the card closely. The GTX 570 bumps the RPM level making the humming noise more noticeable.
On idle: After powering system on, I've let it boot and left it on desktop for at least 10 minutes before getting the Idle readings. The system running the GTX 950 Xtreme Gaming consumes only about 100.7 watts while the competitor hovers around 119.4. You can save 18-19% in  power consumption with the newer card.
On load: We run Battlefield 4 multitplayer for at least 10 minutes before getting the Load readings. The system running the GTX 950 Xtreme Gaming consumes about 228.2 watts while on the other hand, the GTX 570 consumes 379.1 watts. A very hefty improvement! On load, approximately 66-67% power consumption can be save if you upgrade your card to a GTX 950.
VALUE & CONCLUSION:
The Gigabyte GTX 950 Xtreme Gaming is in deed a worthy upgrade for old generation/fermi card users. With a price tag of 8,920 pesos, this card is not only great for guys who wants performance upgrade over their old card, it can also be a great choice of video card for first time builders and the budget conscious. In addition, with these newer cards in your Nvidia powered system, you'll be able to unlock and use other useful Nvidia software such as Shadow play, GameStream and since our GTX 950 has lighting, LED Visualizer is also unlocked. (+ DirectX12 support)
Overall build quality is great and the new Xtreme Look aesthetic is so gamer and attractive. I love it. Though Gigabyte could have made the fan shroud aluminium or metal, I wouldn't mind paying the extra buck it'll add over the SRP.
Moving forward to thermals, noise and power consumption, the GTX 950 Xtreme Gaming is a champion. The Maxwell architecture proves to be very power efficient and cool plus the 0db technology is awesome. The card's fan noise is barely noticeable during load time. Aside from the performance increase, these other 3 factors should also be considered as another main upgrade criteria. No more "Pugon" (Super Hot/Inefficient) Gaming for me after jumping from GTX 570 to the GTX 950 Xtreme Gaming. Pwn more and Pay less on your electric bill.
1080p gaming is just about right for the GTX 950 Xtreme Gaming. With its high factory overclocked clock speed, it can manage to play all of the games I fire at it in max settings. You can drop graphic AA to improve FPS performance and making it suitable for competitive gaming. Although I've noticed there's no significant FPS improvement when playing Dota 2 with this card vs the GTX 570 on a 1080p monitor, but surely, the story will change if your going to use a 2k or a higher resolution display.
The only real complaint about this product is the OC Guru II. It lags up my system so I have to close the app each time I boot up my pc. One good thing though, after closing the app, the LED customization and other configuration stays. The thing I've experience could be isolated but upon checking the web, I've seen several user complaints about the said software. I suggest using MSI afterburner for performance tweaking.
That said, the Gigabyte GTX 950 Xtreme Gaming is the best choice for upgrade for the budget conscious old gen users and has the potential to be the best overall non-reference card in its level. The Gigabyte GTX 950 XTREME has a 3-year warranty.
PROS:
Great Build Quality
High Factory Overclocked
Very Silent Operation + LED indicators
Attractive Overall Aesthetic + Lighting
Value for Money
3 Year Warranty
CONS:
Gigabyte GTX 950 Xtreme Gaming
PERFORMANCE -

9/10

BUILD QUALITY -

8/10

FEATURES -

8/10

AESTHETICS -

9/10

VALUE -

8/10
Summary
That said, the Gigabyte GTX 950 Xtreme Gaming is the best choice for upgrade for the budget conscious old gen users and has the potential to be the best overall non-reference card in its level. The Gigabyte GTX 950 XTREME has a 3-year warranty.