TteSports is at it again with a new keyboard in the form of the Neptune Elite RGB. It is perhaps one of the most feature rich mechanical keyboard we've tested from the company, featuring tons of lighting options with dedicated keys and gaming oriented qualities.

The TteSports Neptune Elite RGB features an extended 104-key layout and an aluminum plate on top of its frameless design. It also had the revamped TTC switches inside with dust proofing capabilities. At $79.99 USD, this appears to be a serious budget contender with premium features attached. Named after the god of the seas, will the Neptune Elite help unleash a wave of refreshing products from TteSports this year? Read more to find out on this review.
TECHNICAL SPECIFICATIONS:
Keyboard
Size
Full size
Layout
104 Key
Design
Frameless
Macro
Yes
Profile
Yes
Software
Yes
Weight
1230 grams
Interface
USB
Memory
Yes
Polling Rate
1000Hz
Lighting
Yes, RGB
Wrist Rest
Yes
Passthrough
Yes, USB 2.0
Cable Management
NA
Multimedia Keys
Yes, dedicated
Cable Length
1.8 meters
Switch
Type
TTC Blue, Brown
Actuation
2.2mm
Travel
4mm
Lifespan
50 million
PACKAGING AND ACCESORIES:
TteSports had the Neptune Elite stashed inside a sizable packaging. Nothing extra ordinary here but we get to see the keyboard's characteristics in a neat manner.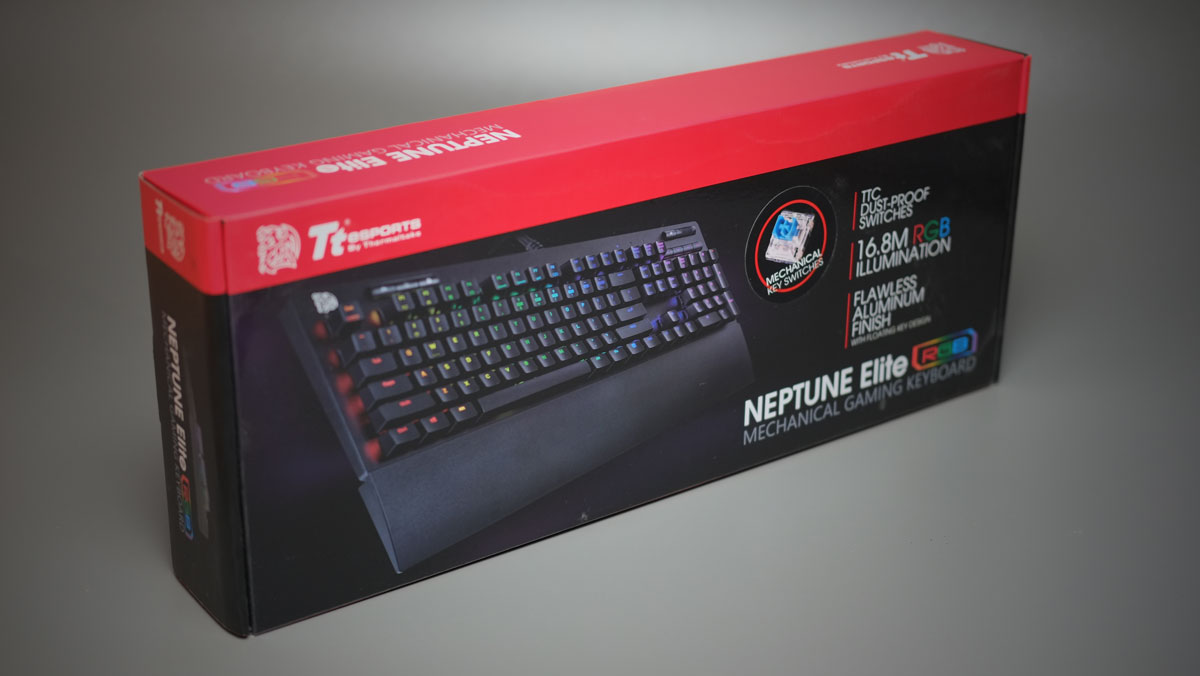 Aside from the keyboard itself, you'd get a wrist pad, documentations a key puller and a set of extra keycaps in Red with excellent print.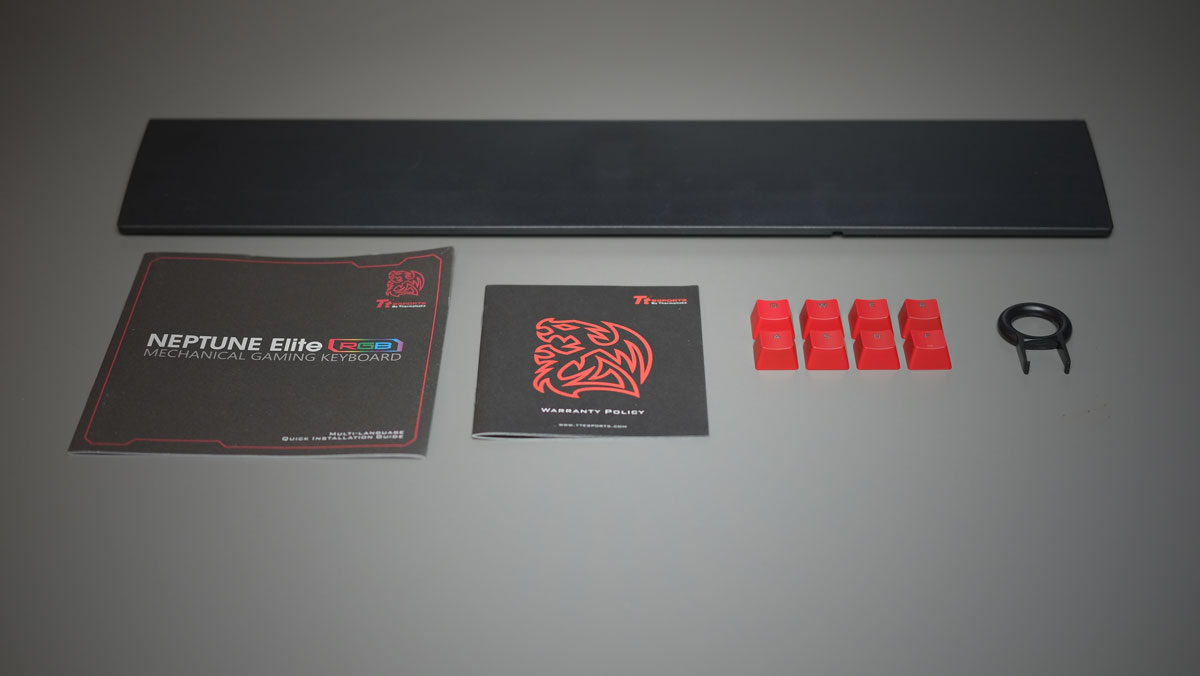 DESIGN, LAYOUT AND BUILD QUALITY:
The TteSports Neptune Elite RGB is a sleek looking, frameless yet extended 104 key mechanical keyboard. Build quality for the most part is excellent which is mainly due to its sturdy aluminum frame. The keyboard also weighs in at 1230 grams.
The back side on the other is rather simple, though we appreciated the enlarged rubber pads to keep the keyboard in place. There's also some kind of a canal here for a cable to pass through but I guess it's just there for the looks.
The key profile is sculpted from top to bottom which is accentuated further by the slanted frameless design of the keyboard. The plastic under side fits really well with the frameless setup too which is nice.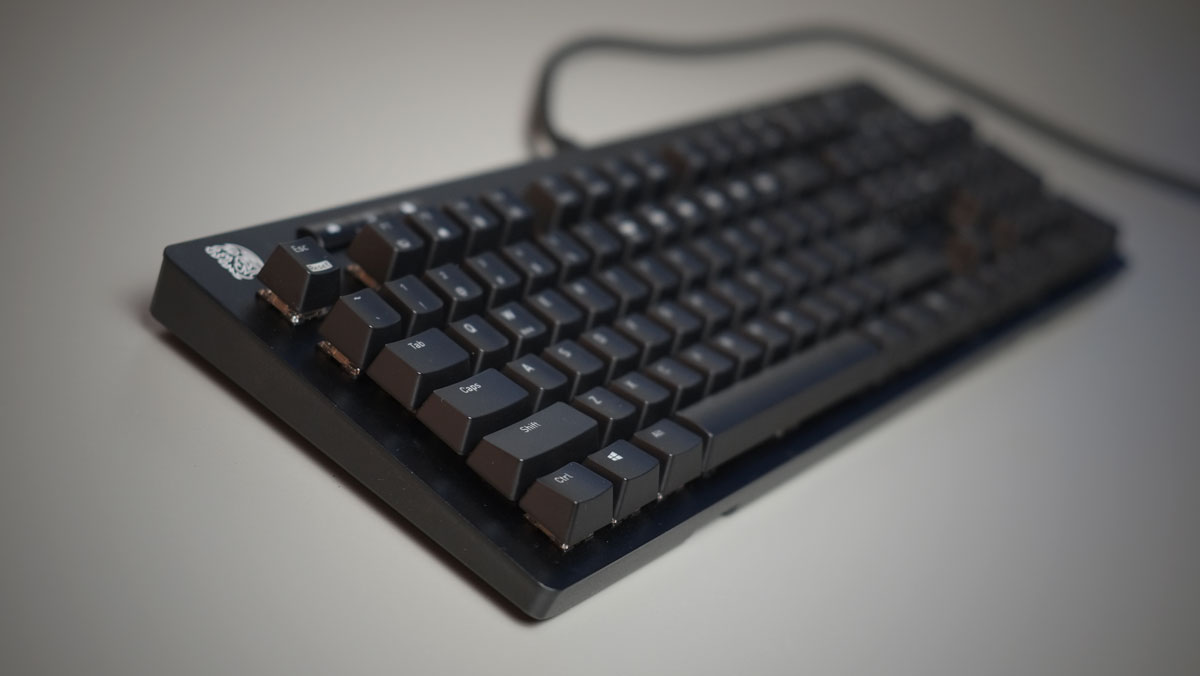 Another key feature of the keyboard is the USB .20 pass-through. Could've been better if there are two of these but a single one will suffice for most. There's also a volume wheel. Something that we usually see on expensive mechanical keyboards.
Connectivity is provided by a braided 1.8 meter cable although I wouldn't mind a non-braided solution. This one is technically kink-free but not really that flexible.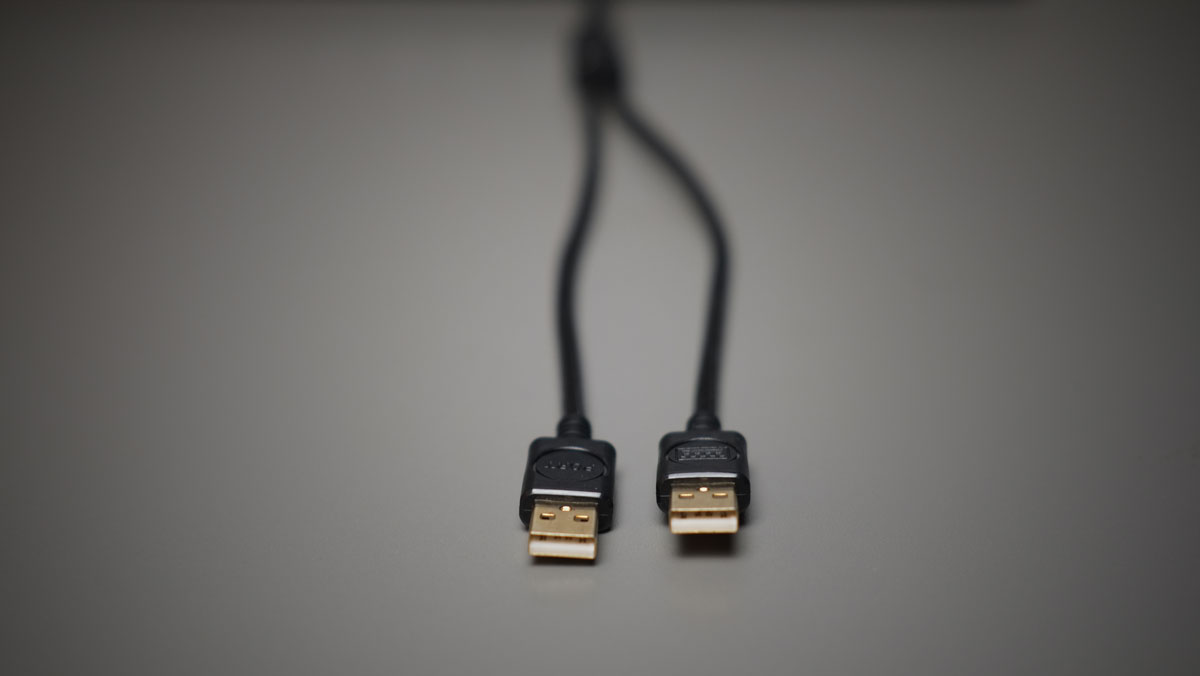 TEST SETUP AND METHODOLOGY:
Testing a keyboard is not that difficult, but it is mostly subjective; similar to testing head gears in a sense. That said, no keyboard is perfect and the verdict usually depends on personal preferences. With that in mind our methodology is overhauled to follow the key pointers that should matter the most. That includes how good the switches are, the quality of keycap and its profile plus the comfort.
Test Setup
Games
Overwatch, Battlefield 4, DOTA 2
Repeat Rate
Shortest
Repeat Delay
Fastest
Polling Rate
1000Hz, If possible
Software
EliteKeyboards Switch Hitter
PHYSICAL LAYOUT, FUNCTIONALITY AND ERGONOMICS:
Keyboards are generally categorized in 4 standard sizes or layouts: Full Size, TKL, Compact 75% and 60% layouts. These standard layouts had drastic effects on the functionality and ergonomics of the keyboard. Generally, compact layouts allows for better ergonomics; whereas full layouts offers 100% functionality.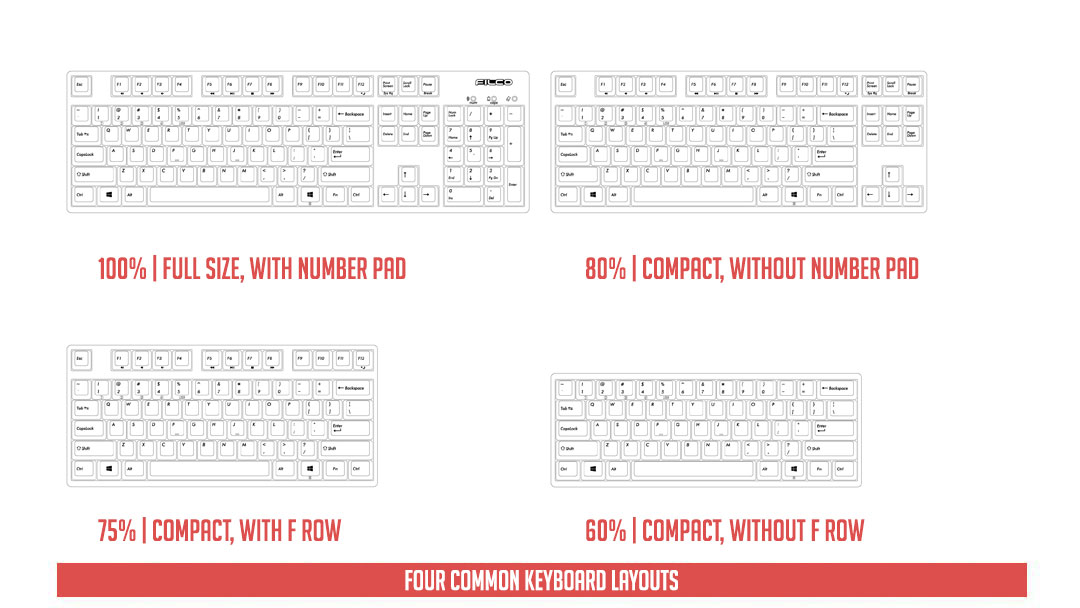 The Neptune Elite RGB features a traditional 104 key layout. That said, it isn't the best when it comes to ergonomics. It is a bit slimmer than your normal 100% layout though due to the nature of its frameless design.
As for functionality, there a lot to say about the Neptune Elite. The extra keys for an instance houses dedicated controls for the media keys and other functions. The top row on the other hand had application shortcuts and lighting controls. The second row from the top deals with the macro settings while the navigation keys houses the extra lighting presets.
Listed below are the most common key combinations for the secondary function of the keyboard:
FN + Esc = Resets the keyboard to default settings
FN + F1-F4 = Application shortcuts
FN + F5-F12 = Lighting options
FN + Number row = Macro
FN + Navigation keys = Lighting profiles
FN + W = Swaps to arrow key functionality
FN + Numlock = Locks the keyboard
KEYCAP PROFILE, PRINTING AND MATERIAL:
The keycap profile is often overlooked when it comes to keyboards. It shouldn't be, considering that the profile usually makes or breaks a portion of keyboard's ergonomic and feel. The DCS family is the most common one here, with Cherry and OEM profile slotted beneath it. On the other hand, profiles such as the DSA and SA profiles are mostly found on higher end mechanical keyboards.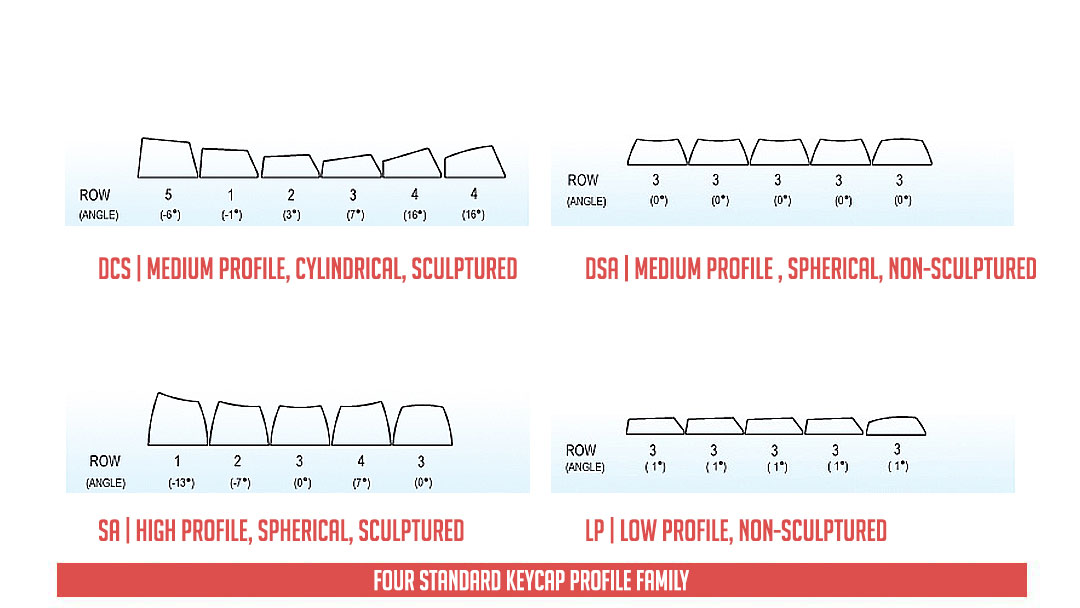 Keycap printing method is also an important aspect we should look into. Pad printing is the most common one here, while dye sublimation and double shot injection being the more premium ones due to their printing quality and durability.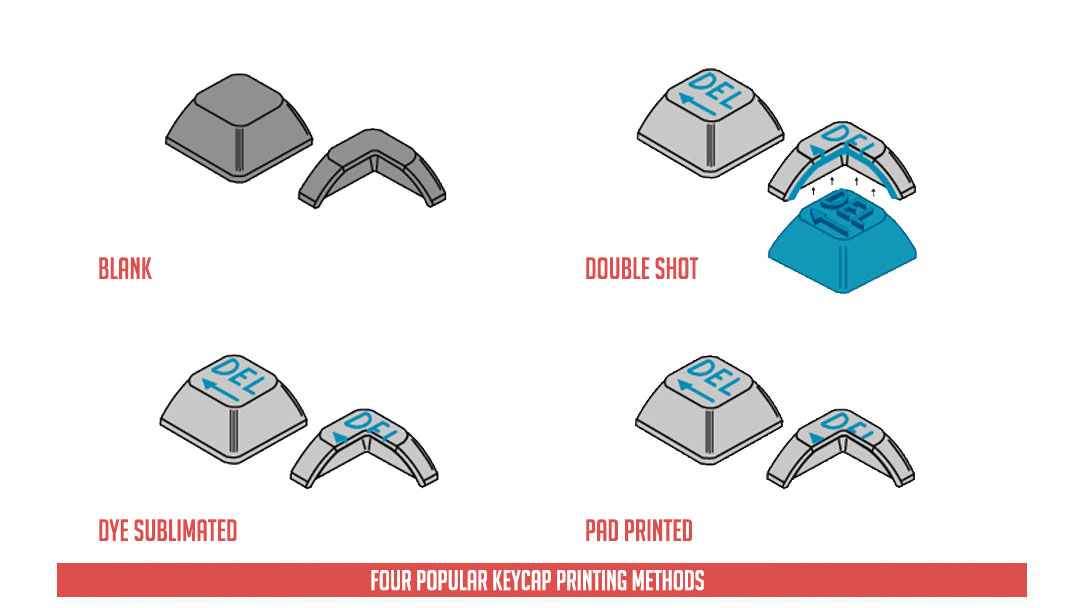 Keycap materials are important too in selecting a mechanical keyboard; though it is common to see keyboards shipped with either ABS and PVC keycaps. These materials do however shine faster than other materials and quality is generally not the best. PBT doesn't shine as fast compared to these keycaps and are highly regarded for their quality and distinct texture. POM on the other hand is also a durable material but they are rarely found as aftermarket options.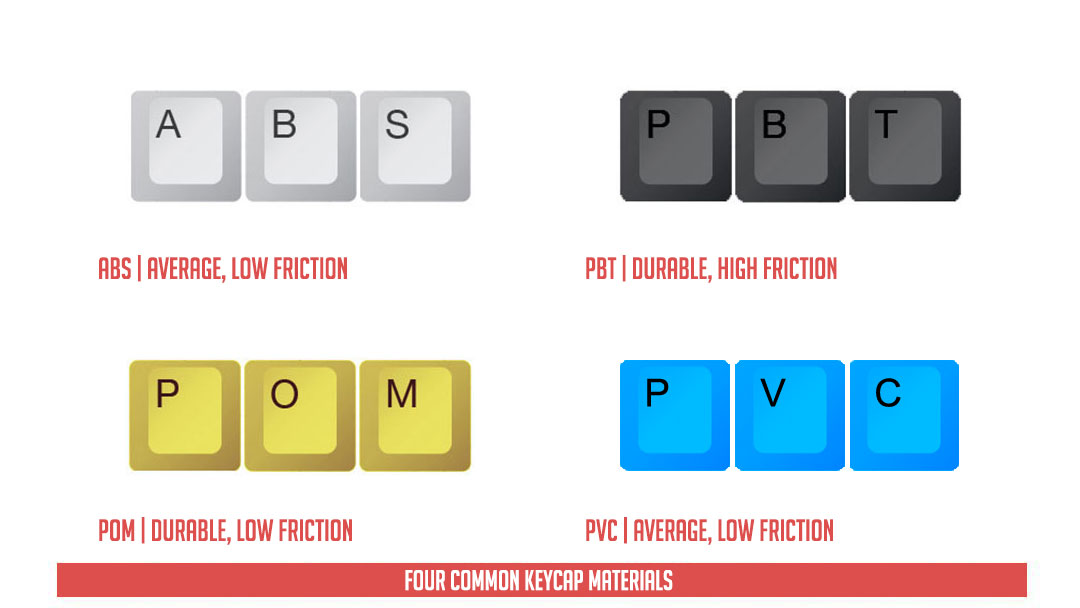 Keycap profile is under the DCS family, more specifically the sculpted medium OEM profile.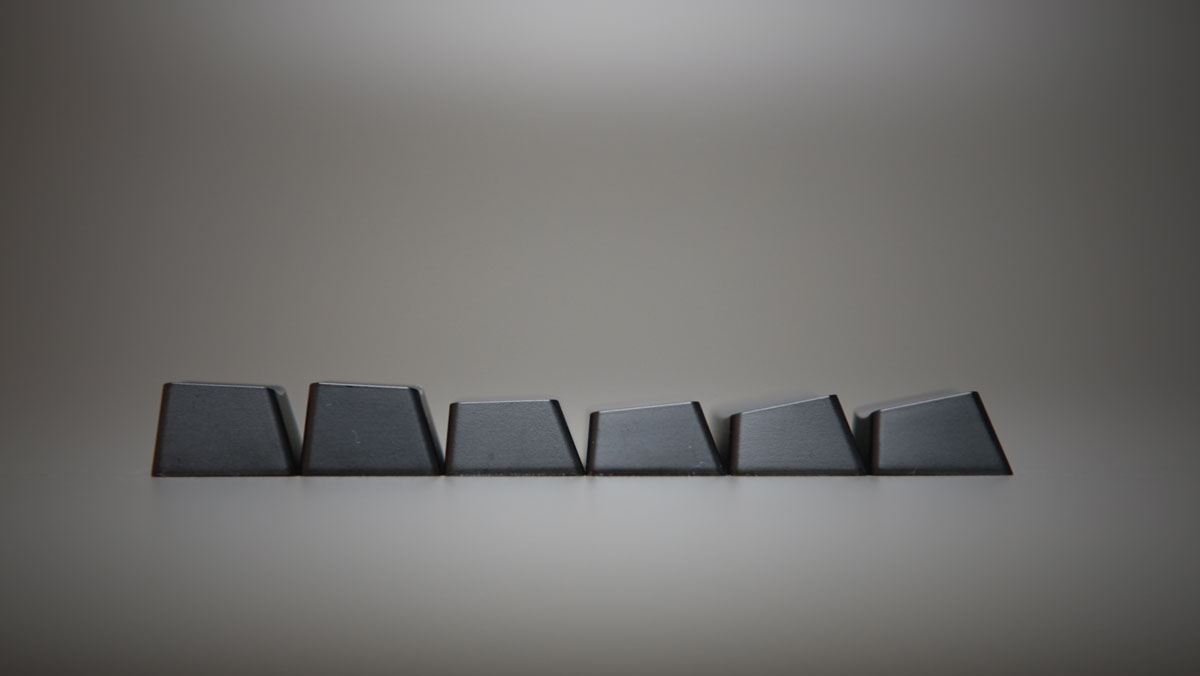 Prints on the keycaps are actually good if not great. Fonts are simple and nothing looks out of place.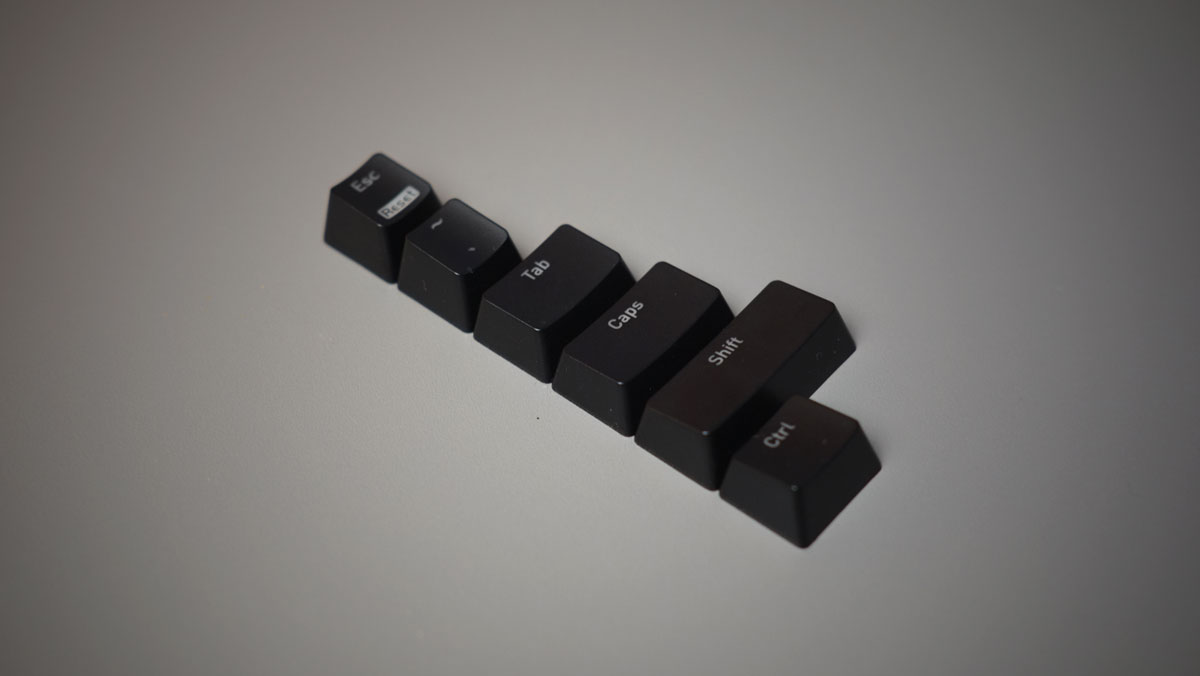 Material used for the shell is ABS plastic. Thickness is rather decent with some obvious nub marks.
MECHANICAL SWITCHES AND STABILIZERS:
The mechanical switches makes up the reason why mechanical keyboards are called "mechanical keyboards" in the first place. There are tons of switches out there but Cherry MX switches are the most popular of them all; setting a standard for the rest. They have clicky, linear and bumpy switches; all with their own mixture of actuation forces and actuation points.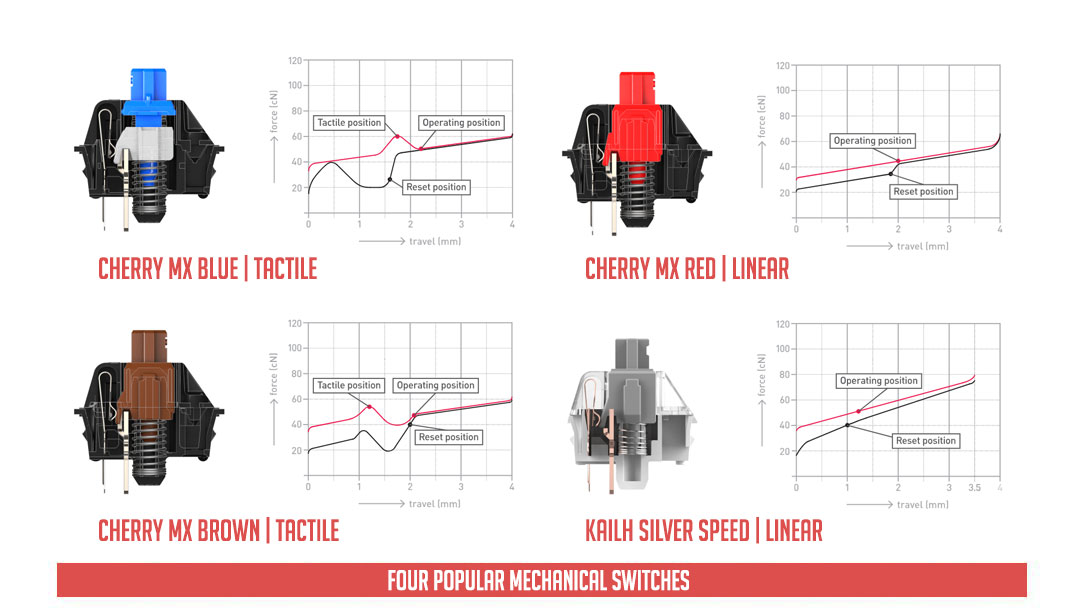 The TteSports Neptune Elite RGB model we got features the TTC Blue switches inside. This is based on the Cherry MX Blue switches so they are tactile, had the same travel distance of 4.0mm and pre-travel of 2.2mm. Force required is a bit lower though at 50g. While they share a lot of properties, the TTC Blue features a stem support. The TTC Blue also had a distinct clicky sound. A bit louder or rather on a higher note compared to the Cherry MX Blues. Stabilizer enhanced keys appears to be inconsistent though.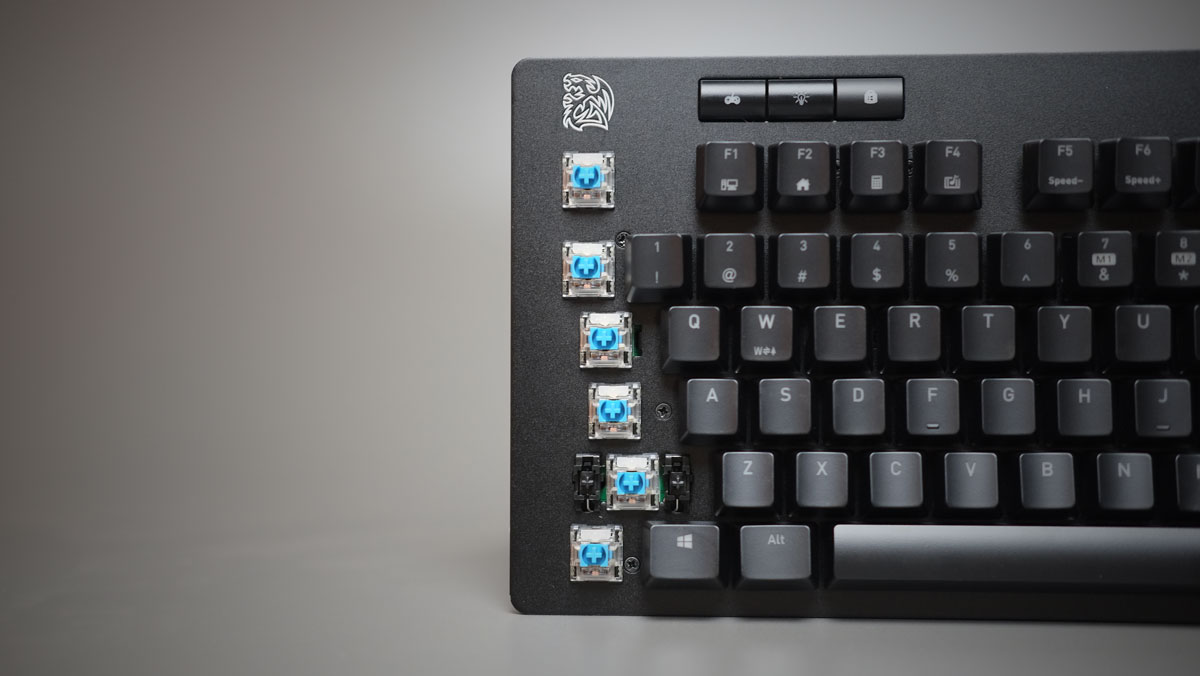 Stabilizers are present on all switches and or keys that requires them. They are Cherry MX inspired but not really consistent. For an instance, Two of the keys namely the Num Enter and Right Shift had a more dampened feel to them. That's something you have to keep in mind.
KEY ROLLOVER, CHATTER AND GHOSTING:
EliteKeyboard's Switch Hitter is an excellent freeware to test key rollover, chatter and ghosting. Key rollover is basically the number of keys the keyboard could register, while chatter is multiple registered inputs with a single press of a key. Ghosting on the other hand is the unwanted input registration when several keys are pressed together.

The TteSports Neptune Elite RGB passed with flying colors on our rollover, chatter and ghosting tests. Nothing to worry about here guys.
SOFTWARE, LIGHTING AND SPECIAL FEATURES:
The Neptune Elite RGB is compatible with the TteSports Gaming software. It is a rather small sub 20MB download without bloat or what so ever. This is the best TteSport software I've tested to date due to its ease of use and the functionality that comes with it. The downloadable manual details a lot of the options you could play with this software. That includes a more specific lighting option, macro recording and even key customization.
Lighting for the most part is excellent. You may even dial in the intensity of Red, Green and Blue individually on top of the 14 lighting effect modes.
FINAL THOUGHTS:
We tested the TteSports Neptune Elite RGB with low expectations, thinking that it'll be another RGB mechanical keyboard to join the fray of the company's ever growing lineup. That said, we are glad that it is exactly not the case and is quite the opposite. It is a well designed frameless keyboard with proper features that we usually expect from a $100+ device. That includes a plethora of RGB lighting options, dedicated gaming and media keys, plus a genuinely good software that does what it is supposed to do.
Of course, the Neptune Elite RGB is not perfect. Some stabilizers are inconsistent, making the whole typing experience a bit dampened or rather muted. There are solutions, one of which is to remove the affected key's stabilizers but we'd rather not. Still, the features overall build quality and the price point easily outweighs the issue.
Value wise, we are looking at one of the best gaming mechanical keyboards from TteSports in recent memory. That's with a price to match at $79.99 USD.
GOOD BUILD QUALITY
FRAMELESS ALUMINUM DESIGN
DEDICATED MEDIA KEYS
EXCELLENT SOFTWARE
EXCELLENT SET OF FEATURES
COMPETITIVE PRICE POINT

INCONSISTENT STABILIZERS
LIMITED SWITCH OPTIONS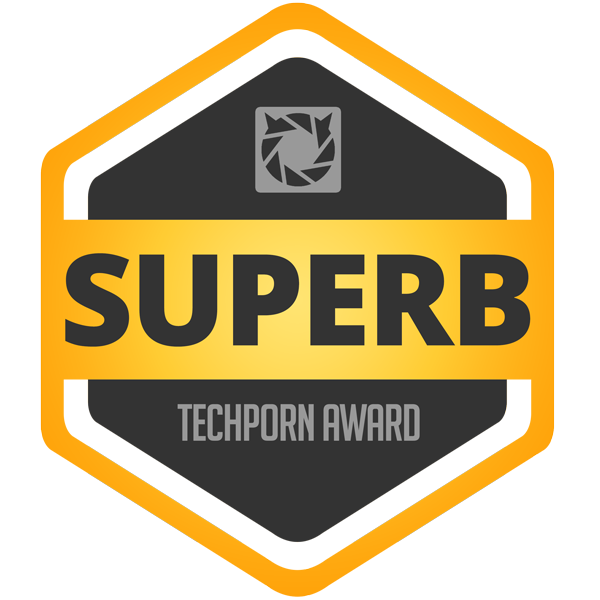 TteSports Neptune Elite RGB
PERFORMANCE -

8/10

BUILD QUALITY -

8/10

FEATURES -

9/10

AESTHETICS -

9/10

VALUE -

8/10
Summary
Value wise, we are looking at one of the best gaming mechanical keyboards from TteSports in recent memory. That's with a price to match at $79.99 USD.