In a fortunate turn of events, we now have the HIFIMAN Arya in for review. This is the V3 or Stealth Magnets edition, retailing for about $1599 USD MSRP.
The HIFIMAN Arya V3 is an open-back planar magnetic headphone, featuring a distinct egg-shaped asymmetric ear cup design. This is a top of the line product, featuring the company's nanometer-thick diaphragm and of course, the acoustically transparent stealth magnets.
Disclosure: I borrowed this unit from a good friend for the purpose of this review. That said, HIFIMAN did not ask me to say anything particular about it.
Technical Specifications
Headphones
Design
Asymmetrical/Over-ear, Open-back
Transducer
Orthodynamic/Planar Magnetic
Frequency Response
8 Hz – 65 kHz
Impedance
32 Ω
Sensitivity
94 dB/mW
Connectivity
Dual 3.5 mm to 6.35 mm (1/4″)
Microphone
Transducer
—
Polar Pattern
—
Frequency Response
—
Sensitivity
—
Dimensions
Length
—
Width
—
Height
—
Weight
430 g, without cables
Packaging and Accessories
The Arya V3 Stealth Magnets comes in the usual HIFIMAN boxed packaging we used to see. It is strikingly similar to the packaging of the more budget oriented HIFIMAN models but your experience may vary. For reference, I have seen cheaper type of packaging for recently released models and or revisions. That includes the Arya's so don't be surprised if you got a different one.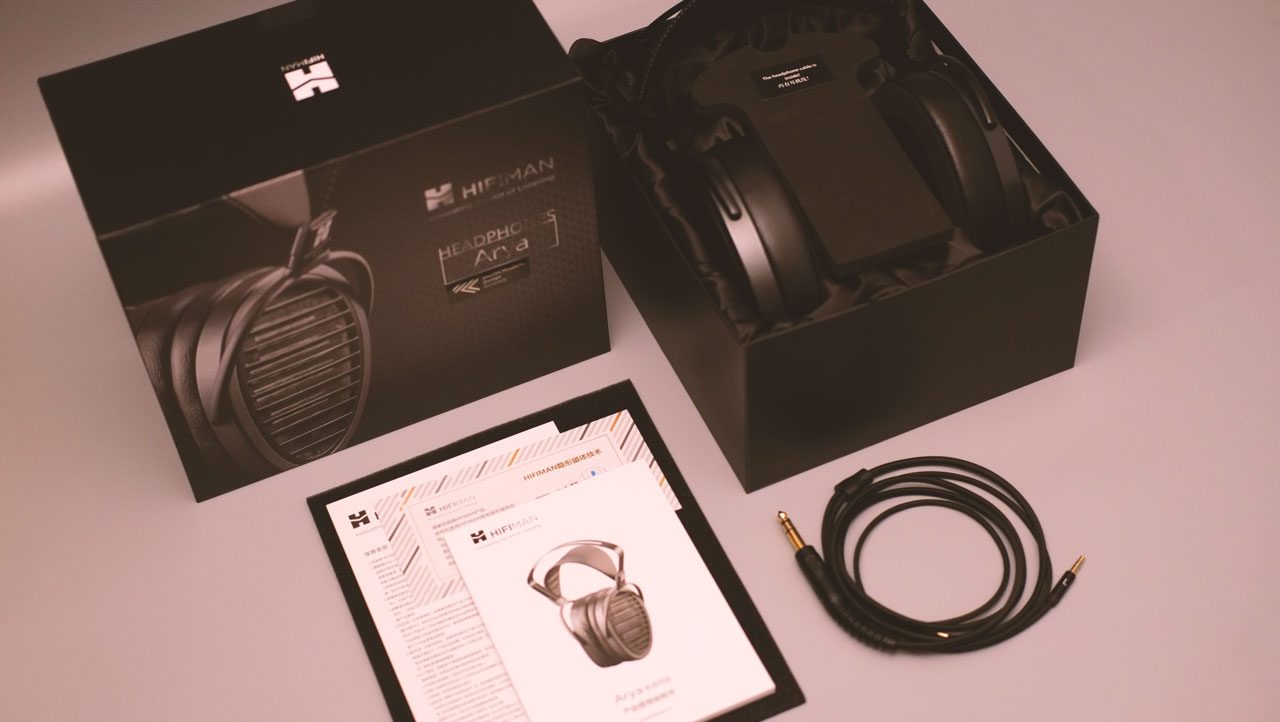 The box should come with the following items inside:
HIFIMAN Arya V3 Stealth Magnets Headphones
Dual 3.5 mm to 6.35 mm cable
Quick start guide
Warranty guide
Stealth Magnets promotional card
Decent bundle we got here. Would be nicer to see a balanced set of cables though.
Design, Build and Connectivity
The HIFIMAN Arya V3 is an industrial yet also minimalistic looking headphone with a clear emphasis on function over form. As for the build, the headband, yokes and grills are made out of metal, while the egg-shaped couplers are made out of plastic. While build quality is mostly positive, I find the gun metal coupling a bit on the cheaper side. Perhaps because of the subtle color or texture mismatch?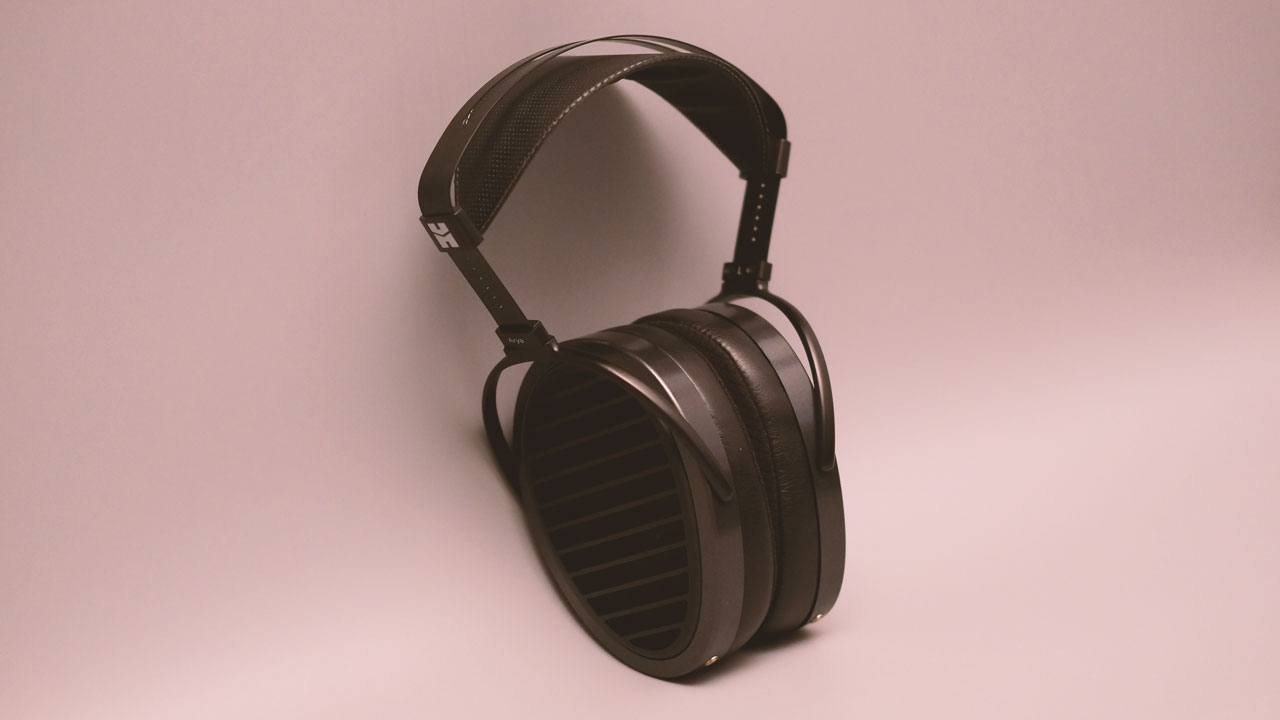 The HIFIMAN UltraPad V2 comes standard with the Arya V3. These are roomy angled pads, providing optimal stereo image and the overall tonality of the headphone itself  – along with comfort of course. While they share the same exterior texture with the PaliPads, this one is not as soft. Must be due to the stiffer foam or leatherette sidewalls.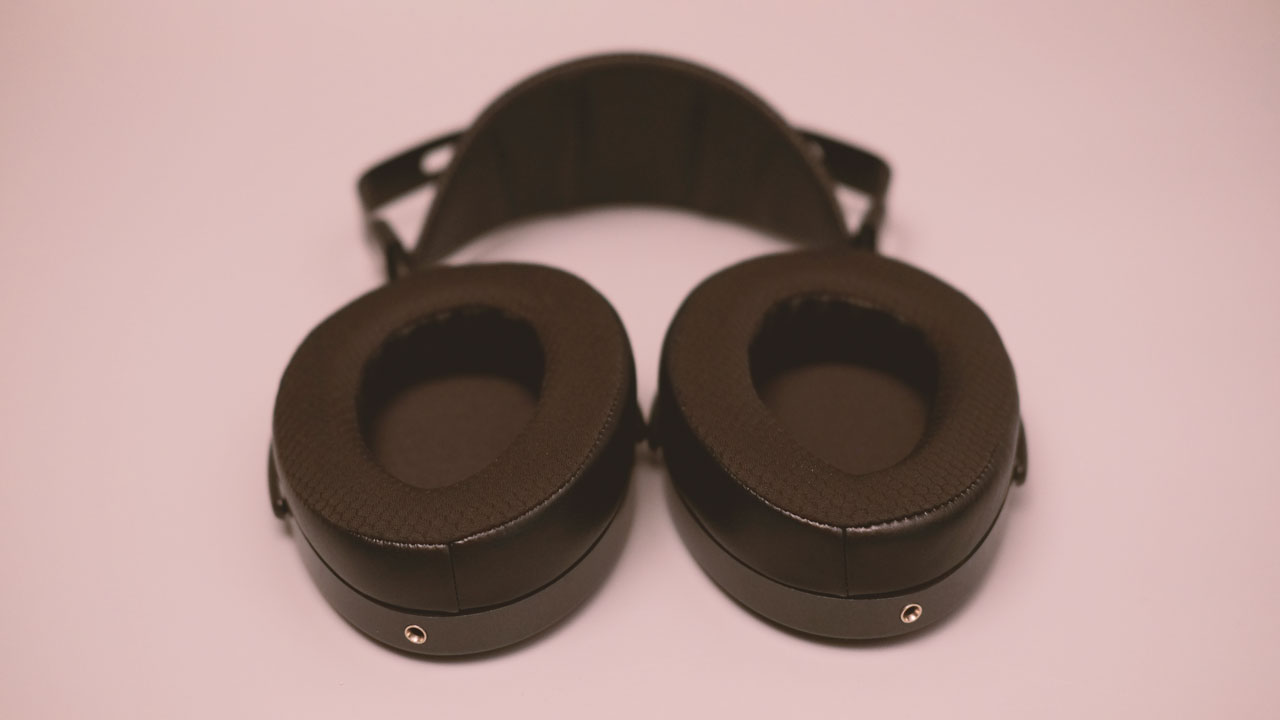 Connectivity wise, the Arya V3 comes with a braided dual 3.5 mm to 6.35 mm cable. At its price point, I expected another cable for balanced chains or something akin to the HE6se V2's cable – minus the IV tube thing. Anyway, this is decent as far as my experience with braided cables goes.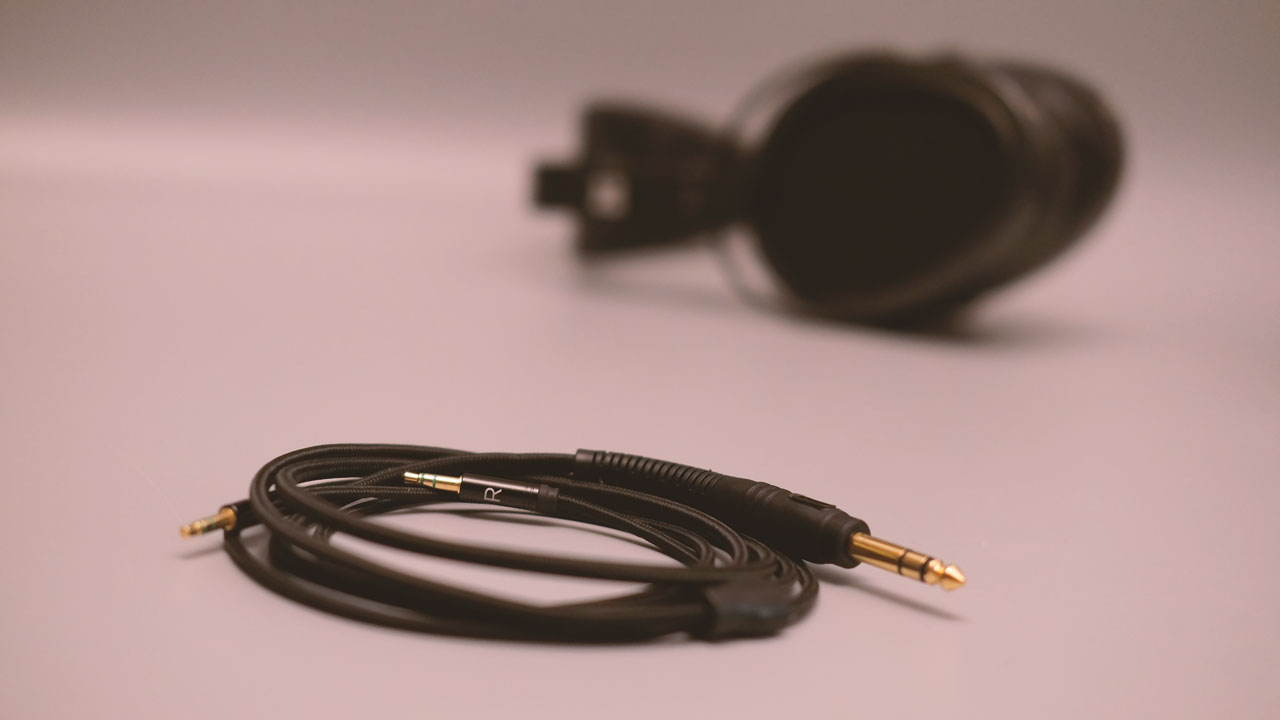 Overall build quality is decent for its price. While I appreciate HIFIMAN going metal with the yokes, it still creaks when adjusted. The adjustable headband's mount is also prone to scratch the spring steel headband itself. Just HIFIMAN things, I suppose.
Ergonomics
The HIFIMAN Arya V3 is a headphone weighing in at around 430 grams without its cable. Clamp force is similar to other HIFIMAN models with the Newly Enhanced Comfort Headband if not ever slightly better due to the large pads. That said, pressure is also well distributed across major contact points – least on my 56 cm diameter noggin.
Perfect seal and comfort is possible with the UltraPad V2 but not with my glasses on – a step down in the plush department compared to the PaliPads. It has enough breathing room for many ear sizes though featuring a cavity dimension of around 55 mm in width, 85 mm in height and a depth of 28 mm. Summing everything up, even with a middling weight and plush factor, the Arya is surprisingly light and comfortable when worn. Best yet in its class as far as ergonomics goes.
Test Setup and Methodology
Our test setup relies on the measurements taken from Room EQ Wizard paired with the MiniDSP EARS headphone test fixture. Audio chain has been made simple with the Topping DX7 Pro and Topping A90 for balanced and single-ended devices. It is important to note that we are testing the review sample after burn-in, with at least 24-hours of uptime. This is done so to negate the FOTB (fresh out the box) state of the DUT (device under test), yielding better benchmarking consistency.
Test Setup
Audio Chain
Topping DX7 Pro -> Topping A90 -> DUT
Test Fixture
MiniDSP EARS
Sampling Rate
24-bit, 48 kHz (PCM)
Software
Room EQ Wizard
Due to a number of factors – including the test fixture and its limitations, the measurements obtained here are not meant to be compared from various results you may find online.
Frequency Response vs Target
Sound Pressure Level is measured in Decibels (dB SPL). The test aims to check the frequency response and its adherence to the Harman inspired target curve from MiniDSP.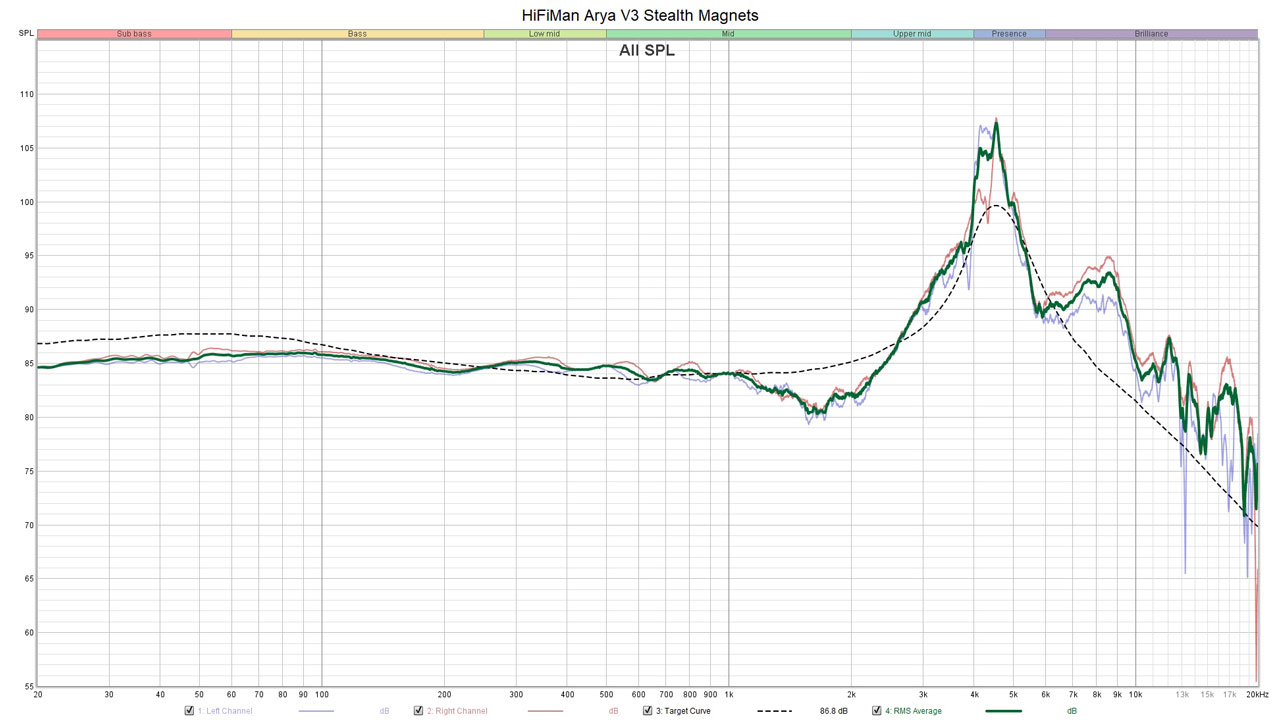 The Arya V3 is an extremely detailed headphone that generally complies to our target curve with a few rough spots around the treble region. Compared to the usual HIFIMAN tuning, this headphone has an extended yet slightly elevated bass response, a smoother yet still recessed midrange and an emphasized treble region. I would like to say this is a warm sounding pair but the extra energy up top do make it sound leaning towards a more neutral-bright sound signature.
Bass: Excellent bass response and extension with a good low-end target adherence between 100 Hz and 200 Hz. I felt this bass response is perfect for most genres, giving off the vibe that nothing has been added nor lost. What it does not have though is the macro-dynamics of the HE6 family. It slams and punch when needed but not at the level of the said headphones.
Midrange: Generally smooth with a faint hint of shout and forwardness due to the slightly smoother midrange scoop (for a HIFIMAN) paired with the extra energy around 3 kHz. My favorite frequency range as far as presentation goes.
Treble: Ever so slightly piercing, sibilant and also fatiguing at times and that's me being polite. There's just too much energy around the presence region especially around 4 kHz. Percussion instruments also has some sort of extra glare and sparkle to them – too metallic and lingering for my taste – as seen with another peak around 8 kHz. The perceived clarity and airiness is exceptional though – especially for string instruments.
Channel balance is mostly fine with the exception of the area around 4 kHz and 6 kHz to 9 kHz. These imbalances were observed with test tones alone so for the most part, stereo imaging is still on point. Sound stage on the other hand is excellent, featuring incredible depth and verticality. This is the bread and butter of HIFIMAN's egg-shaped models.
Total Harmonic Distortion
Distortion is measured in Percentage (%). The test aims to check the difference between the fundamental signal and the harmonic distortion.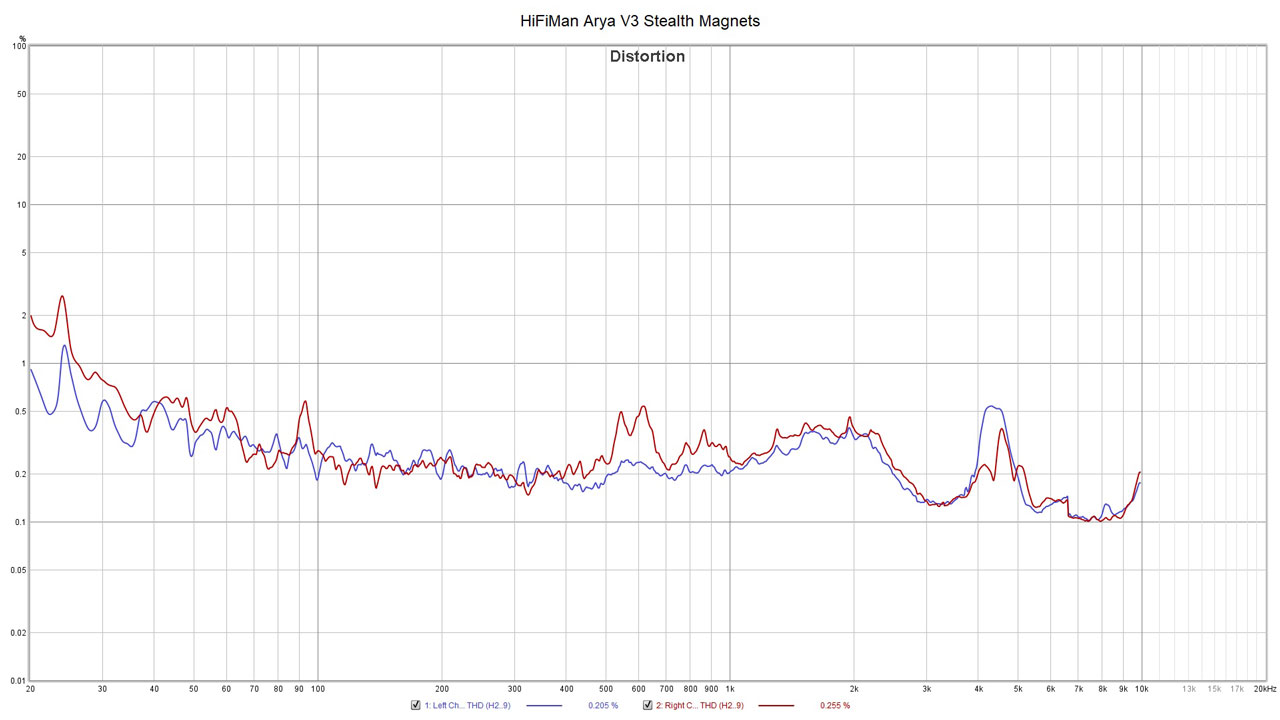 Excellent distortion results we got here – every audible range is under 1% THD. Now since applying a peak filter at the presence region is my recommendation for the Arya V3, it will also affect the distortion at the said frequency range but in a positive way.
Group Delay
Delay is measured in Milliseconds (ms). The test aims to check the amplitude over time across the frequency range.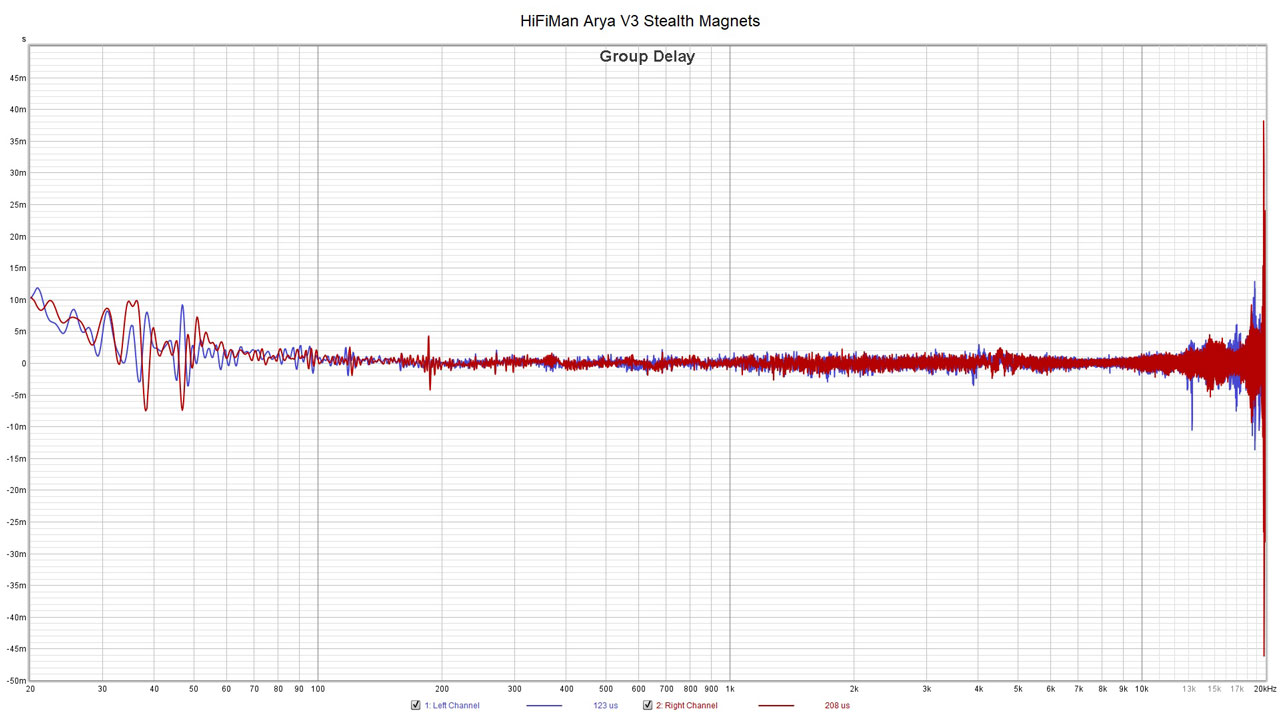 Group delay is mostly uneventful with the exception around the upper treble. This is as far as my MiniDSP EARS' measurements are concerned.
Cumulative Spectral Decay
Decay is measured in Milliseconds (ms). The test aims to check the energy content over time across the frequency range.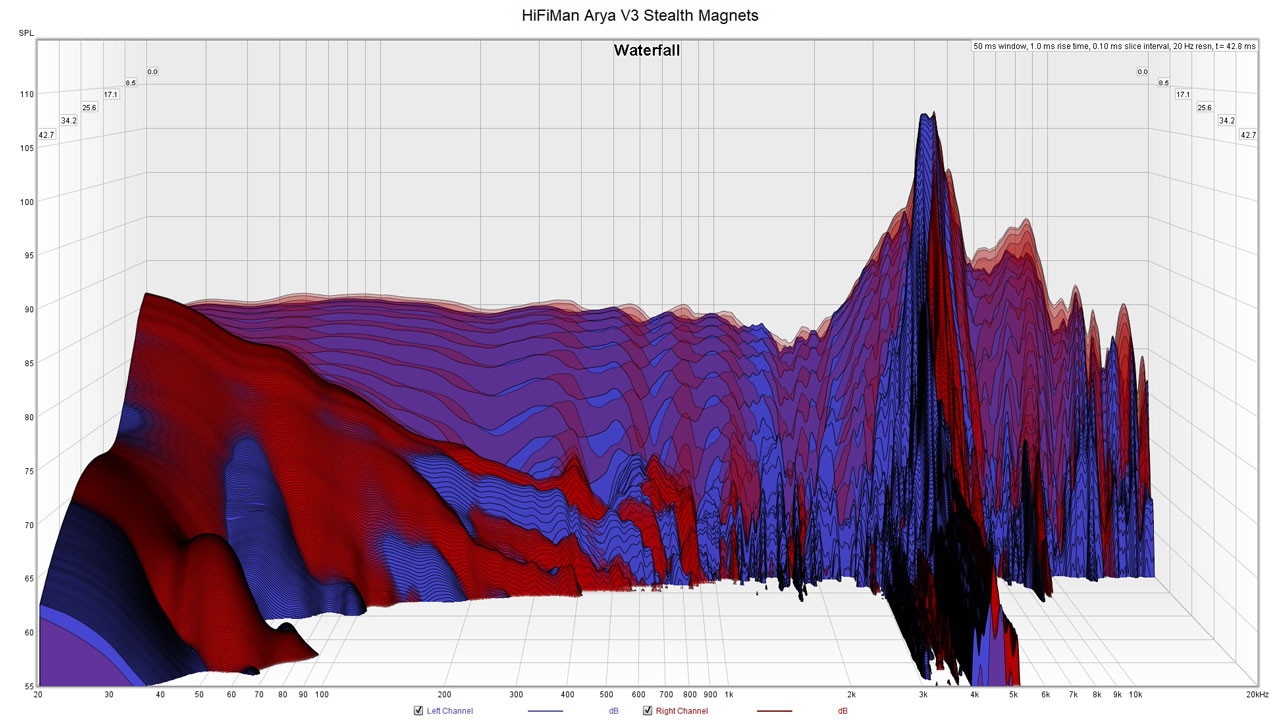 As for frequency response over time, this is slightly messier compared to the HE6se V2 particularly around the bass and treble regions. Maybe the reason for its zingy-ness and or the lingering effect of percussions? Many things could explain this such as the coupler design, drivers and what not.
Noise
Sound Pressure Level is measured in Decibels (dBA). The test aims to check the noise isolation and leakage of the headphones.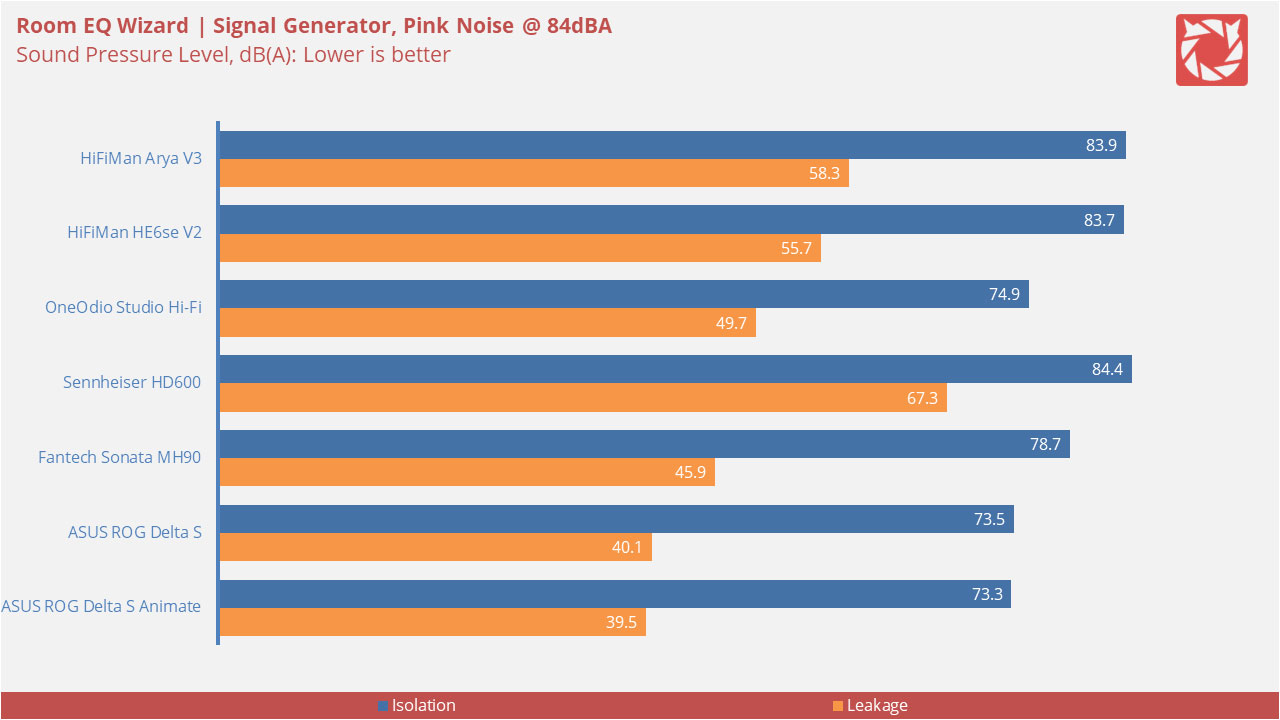 The measured isolation performance is what I expected with such an open-back design from HIFIMAN. Considering its size, leakage performance is surprisingly better compared to the Sennheiser HD600.
Features
The HIFIMAN Arya V3 is light on features compared to most general consumer headgears. Considering its DIY potential though, it is quite capable. Like many HIFIMAN models before it, you may change its cables and pads without much fuss to worry about. Grills and even the headband could be replaced too – if you fancy the ones from the Edition XS or the Ananda. These are at the extreme ends of its DIY potential mind you and are not for the faint hearted.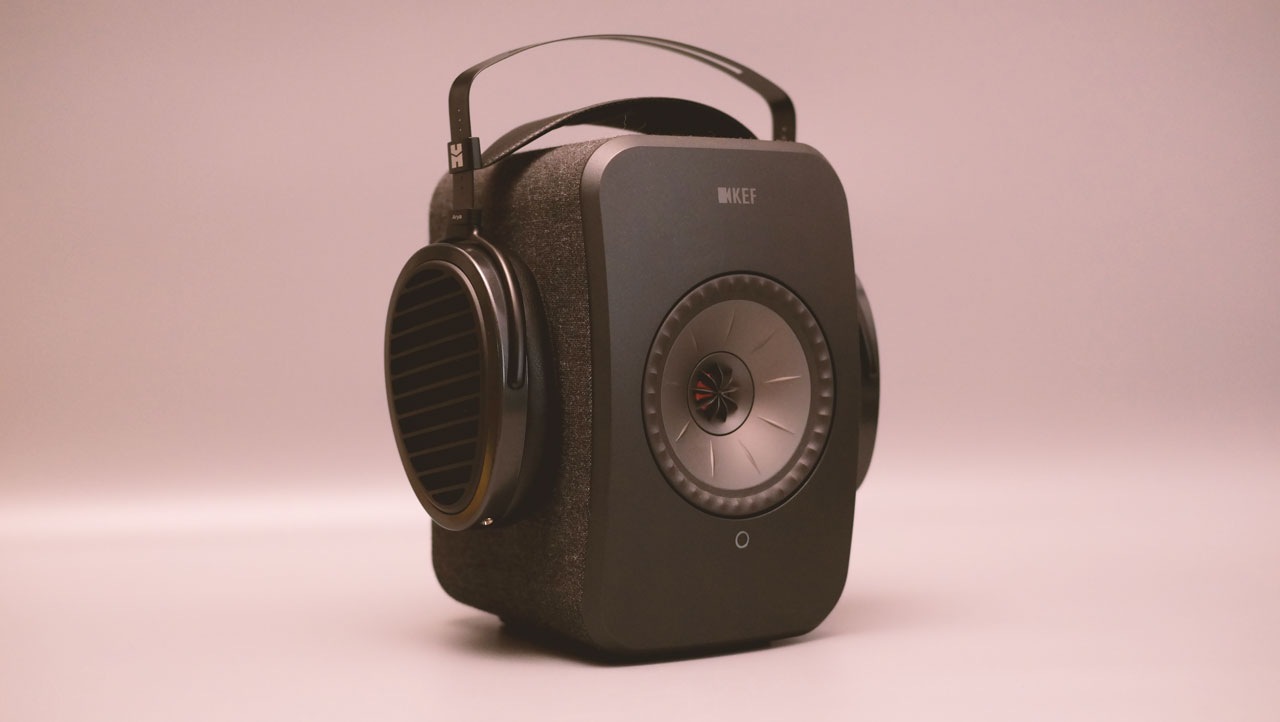 Apart from its DIY perks, the HIFIMAN Arya comes with a great sense of scale – I cannot stress that enough. It is almost speaker like if I were to exaggerate its staging performance on top of its clarity and or micro-dynamics. It is also efficient enough, having tested with the portable iFi Gryphon in balanced mode. Still, I would suggest getting something with more than a watt per channel at 32 Ω.
Final Thoughts
The HIFIMAN Arya V3 is what many consider an end game audiophile headphones and they are correct. This is an impressive model featuring excellent technical performance with a price to match. Hold your horses though as this is not suitable for everyone's taste.
Neutral-bright with a sense of warmth is what I would describe the Arya V3 in a nutshell. While I like its tonality for the most part, the extra energy at its treble region is overbearing at times. A peak filter or a set of aftermarket pads could alleviate some of these issues – or accentuation rather, for our not so treble sensitive friends. Source pairing is yet another recommendation but that would be the most expensive out of the possible options.
Now build quality is similar to other budget oriented headphones HIFIMAN has to offer with the exception of the alloy yolks and grills. I am surprised to see the same quality control here with the pads though, which is a potential reason for our unit's channel imbalances. Regardless, the Arya has one of the best, if not the best in class ergonomics – even with its middling weight and pads considered.
In closing, the HIFIMAN Arya V3 Stealth Magnets is a technical achievement, complies mostly to our target curve, but with a few rough spots that could be ironed out if the stock tuning is far from your liking. At its price point of $1299 USD, I would still recommend the product – considering its pros and cons.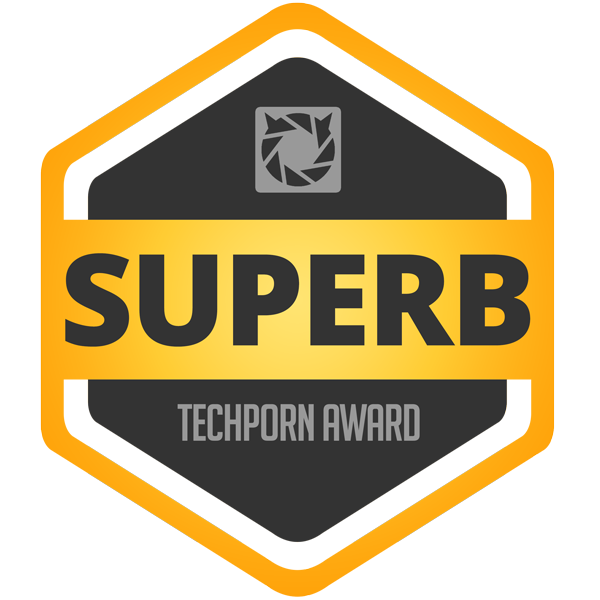 HIFIMAN Arya V3 Stealth Magnets Headphones
Summary
The HIFIMAN Arya V3 Stealth Magnets Headphones is a miniature concert hall with extra spiciness up top. Certainly not for everyone but it could be improved with equalization, a new set of pads or if you are fortunate enough, go the extra mile for a perfect source to match.