In the latest NVIDIA Studio update, NVIDIA is committed to fully support the latest features found in the Adobe Creative Cloud software suite. The new driver update includes full support for the AI enhanced Adobe Lightroom Select Subject and Select Sky features, along with a host of other features related to other creative applications.
The update is a part of Nvidia's showcase of exciting features for creators at the recently held Adobe MAX event. This is one of the largest creativity conferences around the globe, featuring hundreds of sessions and speakers to learn from and inspire with. As a part of the pivotal events in NVIDIA's history, it leads up to what has become of NVIDIA Studio since its inception way back in 2019.
What is Nvidia Studio Anyway?
NVIDIA Studio is basically a software and hardware platform created for the purpose of simplifying creative work. On its hardware side, it revolves around powerful GPUs to accelerate content creation, while the software side's Studio SDKs allows developers to utilize rendering, AI, and video processing features into their apps. The Studio Drivers then allows these features to integrated with the application.
Now RTX Studio should not be mistaken as the same entity with the NVIDIA Studio. It simply pertains to the combination of hardware and systems certified for NVIDIA Studio. It's like the NVIDIA Max-Q in a sense but on a creator's level.
Creative App Updates and the Latest Studio Driver
Adobe MAX showcased NVIDIA Studio really well, highlighting the Adobe Creative Cloud support and its GPU accelerated features. Here's everything you need to know about what's new with the latest Creative Cloud applications supported by the Studio Driver – along with some other enhancements outside Adobe.
Adobe Lightroom and Lightroom Classic
The new features in Adobe Lightroom and Lightroom Classic brings AI closer into the hands of creators. With the new Studio Driver update, NVIDIA RTX GPUs are now capable to maximize both the Select Subject and Select Sky masking tools by incorporating AI enhanced selections.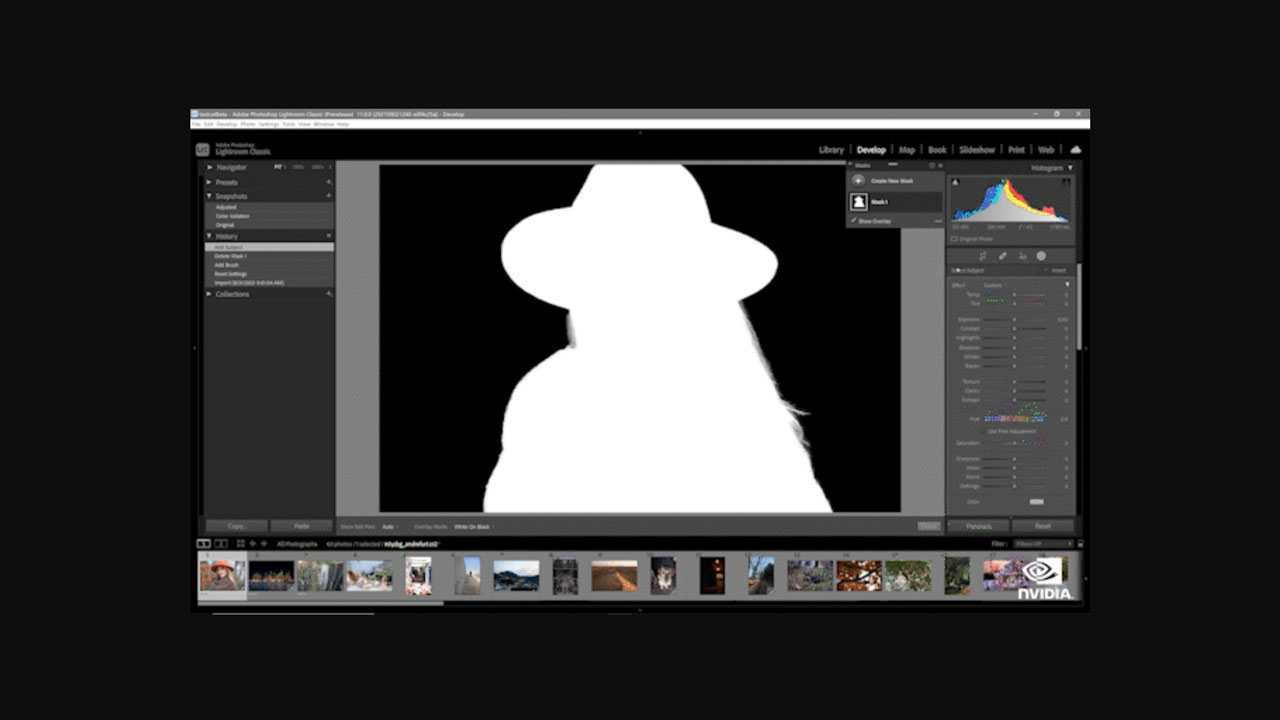 Adobe Premiere Elements
Adobe Premiere Elements also gets a boost using the Auto Reframe feature found within the Premiere Pro and Rush software. Powered by Adobe Sensei, this enables you to automatically frame the most important part of shots when adjusting aspect ratios for social media usage. Reframing video with the RTX GPU technology is now up to 3x faster compared with CPU reframing alone.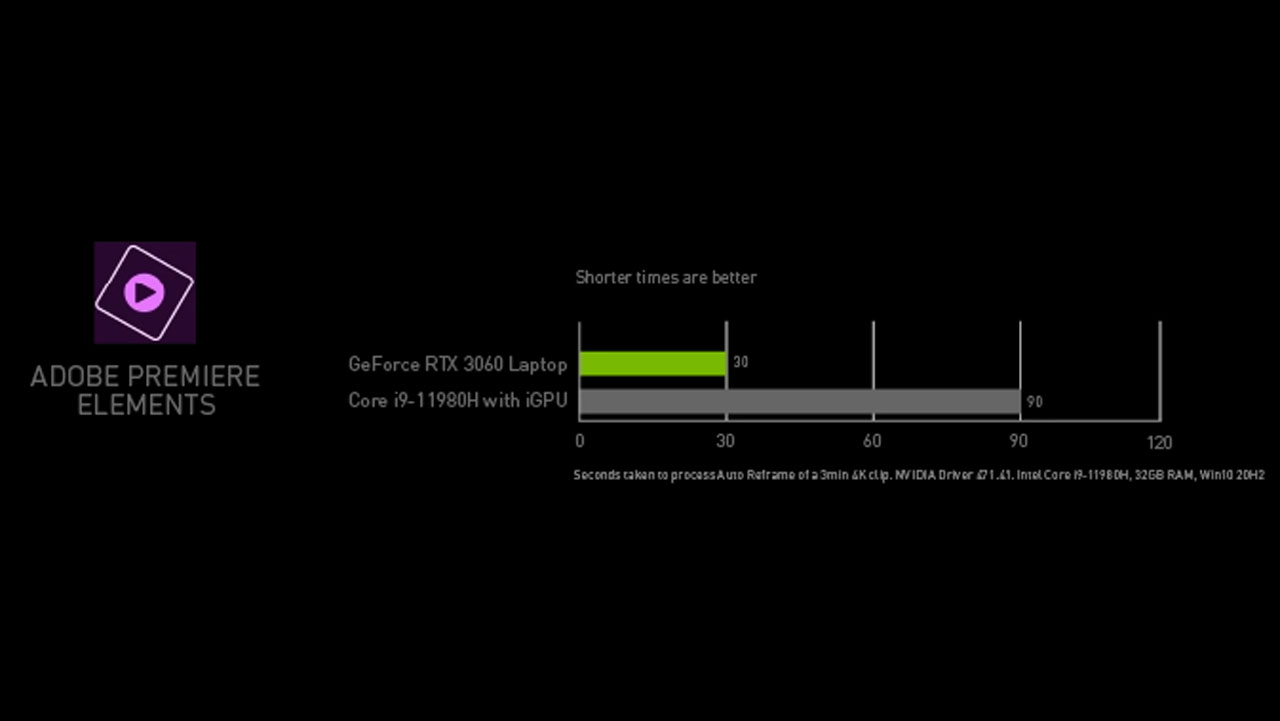 Substance 3D (Stager)
When Adobe released the Substance 3D collection in June, it opens a whole new level of control for photographers and 3D modelers alike. The Substance 3D Stager for an instance, allows you to compose and render 3D scenes within your own virtual studio.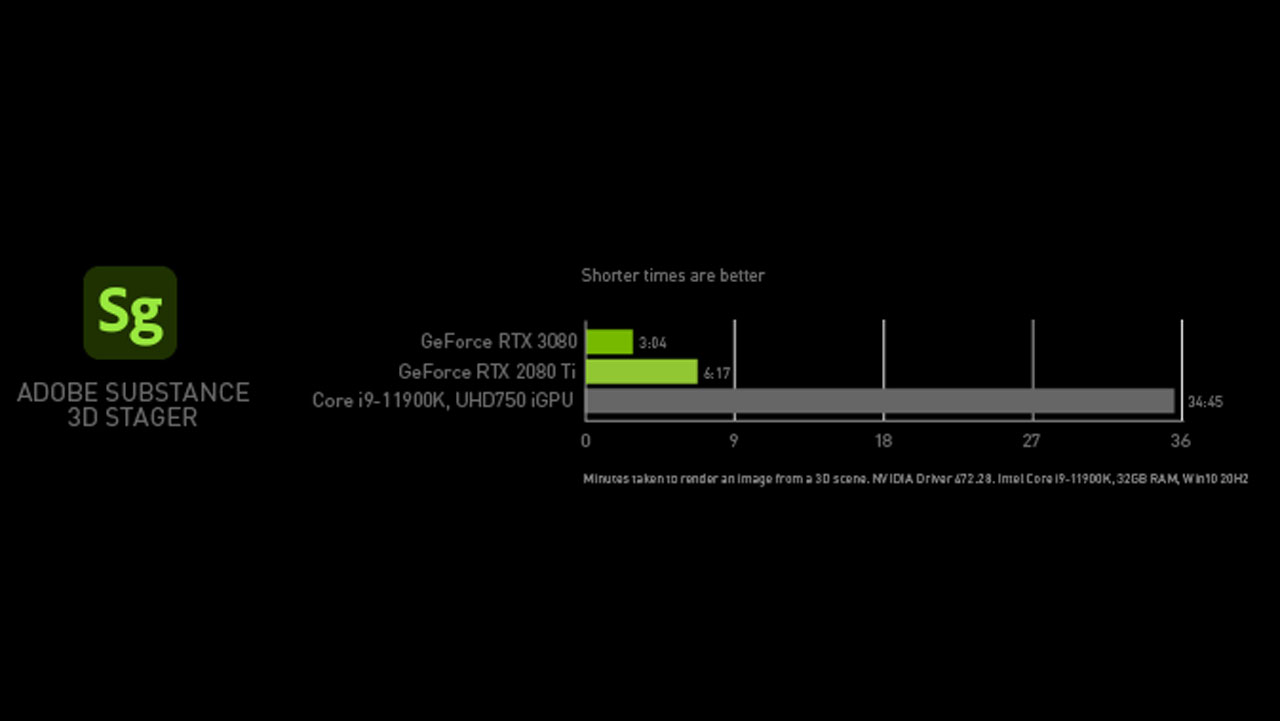 With an exclusive support for NVIDIA RTX-accelerated ray-tracing, the all-new Adobe Substance 3D Stager could now provide a cleaner, crisper graphics output while rapidly speeding up photorealistic interactive image rendering. Performance figures are up to 11x faster compared to CPU rendering alone in this regard.
DxO PhotoLab 5
The latest Studio Driver also boasts support for DxO PhotoLab 5, a photo editing software featuring DeepPRIME technology. This comes with AI enhanced digital noise suppression, reducing noise from photos taken in low light and other similar conditions.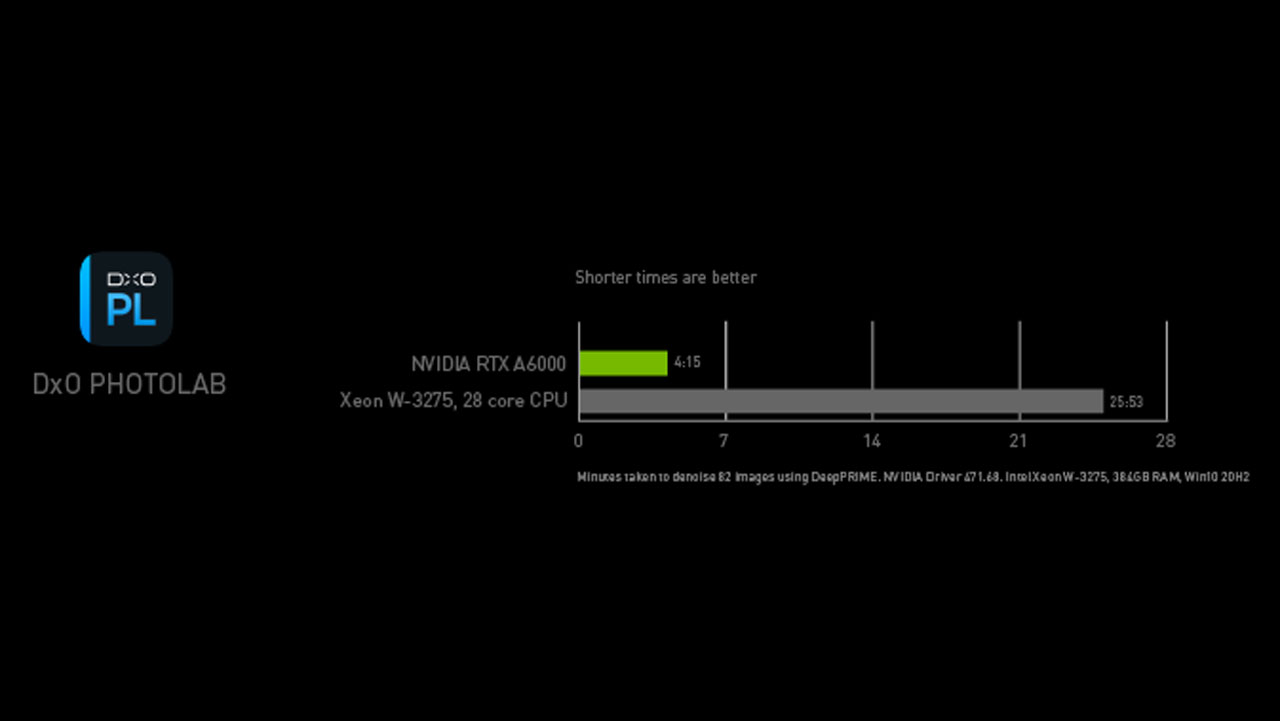 The Tensor cores found within the RTX GPU integrates well with the DeepPRIME technology; increases denoising speed, while yielding sharper results with more details.
Gamecaster
Powered by NVIDIA Broadcast, Gamecaster's live streaming software also gets an integrated noise removal feature. This is available under the Audio Mixer> Source Settings>Noise Suppression.
Exciting New Studio Systems
Apart from the new Studio Driver and the slew of new AI enhanced features from well-known applications, NVIDIA also announced new Studio RTX certified systems. Below are my top picks so far.
ASUS ProArt Studiobook 16 OLED
The ProArt Studiobook 16 OLED comes with many enticing features. To start, it comes with a color-accurate 16-inch 4K OLED HDR 16:10 display for creative work – which is actually a world first. The ASUS Dial is also one of its highlights which is basically a precise fingertip control dial, allowing you to make minute adjustments to your work.
Those features on top of its NVIDIA GeForce RTX 3070 graphics, storage and interface support makes it as an excellent portable studio solution this side of the year.
Microsoft Surface Laptop Studio
While the new Microsoft Surface Laptop Studio is not available yet in the country, I felt like it needed to be on the list due to its features. Bearing the RTX Studio certification, this one is a powerful laptop-slash-tablet workstation hybrid with a sleek build to boot. And yes, it is also one of the first RTX Studio systems to come with Window 11 support right out of the box.
Now while the GeForce RTX 3050 Ti GPU is a midrange level GPU, it is more than enough for the RTX-accelerated creative applications. I'd say this is one of the well-rounded releases this last quarter of the year still, even featuring a 14.4-inch 120Hz PixelSense Flow touchscreen. That is more than enough for gaming and is an excellent display to use for creative work.
What's Next?
NVIDIA Studio is more than just a software and hardware platform. In a span of a few years, it actually made important strides to allow creators achieve what they want with performance and efficiency at core.
Best part here is, if you have an RTX graphics card lying around, you could also benefit from the improvements made, as its AI-enhanced features have started to trickles down to consumer level use – such as the NVIDIA Broadcast and its integration with Gamecast.
All things considered, I am interested to see where the NVIDIA Studio will take creative work within the near future.