Phanteks debuts a host of new products for the upcoming year at CES 2022 – The brand new  Evolv Shift XT Mini-ITX Chassis and Revolt SFX Power Supplies, Matte White Editions for the Evolv X & Eclipse P600S Chassis, white SK PWM D-RGB  Fans, white AMP Power Supply and a complete range of Gen4 PCIe Riser Cables and Gen4 Vertical GPU Bracket.
Brand new and unique Evolv Shift XT mini-ITX Chassis
The Evolv Shift XT brings a unique small form factor that can extend in size to tailor to your cooling performance needs. The Evolv Shift XT has  no compromise on performance with support for powerful hardware, whether in Compact, Aircooled, or Liquid Cooled Mode.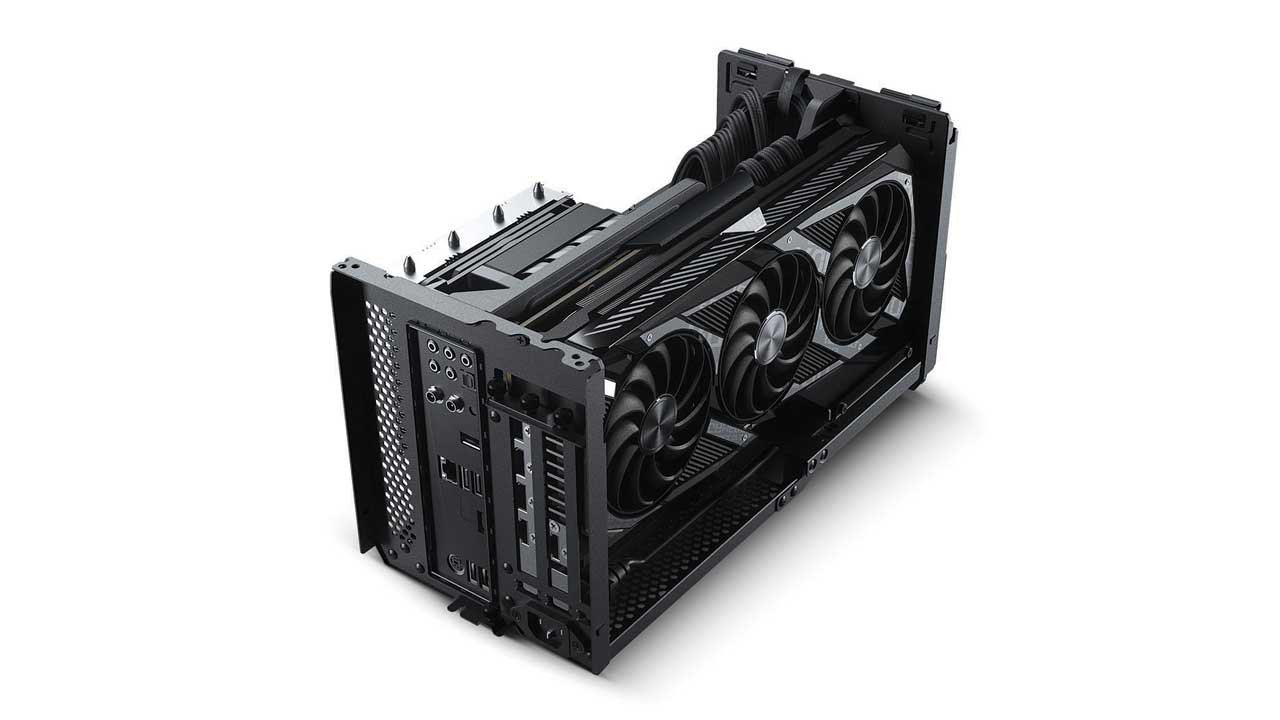 Being part of the Phanteks Evolv series, the Evolv Shift XT offers premium build quality and components using thick anodized aluminum panels,  PCIe X16 Gen4 riser cable, and USB-C Gen2 front IO. Performance is uncompromised with Ultra-Fine Mesh panels and vented aluminum panels  while providing a clean and stylish appearance with the tempered glass infinity mirror.
Revolt SFX Power Supplies
The super-compact SFX form-factor maximizes its versatility to fit Small Form-Factor chassis and free up space in larger chassis for  better cable management. The silent 92mm Fluid Dynamic Bearing (FDB) fan with intelligent thermal control optimizes noise and cooling  performance with a 0 RPM mode when under 30% load for ultimate silence.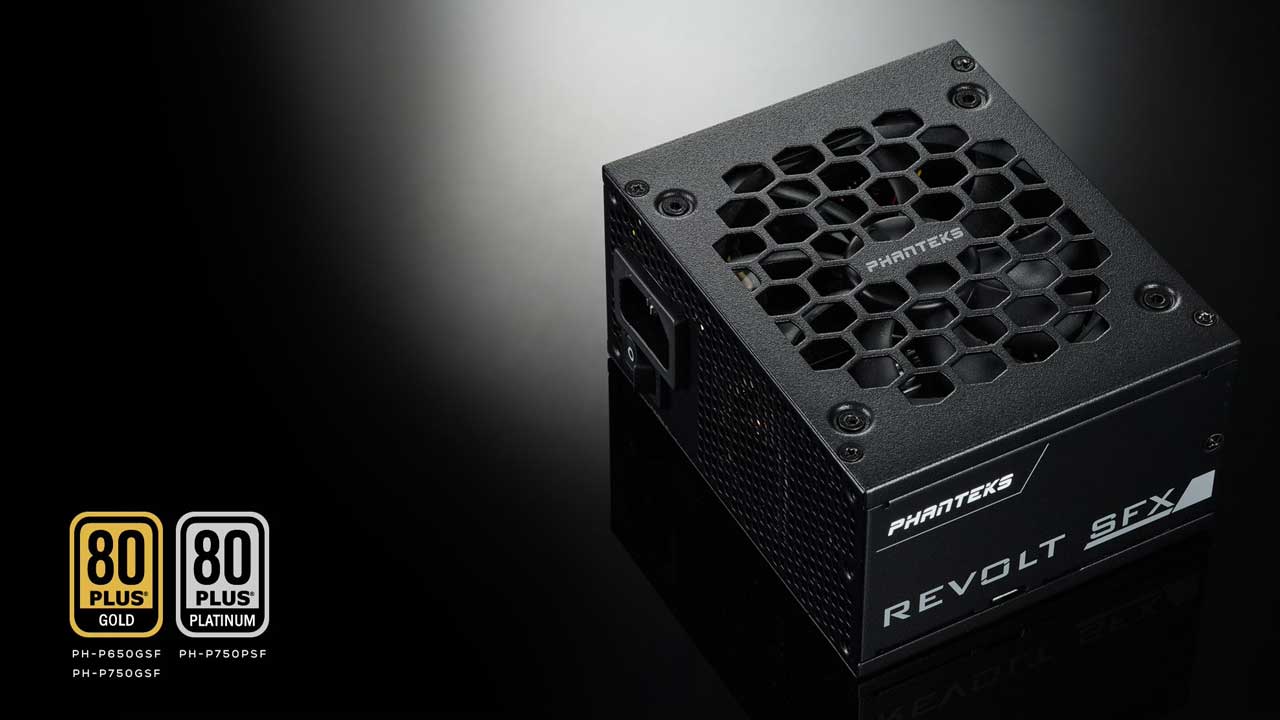 The Revolt SFX power supplies are developed with renowned power supply manufacturer Seasonic to ensure the best possible endurance and  stability.
White Edition lineup
The Evolv X and Eclipse P600S chassis are now available in Matte White with matching white SK D-RGB fans and clear tempered glass making  them a perfect fit for your all-white colored build. The two chassis are premium mid-towers offering dual system capabilities, massive storage,  and extensive water-cooling support. The Evolv X and P600S Matte White Edition includes 3x 140mm white D-RGB fans and a D-RGB lighting  strip in the PSU cover. All the lighting can be directly connected to compatible motherboards.
SK PWM D-RGB White Fans
The SK fans are known from the award-winning Eclipse Series chassis such as the P400A and its cooling performance. The built-in PWM  capabilities help precisely control the speed to offer higher airflow or a quiet cooling solution when needed. The new white SK D-RGB models  further complement the new white chassis available from Phanteks.
AMP 1000W Gold Power Supply White Edition
The Phanteks AMP Series are high quality 80PLUS Gold Certified power supplies made in collaboration with Seasonic. The fully modular power  supplies provide users with clean and great cable management with all white, flat ribbon cables. The 120mm Fluid Dynamic Bearing Fan can be  temperature controlled in Hybrid Fanless mode for ultimate silent performance.
The Phanteks AMP 1000W 80Plus Gold White Edition is a great and affordable choice for high performance builds and now available in all-white  color.
Gen4 PCIe Riser Cables and Vertical GPU Bracket
The new Gen4 Vertical GPU Bracket allows vertical placement of any graphics card with full Gen4 speeds. Designed specifically for the P300A/ P360A/P400A chassis that have an open PCI slot to allow the Vertical GPU Bracket to be installed directly. Any other ATX chassis can be easily  modded to support the Gen4 Vertical GPU Bracket. Graphic Cards with up to 4-slot sizes are supported with access to ports on the first 2 slots.  The included 220mm long PCIe Gen4 x16 Riser Cable allows any Gen4 graphics card to run at full speed without compromise.
Also, Phanteks will offer the Flat Line PCIe Gen4 x16 Riser Cables. The dual-layer design improves the performance and stability of the high  bandwidth signals ensuring the system are running stable and reliable. Each individual laneway is shielded from EMI/EFI interference to prevent  interference between channels to further improve signal integrity. The Flat Line riser cables will be available in 150mm (90-degree adapter),  220mm (90-degree adapter), and 300mm (180-degree adapter).
Pricing and Availability:
Evolv Shift XT (Satin Black/Galaxy Silver): February 2022 €169.90 / £159.90 / $169.99
Evolv X Matte White: January 2022 €229.99 / £209.90 /$229.99
Eclipse P600S Matte White: January 2022 €179.99 / £159.90 / $199.99
SK PWM D-RGB White: January 2022 SK PWM D-RGB White 120mm 3-Pack: €34.90 / £30.90 / $34.99   SK PWM D-RGB White 140mm 3-Pack: €39.90 / £38.90 / $44.99
Revolt SFX Power Supplies: February 2022 PH-P750PSF : €139.90 / £123.90 / $139.99
 PH-P750GSF: €129.90 / £114.90 / $129.99
 PH-P650GSF: €119.90 / £105.90 / $119.99
AMP 1000W Power Supply White: March 2022 TBA
Vertical GPU Bracket Gen4: January 2022 €69.90 / £60.90 / $69.99
Gen4 Riser Cables: January 2022 PH-CBRS4.0_FL15: €59.90 / £52.90 / $59.99   PH-CBRS4.0_FL22: €59.90 / £52.90 / $59.99   PH-CBRS4.0_FL30 : €59.90 / £52.90 / $59.99
Phanteks strives to develop top quality and superior  products, we continuously pursue excellence in  developing new products to bring satisfaction to PC  enthusiasts and computer users.
Press Release