On this preview, we are taking a quick look at the Thermaltake ToughPower GX1 80+ Gold PSU. More specifically, the GX1 600W 80+ Gold model. It is a non-modular power supply, yet it is brimming with features in a sub $100 package.

The ToughPower GX1 600W is the middle weight within the ToughPower series PSUs from Thermaltake. It is a basic looking ATX PSU with modularity and RGB lighting out of the line. In exchange, the GX1 features an 80+ Gold certification, coupled up with a 600W capacity under 5 year manufacturer warranty. A mid-range power house, to be precise.
TECHNICAL SPECIFICATIONS:
The Thermaltake ToughPower GX1 600W features a maximum output capacity of 600W with a peak output of 720W. It is a single rail PSU, with an 80 PLUS Gold efficiency at 115Vac input. This is the sandwiched between the 500W and the 700W models.
| | |
| --- | --- |
| P/N | PS-TPD-0600NNFAGx-1 |
| Model | SP-600AH2NCG |
| Type | ATX 12V v2.4 and EPS v2.92 |
| Max. Output Capacity | 600W |
| Peak Output Capacity | 720W |
| Coldplate Material | Black |
| Dimension ( W / H / D ) | 150mm(W) x 86mm(H) x 140mm(D) |
| PFC (Power Factor Correction) | Active PFC |
| Power Good Signal | 100-500 msec |
| Hold Up Time | > 12msec at 80% of full load |
| Input current | 9A max. |
| Input Frequency Range | 47Hz – 63Hz |
| Input Voltage | 100V – 240V~ |
| Operating Temperature | 0°C to + 40°C |
| Operating Humidity | 20% to 90%, non-condensing |
| Storage Temperature | -20°C to + 70°C |
| Storage Humidity | 5% to 95%, non-condensing |
| Cooling System | 12cm fluid dynamic bearing fan |
| Efficiency | Meet 80 PLUS®Gold at 115Vac input. |
| MTBF | 100,000 hrs minimum |
| Safety Approval | CE/cTUVus/TUV/FCC/BSMI/EAC/S-Mark |
| PCI-E 6+2pin | 2 |
PFC is an active one, which is much more preferable compared to passive PFC. Active PFC uses a circuit to correct power factor and is able to generate a theoretical power factor of over 95%.
PACKAGING AND ACCESSORIES:
The ToughPower GX1 comes in a standard Thermaltake packaging we used to see from the company. That said, the main features are already well laid out at the front.
The back is more specific, especially when it comes to the nitty gritty aspect of the PSU. Output specifications are well laid out, while we also get to see the efficiency curve of the ToughPower GX1 according to Thermaltake's real world test results.
You'll get a few paper works, four screws, four zip-ties for cable management and an EU power cable. Nothing is out of place as far as bundled items are concerned.
DESIGN, LAYOUT AND CONNECTIVITY:
The ToughPower GX1 600W is a rather compact PSU for its capabilities with a 140mm length and a 150mm width. It is a simple yet well ventilated looking PSU, with a hefty feel – which is always a good indication.
Certifications, tests passed and specifications are labelled at the top of the PSU's chassis. Corresponding output current ratings (max) are also printed here together with the maximum output power for the DC outputs. Everything is in order with the GX1.
The fan inside the GX1 is a 120mm fluid dynamic bearing fan. Thermaltake rated this fan to feature a 26.5dB noise level at full load which is more than enough for my requirements or rather, ambient room noise level.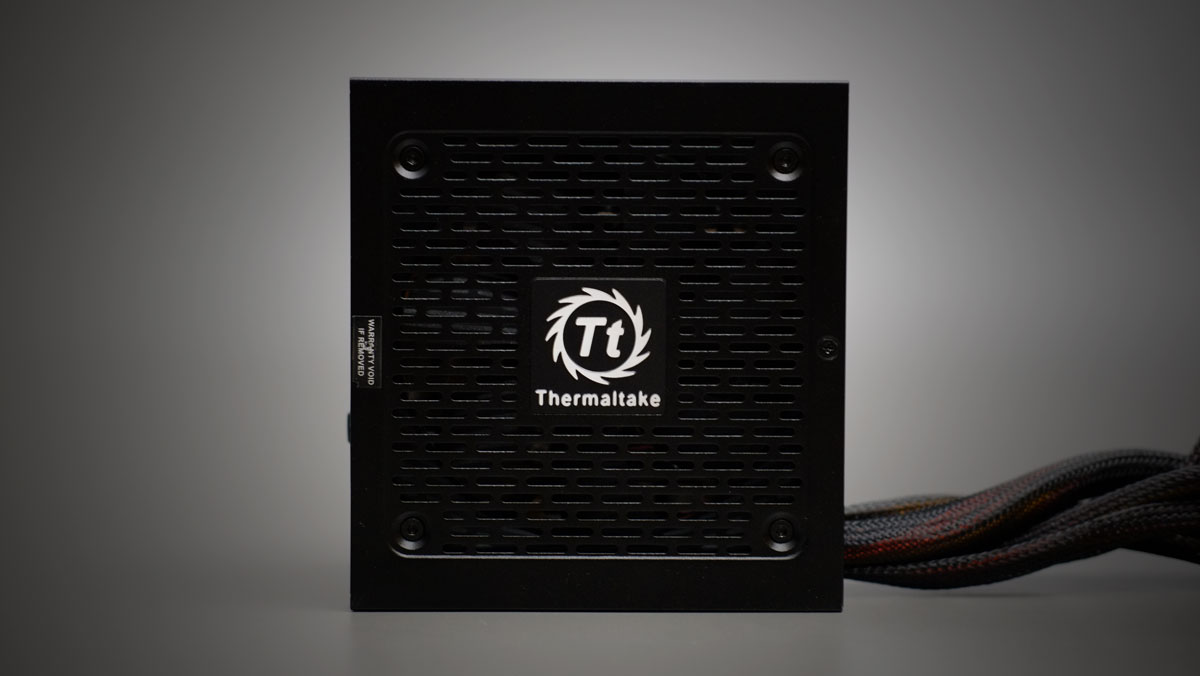 The ToughPower GX1 is a compact  PSU. Requiring little to no effort to fit it on most cases.
Ventilation is appears to be good with an ample amount of vent holes surrounding the PSU. Some hot air will possibly enter your chamber due to this design though.
The ToughPower GX1 is not a modular PSU, so expect to do some magic with the cables. The cables are sleeved, though like Thermaltake's Smart RGB PSU, the wires are color coded so it's still kinda sore to the eyes.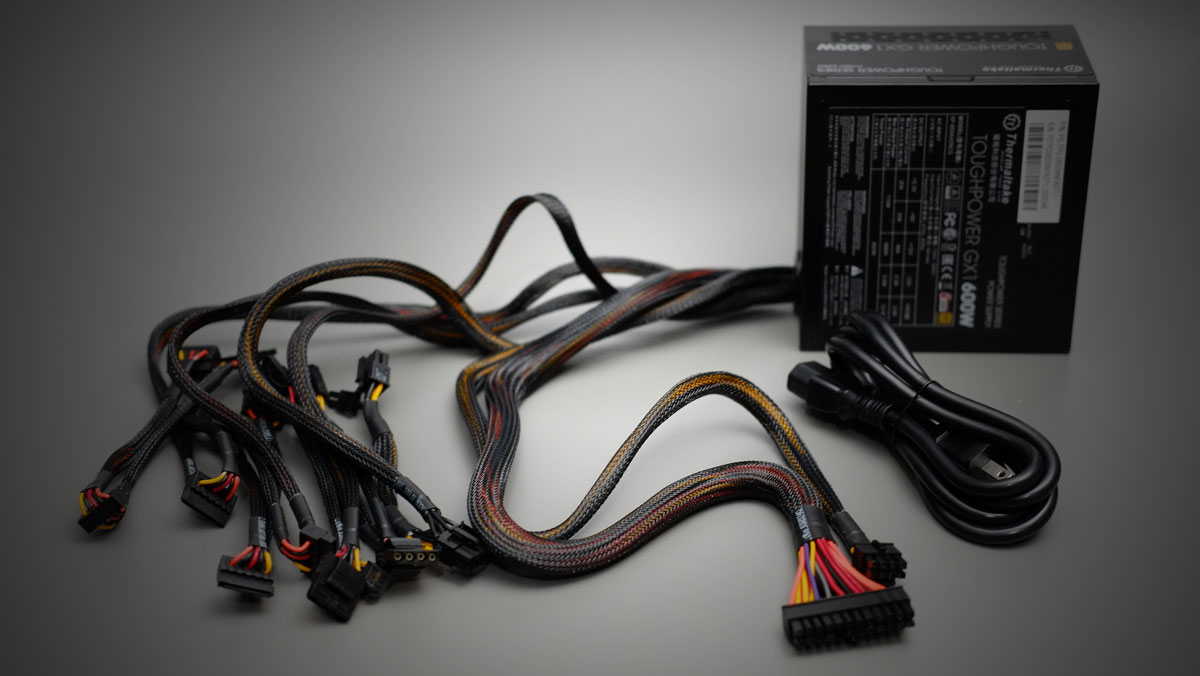 The cables have enough length to stretch inside full towers with adequate cable management routes and are easy enough to bend. If you're not going to use the majority of cables, the compact size of the PSU makes up for it, allowing gamers to tuck everything in front of the shell. It is advisable to use a case with a PSU shroud if you like to tidy things up.
| | | |
| --- | --- | --- |
| Cable Type | Cable | Connector |
| ATX 20+4 pin | 1 | 1 |
| ATX 4+4 pin | 1 | 1 |
| PCI-E 6+2 pin | 1 | 2 |
| SATA | 2 | 8 |
| Molex 4 pin | 1 | 4 |
| FDD 4 pin | 1 | 1 |
SAFETY AND EFFICIENCY:
A power supply unit is just not about power and reliability; it's also about safety and efficiency. On this section, we check out if the PSU carries the commonly adapted safety or protection features. We also get to talk about the 80 Plus certification and its effect on efficiency.
| Safety Feature | Description | Support |
| --- | --- | --- |
| OCP / Over Current Protection | Activates when the current in the rails surpasses a certain limit. | No |
| OVP / Over Voltage Protection | Activates when the voltages surpass a trigger point. | Yes |
| UVP / Under Voltage Protection | Activates when the voltages go below a trigger point. | Yes |
| OPP / Over Power Protection | Activates when the PSU exceeds its maximum rated capacity. | Yes |
| OTP / Over Temperature Protection | Activates when the PSU exceeds its rated temperature threshold. | No |
| SCP / Short Circuit Protection | Activates when the PSU impedance is too low. | Yes |
The Thermaltake ToughPower GX1 features 4 out of 6 commonly used safety features. OVP and UVP protects the majority of rails (+3.3V, +5V, +12V), while OPP kicks in when the PSU reaches 110-150% over peak load. SCP on the other hand will kick in when any of the DC rails have short circuited.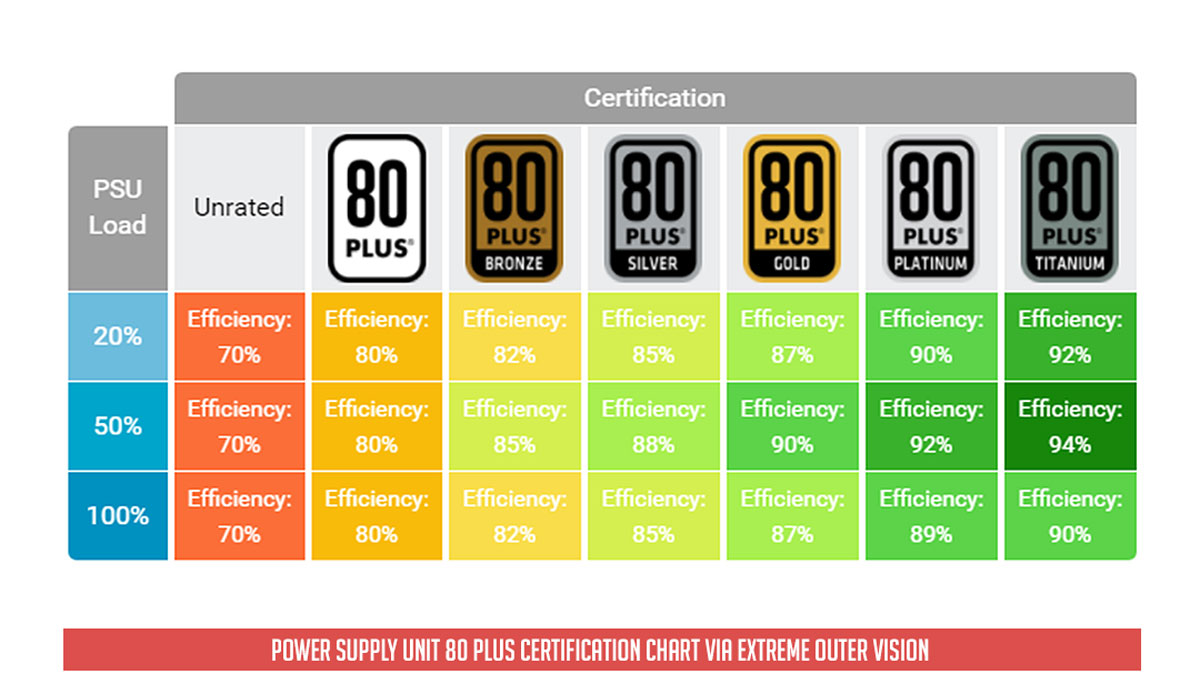 Since the ToughPower GX1 600W features an efficiency rating of 80 Plus Gold, it has a minimum efficiency rating of 87% at 20% and 100% load. It gets better at 50% load with an efficiency rating of 90%.
TEST SETUP AND METHODOLOGY:
Testing a Power Supply Unit (PSU) is not an easy task. It requires expensive measurement tools I.E., load testers, incubators and a lot of balls to make sure a PSU is tested properly.
TEST SYSTEM SPECIFICATIONS
PROCESSOR
Intel Core i5-6600K
MOTHERBOARD
ASUS Z170-A
CPU COOLER
FSP Windale 6
MEMORY KIT
Crucial Ballistix Tactical @ 2666MHz 4x4GB Kit
GRAPHICS CARD
ASUS GTX 1060 STRIX OC 6GB
INTERNAL STORAGE 
Crucial BX200 480GB
POWER SUPPLY
CORSAIR RM850X 850W
DISPLAY
DELL U2715H
OPERATING SYSTEM
Microsoft Windows 10 Pro
We do not have the tools required to strain any Power Supply Units yet we could still provide performance insights based on what we have. Hence, titled as a preview and not a full review.
VOLTAGE AND POWER GOOD DELAY:
Voltage tolerance is an important aspect of any power supply unit. If for example, a power supply unit provides the parts of a computer with a particular voltage outside of this tolerance, the system being powered may fail to work properly. Power good delay tolerance on the other hand is the amount of time it takes PSU to start up completely and begin delivering the proper voltages to the connected devices.
| Voltage Rail | Tolerance | Result |
| --- | --- | --- |
| +3.3V | ± 5% | +3.3V |
| +5V | ± 5% | +5.01V |
| +5VSB | ± 5% | +5.0V |
| +12V | ± 5% | +11.8V |
| -12V | ± 10% | -12.3V |
| Power Good Delay | 100 – 500ms | 294ms |
Everything is fine with the Thermaltake ToughPower  GX1 600W.  The voltage rails outputted the recommended tolerance from the ATX 2.4 standard, while we got a perfectly fine PG Delay at 294ms.
WRAPPING IT UP:
Again, I don't see myself reviewing PSUs anytime soon with the lack of equipment to actually deliver quantifiable results. That being said, our verdict will still rely on our personal experience. We've had this PSU for over a month, which  is nice since we get to test it freely until it gets launched in the market.
The GX1 600W is fantastic so far. We've tested a few samples already with it, ranging from SSDs to even power hungry components such as the GTX 1080 Ti for an HDR capable 4K display review. It's a capable PSU based on its 12V rail's amp rating, so yeah it will pretty much power up any high end components out there.
We also like the amount of SATA connectivity within the GX1. It just begs to be used which is excellent for file servers. The fan is also silent, which is nice for silent PC builds. Again, best for a file server that doesn't hum around.
Thermaltake's ToughPower GX1 600W is a compelling choice for those who are looking for a no frills 80 Plus Gold rated unit. As simple as it is and with a price at 95 USD to match. That's also with a 5 year warranty to back it up.
80 PLUS GOLD
BUILD QUALITY
CONNECTIVITY OPTIONS
5 YEAR WARRANTY
COMPACT FORM FACTOR
PRICE POINT

NON-MODULAR
RAINBOW WIRES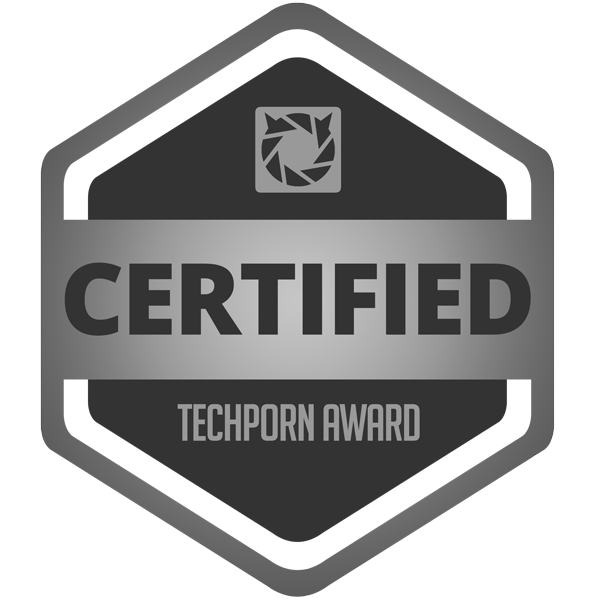 Thermaltake ToughPower GX1 600W
PERFORMANCE -

8/10

BUILD QUALITY -

8/10

FEATURES -

9/10

AESTHETICS -

9/10

VALUE -

8/10
Summary
Thermaltake's ToughPower GX1 600W is a compelling choice for those who are looking for a no frills 80 Plus Gold rated unit. As simple as it is and with a price at 95 USD to match. That's also with a 5 year warranty to back it up.