The Level 20 RGB is a series of gaming gears from Thermaltake. On our last review, we've taken a look on the keyboard so it's a no-brainer to continue what we've started with the gaming mouse.

Now the Level 20 RGB mouse is an ambidextrous device. Meaning it could be used equally by left and right-handed gamers. Thermaltake tapped Omron for the switches while PIXART's PMW-3389 sensor is responsible for tracking. Pretty much the standard combination these days.
Technical Specifications
Mouse
Size
Medium-Large
Layout
Ambidextrous
Design
Traditional
Macro
Yes
Profile
Yes
Software
Yes
Interface
USB 2.0
Polling Rate
125-2000 Hz
Lighting
RGB
Switch
Omron
Buttons
8
Cable Length
1.8 meters
Sensor
Type
PixArt PMW 3389
DPI
800-3200 DPI
Acceleration
50G
Dimensions
Length
128 mm
Width
67 mm
Height
47 mm
Weight
130 grams
Packaging and Accessories
The Level 20 RGB gaming mouse comes packed inside your usual gaming mouse packaging. It comes with the following documentations and accessories inside:
Quick installation guide
Warranty card
Mouse pouch
Design, Layout and Build Quality
Thermaltake designed the Level 20 RGB with lux in mind. It is also a medium to large gaming mouse with a sculpted ambidextrous design. It is a bit heavy though for a wired gaming mouse, weighing in at around 120 grams give or take. Materials used for the mouse are one of the best I've seen and felt though.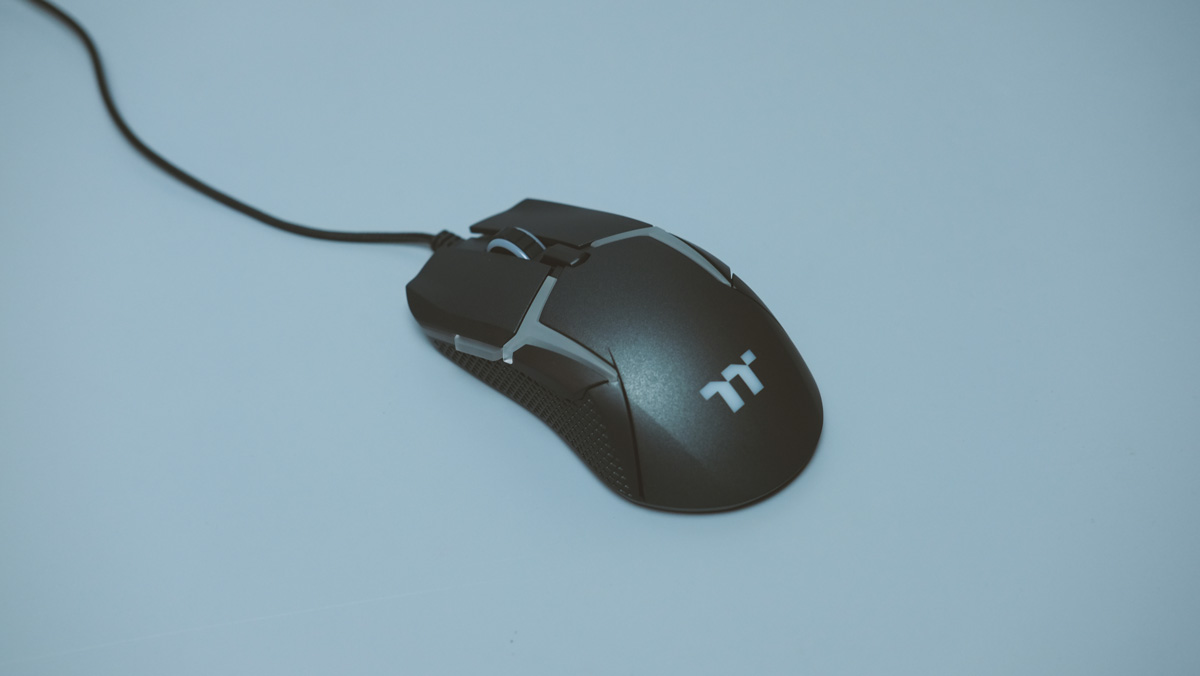 Since this is an ambidextrous mouse, buttons totals at eight as opposed to the usual six. Forward side buttons felt natural, while the larger side buttons felt awkward at first use. They are simply too pronounced for my liking but more about this and its fix later.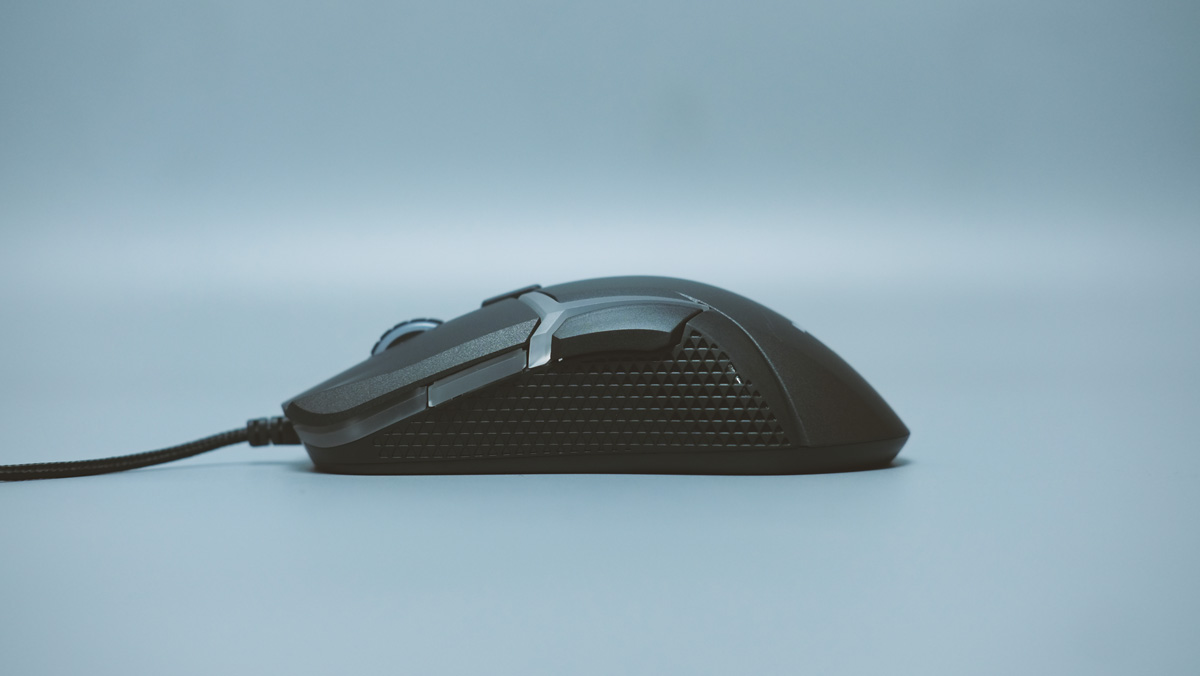 Now side profile clearly shows the design of the grips. These are not rubberized yet textured so there's no reason to go rubber at all. This design is prone to get dirty faster than any other parts of the mouse though.
Top shell construct is made out of a 3 piece plastic allowing the Level 20 RGB to feature a uniformed feedback for its main buttons. The scroll wheel on the other hand is notched yet smooth enough. The DPI button on the other hand is almost flush to the shell.
The skates are extra large 2 piece Teflons – excellent gliding materials as usual. These appears to be proprietary, so get ready to stock up on adhesive teflons or sealing tapes if you wish to service the innards of the mouse on your own.
As usual, I'd like to brag about my hatred towards braided cables. While this implementation is smooth and wont catch on the edge of any mouse pad, it is still stiffer than your usual cables.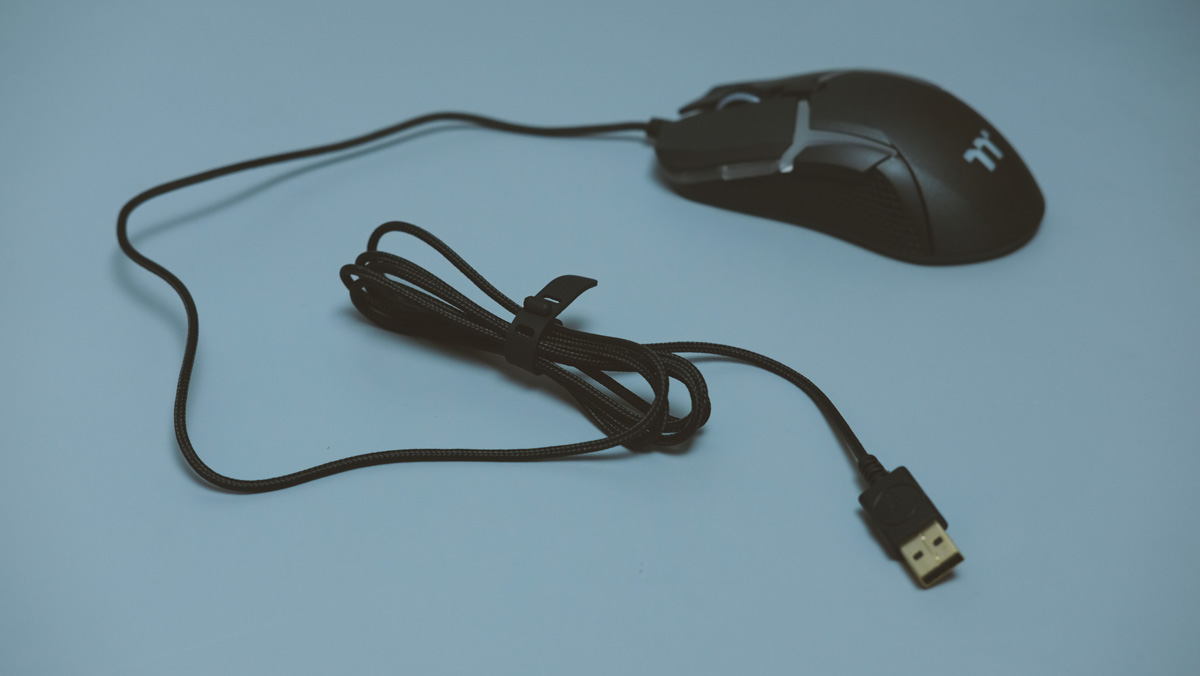 Test Setup and Methodology
Testing a gaming mouse is not that difficult, but it is mostly subjective; similar to testing head gears in a sense. That said, no mouse is perfect and the verdict usually depends on personal preferences. With that in mind, we are overhauling our testing methodology by following key pointers that should matter the most; that includes the sensor performance, the size, grip and comfort. To keep our test methodology simple and free of extra variables, please note the following software and configurations used below.
Test Setup
Pointer Speed
6/11, EPP Disabled
Sensitivity
 800, 1600, 3200, If possible
Polling Rate
1000Hz, If possible
Software
MouseTester V1.5.3
Physical Layout, Functionality and Ergonomics
Your grip and aiming style are important things to consider when looking for a mouse. There are four basic types of grips here; the fingertip, claw, palm and hybrid grips. Fingertip grip is generally preferred when aiming with the wrist, while palm grip is the choice when aiming with the arm. Claw and hybrid grips are middle ground options for both aiming styles. Of course, you could go with a hybrid of both grip and aiming styles if they suit you best.
Your hand size also influences what mouse you should buy on top of your grip and aiming style. For an instance, my hands measures at 7 inches x 3.5 inches (length x width). This puts my hands on the small to medium size category. My style is finger-tip grip, so I would generally look for a mouse with a small to medium foot print.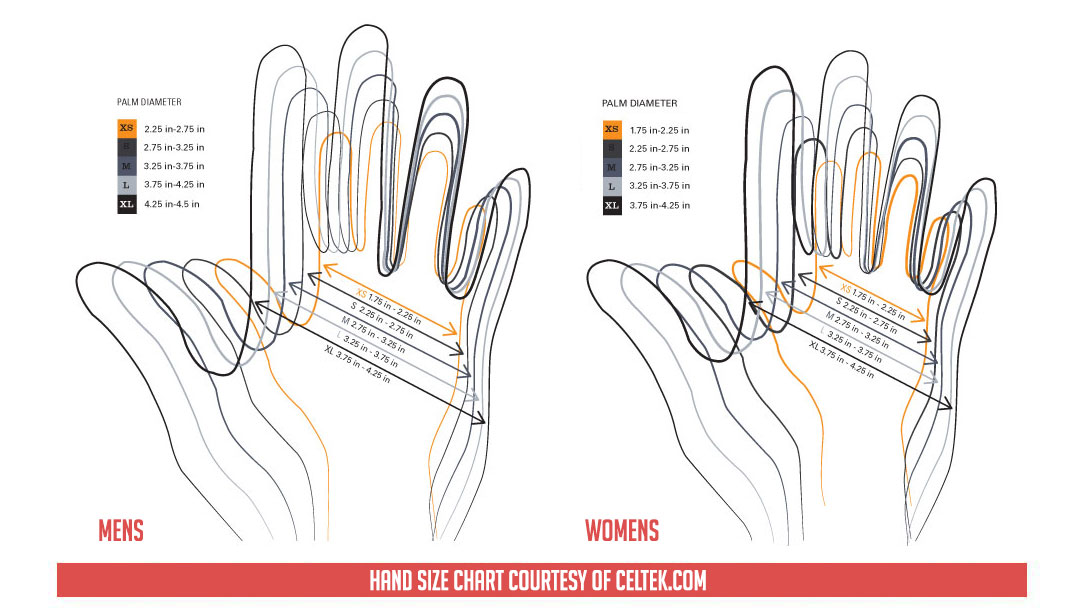 The Level 20 RGB has a length of 5 inches with a sidewall at about 2.6 inches. The highest point of the shell on the other hand is about 1.8 inches with a not so steep curvature. This makes the Level 20 RGB ideal for claw grip gamers with medium to large hand sizes. You could palm this easily with a larger hand size while clawing and finger-tipping this one is almost a requirement for smaller hand sizes.
The mouse weighs at 120 grams. That will pass if it is wireless, but since it's a wired mouse it's going to be a little chore tossing the thing around while arm aiming. The mouse is just comfortable outside competitive gaming.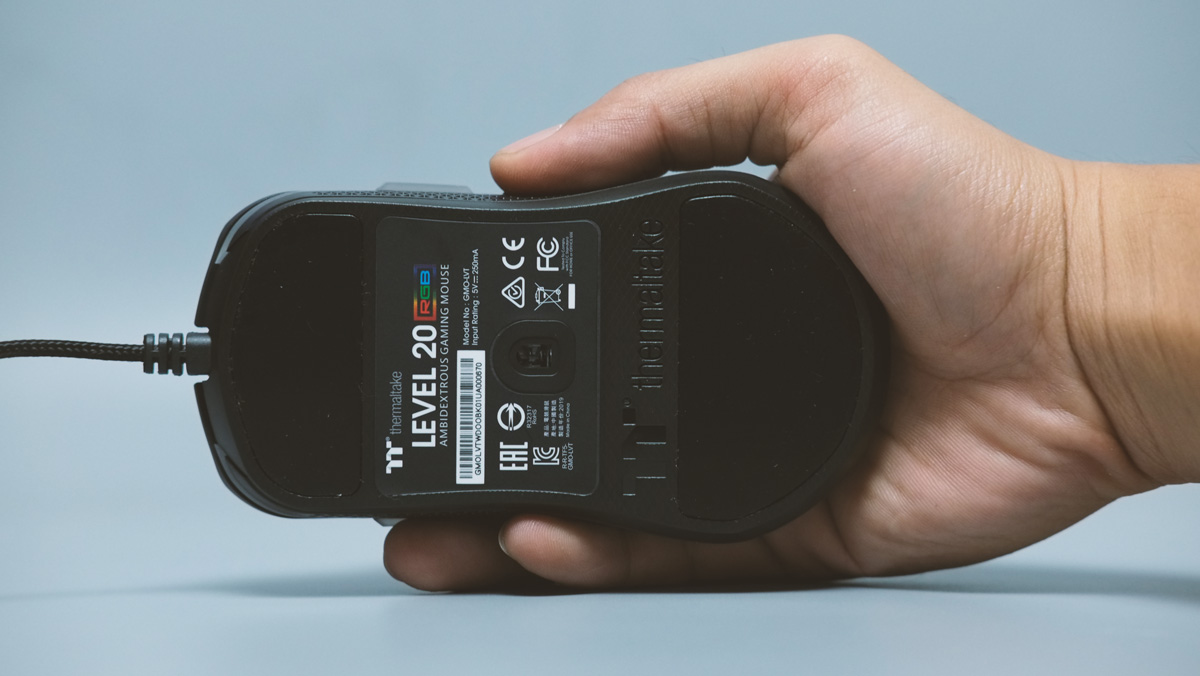 DPI Accuracy
DPI accuracy at industry standard DPI levels is checked with the MouseTester V1.5.3. We rigged the mouse on a camera slider to check the DPI accuracy at 800, 1600 and 3200 DPI. Anything under 3% is considered accurate.
DPI accuracy is the lowest out of the bunch I've tested with 3.75% at 800, 2.8% at 1600 and 4.4% at 3200 DPI. I've tested worst so this one is still somewhat acceptable. Don't go higher than 3200 DPI though.
Mouse Acceleration
Mouse acceleration at industry standard DPI levels is also checked with the MouseTester V1.5.3. We rigged the mouse on a camera slider similar to our DPI accuracy test to measure the displacement from a slow paced movement and a fast flick. Anything under 3% is considered accurate.
The mouse also took the highest percentage on the acceleration test. It scored the highest here yet there's nothing to worry about.
Polling Rate Performance
The Polling Rate of the device is evaluated with the MouseTester V1.5.3 at the 800 DPI level. This is to check the mouse update rate performance at 1000Hz if possible.
Polling rate seems alright with the mouse with occasional dips below 900Hz. Rather good results to be honest.
Tracking Performance
Mouse tracking performance is evaluated with the MouseTester V1.5.3 with a DPI level of 800 DPI. Our aim is to check out the sensor's performance; and to look for reporting inconsistencies and smoothing.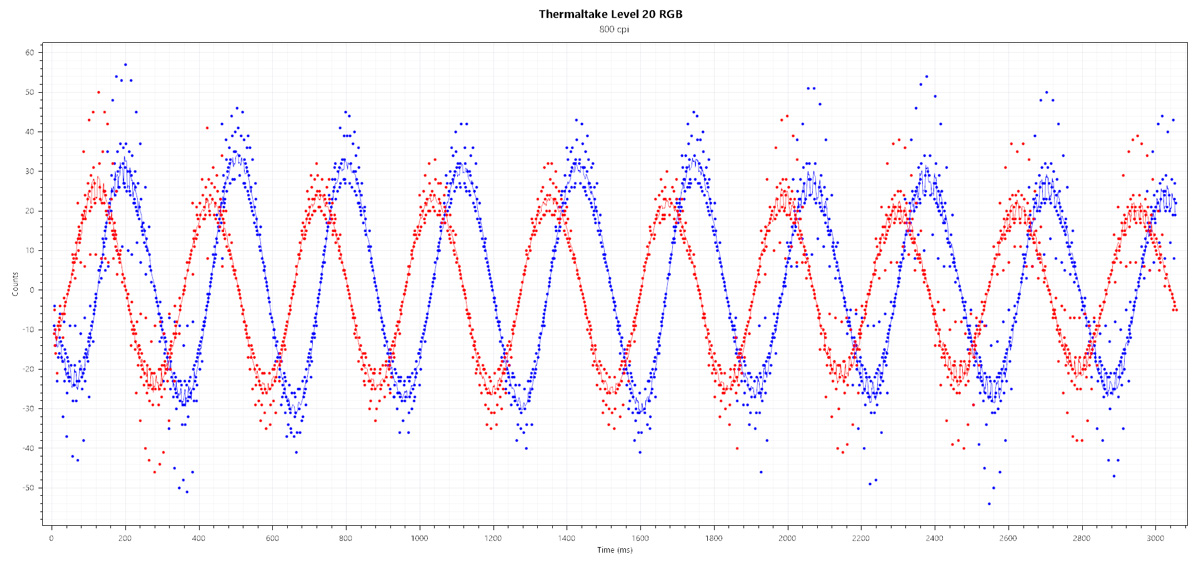 Now tracking performance isn't exactly the strong suit of the Level 20 RGB. We have excessive amount of X and Y axis counts (which is not bad) but we have also seen occasional dips and deviation form the usual count path. Really inconsistent here regardless of system and USB interface used. Firmware is up to date too and I have tried formatting my test system just to check what's really wrong here.
Software, Lighting and Special Features
Thermaltake supplied the Level 20 RGB with support for the TT iTake software and a few others similar to many Level 20 products we reviewed. We're focusing on the iTake which is a downloadable software that will let you customize the mouse further with profiles, lighting and performance options.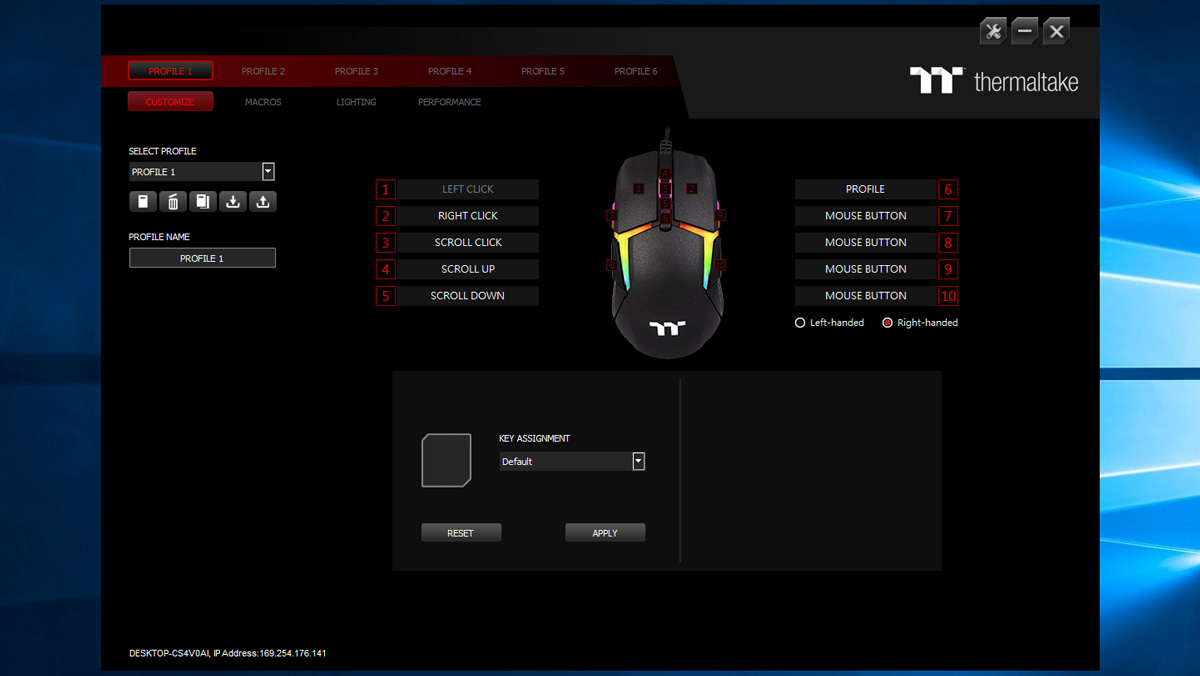 Customize is where you set button assignments. This is particularly useful if you'll keep on nudging the large side buttons just like dear me. I disabled mine because I'm used to having that area on any mouse pretty smooth. Macros could be set too and you could even import yours from compatible devices.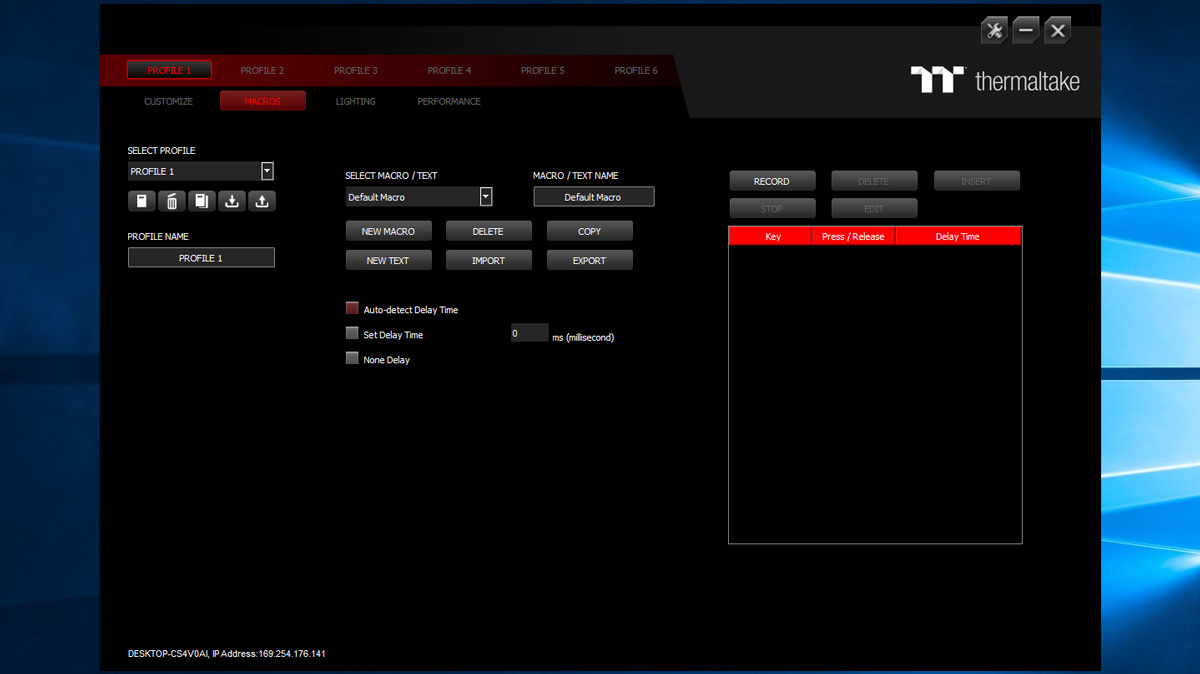 Now lighting has four areas. The sides (1), left and right bars behind at the top (2, 3) and the logo (4). Effects, speed and brightness could also be set here for each areas.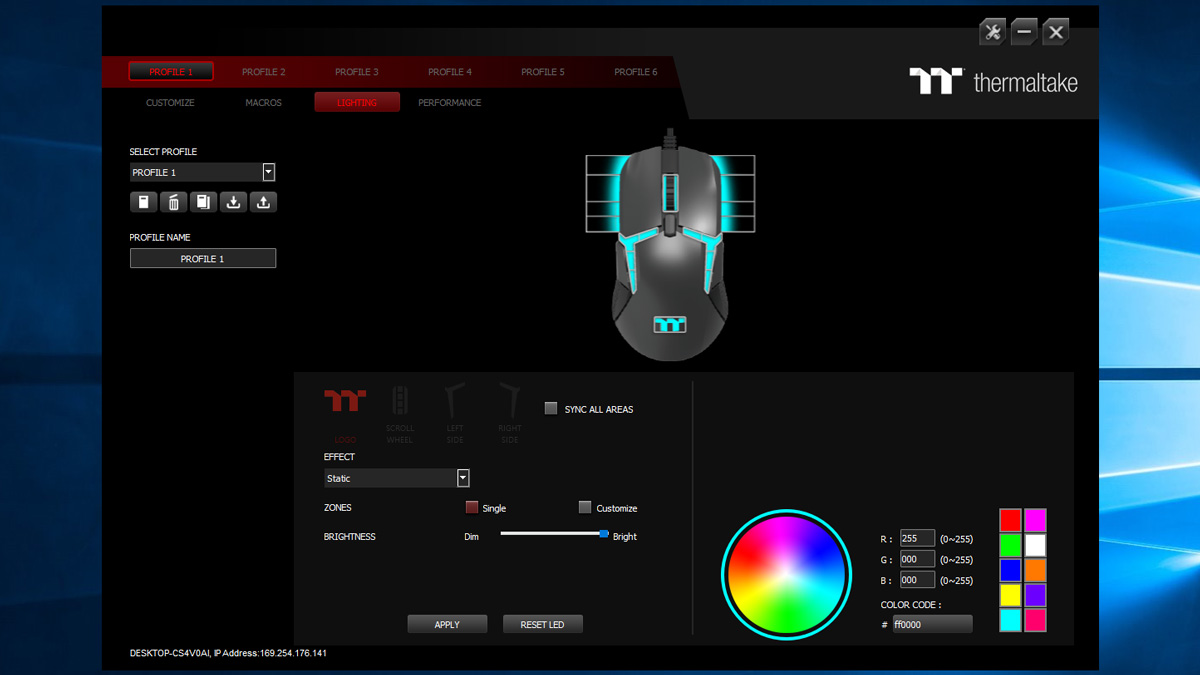 Performance could also be altered with the performance menu. It's pretty much straight forward to use but you have to check if your polling rate matches your mouse after the firmware update.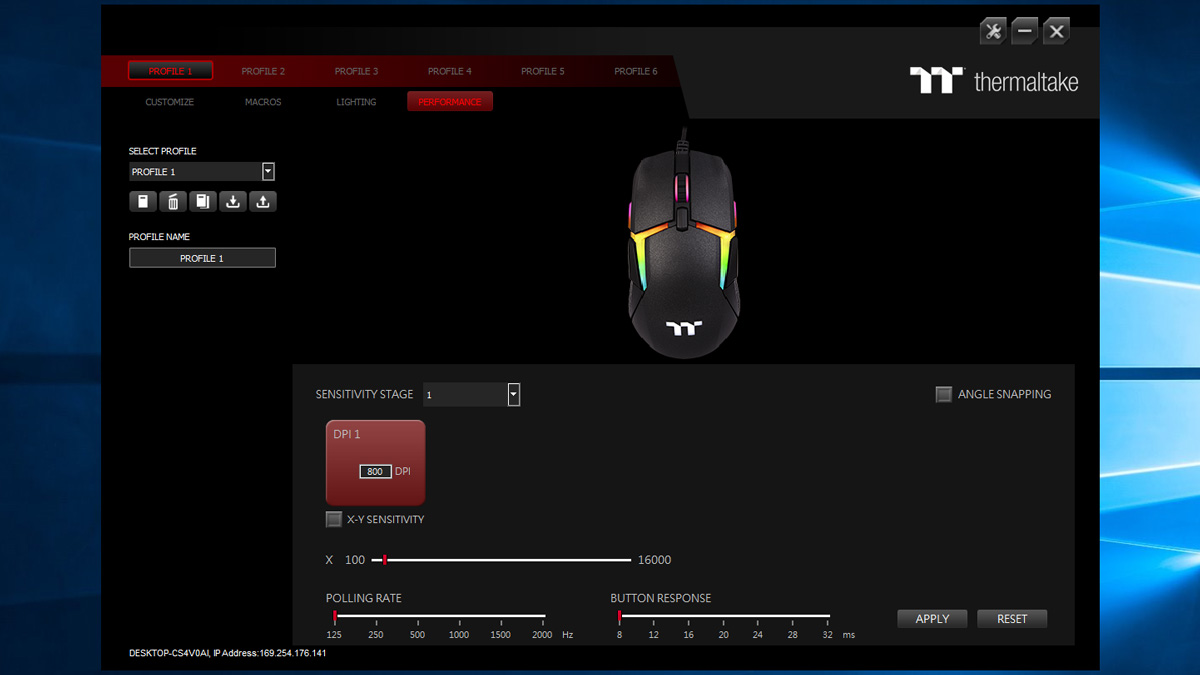 And yes, lighting is superb. Possibly the best thing about this gaming mouse next to its excellent build quality.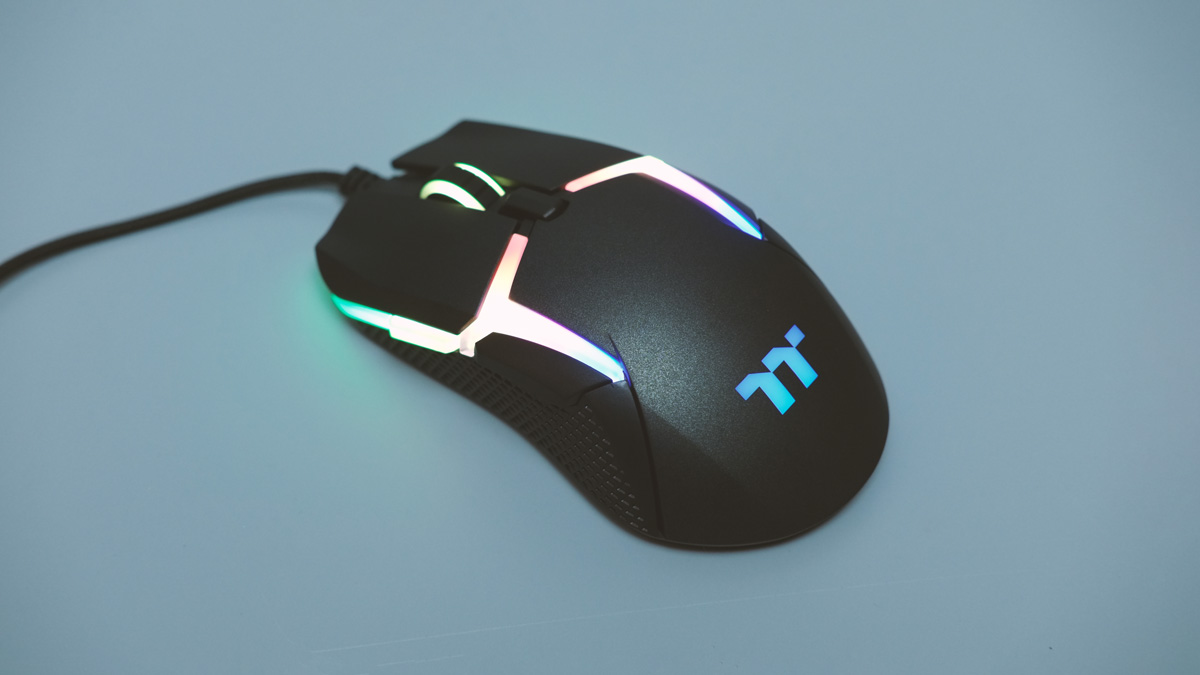 You'd also get some goodies too such as a carrying pouch and a set of stickers.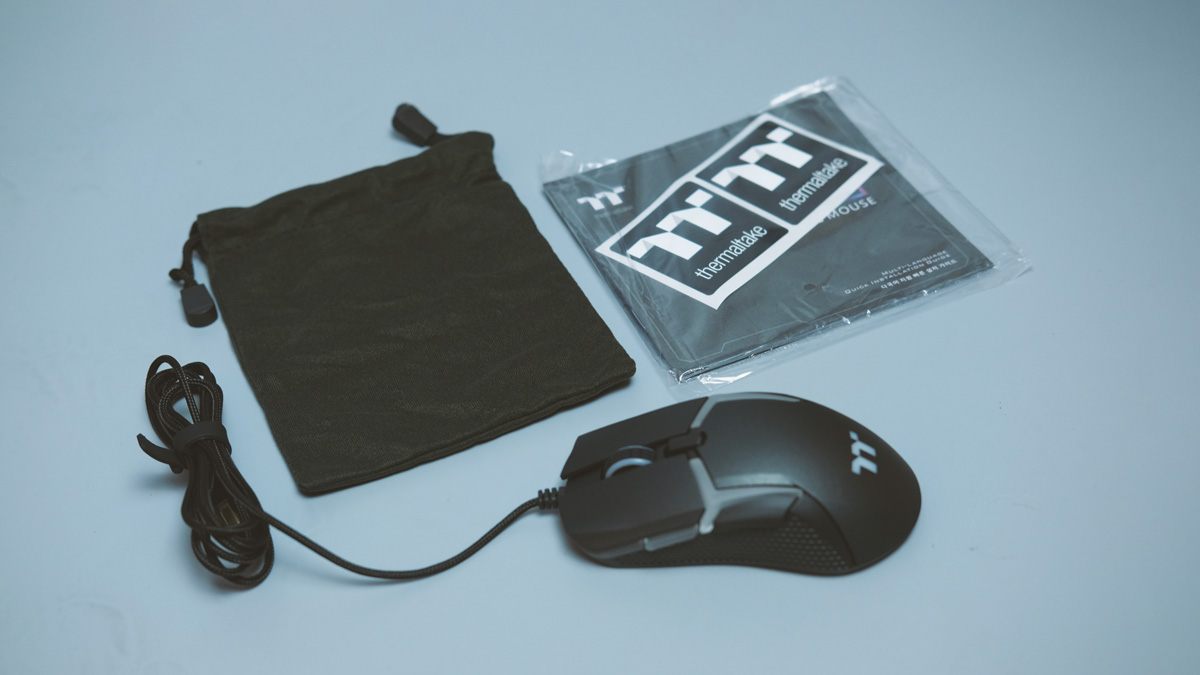 Final Thoughts
The Level 20 RGB is a mix of great and bad things. First off, lets start with the great ones: Lighting and build quality. The lighting on this mouse is just superb. Nothing to complain about that really with 4 independent zones and a number of effects that flows really well with the light bars. It's pretty smart too, considering the smaller side buttons also got the lighting treatment. Now build quality, like many other Level Series products is amazing. Feel, fit and finish is just excellent.
So onto the bad stuff. Tracking is not the best in class especially with the PWM 3389 on board. It is just inconsistent especially at lower polling rates. DPI accuracy is the least favorable on the chart too. Both of these translates to a less enjoyable experience if you are into competitive gaming – where you'd want to minimize hardware side problems so you could focus on improving your aim.
Coming in hot at around $50 USD internationally, Level 20 RGB still leans on the brighter side of things. It is perfectly fine for casual and or normal use but for competitive stuff, you'd better grab something else.
Thermaltake Level 20 RGB Ambidextrous Gaming Mouse Review
Performance -

6/10

Build Quality -

8/10

Features -

8/10

Design -

9/10

Value -

8/10
Summary
Coming in hot at around $50 USD internationally, Level 20 RGB still leans on the brighter side of things. It is perfectly fine for casual and or normal use but for competitive stuff, you'd better grab something else.
Pros
Ambidextrous design
Excellent ergonomics
Excellent build quality
Superb RGb lighting
Price point
Cons
Tracking performance
On the heavy side
Braided cables