The E1 RGB is Thermaltake's first off-the-shelf gaming headset stand. I know, it sound mouthful, absurd even to a few. Still, there are key pointers as to why it is called a gaming headset stand in the first place.

For starters, the E1 RGB features a USB hub with a dual USB 3.0 interface in Type-A fashion. It also comes with a single TRRS pass-through for your gaming headset. Both interface also comes with their own 1.8 meter cable. Now $50 USD seems crazy for a headset stand but being an aluminum construct with addressable RGB on-board, it looks like a plausible solution.
Technical Specifications
Stand
Material
Aluminum
Compatibility
Headband
Design
Hanger
Software
Yes
Interface
USB 3.0, TRRS
Lighting
Yes, RGB
Pass-through
Yes (USB, 3.5 mm)
Cable Length
1.8 meters
Dimensions
Length
146 mm
Width
120 mm
Height
255 mm
Weight
497 grams
Packaging and Accessories
The Thermaltake E1 RGB is packed inside a simple yet functional packaging. The product should come with the following items inside:
Quick installation guide
Warranty guide
Audio cable
USB cable
Design, Layout and Build Quality
The Thermaltake E1 RGB is definitely a fancy looking headset stand. It is all black, and comes in a not so in-your-face design. This means that it perfectly blends with the other recently released Thermaltake gaming gears as well.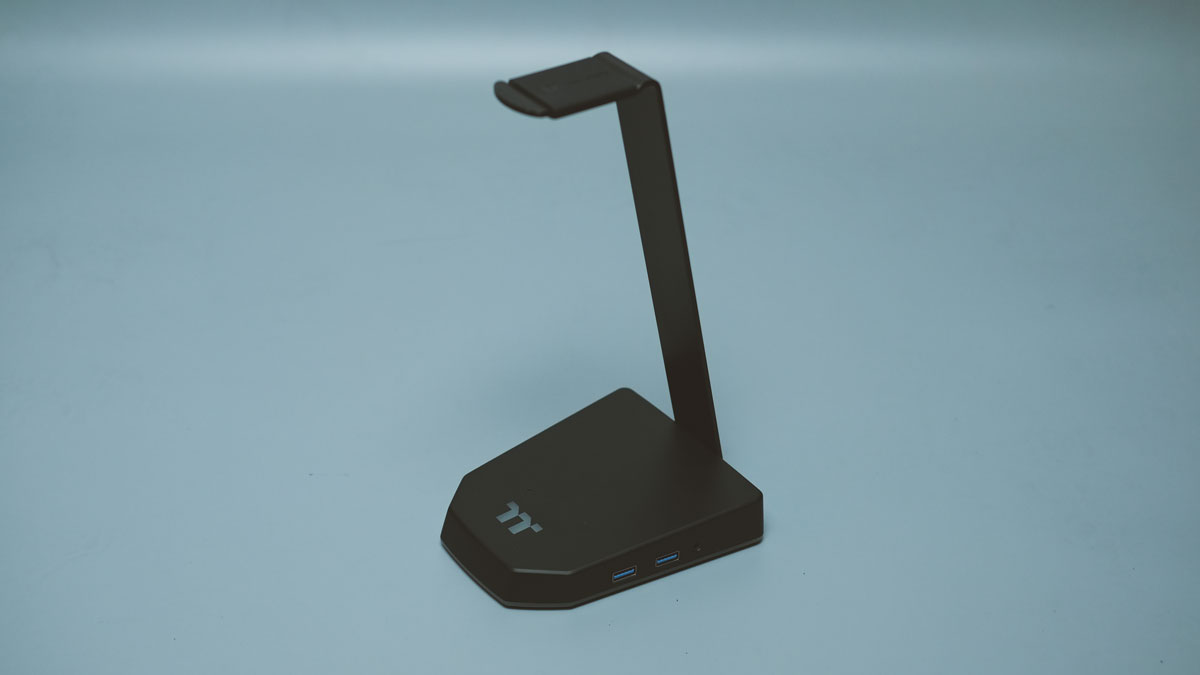 Foot print is no larger than your typical headset stand which is nice for desks with limited spaces. Thermaltake also recessed the holder itself and added a rubber pad for extra peace of mind.
Now connectivity is provided by dual USB 3.0 Type-A ports for data. We also have a TRRS plug here for your gaming headset. The audio setup is not bad but Thermaltake forgot to add a splitter  for such a configuration. Not all gaming headsets comes bundled with such and the company could've gone with a simple dual 3.5mm solution instead.
Both cables are about 1.8 meters long. Unfortunately, the audio cable still ends with a TRRS plug so good luck hunting for another splitter if your gear has the usual standard plugs.
The base is about 70% rubber padded. Combined with the weight of almost 500 grams, this should keep even the heaviest head gear in place.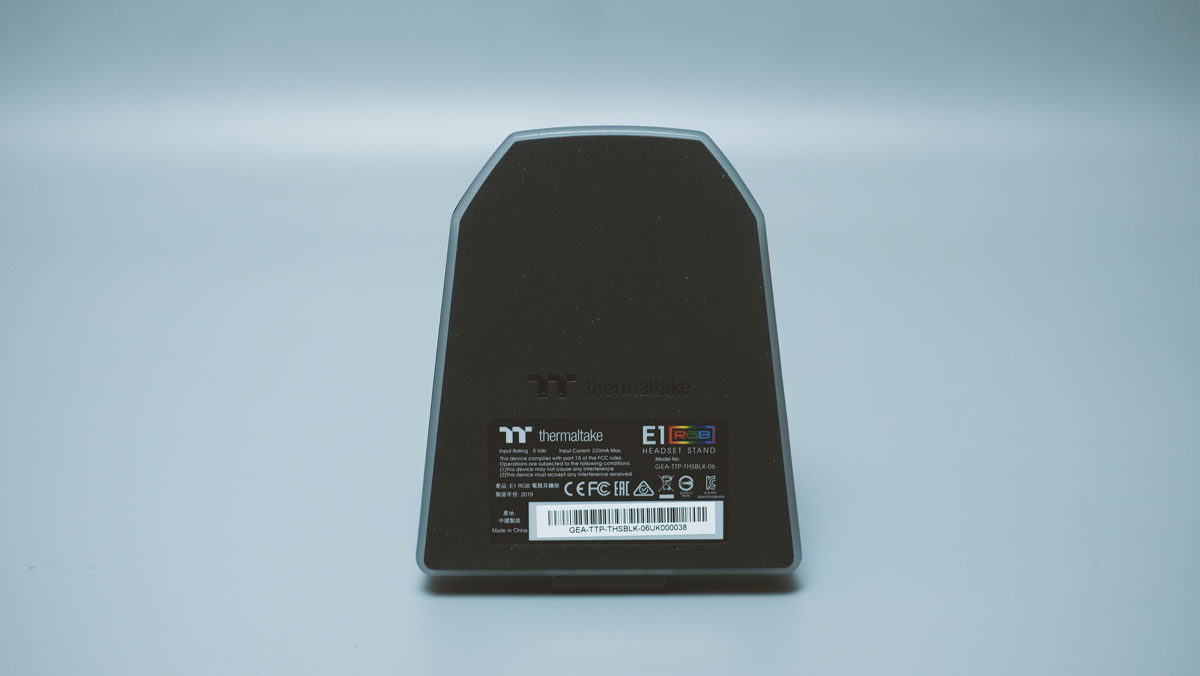 Software, Lighting and Special Features
The E1 RGB Gaming Headset Stand is compatible with the TT iTake software. That means you could sync it with other iTake compatible devices and get the most out of the stand with its lighting features. The E1 RGB is also compatible with Razer Synapse and Amazon Alexa. And oh, TT RGB Plus is also supported. My least favorite out of the bunch.
If you want to keep your own lighting configuration – which is by the way, highly recommended due to the number of lighting effects, then turning Sync to off is the best choice.
There are 8 lighting effect presets in total. These are Static, Pulse, Spiral, Rainbow, RGB Spectrum, Raindrops, Snake, Music Mode and Temperature. IIRC the brightness, speed and direction of these effects are all adjustable to fit your taste. I like music mode the most out of the bunch.
Now the audio pass-through featured a noise level of -93dBA. Not bad, considering our setup without it is about 94.3dBA. This is rather hard to test with a TRRS plug on both ends so as far as quality is concerned, the drop is minimal.
As for the USB 3.0 performance, you'd get about 236 MB/s and 102 MB/s for the sequential read and write performance using a USB 3.1 Gen1 device.
Final Thoughts
The Thermaltake E1 RGB is more than just your typical aluminum stand. It is a proper addition to your gaming gear wrapped up in a fancy facade with RGB and all the stuff you'd expect for a $50 USD price point.
Performance is what I like about the E1 RGB. The USB 3.0 performance for an instance provided favorable results while audio performance is just a tad lower compared to directly plugging your headset onto your gaming pc. Thermaltake managed to achieve this by separating both components instead of relying on an all-in-one hub. Downside is, you have two cables to work with.
Now as for my gripes, there aren't many. For one, Thermaltake could really use a bundled splitter if they don't want to redesign the audio port. Not everyone had a gaming headset compatible with 4-pole plugs and I really felt this went over their heads. The TT RGB Plus remained a pain in the butt so I completely disregarded that one for this review.
Priced at around $50 USD, this is a headset stand that I could recommend without much reservation.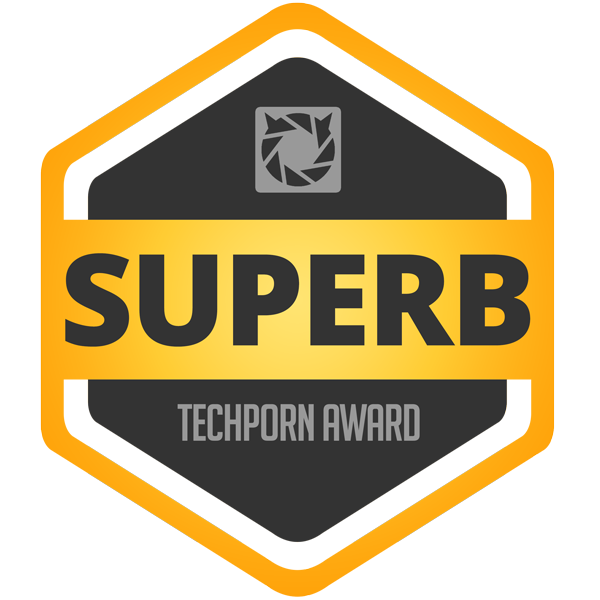 Thermaltake E1 RGB Gaming Headset Stand
Performance -

8/10

Build Quality -

8/10

Features -

8/10

Design -

8/10

Value -

8/10
Summary
The Thermaltake E1 RGB is more than just a stand. It is a proper addition to your gaming gear wrapped up in a fancy facade with RGB and all the stuff you'd expect for a $50 USD price point.