Samsung unveiled Auto Blocker, a novel security tool tailored for Samsung Galaxy users, aimed at safeguarding their devices according to their individual lifestyles.
Recently integrated into One UI 6 as a part of Samsung Galaxy's expanded collection of security and privacy enhancements, Auto Blocker is an optional package of supplementary security measures. It grants users increased flexibility as they explore the customizations enabled by Samsung Galaxy's open ecosystem.
Empowering User Choice
Dr. Seungwon Shin, EVP & Head of Security Team, Mobile eXperience Business at Samsung Electronics, emphasized, "At Samsung, our constant mission is to ensure our users remain protected from security threats. With the introduction of Auto Blocker, users can continue to enjoy the advantages of our open ecosystem while having confidence in the security of their mobile experience. We always aim to empower our users to make choices that best suit their needs rather than making decisions on their behalf, and Auto Blocker is no exception to this principle."
One of Auto Blocker's notable features is its capability to prevent the installation of apps from unverified sources, commonly known as sideloading. Intentional sideloading offers benefits in terms of enhanced customization and control over a device's functionality. Users who frequently engage in safe sideloading will see no change as this feature remains disabled by default. However, for those who do not typically sideload or engage in extensive customization, enabling Auto Blocker can offer added peace of mind by thwarting social engineering attacks like voice phishing, where malicious software installation is attempted by tricking users.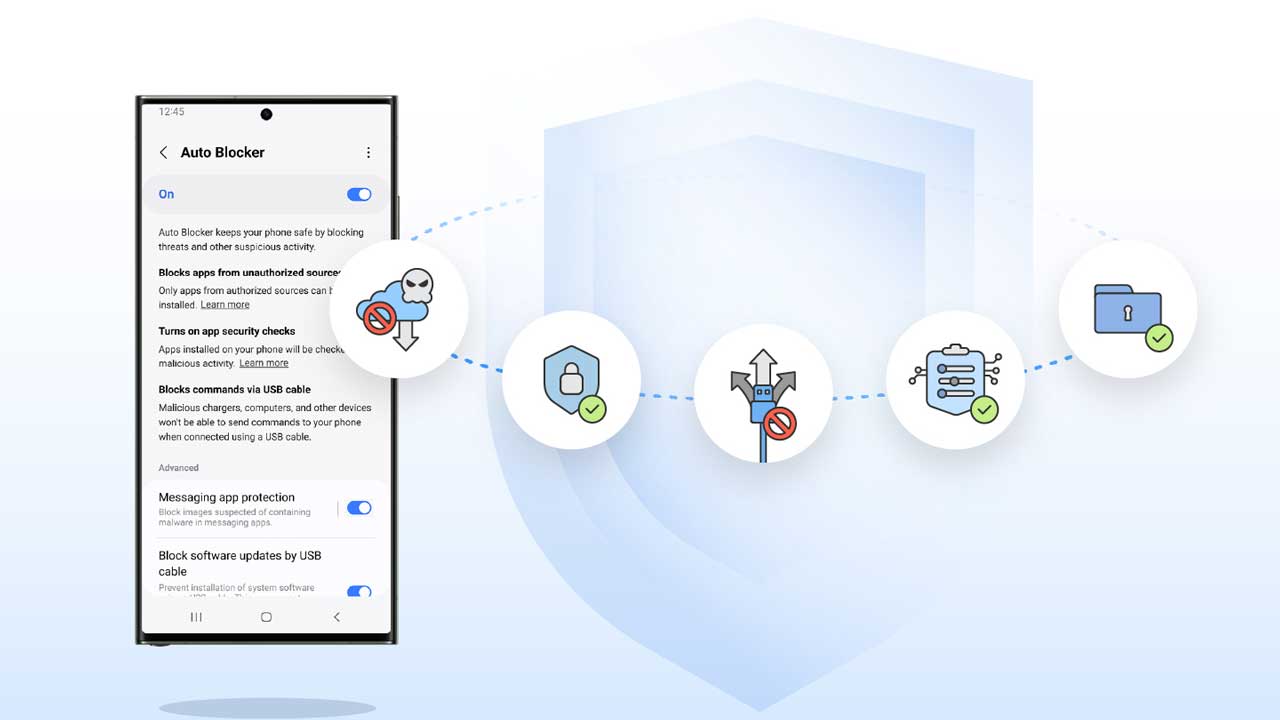 Auto Blocker offers a variety of supplementary controls, including the option to activate app security checks for identifying potential malware and preventing harmful commands and software installations via USB cable. This adds an extra layer of protection for users, particularly in situations where someone has physical access to their device, such as when charging a phone at an airport.
Furthermore, an update to Message Guard accompanies this feature, which helps mitigate Zero Click attacks involving direct image messages concealing malicious code. Initially introduced for messaging apps from Google and Samsung, it now extends its protective capabilities to popular third-party apps. This expanded support gives users more freedom to choose the apps they can safely use.
Driving Industry Advancements in Security
Samsung is committed to establishing a foundation for a more secure and safe mobile experience for Galaxy users. Auto Blocker takes this commitment to the next level by merging industry-leading security standards with user choice, allowing customers to customize their devices according to their preferences. As the newest addition to Samsung's array of security and privacy innovations, Auto Blocker further enhances the mobile experience for users within the Galaxy ecosystem.
Auto Blocker is now available for compatible Samsung Galaxy devices equipped with One UI 6.